I'll be honest, I've always assumed that the more money you spend on a microphone for studio work, the better it will be… right? There is a reason the pros use the Neumann U87 on all their big tracks.
But imagine if a microphone arrived on the scene that appealed to a much more pocket-friendly price point, while also delivering the same quality results of the big boys. Wouldn't that be awesome?
Let's turn that spotlight towards Aston Microphones.
Aston Microphones is a company based in Hitchin, a small town North of London in the UK.
The small team at Aston builds and assembles all their microphones in the UK
The team behind the brand has worked with some of the world's top producers when creating the Aston Sound, and the feedback from these top professionals has allowed the team at Aston to create microphones that studio professionals want to use, while also keeping them in a price range that is still accessible to hobby studios.
You don't have to look too far on the Aston website to find lists of big-name producers and artists that have used Aston microphones for either studio or live use. You've got names like Coldplay, Stevie Wonder, Kylie Minogue, and Noel Gallagher being thrown around, so that means these mics must be pretty good, right?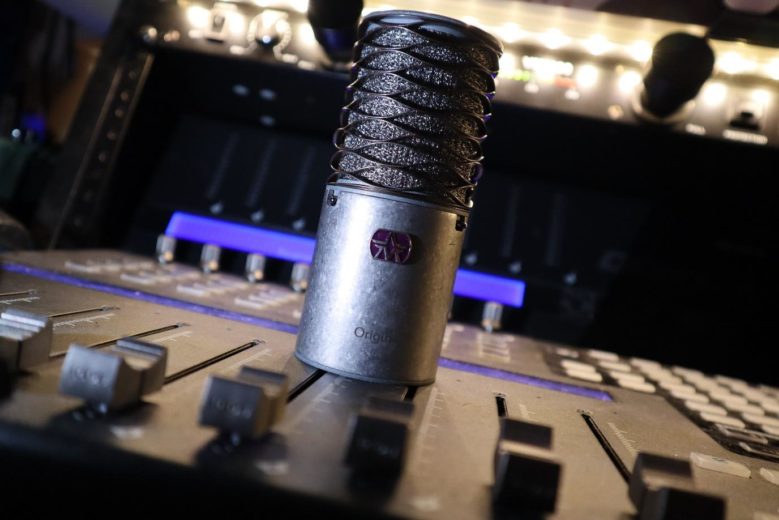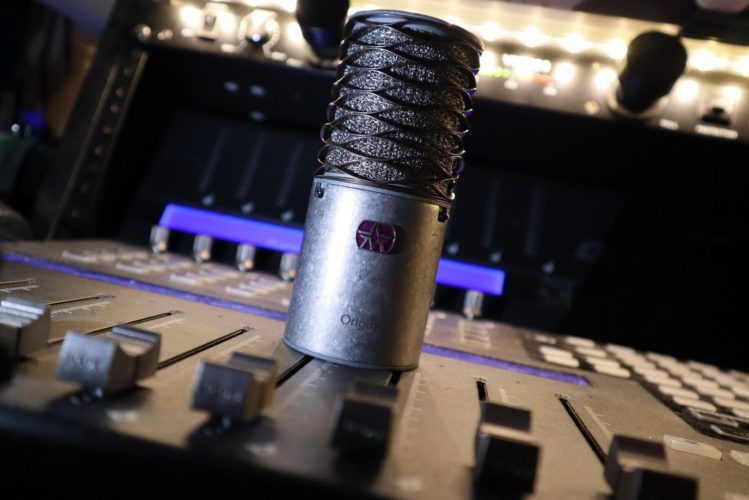 My experience with Aston Microphones started after seeing so many great musicians and producers in my social circles talking about the brand. I was told to check out the Aston Microphones Origin mic by a few people who had used it on some bigger projects.
So with this endorsement, I jumped at the chance to try one for myself. Plus, who doesn't love a new condenser mic in their collection?
At this point, I was already up to my neck in a recording project with my own band. We were tracking an album and the end was in sight. We only had a few vocal tracks left to cut. I purchased the microphone to use for another project that was going on in parallel to my own band's project, but curiosity got the better of me.
Usually, when tracking multiple vocals, especially across an album, I like to find one magic microphone that works for the style and the vocalist. I had chosen the mic in question very early on in the process, but the Aston threw a spanner in the works. One day I decided to do a test run on one of the tracks that was being cut.
I put the Aston in the booth and got my singer to cut a track with it, and then the lightbulb moment happened. In hindsight, this may be been a bit counter-productive to the schedule, but I realised very quickly that we had to re-cut the vocals with the Aston. It was bringing things out in this vocalist's voice that I'd never heard before. The sound of the vocals took on a new life.
I made a few very interesting discoveries.
It Sounds So Warm and Intimate
At a glance, the tech description of the Aston Microphones Origin show it has a frequency response of 20Hz – 20kHz (+/- 3dB), which on paper is very impressive. This pretty much covers the audible spectrum of what we can hear. In a studio application, this mic delivers a very intimate-feeling vocal take.
It has a very even response across the whole spectrum of the voice, with a little extra warmth in the lower range. This, for me personally, is a huge selling point. I always find it hard to work with hard, top end heavy vocal takes at the mix stage. I'd prefer a more balanced tone, which I can then make my EQ decisions on much easier.
The mic has a built-in 10dB low cut filter switch if you need to roll off the low end. For my ears, this was a little too extreme of a roll off, and I preferred the warm tone of the low cut being left switched off. This does somewhat enhance your plosive noise, but with good vocal control this can be avoided. I like the tone of the Origin with the low-cut filter off.
The Built-in Pop-Shield And Shock Mount Are Incredible
Ever been in the heat of a session and realised that you can't find the correct microphone mount for your stand, or that your pop-shield has decided to vanish at the last minute?
We've all been there. The singer is waiting to deliver the best vocal take of their career, and you're fumbling around through a box of spare parts looking for what you need.
This isn't good.
Aston took it upon themselves to design an incredibly clever system of having the microphone be an all-in-one solution to this problem, though. The microphone mounts directly onto a mic stand, with no need for a cradle or shock mount.
Aston Origin
Tested by and for studio professionals, Aston's Origin mic is the real deal. Intimate sound, reasonable price point, and awesome for virtually any task, this might be the only mic you ever need.
Buy Now on Amazon
We earn a commission if you click this link and make a purchase at no additional cost to you.

You would think that this would open up the risk of noise transfer via the stand… but it doesn't. The microphone capsule is suspended inside the case on its own floating mount.
The capsule is also surrounded by a stainless-steel mesh shield that is tonally transparent… so it won't affect the tonal qualities of each singer, but it will prevent any pops and clicks. You can further improve the working of this by adding an external pop-shield, but the truth is, you really don't need to. This lesser known UK company has really thought this design out.
It's SO Affordable
For description this good, a user list comprised of the 'who's who' of music and production royalty, and a sound that has had the critics scrambling for more… you would imagine that it costs a bit of money.
Nothing this good comes cheap, especially in the studio world.
But you would be wrong if you thought this about the Aston Origin.
The Aston Microphones Origin costs $299USD/£250GBP, which puts it into the very affordable category in the world of microphones. Don't worry, I didn't leave a fourth digit off that price tag. It really is THAT cheap.
The microphone is made in the UK, housed in a 2mm solid stainless-steel chassis, has a built-in pop filter and shock mounted capsule, an internal PCB with high quality components, and a sound to rival some of the most expensive microphones around.
How do they keep the price so low? I have no idea, but I'm certainly not complaining.
It Captures Subtle Detail
When I record a vocalist, I not only like to capture the take, but I like the detail. Many singers can be expressive with the way they may end words, or with the breathing being part of their delivery. The thing I noticed about the Origin was how natural it sounded in such cases.
Aside from the overall delivery sounding very warm and analogue, the Origin makes the vocals sound very real. It captures much of the detail that you would hear if the singer were singing right in front of you.
I've used this microphone on some speech-based projects too, and it delivers a very natural, flowing feel of speech. The warmth makes the speaker sound present and close to the listener.
I actually found that for some projects, I've liked the microphones natural tone so much that I've not had to do much EQ-wise at the mix stage. Good microphones capture good sound.
It Works Well for More Than Vocals
Ok, so this isn't vocal recording based, but I can't stop talking about how good this microphone is for everything I've used it for. I've used this microphone for so many things since I integrated it into my setup.
Acoustic guitars sound wonderful through an Origin. It delivers a warm, full-bodied sound which is earthy and woody… but with the required amount of jangle to satisfy every acoustic guitar strummer around.
It's also a great guitar amp mic. Put this in front of a loud amp and it'll capture all the low-end movement of a guitar cab. For most applications on guitar, it will never replace the SM57 as my go-to speaker mic… but paired with a 57, this mic is a winner. The Origin alone doesn't deliver that same bite that we're accustomed to with the SM57.
I believe that this is partly because we are so tuned into the sound of a guitar amp through an SM57 that it's difficult to move away from that. I do love pairing my Origin with a 57 when tracking guitar, however.
Recording drums? No problem. The Origin makes a great room mic, either as a mono or a stereo pair. I've also used it over the kick drum as a "crush" mic. Similar to the old Motown single mic technique where you place a mic above the kick drum and then drive the preamp to hell and back. This sounds great blended with close mics around the kit.
Summary
Aston Origin
Tested by and for studio professionals, Aston's Origin mic is the real deal. Intimate sound, reasonable price point, and awesome for virtually any task, this might be the only mic you ever need.
Buy Now on Amazon
We earn a commission if you click this link and make a purchase at no additional cost to you.

It sounds great, it looks great, and it's robust. I have a very good feeling that the Origin would be a long lasting, heavy duty microphone that could operate in a studio for a long time. It also has the solid feel that makes me think it would work as a live microphone for stage use, should the need for a condenser in a live environment arise.
It's user friendly, has a built in capsule shock mount, is mountable directly to a mic stand, has a switchable 10db pad to trim the input signal when recording louder sources, and also has a built in pop shield mesh.
This mic, like most condenser mics, requires 48v phantom power to operate.
The Aston Origin has a bigger brother known as the Aston Microphones Spirit, which is seen as the more professional version.
The Aston Spirit has a built in transformer, offering slightly more headroom and a switchable cardioid pattern.
If you need one Aston mic that you will use a lot, however, the Origin offers a simple, robust mic for a fantastic price range.
It's not hard to see why the critics are singing the praises of this microphone. Just look at the list of awards listed on the Aston website. Every review this mic gets is just splendid. This one included, I am struggling to find anything bad to say about the Aston Microphones Origin. It's an absolute workhorse of a microphone.
Here are the full technical description of the Origin from the Aston website:
Transducer Type – Condenser
Acoustic Operating Principle – Pressure Gradient
Directional Polar Pattern – Cardioid
Frequency Response – 20Hz – 20kHz (+/-3dB)
Equivalent Noise Level – 18dB A-Weighted
Sensitivity at 1kHz into 1kohm – 23.7mV/Pa
Maximum SPL for THD 0.5% – 127dB
Signal-to-Noise Ratio (rel. 94dB SPL) – 76dB A-Weighted
Pad Switch – -10dB
Low-Cut Filter – 80Hz
Product length – 125 mm / 4.92 in
Product width – 54 mm / 2.13 in
Product weight – 450 g / 0.99 lb
Price – USD $299 / GBP £249 / EUR 285€
Conclusion
If you're interested in a microphone that will go the distance, but don't want to break the bank… then the Aston Origin may be an awesome option to look at.
As a quality condenser in an accessible budget range, it's a tough act to beat.
Leave a comment and let us know what you think.
Have you used this mic before? If so, what did you think of it?
See you on the next one!