Quick-Access To the 15 Best ASMR Microphones👇
This list of the best ASMR microphones includes microphones to suit any budget. It also includes handheld recorders similar to the Zoom H4n, binaural microphones and more.
Read on to find the best ASMR microphones, and start creating amazing content today.
Let's dive in.
Top Pick Best ASMR Microphone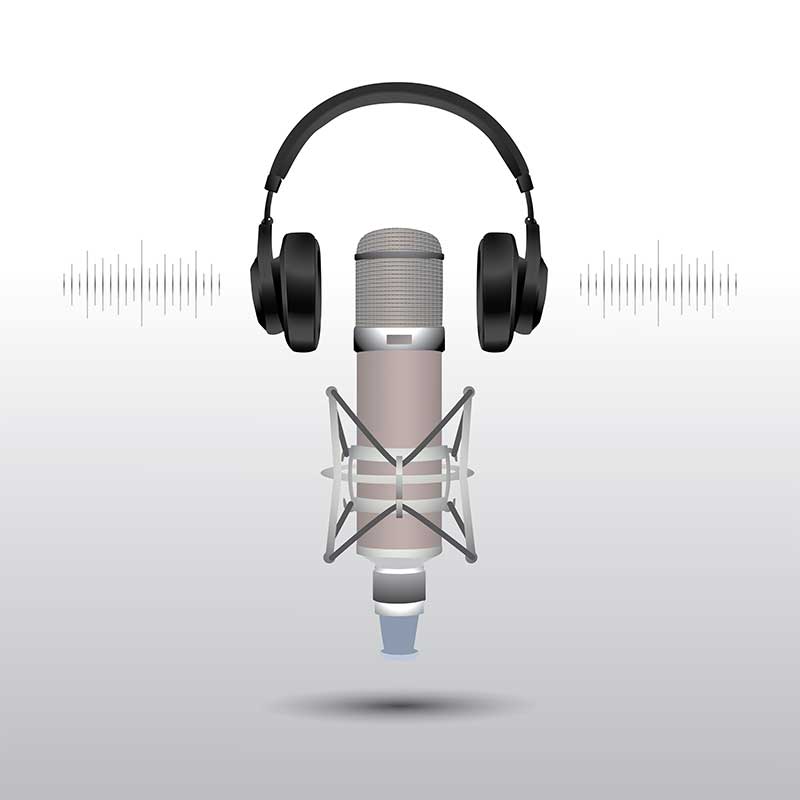 Rode NT1-A
Best Microphones for ASMR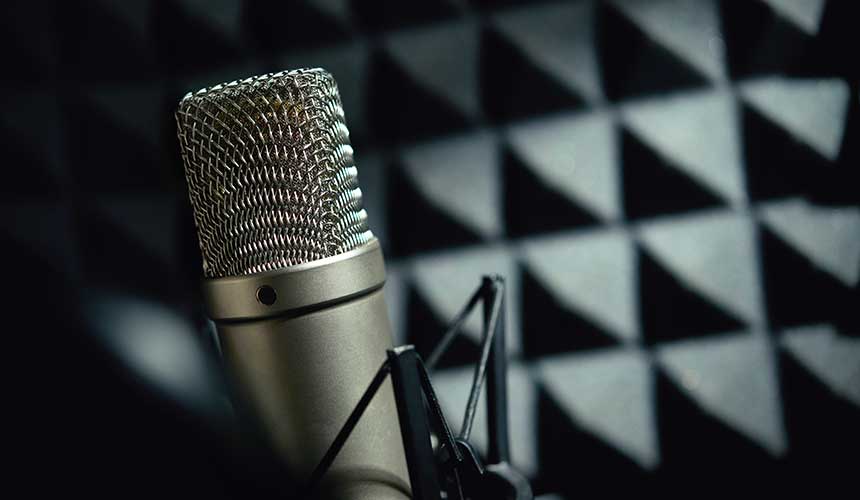 Top Pick Best ASMR Microphone: Rode NT1-A

The key to a good ASMR recording is clarity, detail, and top-end sparkle. That's why you need the sensitivity and high level of detail that condenser mics like the NT1-A deliver.

The NT1-A captures every detail in your voice with precision, and maintains all the crisp, high frequencies to make your whispered tones sound fantastic.

It comes bundled with a shock mount, XLR cable and a pop shield. All you need to do is plug it into your USB audio interface, and away you go! Being a condenser microphone, you'll need to have an interface with 48v phantom power. Most do, but be sure to check the specs on your unit before you go investing in any mic.

The Australian brand is so confident that the NT1-A will stand the test of time that they offer a 10-year warranty on all registered mics. Yes, ten years. How's that for having confidence in your product?
Key Features of the Rode NT1-A
Condenser Microphone
Cardioid Polar Pattern
Self Noise: 5db (A Weighted)
-29.0dB re 1 Volt/Pascal
Frequency Range: 20 – 20k Hz
Runner Up: 3Dio FS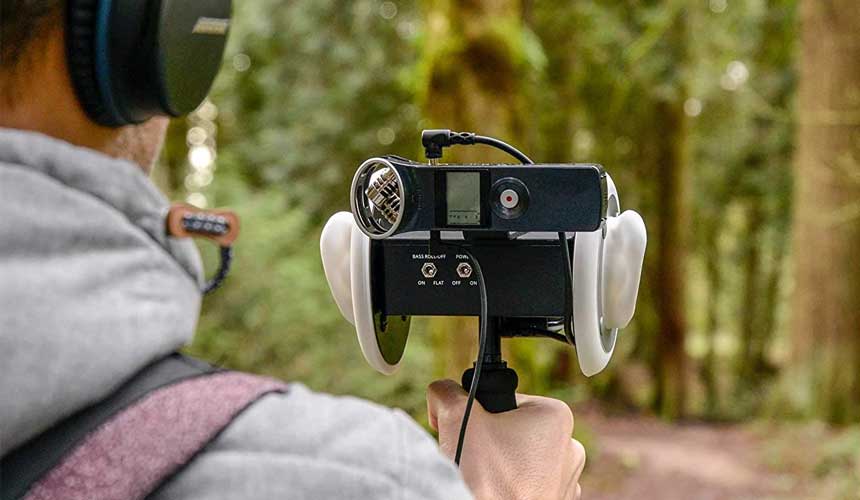 When it comes to ASMR recording, a 3D sound is a great way to capture a sense of space and also closeness. With a single microphone like the NT1-A, you can't get the same sense of stereo space. The 3Dios FS binaural mic, however, does just that.
The typical microphone captures audio in mono, that is, on just one channel. The thing is, humans hear in stereo.
Enter the binaural microphone.
The binaural mic is actually made of two mic capsules, just like many stereo microphones, spaced at the typical width of a human head. Many binaural mics even use a dummy head or fake ears to simulate the impact that the shape of the human ear has on hearing (yes, even the shape of your ears changes how you hear).
Using a binaural microphone such as the 3Dio FS will help you create audio that your listeners will feel is close to them, and in the same space as them.
For the listener, this creates an extremely engaging sensation as it sounds like the sound is naturally moving in the space they are in.
Key Features of the 3Dio FS
2x Omnidirectional Microphones
Self Noise: 14db
Sensitivity: -28±3dB at 1kHz (0dB=1V/Pa)
Max SPL: 122 dB SPL
5/8″ microphone stand adapter
1/8″ (3.5mm) stereo TRS output jack
Best Budget: Blue Yeti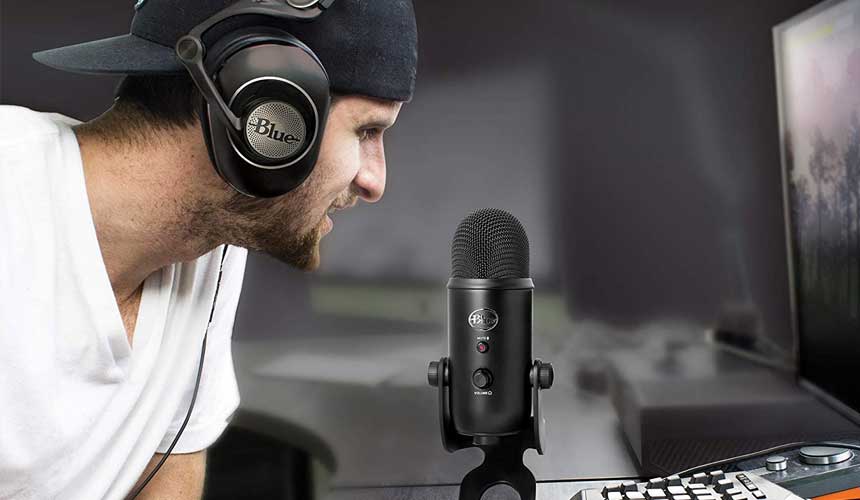 The Blue Yeti has proven itself time and time again as a serious contender for most things.
It's been tried over the years by content creators, streamers, gamers and singers. Everytime it gets tried, it comes out strong. For the money, you simply can't beat it.
So why is the Blue Yeti so popular?
The Yeti connects to your computer directly with a USB cable and has a built-in headphone power amp for listening back in real time.
You don't need a dedicated audio interface to run the Blue Yeti. This means, you can take it anywhere you want and create ASMR content with no restraints. It draws all its power from your computer or laptop.
Even better, the Blue Yeti has a built-in stand. Just set it up on your desk, plug it in, and start recording!
The switchable polar patterns allow for a range of capture fields covering cardioid, bidirectional, omnidirectional and stereo field recordings. You can create a great sense of space by combining these different patterns for different effects.
Key Features of the Blue Yeti
USB Condenser Microphone
Cardioid, Bidirectional, Omnidirectional and Stereo Polar Patterns
Sample/Bit Rate: 48kHz/16bit
Frequency Range: 20 – 20k Hz
Max SPl: 120db
Best Portable Recorder Option: Zoom H3-VR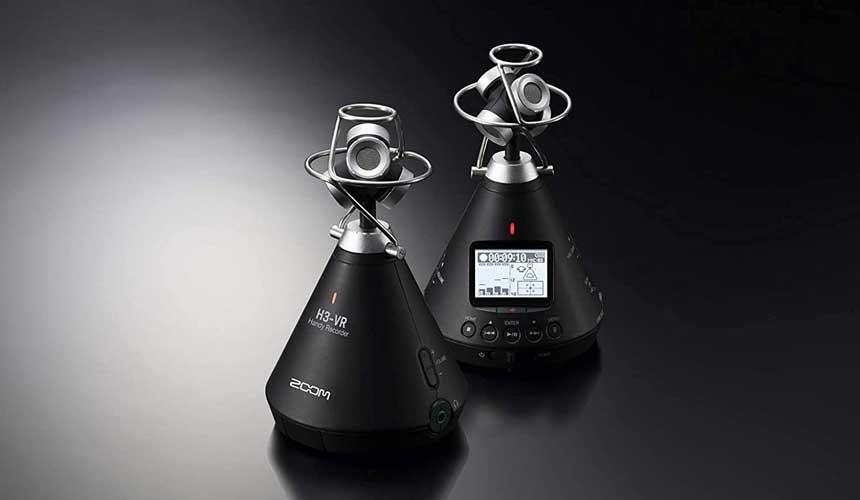 Are you always on the go and unable to access your home recording setup? Don't worry, Zoom has you covered.
Zoom has been around the block more than a few times, and have built quite a reputation for themselves. Their portable recorders are used by enthusiasts and film professionals alike.
Check out the H3-VR though, this one is something a little special.
This portable microphone has a built-in portable recorder.
It is a 360 recorder, recording with 4 separate microphones at the same time.
If you walk around the microphone while speaking, the algorithm will automatically work out where you are and position you in the listeners stereo field accordingly. This is a cool little trick for ASMR recordings that will really engage the listener.
If you already use a field recorder, like the Zoom H4N, and you want to add that VR element, you'll love this mic.
You can also use the H3 Control App to access various controls, such as the transport controls and levels of each microphone. You can even embed the metadata for your recordings directly from the app. Pretty cool, huh?
Key Features of the Zoom H3-VR
4x Ambisonics Cardioid Condenser Microphones
Sample/Bit Rate: 96 kHz / 24-Bit
Max SPL: 120db
Powered by 2 x AA Batteries
1/8″ / 3.5 mm TRS Output
Best Premium-Grade: 3Dio FS Pro II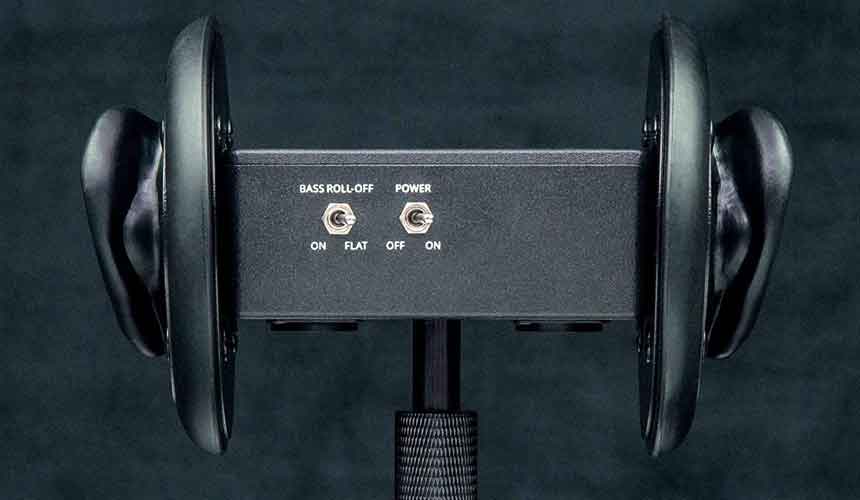 As far as binaural microphones go, the FS Pro II from 3Dio is something of a serious contender.
It's not cheap (You'll receive a dollar change back from $2000! Not a price for beginners!).
If you are delivering ASMR content as your primary profession, then this microphone will give you a sound quality that will make you stand out from the crowd.
The FS Pro II can handle a max SPL of 134dB, but that won't matter for ASMR work.
You won't be recording anything at that volume to achieve a calming effect. The great news here is, that headroom will mean you will retain a super clean recording tone that will sound open and full.
What makes the FS Pro II sound so damn good (and cost so damn much), is its use of two matched DPA 4060 omnidirectional mic capsules.
DPA mics are regularly used in top-level orchestral recordings, the kind that would end up on the score of Harry Potter. So, you know you're in good hands. Or, ears. Weird, fake, plastic ears.
The FS Pro II can capture everything from 20Hz up to 20kHz, perfect for those close microphone whispers.
It will capture all the warmth of the human breath up close, as well as retaining a crisp and bright top end to everything. Syllables will be crystal clear and bright.
Key Features of the 3Dio FS Pro II
Max SPL 134 dB
Stereo XLR Outputs
20Hz – 20kHz – Frequency Range
2x Omnidirectional Microphones
5/8″ microphone stand adapter
1/8″ (3.5mm) stereo TRS output jack
10 Asmr Ready Mics That Didn't Make The Top 5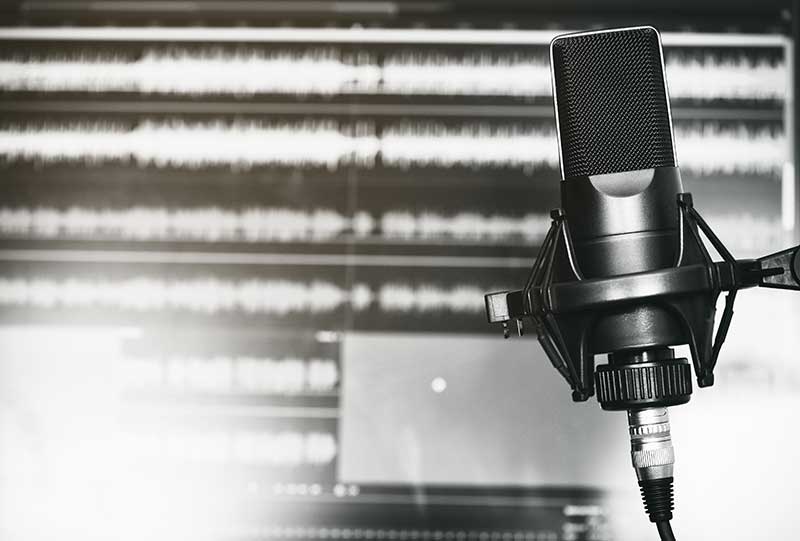 Rode NT1-A
Blue Microphones Baby Bottle SL
If you want a microphone that will sound great, but that also looks great on video, the Baby Bottle SL has all the vintage charm you could possibly need.
This cardioid condenser microphone will give you a warm and versatile sound.
Blue Microphones say the Baby Bottle SL has a very present midrange, this will help your vocal nuances cut through. The smooth top end will retain all the detail without sounding harsh, while the full bottom end will keep everything feeling warm and intimate.
Key Features:
Max SPL 134db
Cardioid Polar Pattern
Warm classic sound
20Hz – 20kHz Frequency Range
Built in high pass filter and -20dB pad switch
Audio-Technica AT2050
Audio-Technica always produces fantastic microphones, and the AT2050 is no exception to that rule.
This budget friendly workhorse is loaded with features, including three switchable polar patterns, a switchable high pass filter, and a pad switch.
The large diaphragm will capture smooth vocal transients and ensure that you get crystal clear sound quality. If you are on a budget, you need to check this microphone out.
Key Features:
-10dB pad switch
Includes shock mouth and pouch
Three switchable polar patterns
Switchable 80Hz High Pass Filter
Smooth and natural sound from the large diaphragm
Roland CS-10EM
On the surface, these may look like a simple pair of headphones, but underneath the visuals the CS-10EM is infact a binaural microphone.
The clever design means you get a compact recording system that also functions as an in-ear monitor for use during recording and playback.
This makes field recording a breeze. All you need is a pair of these and your phone, and you're ready to go. They also pair up great with Roland's own handheld field recorders.
The binaural system means you record what your ears hear. This gives the listener the same experience you hear at the point of creation.
Key Features:
Weighs just 4.5g
Perfect for field recording
20Hz – 20kHz Frequency Response
Omnidirectional polar pattern
Binaural microphone combined with in-ear monitors
Sennheiser AMBEO Smart Headset (iOS)
The Sennheiser AMBEO is a serious contender if you are planning on being an ASMR Artist on the go. These over the ear headphones allow you to monitor your recording in real time while the built in microphones capture the sound that you hear as you create it.
The active noise cancellation circuit will make recording in non-ideal locations much simpler for you, with its ability to block out unwanted background noise. The twin microphones will capture the world in 3D sound with crystal clear sound quality.
You don't need any additional hardware to use the AMBEO, just your iPhone/iPad. It connects directly with its lightning cable plug.
Key Features:
20Hz – 20kHz Frequency Response
iOS direct recording via lightning cable
All in one microphone and monitoring system
High quality microphones deliver a 3d immersive sound
Active noise cancellation will block out unwanted background noises
Scenes Lifelike VR Recording Headphones
If you want your ASMR microphone to react like a real person, the Scenes VR Recording Headphones will give that box a big old tick.
Binaural microphones often mimic the form of the human head, but this one has lifelike ears made from silicone.
They look and behave just like real ears. The 3d sound experience you get from binaural microphones is second to none, and for ASMR artists it's a great way to get the best results.
The ear canals are designed to replicate just how you hear in the real world. The microphones are situated inside the ears for the most realistic hearing experience that a microphone for ASMR could provide.
Key Features:
Real time monitoring
Lifelike silicone ears recreate human hearing
3d binaural recording for immersive audio
Connect direct to PC with USB to instant recording
Built in noise reduction algorithms for removing background noise
Shure KSM44A/SL
Shure are always a name you can trust. If you are creating great ASMR content and you want to know what the best microphones for the job are, you can always count on Shure to offer something that could be right for you.
The KSM44A has very low self noise and is very easy to use right out of the box.
Simply plug it into your audio interface, and you're ready to go.
The class A preamp gives you a transparent sound with no distortion. It comes with a shock mount that will attach to any microphone stand to minimise any movement noises in the room.
You also get three polar patterns to choose from. Cardioid, omnidirectional, and bidirectional. This gives you extra flexibility when approaching recording.
Key Features:
Low self noise
Switchable -15dB pad switch
Class A Preamp gives a transparent sound
24k gold layered diaphragm for excellent frequency response
Subsonic filter removes any rumble and unwanted noise below 17Hz
Rode NT1KIT
On the surface, this may look like the Rode NT1-A that you know and love, except there are a few tweaks under the hood.
The NT1-KIT comes complete with the new SMR shock mount which Rode says gives superior vibration cancellation. They've also included a fixed metal pop shield that can be removed from the shock mount when not required.
The NT1 is an incredibly low noise microphone that offers the user a very wide frequency response from its 1 inch capsule. The unit can handle huge SPL levels without any unwanted distortion.
ASMR artists will always want a low distortion microphone to maintain that crisp sound quality.
Key Features:
132dB SPL Level
Cardioid polar pattern
4.5dB low self noise
10 year extended warranty
Internal microphone capsule shock mounting
Zoom H2n
The H2N is the smaller sibling of the Zoom H4N handheld recorder. The Zoom H4N has been a mainstay for field recorders for a while now. The H2N offers the same awesome field recording capabilities of higher-priced models, but at a much lower price.
You get over 20 hours of recording from two AA batteries, as well as a bunch of built in processing tools such as compression, low-cut filter, auto gain, and more. The mic offers 4 polar patterns and records up to 4 channels of audio simultaneously.
The surround recording capabilities of this mic will appeal to ASMR artists. It captures both X/Y and Mid/Side signals at the same time, to give you a 360 degree picture and a full 3d sound.
Key Features:
Records direct to SD card
20 hours use off 2x AA batteries
X/Y. Mid/Side and Surround Recording
Stereo, 2 Channel or 4 Channel audio capture
Line in for connecting other microphones
Blue Snowball iCE
The Blue Snowball iCE is a plug and play USB microphone that makes getting started simple. It's easy to use. You don't need any fancy hardware or drivers. You just connect the USB microphone to your computer or laptop with the USB cable, and away you go.
The Snowball iCE offers fantastic, clear sound quality and covers everything from 40Hz up to 18kHz.
For a small mic, it can capture a lot of depth. The mic has been certified by Skype, Discord, and Twitch, so you know that out of the box you're going to purchase a high quality mic that will be right for whatever you put it through.
It might not have any fancy extras, switchable options or features, but what it does, it does very well.
Key Features:
Cardioid polar pattern
Records at 16bit/44kHz
40Hz – 18kHz Frequency Response
Skype, Discord and Twitch certified
Plug and play – connects via USB to any machine
Rode M5-MP Matched Pair Cardioid Condenser Microphones
You might be asking yourself why you would want a pair of microphones when so many single microphones offer so much. The answer to that is totally subjective, but you'll be able to figure it out based on your needs.
The overriding reason for a pair of microphones over a single microphone would be simply to allow you control over the space you are working in.
Imagine you are trying to create an immersive set of ASMR videos, but your current ASMR microphone doesn't allow you to control the space around your sounds.
With a pair of microphones, you can control that space. Similar to recording a drummer with room mics, you can control how big or small the room sounds around the source material by moving the left and right microphone accordingly.
A matched pair of condenser microphones will certainly bring the best out of any room.
Key Features:
Cardioid polar pattern
Ultra low noise circuit
Compact cardioid condenser microphone
Includes microphone clips and windshields
Matched pair of cardioid condenser microphones
Frequently Asked Questions
What is ASMR?
ASMR stands for Autonomous Sensory Meridian Response
That might sound complex, but don't worry. It's a form of relaxation based media that was first named ASMR in 2010. Many people who enjoy ASMR content report an almost sedative sensation that starts at their head and moves through their entire body.
Most audio you hear in ASMR content will be soft and placid. Many content creators in this field will use whispered voices and light touches and crackles of things with textured surfaces to create a relaxing sound.
It creates an experience of euphoria and has also been compared to a tingling or electrical feeling across the body. Many people turn to this sensory activity as a way to increase good feelings in themselves or to de-stress.
To date, there are over 13 million ASMR videos uploaded to Youtube.
What microphone does Asmr use?
When recording ASMR, you can use any microphone, but you have to consider what result you are hoping to achieve and the situations in which you are creating that audio.
If you want your ASMR videos to be successful, then you need to look at the best ASMR Microphones that suit your budget and plans.
If you are recording on the go, then perhaps a handheld such as the Zoom h4n, or some of the other handhelds above, would be better suited.
If you are doing all your recording out of a home studio, then a more conventional cabled microphone would be a better option.
Price is also a factor, as microphones come in all price points. You have to figure out which price point you fit into, and buy the best microphone for the job based on budget.
What Type Of Microphone Is Best For ASMR?
The best type of ASMR microphones would be a condenser or binaural microphone. Condenser and binaural microphones both offer a wide sound capture. They will capture a full range of frequencies as well as nuances in the voice.
They will also capture the space around the sound source which for ASMR is very important. Binaural recording will even go a step further and make the user feel in the centre of the sound.
Is Blue Yeti Good For Asmr?
The Blue Yeti is a great ASMR microphone. It's easy to use and offers fantastic sound quality.
It's a USB microphone that is plug and play, meaning that you can take it anywhere, plug it in and dive right to work without any difficult setups. For a first microphone for ASMR this is a great choice.
It's also a great price. If you are just getting started and are looking at ASMR microphones for a tight budget, the Blue Yeti fits into a very attractive price bracket. It also performs as well as any other higher priced microphone for ASMR.
How Do I Setup My ASMR Microphone?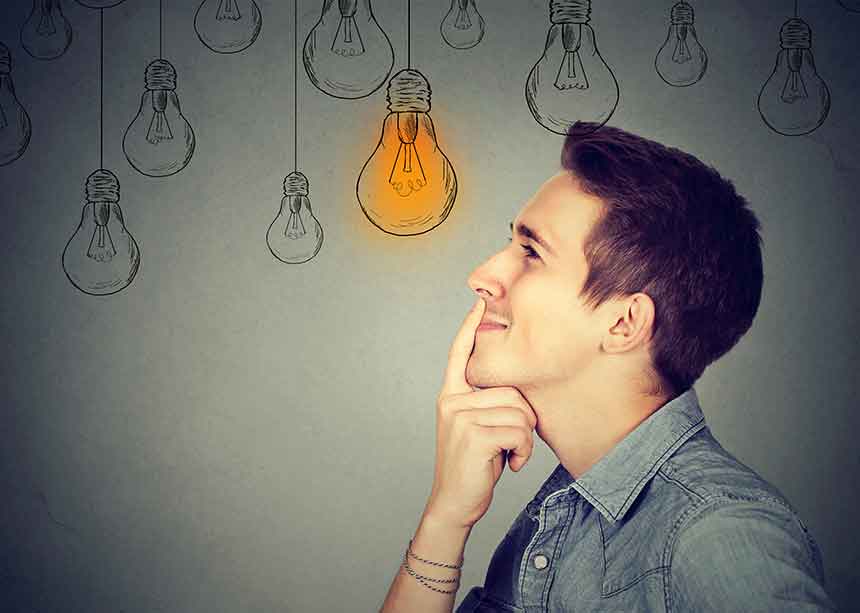 This depends on your setup. If you have a USB plug and play microphone, you simply plug it in and start working.
If you are recording your ASMR videos in a more traditional studio setup, either professionally or at home, you will need some additional hardware and steps to follow.
Most condenser style ASMR microphones require phantom power.
Phantom power is a 48v output that comes from mixing desks or audio interfaces that will power condenser microphones. The phantom power allows the microphones to operate with additional headroom. You will need to check if your interface has phantom power.
If it does, all you do is connect an XLR cable between your microphone and interface. If it doesn't, you will need to look into external power supplies for your ASMR microphones.
If you are creating ASMR videos with a handheld field recording microphone, like the Zoom h4n, you will be recording directly to the SD card. All you need to do is record wherever you are and make your edits later on.