But the worlds created within the FPS, MMORPG, eSports and MMOG games are the "kick-it spots" of yesteryear…
From World of Warcraft to Counterstrike… League of Legends to Fortnite… And War Thunder to iRacing…
Friendships are born, jokes are told, relationships solidified and without a great microphone, you run the risk of being "that guy" or "that girl" sounds so bad everyone wants you to mute yourself.
I can tell you firsthand that hearing the vacuum cleaner or conversations in the background through another player's stock laptop microphone kills the experience.
Which is why a quality microphone is required for today's gamers.
Plus, with a headset you won't have to listen to their gameplay and inside jokes throughout the house.
The right gaming microphone is truly an investment for the whole family.
The 17 Top Gaming Mics for Every Budget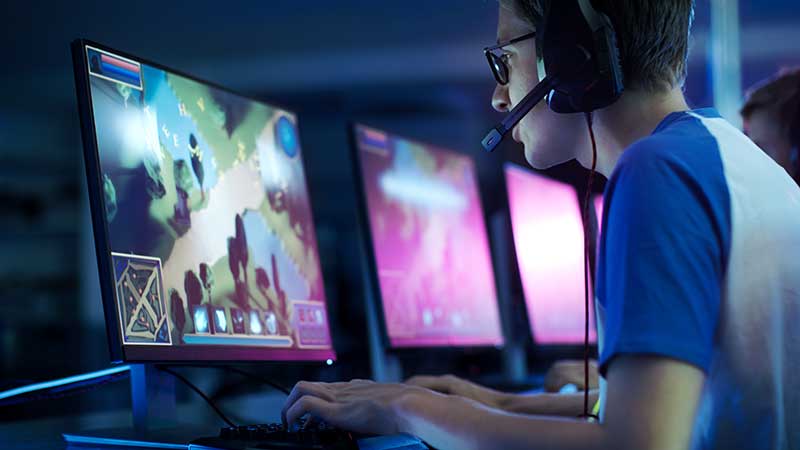 Best Value Microphone for Gamers on a budget: HyperX Cloud Stinger
The HyperX Cloud Stinger is a universal wired gaming headset with a mic that fits both the need for quality audio and the need for a budget friendly option for even more serious gamers.
As more and more people get into gaming, choosing headsets becomes a bigger challenge. On one hand, you want to compete with people who have premium-level gear. But at the same time, if you're playing for fun, it can be tough to justify dropping $100-$200 on a headset alone!
Well, for those of you in this boat, we wholeheartedly recommend the HyperX Cloud Stinger.
As an Amazon's Choice product with thousands of reviews to its name, many gamers choose this headset as part of their primary gaming kit. It can be used with PS4, XBox One, PC, and even Mobile systems. Plus, it has memory foam ear pads, for comfort and flexibility.
As far as features go, the HyperX doesn't disappoint.
50mm directional drivers give you pin-point accurate audio reproduction, while 90-degree rotating ear cups give you a perfect fit 100% of the time. Sliding adjustment gives you the ability to make the headset fit your head easily, while the swivel-to-mute noise cancelling mic gives you the ability to mute instantly on-board, without any extra hassle.
Throw in the super affordable price tag, and the HyperX Cloud Stinger is a no-brainer for gamers of almost every caliber!
HyperX Cloud Stinger Key Features:
90 degree rotating ear cups
50mm directional drivers
Frequency response: 18 – 23,000Hz
Memory foam padded
Multi-platform compatibility
Best USB Microphone For Gaming: HyperX Quadcast
The HyperX QuadCast is the best USB microphone for gaming because it's probably the only mic on the market that's actually specifically designed for gamers and streamers.
What is it about the QuadCast, then, that makes it perfect for gaming?
Aside from the fact that with its flashy LEDs and black and red livery, it looks like a gaming mic, the HyperX QuadCast is perfectly designed to sit on your computer desk right in front of you, thanks to its integral desktop stand mount and built-in acoustically isolating shock mount.
This shock mount keeps the microphone isolated from bumps and bangs, which can travel through the desk and into the mic capsule, and also reduces the amount of noise entering the mic from your gaming keyboard.
This last point is very important, as you'll know as a gamer, there's often a lot of heavy button mashing going on.
The QuadCast's cardioid polar pattern helps with this, which picks up sound from the front but rejects it from the rear, so you can aim the mic at your voice with the keyboard behind it for the best possible noise rejection.
Key Features of the HyperX QuadCast:
Internal Pop filter
Built-in headphone jack
Anti-vibration shock mount
48kHz/16-bit Sample/Bitrate
USB powered plug-and-play
Tap Mute sensor with LED status indicator
Gain control to control microphone sensitivity
Four selectable polar patterns (Cardioid, bidirectional, Omnidirectional and Stereo)
Best Budget USB Microphone for Gaming: Logitech G Pro Gaming Headset
The Logitech G Pro Gaming Headset is the best budget USB microphone for gaming because, despite its low price point, it delivers incredible audio and superior comfort.
A quality, noise-free mic
An immersive sound experience
A level of comfort that means you can wear them for long periods of time
The G Pro headset ticks every single box, without breaking the bank.
The mic is a pro-grade condenser microphone with a wide frequency response and low signal to noise ratio, which means you'll be heard clearly above the scream of your enemies.
The audio experience is decent. No audiophile-grade weapon here, but the G Pro drivers seem solid and there's little to complain about soundwise.
Oh, and there's comfort for days.
The Logitech G Pro Gaming Headset has a comfortable, adjustable headband, and premium leatherette ear cups that feel firm, yet soft enough to wear all day or all night.
Key Features of Logitech G Pro Gaming Headset:
Cardioid Polar Pattern
Premium leatherette ear cups
Headset is lightweight yet strong
Pro-grade electret condenser microphone
Compatible with PC VR, Mac, Xbox One, PlayStation 4, Nintendo switch
Best Cheap Microphone for Gaming: Samson Go Mic
The Samson Go Mic is the best cheap microphone for gaming because not only is it ridiculously affordable, it even clips directly to your gaming laptop.
One of the coolest features of this microphone is its different mounting options.
The Samson Go Mic has a built-in stand that folds out from the mic itself so you can set it up in front of you on your desk. Or, if you're a laptop gamer, simply invert the stand and it becomes a clip that attaches to the top of your screen.
The beauty in this is that the microphone is level with your mouth, so it captures the best quality in voice audio.
Plus, it's tiny, so you can take it with you anywhere if you're an on the go gamer, and it has a dedicated headphone output so you can monitor your own voice without any audio latency.
Key Features of the Samson Go Mic:
Integral clip/stand
Tiny and portable
Dedicated headphone output
x2 Electret condenser mic elements
Cardioid and Omnidirectional Polar patterns.
Connect to an Android device with a host OTG Adapter (not included)
Compatible with most Mac and PC based audio software that supports USB Audio
Connect to an iOS device using an Apple Lightning to USB camera adapter (not included)
Best XLR Microphone for Gaming: sE Electronics X1
The sE Electronics X1 is the best XLR microphone for gaming because it's not only affordable, but it also looks fantastic, and offers an array of pro-audio features.
When it comes time to really level up your gaming or streaming audio setup, a quality condenser mic is going to be the first thing on your list.
But, you soon see there are about 42 million options. Don't worry, we've found the one you need.
The sE Electronics X1 sounds amazing. It's clear, intelligible, airy, and super professional sounding. You can further refine the sound of your voice with the mic's onboard high-pass filter, which is great for cutting out low-end rumble.
If things get a bit loud, you can always engage the -20dB pad switch, which will keep your audience or friends' ears happy.
One thing to note is that because this is a condenser mic, it can be pretty sensitive to wind noise and plosive sounds like p's and b's. For that reason, we'd recommend looking into a quality pop filter as well.
Key Features of the sE Electronics X1:
All-metal housing
Cardioid polar pattern
100Hz high-pass filter
Gold plated XLR connector
Huge SPL handling abilities
Studio-quality condenser mic
-20dB pad for loud sound sources
Comes with mic stand mount and thread adaptor
Best Gaming Mic For PC: HyperX Cloud Orbit
The HyperX Cloud Orbit is the best gaming mic for PC because it delivers a fully immersive experience that will take your gameplay to the next level.
How does it do that?
The Cloud Orbit is a premium gaming headset, which means it has some incredible tech built-in to really draw you into the game.
Like the Audeze planar magnetic drivers which provide unparalleled sound clarity, and the Waves NX 3D surround sound tech. The Waves NX system is pretty advanced, it even has head tracking technology, so it knows when you move your head and adjusts the sound output accordingly.
So yeah, it really feels like you're there in the game, great for adventure games and FPS.
The microphone in this headset sounds incredible too. It's of super high quality, is noise canceling, and has a little foam pop filter to keep the plosives at bay!
What makes this microphone perfect for PC is its connectivity. You can connect via 3.5mm audio, or via USB – C or A!
Key Features of the HyperX Cloud Orbit:
Up to 10 hours of use
3D surround sound audio
Frequency Response: 10 – 50k Hz
Memory foam earpads for superior comfort
Head tracking tech – 1000 times a second
Connection Type: USB type A, USB type C and 3.5mm
Pro-quality detachable condenser microphone with noise-canceling and pop filter
Best Condenser Mic For Gaming: SE Electronics X1
The sE Electronics X1 is the best condenser mic for gaming as it delivers unparalleled audio quality at an incredibly affordable price point.
For gaming, the sE Electronics X1 is perfect. It's a large-diaphragm condenser born from the design of the original X1, released back in 2011.
It uses a cardioid polar pattern that rejects sound from the rear and keeps things focused front and center on your voice. It also cuts out background noise, like the sound from your gaming keyboard.
The X1 even has a low-cut filter that you can engage to get rid of that annoying low-frequency rumble, and a -20dB pad… which is a good idea to switch on if you're one of those yelly, ragey gamers.
One thing to bear in mind if you're looking into the sE Electronics X1 condenser mic is that it is an XLR type mic, so you'll need to use it with an external audio interface to connect it to the rest of your gaming setup.
Key Features of the sE Electronics X1:
All-metal housing
Cardioid polar pattern
100Hz high-pass filter
Gold plated XLR connector
Huge SPL handling abilities
Studio-quality condenser mic
-20dB pad for loud sound sources
Comes with mic stand mount and thread adaptor
Best Desktop Microphone For Gaming: HyperX Quadcast
The HyperX QuadCast is the best desktop microphone for gaming because it has it's very own desktop stand built-in!
Where many high-quality multi-pattern condenser microphones require a microphone stand and a difficult shock mount, the QuadCast does it all in a single package.
You see, this mic has an integral shock mount which will keep it isolated acoustically, and a removable stand which means it can literally sit there on your desk next to your gaming setup.
When using a sensitive condenser microphone on top of your desk, acoustic transmission is always a concern. That means stuff like bumping the desk or tapping on your keyboard, all of which can make their way into the microphone capsule and disturb your sound.
Thankfully, the HyperX QuadCast deals with this in three ways.
The first is an internal pop filter to reduce wind noise. The second is that integral shock mount we mentioned, which suspends the microphone capsule in an array of elastic bands that take up any shocks or bumps.
The third is the QuadCast's switchable polar patterns. This means you can choose the appropriate pattern (probably cardioid or figure-8) to position the mic's focus on sound rejection.
Key Features of the HyperX QuadCast:
Internal Pop filter
Built-in headphone jack
Anti-vibration shock mount
48kHz/16-bit Sample/Bitrate
USB powered plug-and-play
Tap Mute sensor with LED status indicator
Gain control to control microphone sensitivity
Four selectable polar patterns (Cardioid, bidirectional, Omnidirectional and Stereo)
Honorable Mentions: Other Budget Microphones For Gaming We Reviewed
Size and feature options are so varied with gaming microphones, we threw together some other budget-friendly best gaming microphones that didn't quite make the cut for our favorites, but that still might be a good mic for you.
Top Pick Best Microphone For Gaming: HyperX Quadcast
SteelSeries Arctis 1
The SteelSeries Arctis 1 microphone headset offers many upgrades to your run-of-the-mill, cheap headset! If you're looking to put your money into an awesome gaming microphone that's going to give you awesome in-game sound, this is a mic you should also check out.
It's made to be compatible with PC, PS4, Xbox, and Switch systems, giving you true multi-platform compatibility. It also offers the subtle, critical sound quality you need to hear the finer points of the soundscape of the game you're enjoying.
The detachable ClearCast microphone is not only noise-cancelling, but also detailed. It is also Discord Certified!
All-in-all, the SteelSeries Arctis 1 is a great budget-friendly microphone headset. It isn't quite as popular as our top pick, though it is still an Amazon Choice official product.
If you're looking for a fantastic headset and are a fan of the Arctis line of products… then this may be an option to look into.
SteelSeries Arctis 1 Key Features:
Multi-platform compatibility
Subtle, clear, quality audio reproduction
Noise-cancelling microphone is Discord Certified
Very comfortable
AmazonBasics Gaming Headset
This is the perfect gaming microphone for someone on a tight budget or for someone just getting into the hobby or profession. If you're not quite sure what features are important to you yet, start with this headset mic.
The AmazonBasics Gaming Headset has a few features that you will appreciate. It has 2 way communication to get you connected with your buddies, or to do basic sound for a youtube video.
One feature that many appreciate in the headset version of a best gaming microphone is the ear pads and headband. The ear pads need to be soft and breathable, with a flexible headband.
This is an especially important quality when you plan to use it for an extended period of time, and this comfort component is exactly what you'll get with the AmazonBasics Gaming Headset.
AmazonBasics Gaming Headset Key Features:
Compatible with Switch, PC, PS4, Xbox, and others platforms
Compatible with devices with a 3.5 mm jack
Incredibly comfortable headband and ear pads
Clear sound quality
Fifine Metal Condenser Recording Microphone
This Fifine Condenser has been featured as a budget pick on many of our lists. It blends a ton of awesome features into a very affordable product offering. And as such, it packs in a lot of value for the price.
It's an Amazon Choice award product, utilizes plug-and-play usability, ships with a 5.9 foot USB cable, and will work seamlessly with your PC or laptop.
But let's talk about the audio quality for a moment. This solid metal mic boasts a USB powered condenser microphone with a cardioid polar pattern. It will capture vocal audio, and reproduce it with crisp, high-quality clarity.
If you're looking to stream or record your best gaming sessions, this is an especially good choice… because condenser mics are going to give you better audio in the long run, which will increase the sound quality of your streams and videos.
If you're looking for a top-notch USB budget option, then the Fifine Condenser should absolutely be on your radar.
Fifine Condenser Key Features:
USB Plug and play usability
Solid, sturdy metal construction
Cardioid polar pattern
Crisp, clear audio reproduction
SteelSeries Arctis 7
[longer_content]
The SteelSeries Arctis 7 gives you tremendous bang for your buck!
This isn't a budget headset.
But if you have $120 to drop on a premium-level mic, this is most definitely one of our favorites.
First off, the ear cups are super comfortable… so those long gaming binges won't bother the ears a bit.
Because of its noise cancellation features, you can be sure the audio is clear from your end. Your teammate Tommy won't be hating you because you both couldn't make a good, clear line of communication from your mic!
A feature we don't want to forget to mention here is the longevity! This is what is putting this budget headset microphone off the charts! It packs in a 24 hour battery life, so there won't be any need to take unnecessary breaks due to the end of your headset battery life.
The SteelSeries Arctis 7 was truly made with gamers in mind. Comfort, longevity, and quality are all benefits you're going to get with this fantastically priced headset microphone.
It may not be cheap… but it delivers maximum bang for the buck!
SteelSeries Arctis 7 key features:
Solid wireless audio
Surround sound with PC
24-hour battery life
Frequency response: 20–20000 kHz
THRONMAX MDRILL DOME Professional USB Studio Condenser Microphone
Beexcellent Gaming Headset
Aokeo Storm
SOONHUA 3.5MM Plug and Play Omnidirectional Mic
Venoro Plug & Play Home Studio Condenser Microphone
Fifine Desktop Gooseneck Microphone
NUBWO Gaming Headset
ONIKUMA Gaming Headset
Who Should Buy A Gaming Microphone?
The best candidate to buy a gaming microphone is the casual gamer who wants better audio, but who has not yet decided that they want to invest huge amounts of money into their hobby.
Gaming can be a serious passion for some. But for others, it can be something fun and casual to do around the house at odd times throughout the day.
If the latter sounds like you, then it makes sense to buy a budget microphone first. Microphone gaming headsets usually include both headphones and a mic, giving you the option to not only chat with other people, but also to experience the audio within the game as accurately as possible.
The right microphone can make for the best gaming experience. But at the same time, some of the best headsets are super expensive.
So starting out with a less expensive mic makes sense if you aren't sure how passionate you are about gaming.
(Are you passionate enough to start a podcast? Take a look at our list of the 17 Best Podcast Microphones!)
It is also true, however, that our top pick… the The HyperX Quadcast … is a powerful enough microphone to compete with even more expensive microphones.
That's really why this mic was our top choice for best microphones for gaming. It combines affordability with awesome features and surprisingly high quality!
Important Features To Consider
There are quite a few features to consider when buying a best microphone for gaming. Here are the most important things to look at.
Compatibility
It is very important to know that the headset mic you plan to buy is compatible with the type of gaming system you are going to be using.
This requires a little bit of microphone research. It also requires knowing what is needed to get audio to the headset from your system. Thankfully, the descriptions on products usually contain such information.
Sound Quality
There is sound… and then there is quality sound!
If you've ever gone from an expensive pair of headphones with a microphone to a cheap pair, then you probably know exactly what this means!
Cheap gaming microphones tend to sound 'tinny,' and contain very little low end, audio quality bass.
They also tend to make 'screeching' noises instead of 'quality, elevated high-end sound.' This is a big thing to watch out for with budget headphones with mic. The microphones we put into our top picks list, though, should all deliver high-quality sound… even at a lower mic cost.
Wireless, or Wired?
This is another super-important feature to consider when shopping for any headset… especially a budget-option.
Do you want to go wireless?
There are pros and cons to both. Wireless headsets are super convenient… until they run out of batteries in the middle of a match!
Wired headphones, on the other hand, don't give you a lot of room or leeway. But they tend to be less prone to malfunction, and won't run out of power!
Frequently Asked questions:
Which would be the best microphones for gaming to connect with my PC?
Honestly if you're planning to hook up to your PC, go with the versatile The HyperX Quadcast. You won't have to worry about what you're hooking up to, and the quality will not sway.
This one connects easily to PCs via a USB connection, no problem. And what's especially nice? 4 switchable polar patterns!
There is nothing quite as awesome as being able to choose the perfect polar pattern for your situation.
What is the best gaming microphone for a beginner?
Well, you definitely want to start with a budget friendly mic. You never know what kind of features you'll appreciate, or what kind of elements you'll like, in a microphone.
So first, go with something inexpensive, like the Logitech G Pro. You can't go wrong with that one, since it offers a lot of features anyway.
And as time goes on, if the types of games you play or your aspirations change, you can decide to level-up your budget for your gaming microphone… and won't be out a whole lot of money.
Conclusion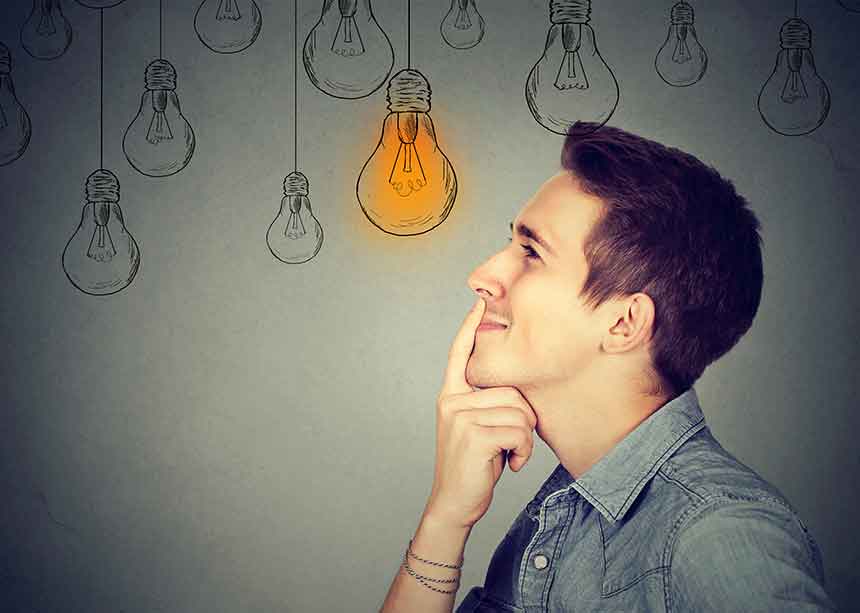 We have really worked hard for you and compiled a guide to help you pick the best features on any budget when deciding which microphone will be your best microphone for gaming.
Value is key here.
When your budget is tight, you can still usually get the features you need in your gaming microphone. Hopefully this compilation has helped you differentiate the features of microphones that are important to you, and you can now easily make a good mic decision.
Again, our top choice is The HyperX Quadcast, but sometimes budget doesn't allow. Therefore, your most feature and budget-friendly option may be the Logitech G Pro.
It's all about the individual gamer in you!