Quick-Access To The Top Cheap USB Microphones Under $49👇
Are you a content creator on a budget? Financial restraints should not stand in the way of awesome content.
A top USB microphone is a quintessential tool for a podcaster and YouTuber. With plug and play capabilities, you will be set up and ready to record before you know it.
Today, you will find the best cheap USB microphone and other bargain mics that will do exactly what you need to start your creative journey. You can expect to be recording with pristine audio quality and best off all, you keep those hard-earned dollars in your pocket.
The good ones are difficult to find, often cheap microphones will compromise quality and reliability. However, today you'll discover the diamonds in the rough that will upgrade your audio with both performance and durability.
Using your stock laptop mic just won't cut it. Even the most compelling content will fail to connect if it is presented with shoddy audio.
With these mics you are increasing your chances of success, your creativity is worth it. So aim for the stars and present your creative adventures how they deserve to be heard….. with clean and professional audio.
Let's dive in…..
The Number-One Question: Are cheap USB mics any good?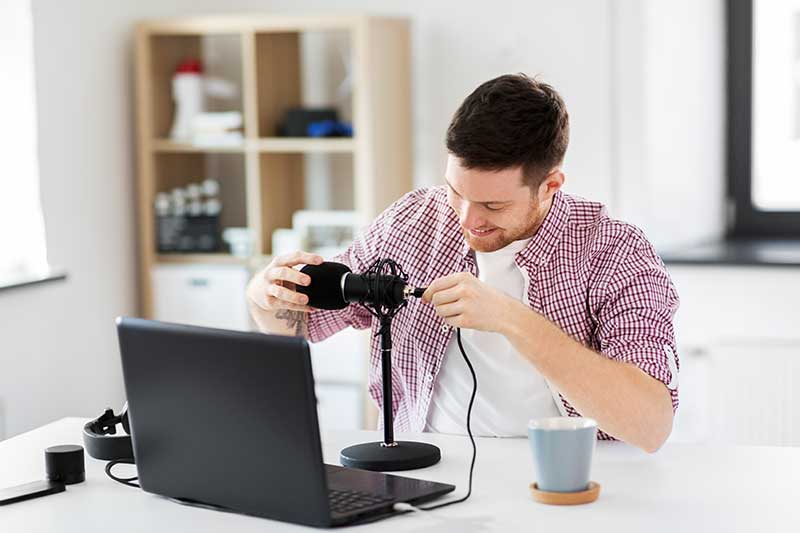 The birth of the USB microphone has been a blessing to content creators. Just think about the practicalities. No need for an audio interface, just plug the microphone USB wire into your laptop or computer and you're ready to roll.
The plug and play nature of the USB mic has revolutionized not only ease of use but also portability. A traveling studio is now more achievable, you can access quality recording capabilities wherever you go. It is as simple as dropping your mic and cable in a laptop bag.
So are cheap USB mics any good?
Just like XLR microphones, there is the good, the bad, and the ugly.
The inexpensive USB mics on this list will deliver high-quality audio in a price range that is achievable for us all.
Top Cheap USB Microphone Under $49: Samson Go Mic
The Top 11 Cheap USB Microphones Under $49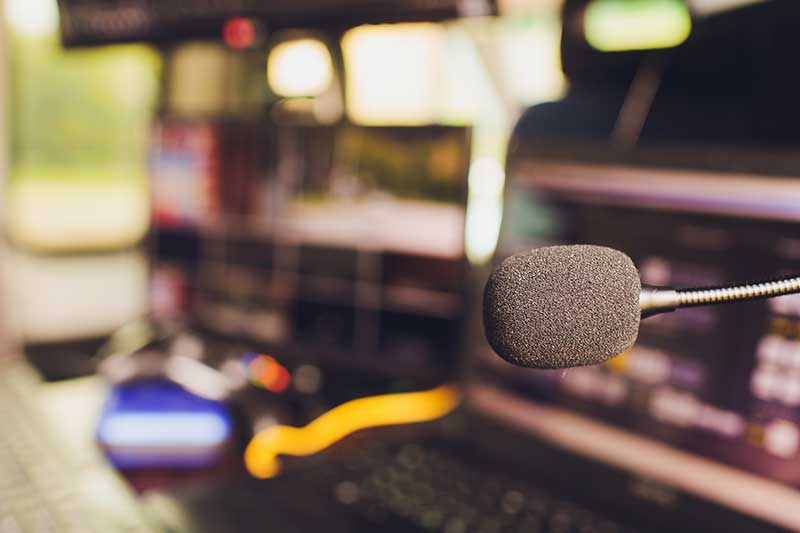 Top Budget USB Mic: Samson Go
The Samson Go is small. It's about the size of a guitar tuner. 
But don't let that fool you. It's also powerful. 
A lot of people overlook the Go because of its unorthodox shape and style. It looks like something that's meant to be taken on the go… and it is, to a point. 
But it's also a fantastic studio, YouTube, podcast, sit-at-your-desk option as well. 
Let's talk about ease of use. The Samson Go has it in spades. 
Plug it in directly to your computer via USB, or into your iPad with a handy lightning port to USB dongle, and the included cord. It's brilliant. 
Now, this mic is small, but it's incredibly sensitive. This is good, but it means that you'll definitely need a pop filter for it. 
But the good side of this is that it will do a great job capturing subtle nuances in your voice. 
The Samson Go also gives you zero-latency monitoring via an ⅛" plugin, which is very cool. 
As far as the included 'clip' goes, it clips easily onto a stand or corner, making it pretty easy to position. It has a reputation for being a decent Skype/Zoom mic, but if you can position it and don't mind securing a pop filter, it brings some serious power as an all-purpose condenser. 
You're not going to get $1,000 audio out of the Samson Go. And at super high levels, it does give you a little bit of 'ocean sounding' background noise. 
But it's a dynamic, compact little piece of gear that blows the roof off the sub $49 mark! 
Key Features
Portable
Includes a headphone jack for zero latency monitoring
Comes with a clip to attach it to your music stand, iPad stand, etc.
Super affordable for the quality it provides
Awesome mic for YouTube, podcasting, streaming, voice-over work, etc.
Runner Up: Fifine K669B
The Fifine K669B does not look, feel or sound like a budget microphone. You'll most likely be scratching your head at how you've acquired such a piece of kit at such an affordable price. It is deservedly crowned as our best USB microphone.
The first pleasant, and welcome surprise is the solid metal construction of this mic. A feature usually reserved for premium microphones.
With no flimsy plastic insight, you'll be reassured to have a reliable and sturdy microphone in your hands. It doesn't end there, the package includes a strong, metal tripod stand for conveniently placing the mic on your desktop.
You could look at this microphone as a long term investment with its build quality to be applauded.
The K669B does not over complicate things. The volume knob on the unit makes for easy volume adjustment. You can dial in the gain to suit your environment and purpose. It is that simple.
The common USB connection ensures this is a versatile microphone for PC and Mac.
All the above is, of course, important but perhaps not the most integral component of a microphone. So now onto audio quality…..
In this price range, the K669B punches above its weight. You can expect a clear and clean capture with minimal background noise.
All in all the Fifine K669B is the perfect solution for podcasters. Its affordability does not compromise its quality. It is the best USB microphone in this price range to leave your voice recordings sharp, natural and professional.
Key Features
Large Diaphragm Condenser Element
Metal Construction
Polar Pattern: Cardioid
Frequency Response: 20 Hz – 20 kHz
Volume Dial: Adjust Gain with On-Body Dial
Compatibility: Windows, OSX, and PlayStation
Also Includes: USB Cable (5.9 Foot) and Metal Desktop Tripod Stand
Best with Desktop Arm Stand: Neewer USB Microphone
If you've done much shopping for super cheap USB condenser mics, then the Neewer NW-7000 has doubtlessly caught your attention. 
This is one of the best USB microphones for beginners wanting to get started without fuss. 
While sound quality might not compete with our overall top choice, the list of accessories that come with this purchase is quite astonishing! It is a true bargain that will get you recording with one swift buy.
But let's talk about the sound. Does it actually give you the kind of audio to justify the cost?
I mean, you're getting a lot with this kit. Does that mean that the microphone is crap?
Our tests were conducted with this guy plugged straight in, and turned up to about 65%.
It actually sounded quite good! It sounded good not just with vocals, but also with an acoustic guitar. It even does a good job when set up in front of a guitar amp. 
Setup is super simple. Just plug it in and go! 
It feels a little bit light, and on the cheap side. I wouldn't want to drop it!  
The mic has a metal body and a nice grille. It's really nothing special. It's certainly not a thousand dollar mic. 
But… it actually does the trick. It has a cardioid polar pattern, and the extras alone that come with the kit make it a surprisingly good bargain. 
Big thumbs up. 
Is it worth the cash?
Actually… yes. And then some! 
Key Features:
Polar Pattern: Cardioid
Cable Length: 1.5m / 4 ft
Aluminum Microphone Grille
All Metal Adjustable Arm Stand
Kit Includes: USB Mic (NW-7000), Adjustable Suspension Scissor Arm Stand and Table Mounting Clamp, Pop Filter, Shock Mount, USB Cable, Anti-Wind Foam Cap
Best for Streaming: XIIVIO USB Gaming Condenser Microphone
The first concern with the XIIVIO is that it's just a cheap, gimmicky condenser that isn't going to work right. 
There are, after all, plenty of mics in this price range that don't perform up to par. 
But we were pleasantly surprised by what it had to offer. 
First, let's talk about what you get in the box. This streaming/gaming centric condenser ships with a desktop stand, a built-in USB cable, a windscreen, and even a pop filter. You also get a mic clip to keep it mounted to the stand, which suspends the microphone using little elastic bands.
In other words… It's a shock mount.  
Now, the weirdest thing I noticed about this mic at first was that the USB cable was permanently affixed to the bottom of the mic. 
It's weird, but it works. The obvious downside to this is that if something happens to your cable, the mic is done for. So that's probably the biggest downside for me. I would have preferred a USB cable that wasn't permanently attached. 
But, it's not the end of the world. And for the value you're getting for the cost, I'm inclined to overlook it. 
Alright. Let's talk about the audio. 
There isn't anything too complex to talk about here. It's a condenser mic that gives you pretty good audio. The added windscreen and pop filter actually adds a lot of value for the cost. 
The cardioid pattern is pretty focused. The audio tends to be a little bit on the low-volume side, so you'll want to turn up the gain a bit. 
But aside from that… it's a major upgrade to a stock mic or a cheap stock headset. 
You can plug it right into your computer or console, or even a PS4, and level-up your audio quality.
It not only looks the part, but performs to a level that will heighten your gaming experience.
All things considered, it's worth the money! 
Key Features:
Condenser Mic
Polar Pattern: Cardioid
Frequency Response: 20 Hz – 20 kHz
30-day Money-Back Guarantee & 12-Month Warranty.
Kit Includes: Double Nylon Pop Filter, Tripod Desktop Stand, 1.5-meter cable, and 360-degree flexible gooseneck.
Best Cheap USB Lavalier: Fifine Clip-on Cardioid Condenser
Fifine is known for offering truly affordable microphone products. 
But what about their lavalier? 
Well, we've also taken a look at that as well. 
Let's start off with the basics. If you're looking for a cheap lavalier, the Fifine USB clip-on makes a lot of sense. It's super cheap, but it also comes from Fifine, who is known for producing decent quality equipment. 
Alright, now let's talk about what comes in the box. 
This entire kit comes in a small box. It ships with a clip, a windscreen, and the lavalier itself. 
On one end, it has a USB connector. This means that you can plug it right into your computer, no fuss, no muss. 
But what about the audio?
The big fear with cheap mics is that they aren't going to sound good. 
But as it turns out, you'll likely be pleasantly surprised by the audio this mic can provide!
It gives you plenty of volume. The voice capture is pretty natural. It's pretty strong in the mid/upper frequencies, and usually doesn't pick up as much bass. 
In some settings, you may need to adjust the EQ and back it off of those higher frequencies, to reduce tinniness. 
But all things considered… it's a pretty awesome setup, especially for such a cheap price! 
It does have a headphone jack that you can use for zero-latency monitoring, as long as you have a 3.5mm jack. 
The biggest downside to this mic, for me, was the fact that the chord will only let you be so far away (6 feet) from your USB input. This means that your computer needs to be pretty close to you… and in some cases, this just isn't possible. 
But… If you plan to be sitting or standing relatively close to your computer, and don't want a big mic in the way, this is a cheap and easy method for capturing very decent audio with a very fairly priced lapel mic!
Is it worth the money? Heck yes!!! You won't regret it! 
Key Features:
Lavalier Mic
Cable Length: 2m / 6.56ft
Real-Time Monitoring: 3.5mm Headphone Jack
Warranty: 1 Year / 2 Years with Free Online Registration
Durable Metal Clip for Hands-Free Applications (Interviews, Presentations, Tutorials, Conferences)
Best Under $25: Samson Meteorite
Are you an opportunistic creator? Do you like recording on impulse the moment that your creativity strikes? The Samson Meteorite is your affordable and compact mic to record on the go.
So yeah, it is seriously compact! This mic will not only fit in your laptop bag, but it would most likely sneak into your pocket. Portability is not an issue with the Samson Meteorite.
It's a sleek-looking thing with its stylish chrome plated body. Spherical in shape, it is reminiscent in style to the common Blue Snowball. The main difference being it is a lot smaller.
It is a guaranteed improvement to your inbuilt computer and laptop mic. You can expect a noticeable and audible difference if you upgrade to the Samson Meteorite.
The 14mm mic diaphragm does not miss a thing. The frequency response spans 20 Hz to 20 kHz. Such a range covers everything you'll need for a clear and accurate vocal recording.
Regardless of your application, mic placement is important. The size of this mic means you might have to adjust it to get the best recording position. The Meteorite has a cool feature that allows you to adjust the mic to suit.
The Meteorite mounts on top of a magnetic base. This works like a treat to easily swivel and tilt until you find your perfect mic recording position.
The Samson Meteorite is a bargain. If you're looking for a cheap upgrade that you can travel with, this is the best USB mic. You'll struggle to find USB mics that offer portability and performance as good as the Meteorite at this price range.
Key Features:
Element Type: (14mm) Condenser

Frequency Response: 20 Hz – 20 kHz

Magnetic Base for Optimal Positioning

Polar Pattern: Cardioid (Unidirectional)

Sample Rate: 44.1kHz / 48kHz / 16-Bit

Power and Peak Indicator (Peak Indicator Displays Clipping)
Honorable Mentions
Although it becomes more difficult to find quality within a lower price range. There are still plenty of good microphone options! If you aren't convinced with our top picks, these mics narrowly missed out as best picks and are well worthy of honorable mentions.
Fifine K670
Another awesome option is the Fifine K670. Fifine is a company excelling in the affordable USB mic market, and the K670 is the latest mic to turn heads.
Yet again, this mic is protected with an all-metal construction to ensure it won't crumble after an accidental drop. It is, indeed, strong enough to withstand day to day use.
The K670 also includes a volume dial on the body. Great for fast volume adjustment even if you need to alter mid-production, you can subtly adjust gain levels.
The biggest noticeable upgrade from the K669B is the addition of a 3.5 mm headphone jack on the unit of the mic.
So how will this help you?
When using the mic for live performance and recording, this is a helpful feature for zero-latency headphone monitoring. When monitoring directly from your computer, a slight delay can often occur. This can hinder your chances of presenting to the best of your ability.
With zero-latency monitoring, you can hear exactly what you sound like to listeners. This is important for podcasts and when presenting a radio show.
So let's talk about the 16mm capsule.
The large capsule captures sound beautifully, leaving your voice with a rich and warm sound quality. It also has a sensitivity that will enable you to take a step back and record in comfort.
The Fifine K670 is a low noise, no fuss microphone that will leave your content sounding awesome without breaking the bank.
Features:
Large (16mm) Diaphragm Condenser Element

Metal Construction

Polar Pattern: Cardioid

Frequency Response: 50 Hz – 15kHz

Volume Dial: Adjust Gain with On-Body Dial

Real-Time Monitoring: 3.5mm Headphone Jack

Also Includes: USB Cable, Desktop Stand with 3 positions and Adapter for Boom Arm.
Aokeo USB Microphone
Even the stand is worthy of a mention. Retro in design it not only looks cool but also serves its purpose. The metal base comes complete with a non-slip design and will be sturdily placed on your desktop. It also protects brilliantly against shocks.
Features:
Condenser Mic
Polar Pattern: Cardioid
Sample Rate: 192kHz / 24Bit
Sturdy Metal Non-Slip Mic Base
Real-Time Monitoring: 3.5mm Headphone Jack
CMTECK G006
The CMTeck G006 will take you by surprise. It is futuristic looking with its LED lights and sharp design.
Here are some key features that are worthy of highlighting. Firstly, background noise is minimal due to noise-canceling technology. This means that even in noisy environments you'll remain the center of attention.
There is a flexible gooseneck to adjust the mic position, and a mute button to cut the signal with ease. Muting is a handy little tool for periods when you don't want to be heard, such as during musical breaks in a podcast.
Features:
Polar Pattern: Omnidirectional

Blue LED Light Design

Cable Length: 1.5m / 5ft

LED Indicated Mute Button

Flexible Gooseneck (13.4″ Maximum Height)
Kmise USB Condenser Microphone
The cardioid pattern is tight and excellently reduces unwanted background noise. With the 16mm large-diaphragm condenser you can expect good audio quality.
The easy-access volume control and a 3.5mm headphone jack for superior monitoring when recording confirms that the Kmise Mic is a great budget option.
Features:
Polar Pattern: Cardioid
Frequency Response: 30 Hz – 20 kHz
Volume Dial: Adjust Gain with On-Body Dial
Real-Time Monitoring: 3.5mm Headphone Jack
Kit Includes: USB Mic, USB Cable, Sponge Filter Cover, Adjustable Stand
TKGOU USB Microphone
With its impressive frequency response and tight pickup pattern, the TKGOU captures isolated and clear voice sources. It comes complete with a pop filter and shock mount to ensure further clarity in your recording. For the gamer and streamer, it is a budget pick for accurate communication.
Features:
Polar Pattern: Cardioid

14mm Condenser Element

Sample Rate: 48kHz / 16Bit

Frequency Response: 20 Hz – 20 kHz

Kit Includes: USB Mic with Cable, Foldable Tripod Stand, Mini Shock Mount, Metal Gooseneck Pop Filter
VIMVIP USB Computer Microphone
The VIMVIP is a smooth looking mic with a grille design, taking inspiration from some of the classic microphones. 
This is an omnidirectional mic, meaning it will capture sound from all angles. This is ideal for interview scenarios or podcasts, when multiple voices need to be captured. Just place this microphone in the middle of the subjects, and begin to record sound.
Whether you are recording or streaming, the VIMVIP works seamlessly with all your favorite applications. The 1.5 meters of cable and 180° adjustable mic stand will have precision mic placement for improved sound recording.
Key Features:
Condenser Mic

Polar Pattern: Omnidirectional

Frequency Response: 100 Hz – 16 kHz

Intelligent Noise Cancelling Technology

Kit Includes: USB Mic, Adjustable Microphone Stand and 1.5-meter cable.
Frequently Asked Questions
Which USB microphone is the best?
USB Microphones come in many different shapes and sizes. USB mics will also vary in price. All things considered, discovering a USB microphone that delivers high recording for under $49, is somewhat of a bargain. 
Especially when you take into consideration that you'll also save money avoiding the purchase of an audio interface.
In fitting with the price range of this article. You can't look past the Samson Go and the Fifine K669B as the best cheap USB microphones. These USB microphones combine style, performance, durability, and affordability. 
This is a quartet of qualities hard to find in USB microphones.
What is a good USB microphone for recording vocals?
USB microphones are designed with ease of use in mind. Many of them cater to content creators, streamers, and gamers. Therefore the manufacturers' priority will be to ensure that their USB mics are good at recording vocals. 
Though still, some may achieve higher vocal recording quality than others.
With the price range of this article in mind, the best USB microphones for recording vocals are the Samson Go and the Fifine K669B. The sound recording quality is crisp and clean when faced with the voice.
Is USB mic better than XLR?
The main and most obvious difference between these microphones lies in the connection. 
XLR microphones require a 3-pin connection and will be connected to an interface, then the audio interface to your computer or laptop.
USB mics are the simplest microphones for PCs, and are connected directly into a USB port.
While many audiophiles have crowned XLR microphones the winner of this sound debate… truthfully, it is down to personal preference.
If you're a beginner recording your first podcast, a USB would be the best option. They are low in cost, and require very little tech or recording knowledge to get started.
If you're faced with a decision between a $40 USB mic or a $40 XLR microphone, the difference will not be massively hugely audible.
Premium microphones are manufactured with an XLR connection. This could be due to professional environments requiring to record more than one microphone simultaneously. 
This is a major disadvantage of USB microphones, you can't use more than one simultaneously without jumping through a few hoops!
Final Thoughts
So there we have it. A collection of the best USB microphones all under $49!
These mics will deliver the quality that you need to broadcast. They are perfect for the beginner and will be a great starting point to find your feet. They may be all you need for years to come.
Taking the plunge and starting a podcast is a big and bold move. You need to do it with confidence in your gear. Faith in the knowledge that you are communicating with clarity and poor audio isn't going to deter listeners.
After your creativity and talent, this is the most important aspect on your road to success.
So roll the dice, take the risk or lose the chance and start creating. There is no better time to follow your dreams. Pick your microphone and get started presenting it like a pro.
Good luck!