Quick-Access To The Top 11 Condenser Mics Under $1000👇
Whether you are hoping to find the perfect match for a specific instrument, or this purchase is the beginning of a new venture, the condenser microphones on this list will deliver crowning audio quality, proven in the most demanding of studio environments.
With your new mic by your side, you'll be destined for a future of captivating mixes that will leave your clients and their audiences in awe.
Let's find your best condenser mic!
Top Pick Best Condenser Mic Under 1000
Top 11 Condenser Mics Under $1000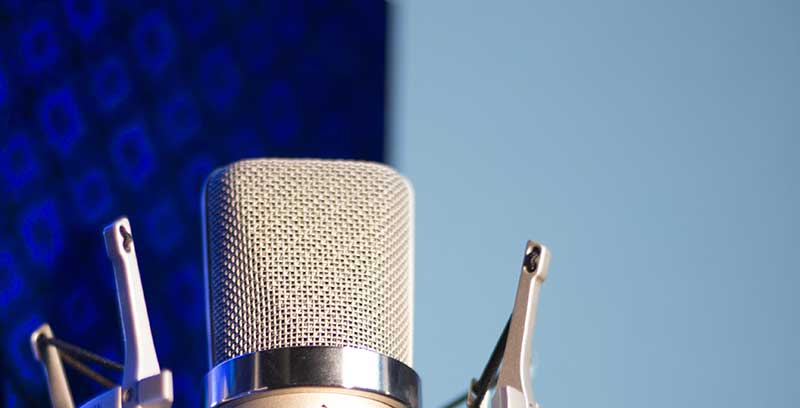 Top Pick Best Condenser Mic Under 1000: Shure KSM42/SG
The KSM42/SG is part of Shure's premium KSM range. Shure is an institution in the microphone world, and when they flex their muscles, it's time to pay attention.
The KSM42/SG is the work of a company passionate about mics showcasing their full ability. It is deserving of our top pick and will become royalty in your studio arsenal.
It is one of the best on the market for vocal recording, capturing every detail with natural, yet profound characteristics. The cardioid polar pattern is broad, so you will have no issues finding that sweet spot.
The rounded mid-range is richly complemented by a controlled and sweet presence lift. A subtle yet effective low end roll-off adds to the excellent frequency response.
Anticipating the needs of a studio professional, Shure has used expertise and critical detail in developing the dual diaphragm capsule. There is a noticeable lack of low-frequency proximity effect with this mic, broadening the opportunities for different mic techniques.
This is a professional mic for a professional studio that deserves your attention. With a slick tailored frequency response, the Shure KSM42/SG could quickly become your go-to vocal mic… versatile enough to capture male or female singers.
Shure KSM42/SG Key Features:
Cardioid Pattern
Max SPL: 139dB
Internal Shockmount
Self Noise: 8dB (A-Weighted)
Zinc Housing and Steel Grille
Frequency Response: 60 – 20 kHz
Runner Up: Neumann TLM 102
Are you yearning for a Neumann in your collection? The TLM 102 brings Neumann quality at an affordable price. Don't be fooled by its compact size, it delivers a grandiose sound.
Whether it be used for voice or instrument, the elegance of this Neumann is a thing of beauty. Adding this microphone in any mix will elevate the overall quality. It can be used to complement other microphones, or take center stage. Either way, it is a joy to behold.
The range of 8-12 kHz is accented for added presence. When faced with recording voice and acoustic instruments, this part of the spectrum will be represented with a beautiful silky sheen.
The integrated pop shield admirably controls sibilance and consonants, further adding to the overall clear but powerful recording qualities.
Due to a maximum sound pressure level of 144dB, the Neumann TLM 102 remains distortion-free in even the most exuberant of sound sources.
This microphone is extremely well balanced. The bass is powerful, yet rounded. The midrange is true and natural, while the highs are distinct… but in no way harsh. It would surely prove to be a sure-fire hit in your studio toolbox for voice and instrument recordings.
Neumann TLM 102 Key Features:
Cardioid Pattern
Max SPL: 144dB
Built-In Pop Shield
Includes: Shockmount
Self Noise: 12dB (A-Weighted)
Frequency Response: 20 – 20 kHz (8-12 kHz Boost)
Best Vocals: Neumann TLM 103
The vintage U87 was first introduced in 1967, and quickly became an industry standard in professional studios worldwide.
The success of the U87 propelled Neumann to new heights within the music recording industry.
The U87 was a huge milestone in the company's history, earning them a reputation that stands today.
When Neumann brought out an up-to-date twist on the U87, there may have been some skepticism.
However, the Neumann TLM 103 is emerging as a modern-day classic in its own right, and proudly sits as our top pick for vocals.
It even looks like a classic. Easily recognizable as a Neumann with a tapered grille, it is an aesthetically pleasing microphone that won't look out of place in any studio.
So what makes it ideal for vocal recording?
The pristine capture makes for intimate and engaging vocals. An effective presence boost around 5kHz adds a smooth, silky vibrancy, bound to interact with the listener.
With a low self-noise, a mixing engineer won't be faced with a battle when applying processing effects. They will revel in the premium quality results of this amazing vocal mic.
Neumann TLM 103 Key Features:
Cardioid Pattern
Max SPL: 138dB
Includes Swivel Mount
Self Noise: 7 dB (A-Weighted)
Capsule Derivative of the U87
Frequency Response: 20 – 20 kHz (5 kHz Boost)
Best Matched Pair for Drum Overheads: Neumann KM 184
The Neumann KM184 small diaphragm condenser microphones provide strikingly true reproduction.
Using these mics as drum overheads will transport the listener into the session. The response is so flat, that it is perfectly fair to say that these mics take precision to new levels.
The uncolored accuracy with which these microphones record is just one aspect of what makes them ideal for drum overheads.
Whilst the frequency response is predominantly flat, there is a slight treble boost at 9 kHz. The added brilliance in this region captures the sparkle of the cymbals, which often go underrepresented in a mix.
The high SPL capabilities can handle even the most zealous of drummers, while the cardioid pickup pattern is tight… ensuring that off-axis coloration is minimal.
Regardless of genre and drumming style, the Neumann KM184 mics are drum overheads that can add detail and sparkle to your mixes. A highly advised luxurious weapon to have at your disposal in a recording session, offering transparency and realism.
Neumann KM 184 Key Features:
Cardioid Pattern
High SPL Capabilities
Self Noise: 13dB (A-Weighted)
Frequency Response: 20 – 20 kHz (9 kHz Boost)
Best Matched Pair for Ensembles Overhead: AKG Pro Audio C414 XLS
If you want versatility from your investment, look no further than the C414 XLS. The flexibility offered by these microphones makes them a great choice for recording ensembles.
These condenser microphones have nine polar patterns to choose from! Adaptable to any scenario, the C414 XLS glides effortlessly through different applications while maintaining a perfect capture.
When recording an ensemble, things can get tricky. But with such an array of polar patterns at your disposal with this mic, you have options. The beauty of the C414 XLS is that even the slightest overload will be displayed by its LED indicator, helping you in a hectic high-pressure framework.
The most common method for classical recording is in a live setup. With this scenario often taking place in halls, distant miking techniques will probably be par for the course.
The potency of the C414 ensures that all the detail is captured even when space stands in the way of the source.
The C414 XLS microphones make potentially complex recording settings a trouble-free and smooth running task. And let's not forget that they also sound fantastic!
C414 XLS Key Features:
Self Noise: 6dB (A-Weighted)
Low Cut Filters: 40, 80, 160 Hz
Attenuation Pads: -6, -12, -18dB
Frequency Response: 20 – 20 kHz
Polar Patterns: Cardioid, Hyper-Cardioid, Wide-Cardioid, Omnidirectional, and Figure-8
Best Tube Microphone: Warm Audio WA-251
Tube microphones are unmistakable. The WA-251 delivers vintage feel with the reliability of a new microphone.
Warm Audio studied the classic microphones from the heyday of recording to assist in the design of this great mic. They haven't just replicated some of the great vintage mics though, they have enhanced that familiar and warm sound.
Every detail has been considered to develop this classic microphone. There was even an audition process to decide on which tube would be seated in the mic. The Slovak Republic JJ 12AY7 was crowned due to its frequency response and tonally vintage characteristics.
So what can you record with the WA-251?
Vocals, acoustic guitars, electric guitars, piano, string sections, bass guitar… and there are plenty more.
The truth is, the qualities of a good tube microphone lend to a plethora of applications. It is a timeless method of recording, and this microphone pays homage to our favorite recordings of the last 50 plus years.
If you want to look at the future, look at that past. Any instrument or voice will thrive with the WA-251, offering a vintage feel that will never go out of fashion.
WA-251 Key Features:
Tube Mic
Max SPL: 132dB
Self Noise: 12dB
JJ Slovak 12AY7 Tube
Frequency Response: 20 – 20 kHz
Best for Acoustic Guitar (Large Diaphragm): Shure KSM44
Acoustic guitars require a flash of brilliance in the top end, whilst maintaining the body in the lows. It can be difficult to balance both. The Shure KSM44 expertly reproduces the tonality of acoustic guitars.
Recording an acoustic guitar with this mic will be a joy. Even with a basic knowledge of mic positioning, you can capture a truly amazing guitar with a natural sheen and prime quality.
From low to high, the KSM44 captures a full frequency range for immensely accurate reproduction. Expect a fullness from the lows and air from the highs.
Recording acoustic guitars will be a regular occurrence in the studio. Featuring on most recordings, it is one of the most popular instruments in music… transcending many genres.
With this in mind, you will need something durable that can match your demands. Even in the worst-case scenario, when an accidental drop occurs, the zinc housing will protect the inner mechanics; and the carbon steel grilles will protect the all-important capsule.
Durable enough for daily use, and with characteristics that lend to a perfect acoustic guitar recording. The Shure KSM44 is an all-encompassing hit.
Shure KSM 44 Key Features:
Attenuation Pad: -15dB
Low Cut Filters: 80, 115 Hz
Frequency Response: 20 – 20 kHz
Polar Patterns: Cardioid, Omnidirectional, Figure-8
Includes: Shockmount, Standmount, Carry Case and Pouch
Top Pick: Shure KSM42
Honorable Mentions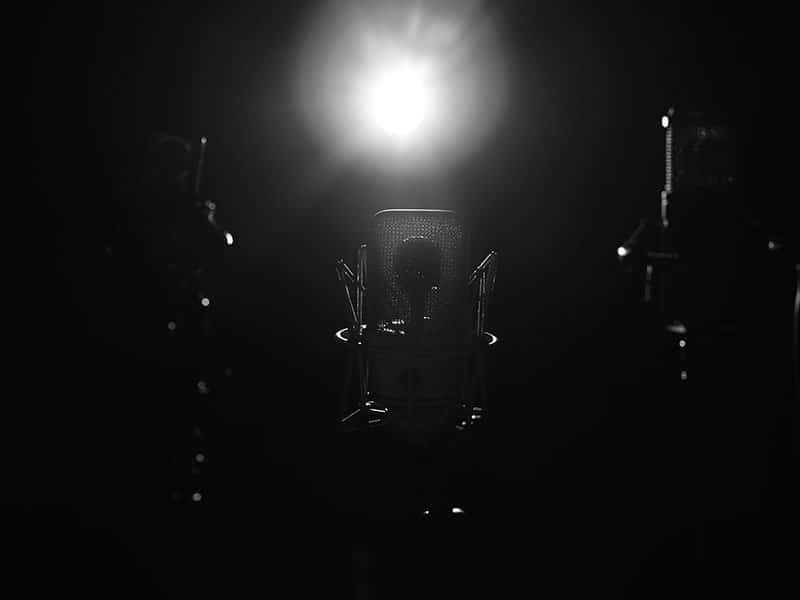 So if for some reason you didn't see your dream mic in our top options, or if they don't quite suit your needs, don't sweat it! Check out these contenders that didn't quite make the cut, but that still bring a huge amount of quality to the game!
Audix SCX25
It is one of the most elegant mics available. The patented capsule suspension system results in pure recordings with awesome detail.
Audix SCX25 Key Features:
Cardioid Pattern
Frequency Response: 10 – 20 kHz
Suitable for the capture of all acoustic instruments
Avantone BV-1
It's a tube microphone of distinction that delivers retro warmth hand in hand with rugged construction.
Avantone BV-1 Key Features:
Tube Mic
Frequency Response: 25 – 20 kHz
Polar Patterns: Cardioid, Hyper-Cardioid & Omni
Includes: Power Supply, Padded Wooden Box, Shockmount, Tweed Road Case, Metal Pop Filter, and Mic Cable.
Blue Dragonfly
Blue Dragonfly Key Features:
Cardioid Pattern
Rotating Spherical Grill
Integrated Shockmount
Frequency Response: 20 – 20 kHz
Telefunken M62
Telefunken M62 Key Features:
HyperCardioid Pattern
Famous Telefunken Quality
Small Diaphragm Condenser
Frequency Range: 20 – 31.5 kHz
Is $1000 Expensive For A Microphone?
There's no doubt that $1000 is a lot of money. However, what about in the context of the world of microphones?
You could easily pay over $5,000 for a new microphone. This is without even considering vintage gear. When a piece of equipment is no longer manufactured, prices can skyrocket.
Many experts believe the remodels just don't cut it. This is why the original Telefunken U47 can retail at $20,000!
Maybe $1000 is a bargain after all!
If you're setting up a home studio and your mind is suitably blown, fear not… There are some great microphones priced below $200 that will meet your requirements here.
Top Pick: Shure KSM42
Frequently Asked Questions
Which Microphone Is Best For Singing?
Large diaphragm condenser microphones are thought of as the ideal studio mics for recording singing. There are several of these types of microphones available, priced at varying price ranges.
In the below $1000 price bracket, the Neumann TLM 103 edges it for us. However, many microphones on our list will thrive for vocal recording.
Is A Dynamic Or Condenser Mic Better For Vocals?
This depends on the scenario. For live performance, dynamic mics are preferred due to their durability.
However, in the studio, condenser mics are used for vocals due to their increased sensitivity.
This is only a generalization, of course, and there are exceptions.
What Are Condenser Mics Good For?
A condenser microphone is a studio must-have.
They capture the largest frequency range and have an improved transient response, enabling them to be versatile for several different types of sound sources.
They are good for recording almost anything!
Final Thoughts
There you have it. The condenser microphones on this list will command space in your studio for years to come… capturing nuances and detail in your work that will compete with the most notorious studios.
It is time to take your pick and enjoy putting one of these great microphones to work!