Quick-Access To the Top 8 Must Have Gifts for Vloggers👇
So one of your closest friends or family members is an avid YouTuber/vlogger looking to climb to the top of the popularity rankings?
We get it! 😎
I personally have a ton of content creators in my friend group and I know that picking the right gift to give them is a real challenge…
In this definitive guide you'll find that perfect gift to make the vlogger in your life jump for joy. No matter the occasion – birthdays, Christmas, Hanukkah, anniversaries, whenever – you'll impress with any of these 19 gift ideas!
Save yourself a ton of time as we've already done all the painstaking research of the ridiculous amounts of products on the market!
Let's dive in.
The Top 8 Must Have Gifts for Vloggers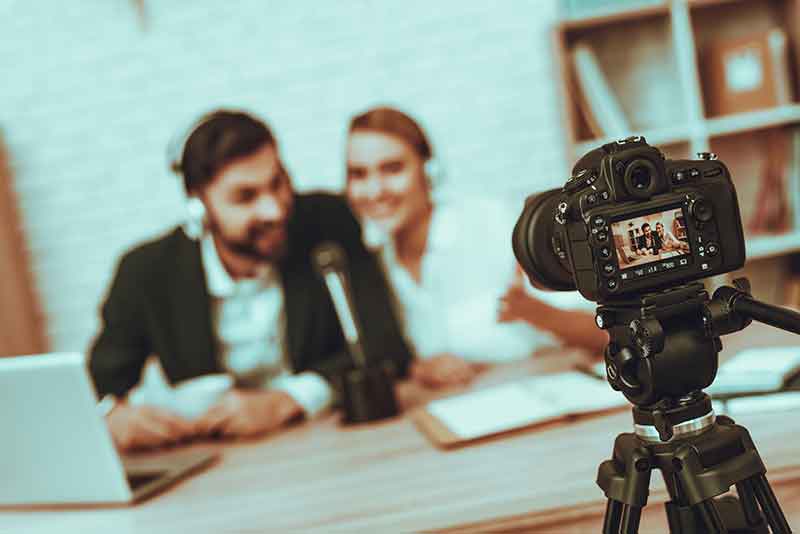 The Overall Top Gift For YouTubers – Rode VideoMic Pro Plus
The Rode VideoMic Pro Plus is a seriously amazing microphone. There's just nothing better out there for vloggers, YouTubers, and podcasters. It doesn't matter whether you use it for broadcasts, interviews, or reporting, you will always sound crystal clear and none of your followers will ever complain about background noise or hissing again.
The guys at Rode have also thrown in an Auray Windbuster that'll supply you with dual-layered wind protection if you decide to use this mic outdoors.
Pro tip: combine this with an excellent DSLR camera (like our next recommendation) and you'll build yourself the equivalent of a compact, portable studio!
Key Features of the Rode VideoMic:
Includes a 10′ extension cable
Integrated Rycote Lyre shock mount
Long-lasting, built-in rechargeable battery
Excellent frequency response (20 Hz to 20k Hz)
Supercardioid condenser shotgun microphone
The Runner Up Gift Idea For Vloggers – Nikon D3500 DSLR Camera
Nikon has gone with the slogan of 'beautiful pictures for all' for this Nikon D3500 camera… and it isn't just marketing!
Even if you've never used a DSLR before in your life, you'll be able to almost instantly record videos like a pro. You won't even have to worry about wasting time downloading your videos, as it connects seamlessly with smartphones for easy sharing and editing. Another huge plus for an investment of this sort is that the D3500 is compact, sturdy, and durable – ideal for use in any conditions.
If you are still thinking that it might be a bit too expensive, then also consider the sheer amount of time it will save you from not having to constantly use your editing software!
24.2MP
Effective: 20.4 Megapixel
1080/60p Full HD video
Image sensor size: 23.5 x 15.6 mm
11 autofocus points and fulltime AF
Up to 5 full-resolution frames per second
AF-P DX NIKKOR 18-55mm f/3.5-5.6G VR lens
The Best Vlogger Gift For under $100 – Movo SmartCine Smartphone Camera Kit
The Movo SmartCine is a YouTuber's closest friend. One compact, handheld device will revolutionize the way you create content for your vlog… and for less than 100 bucks.
You'll particularly benefit from a quality stereo microphone that is exponentially better than whatever your phone has built-in. It also features a 36 LED light, a universal phone rig, a windsock, wide-angle and fisheye lenses, and a tripod-mountable handle. Everything is smoothly powered by a long-life internal rechargeable battery.
One last bit of good news: you get a 1-year warranty from Movo if anything should go wrong!
Key Features of the Movo SmartCine:
Includes a protective hard case
Built-in microphone with a windsock
36 LED ring light with three output levels
Works with any smartphone between 2.2″ – 3.8″ wide
Comes with two extra lenses: wide-angle and fisheye
Runner Up Gift For YouTubers Under $100 – Yesker Ring Light 18"
This Yesker 18″ Light is without a doubt the finest ring light under $100 we've tested. With a 416 piece LED light, you'll have more than enough brightness for anything you can think of- from close-ups to illuminating your entire studio with just one light. The Yesker also lets you easily control both dimming (10-100%) and temperature control (3200-5600K) with two simple knobs.
One of our favorite things is that you don't need to worry about this light breaking or dropping your DSLR/smartphone: its tripod stand is thick, sturdy yet surprisingly lightweight.
Key Features of the Yesker 18″ Light:
180° rotatable head
3 hot shoe adapter slots
12 heat-dissipating holes
Bluetooth remote with 10m (30 feet) range
Compatible with most DSLRs and smartphones
A built-in 5V USB port for charging your phone as you record
Aluminum alloy stand that is adjustable from 31.5-73″ (80-185cm)
The Best YouTuber Gift Under $50 – VILTROX L116T Light Panel
The VILTROX L116T is by far our favorite panel light for vloggers. Why?
Because it's:
Simple to set up and start using.
Incredibly bright thanks to its honeycomb LED design – you can even use it in a pitch-black room!
Super slim and lightweight
Inexpensive
One more thing, during all our tests, it consistently delivered soft, natural light, and very rarely made any subjects look harsh. Very impressive for a light that costs less than 50 dollars.
Key Features of the VILTROX L116T:
Just 0.8″ (2cm) thick and 0.6lbs (260g) heavy
Powered by a 2200mAh Li-ion battery or via an ac adapter jack
LCD that shows the brightness, color temperature, and battery level
A dimmer knob that controls brightness adjustments (range 20%-100%) and color temperature (range 3300-5600K)
The Under $50 Vlogger Gift Runner Up – Joby JB01507 GorillaPod Compact Tripod
The Joby JB01507 GorillaPod Compact Tripod is the best value for money tripod, no doubts about it.
Our favorite feature is the patented GorillaPod ball and socket technology that Joby has used to manufacture the tripod's three very flexible and resistant legs. You can bend and mold them as you please and literally attach this tripod to anything. If you choose a more traditional route and just want to stand it, rubberized ring and foot grips will provide you with extra stability even on the least stable terrains.
This is a must-have accessory for any YouTuber working with a DSLR outside of a studio!
Key Features of the Joby Compact Tripod:
Built-in bubble level
360° panning bed and 90° tilt
1/4″-20 standard tripod mount
Holds devices weighing up to 3 kg (6.6 lbs)
Best Cheap Gift for YouTubers- TAKSTAR SGC-598 Interview Microphone
The TAKSTAR SGC-598 is an unbelievable deal. For the fraction of the cost, it delivers audio quality that many say is comparable to the market-leading vlogging microphones! It achieves these marvelous results through a high-sensitivity condenser microphone that is equipped with a heart-shaped, single sound pickup point.
But don't expect a cheaply made product that only delivers great audio for a couple of weeks… the TAKSTAR is also very well made using durable materials.
Its price is so good that we suggest you get two, one for the studio and one for the road!
Key Features of the TAKSTAR SGC-598:
Comes with a windscreen
Shock-resistant structural design
Electret condenser with a cardioid polar pattern
Excellent frequency response levels at 50 – 16k Hz
Powered by 1x AA battery that can last for up to 100 hours
Best Cheap Vlogger Gift Runner Up – Auxiwa Clip Ring Light
The Auxiwa Clip is the gift idea of the century if you're a bargain hunter… for a little more than a couple of bucks, you'll make any YouTuber go WOW as they unwrap your present… finally a gadget for making our faces glow when we use the front-facing camera on our smartphone!
It doesn't matter what high-tech lighting solutions they might already have, the Auxiwa will be a welcome addition to their family, as they're more than likely still taking selfies with just their phone's flash. Trust us, you would have noticed if they already this product clipped onto their phones 🤩
Key Features of the Auxiwa Clip:
36 LED bulbs
Also works as a webcam light for laptops
Great for close-range photography and recording
5600k color temperature with three brightness levels to pick from
Tiny and lightweight
The Ultimate Gift Ideas for Vloggers, YouTubers, and Video Content Creators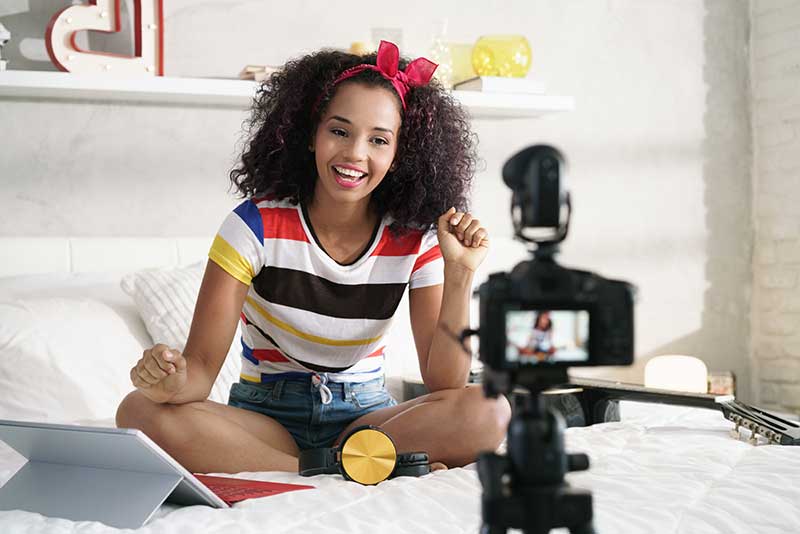 The Greatest Vlogging Camera Kits on the Market
Top Three Cameras for Vloggers and YouTubers
Our Three Favorite Vlogging Mics
Great Lighting Gifts for Vloggers and YouTubers
The Best Vlogging Tripods
The Full List: 19 Must-Have Gift Ideas for Vloggers, YouTubers, and Video Content Creators
Now that we've finished our in-depth reviews of our 8 favorite vlogging gifts, we're ready to dive into the full list of 19 great gift ideas for your favorite vlogger.
It's time to make a choice!
The Greatest Vlogging Camera Kits On The Market
The Best Vlogger Camera Kit: Movo Huge Smartphone Video Kit V8
The Movo Huge Smartphone Video Kit will turn your smartphone into an incredible portable recording studio.
The Most Bang For Your Buck: Movo Ultimate Smartphone Video Kit
If the Movo Huge comes with a bit too many bells and whistles, then you need to get the Movo Ultimate Smartphone Video Kit.
Our Favorite Cheap Camera Kit: Movo SmartCine
The Movo SmartCine is a great option if you're Looking to spend a little bit less, but not compromise too much!
Top 3 Cameras For Vloggers and YouTubers
The Best Vlogging Camera Money Can Buy: Olympus OM-D E-M5 Mark III
This Olympus camera is quite literally deserving of a seat on Mount Olympus next to the Greek gods!
The Leading Price-Value Camera For Aspiring Vloggers:
For something a little more affordable, make sure to take a look at the Nikon D3500!
Our Choice For An Incredible Camera Under $100: Sony DSCW800
The Sony DSCW800 is the perfect mix of convenience and efficiency.
Get Heard Loud And Clear: Our 3 Favorite Vlogging Mics
The Best Microphone For a Vlogger: Rode VideoMic Pro Plus
Getting the Rode VideoMic Pro Plus as a gift would make any serious vlogger's day!
The Mic With The Most Value For Money: Audio-Technica AT8024
The Audio-Technica AT8024 is a lightweight yet powerful microphone that's been designed for use with your DSLR camera or any other camcorder.
Our Favorite Cheap Vlogging Mic: TAKSTAR SGC-598
Just attach the TAKSTAR SGC-598 to your DSLR and capture away whenever and wherever you might be!
Great Lighting Gifts for Vloggers and YouTubers
The Best Ring Light For Vloggers: Yesker Ring Light 18"
This Yesker 18″ Light is hands down the best ring light for making YouTube videos you'll be able to find anywhere!
Our Favorite Cheap Ring Light: UBeesize 8″ Selfie Ring Light
If you are on a tight budget but know that your giftee needs better lighting, we recommend getting them the UBeesize 8″ Selfie Light.
The Smart Choice For An On-Camera Ring Light: Neewer 48 Macro LED Ring
This 48-piece LED will supply ample lighting for your vlogging needs as long as you're relatively close to your camera.
Just one warning, it fits Nikon or Canon branded DSLRs, so make sure to check the giftee's camera brand!
The On-Camera Video Light All YouTubers Need: VILTROX L116T
Not a fan of ring lights? The superslim VILTROX L116T is our favorite panel light for vlogging needs.
The Leading Smartphone Clip-on Ring Light For Vloggers: Auxiwa Clip
The Best Vlog Lighting Kit: Neewer 2-Pack LED Softbox Lighting Kit
Get a Neewer Lighting Kit and you won't regret it!
Our Pick For A Cheap Vlog Lighting Kit: ESDDI Softbox Lighting Kit
Get ready to be blown away by the ESDDI Lighting Kit!
Give The Gift Of Stability With A World-Class Vlogger Tripod
The Best Vlogging Tripod For YouTubers: Joby GorillaPod Mobile Rig
The Joby GorillaPod Mobile Rig is a great present to get that adventurous vlogger!
The Most Bang For Your Buck: Joby JB01507 GorillaPod Compact Tripod
Our Favorite Cheap Vlogger Tripod: UBeesize Phone Tripod
A great present you can get for really cheap is the UBeesize Tripod!
Summing It All Up: The Best Gift Ideas For A Vlogger, YouTuber, or Blogger
You are a vlogger gift ninja, congrats! 🐱‍👤🎁
By now, you should definitely have at least two or three awesome gift ideas for the vlogger in your life… and all it took you was about 20 minutes!
In an alternate dimension where you didn't find us, you would have spent about 5 hours of your life finding a present that would have left you worrying up until the moment it was opened.
Go ahead, order a great gift now and then move on with your life! 😀
If we've missed out on any other great products, please leave us your comment, name, email, website URL (if you have one), and recommendations below. Thanks in advance for contributing your expertise and helping us make our blog even better!