Quick-Access To The Top 3 Headsets with Mics for 2021👇
Click the links above to learn more or keep reading for the full review…
If you're a gamer, streamer, vocalist or aspiring podcaster… It's important to get yourself a great microphone.
Because one truth will become glaringly evident over time…
Your content will be judged by the audio quality.
And there is no easier option to recording studio quality audio than with a modern broadcast headset with microphone combo.
These types of microphones are really helpful when you want to capture high-quality audio without any hassle.
You never have to worry about your mic orientation, distance or popping your plosives due to the fixed microphone location via the headset.
Headsets also make it easy to control your levels, have a cough button or mute button available on the headset wire for even more control.
There's a reason why some of the most popular podcasters and broadcasters in the world use these headset microphones!
They make your life easy!
Ready to find the best headset mic that also fits your budget?
Let's dive in.
11 Best Headset Mics For 2021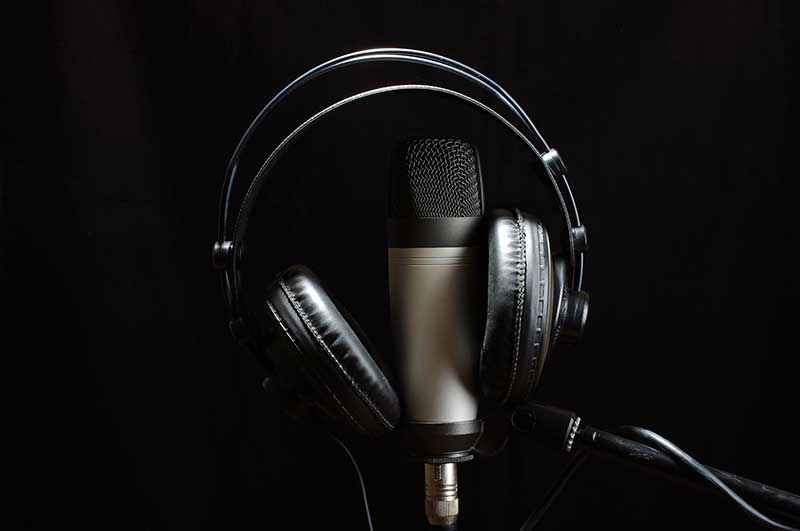 Our Top Pick: Audio-Technica BPHS1

It's not just the stylish design that makes the BPHS1 our top pick. Featuring a cardioid polar pattern and frequency response specifically tailored to vocal recording, these headphones are ideal for podcasting and game streaming.
Designed especially for news and sports broadcasting, the headset features a boom-mounted mic that can be attached to either the left or right side. So, if you like to sip your Diet Coke on the right side, swap the mic over to the left!
Noisy flatmates or family? This headset features circumaural earcups to block out any unwanted noise so you can get your head in the game. What's even better is the comfortable ear pads are replaceable, so when they are looking a bit tired from hours of recording, you can order a new set and they'll be just like new!
The BPHS1 are wired headphones, which ensures the best in sound quality if at the expense of mobility, but the cable is replaceable as well if it wears out over time!
The microphone – attached to the headphones via a gooseneck boom – offers crisp, clear audio and natural sound reproduction, thanks to its neodymium magnets and cardioid pickup pattern.
Here's some of the reasons the BPHS1 is a reliable option.
Cardioid Dynamic Mic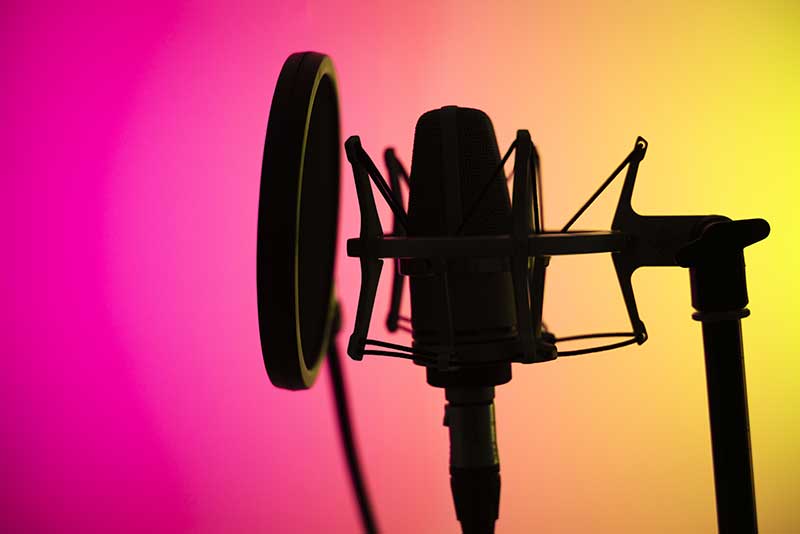 The BPHS1 mic features a tailored response for natural vocal reproduction and the ability to reject off-axis sounds.
Sound Isolation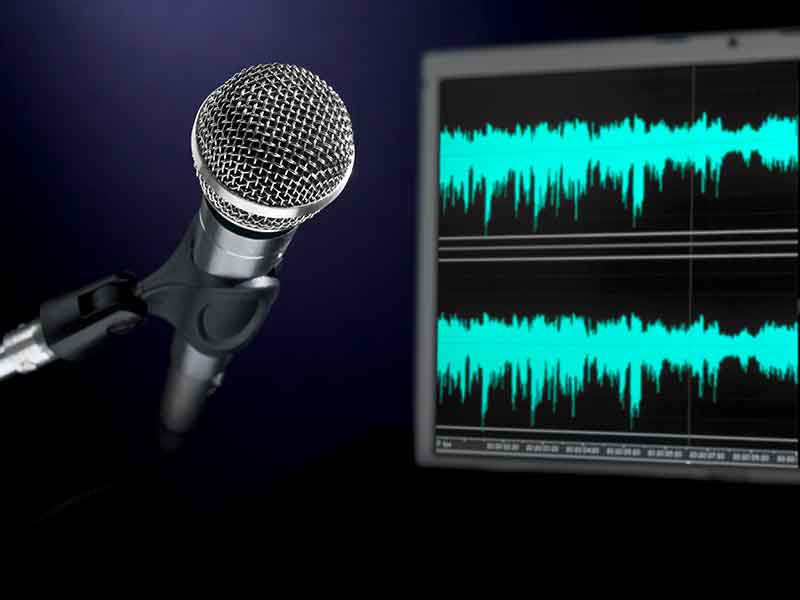 Isolate background distractions or seal out the crowd at your favorite coffee shop during rush hour. The BPHS1 are closed-back headphones with circumaural earcups.
Dynamic Driver
The driver size is 40mm, which is on the larger scale producing more bass; however, the dynamic feature gives this headset a balanced frequency response and little distortion to the audio in higher ranges.
Included Accessories
The included accessories for this headphone set are 3 additional windscreens to help manage harsh pop sounds and close up narratives.
The Verdict
This headset is the best for recording audio.
The comfortable yet rugged closed-back BPHS1 headphones are a high-quality build capable of reproducing detailed sound in a wider frequency range.
You can take your recording to the next level overnight at a reasonable price.
Best for the Money: Sennheiser GSP 600
Sennheiser GSP 600
A headset mic designed specifically for gamers, the GSP 600 ticks the boxes for looks, ergonomics, and audio quality.
Buy Now on Amazon
We earn a commission if you click this link and make a purchase at no additional cost to you.

The sound quality of the Sennheiser GSP 600 is truly impressive: with its closed back cup design, deep bass, detailed highs, and a crisp mid-range, delivering precise audio reproduction for the ultimate gaming experience.
The broadcast quality microphone features in-built noise cancelling technology, which minimizes background noise and keeps your audience focused on you. Plus, it has a flip to mute function built in, in case you want to rage without blowing up your viewers' ears.
Most importantly for long sessions in front of the console (or PC), the GSP 600 has a few comfortable tricks up its sleeve.
The padded headband features adjustable pressure for a custom fit, and the ear pads are finished in a suede-like material which, for anyone who has used a set of leatherette headphones for an extended period of time, will be a welcome addition!
Key Features of the Sennheiser GSP 600
Headset Frequency Response: 
The frequency range is between 10 Hz – 30 kHz, which is higher than the standard. This means that the headphones will respond to a broader range of frequencies with lower and higher pitches.
You can expect an immersive game experience with precise audio cues and details.
Headset Impedance: 
The GSP 600 has a 28-ohm impedance, which will deliver a louder sound; however, be mindful of not applying too much pressure on headphones by turning it up too loud.
Microphone Frequency Response:
The mic can pick up frequencies between 10 Hz – 18,000 Hz making it susceptible to lower frequencies. This is a broadcasting quality microphone with noise-canceling technology adjusted for the best pick-up position.
Weight: 
The gaming headset weight is 0.87 lb, which is ideal for longer marathon usage. The adjustable ear pads deliver total comfort during play for longer hours.
Noise Cancelling Technology: 
GSP 600 has noise-canceling technology designed with acoustic seals that are good at passive noise attenuation.
Expect to sharpen focus on the game because the GSP 600 will eliminate distractions and noisy environments
With a 2 year warranty, and compatibility with all your favorite consoles (PS4, Xbox One, PC, Mac), the Sennheiser GSP 600 is definitely one of the microphone headsets that should be on your "check them out" list!
Best Budget: Onikuma K5
Onikuma K5
With solid bass reproduction, in-line volume control and an adjustable mic, you won't find a more versatile headset under $30!
Buy Now on Amazon
We earn a commission if you click this link and make a purchase at no additional cost to you.

A solid set of headphones for gaming, the Onikuma fits snuggly in the $20-30 price range, making it a smart option for content creators on a budget.
With 120º of mic adjustment, the K5 will capture your voice loud and clear, though you may want to be careful that the mic isn't picking up any sound from other sources, as being an omnidirectional design, it picks up audio from all directions.
The 60mm drivers with neodymium magnets deliver great audio quality and strong bass reproduction, and you can pump the volume right up to 11 with the headset's in-line volume control. You can also mute the mic from the same controller!
Soft leatherette padding makes these headphones a comfortable choice for gaming or podcasting. And what's more, they come with a lifetime warranty so you can be sure they'll be a part of your content creating arsenal for some time.
Onikuma K5 Key Features:
Lifetime warranty
Adjustable, omnidirectional mic
In-line volume and mute control
Sennheiser GSP 300
Sennheiser GSP 300
A more affordable option for listening and recording, the GSP 300 does a pretty darn good job at keeping up with its big brother (the GSP 600), offering a wide frequency response both in the microphone and in the headphones themselves.
Buy Now on Amazon
We earn a commission if you click this link and make a purchase at no additional cost to you.

This makes them not only great for listening to music, but perfect for voice recording, as they ensure that the audio is clear and unfiltered. The last thing you want is a thin, tinny voice recording.
With memory foam earpads and a padded headband, the GSP 300 is built for comfort and is compatible with PC, Mac, PS4, Xbox One, Nintendo Switch, or any other devices with a 3.5 mm audio jack.
Sennheiser GSP 300 Key Features:
Wide compatible
Memory foam ear pads
Ideal for desktop gaming and content creation
Logitech G Pro
Logitech G Pro X
A classy design and clever internal tech make the Logitech G Pro a fantastic start for YouTubers and podcast hosts alike.
Buy Now on Amazon
We earn a commission if you click this link and make a purchase at no additional cost to you.

The internal Blue Vo!ce technology utilises a compressor, limiter, equaliser and noise reducer for a high caliber recording each and every time. This function does require the included USB external sound, and Logitech G HUB software running on a Windows PC, so these headphones aren't really suited to console gamers.
The software not only runs the headphones mic tech, but processes the G Pro's 7.1 and object-based surround sound capabilities.
Logitech G Pro Key Features:
Reportedly only compatible with PC
Stylish design – perfect for people creating videos
On board microphone and headset sound processing tech
SteelSeries Arctis 7
SteelSeries Arctis 7
One of the only devices on this list that connects via WiFi, the Arctis 7 delivers quality wireless audio with super low latency and no interference.
Buy Now on Amazon
We earn a commission if you click this link and make a purchase at no additional cost to you.

The retractable microphone is certified by Discord, and with a 24 hour battery life this wireless headset will keep you creating for hours.
SteelSeries Arctis 7 Key Features:
Wireless 2.4G connection
Discord certified microphone
7.1 surround sound when using with PC
Yamaha CM500

Built from high-impact materials, the Yamaha headset is durable and rugged, and is suitable for recording, streaming and even phone calls.
Yamaha CM500 Key Features:
1 year warranty
Well-built wired headset
100Hz-20kHz mic range
Sony Noise Cancelling Headphones WH1000XM3
Sony Noise Cancelling Headphones
Marketed at the hi-fi enthusiast or daily commuter, the strongWH1000XM3/strong is one of the best looking models available.
Buy Now on Amazon
We earn a commission if you click this link and make a purchase at no additional cost to you.

Featuring wireless connection via Bluetooth, and in-built noise cancelling tech, this is an ideal set of cans for life on the run.
The WH1000XM3 sounds GREAT, and though they might not be made specifically for gaming or podcasting, the mic is still up to the job… if a bit subject to noise interference due to it being built into the headphones themselves.
Sony WH1000XM3 Key Features:
30hr battery life
Alexa-enabled for easy music listening
Smart, wireless design means no cord
No mic boom means you can't get it close to your mouth
Logitech G935 Wireless DTS:X 7.1 Surround Sound LIGHTSYNC RGB PC Gaming Headset
Logitech G935 Wireless
Aimed squarely at the gaming market, the strongLogitech G935/strong (we forego the extended name from here) certainly looks like it belongs on a 15 year old boys Christmas list.
Buy Now on Amazon
We earn a commission if you click this link and make a purchase at no additional cost to you.

With sharp in-built LEDs that change with gameplay, and an array of buttons for audio control, the G935 packs in a tonne of features at a reasonable price.
Logitech G935 Key Features:
Fully wireless
Game-driven LEDs – customisable
Enhanced 6mm mic for voice clarity
7.1 surround sound for improved spatial awareness
AmazonBasics Gaming Headset
AmazonBasics Gaming Headset
If you on a tight budget but need a solid headset for gaming or content creation, the strongAmazonBasics Gaming Headset/strong is a great option.
Buy Now on Amazon
We earn a commission if you click this link and make a purchase at no additional cost to you.

With a flexible headband, rotatable mic and in-line volume control, this is one of the best value for money wired headsets online.
AmazonBasics Gaming Headset Key Features:
Super affordable
Wide compatibility via 3.5mm jack
Breathable earpads mean you can wear these all day
Who Should Buy A Headset Microphone?

Do you have a dream of earning a living from your YouTube channel, gaming stream, or podcast, and proving to your friends and family that you can make that dream come true? A headset mic is essential to capturing great audio for your projects and making your dream a reality.
Dedicated, stationary mics can be a great investment too, but headsets offer greater flexibility as they are literally attached to your head, meaning the mic is positioned in front of your mouth at all times.
Stationary mics may not be a viable option if for example you are streaming your gameplay and are moving around in your chair!
Not only that, headset mics give you the ability to hear back your own audio, collaborate with others, or voice-over a music bed!
Important Things To Keep In Min
A headset microphone on its own can't actually record audio. You'll need to make sure you have some form of audio recording software set up on your laptop, computer or console.
You may need to do some editing and mixing in post as well, such as equalisation or compression, to optimise your audio for your given project.
Wireless options are great, but they can get in the way of your creative process if the battery drains, or if connectivity issues prevent you from being able to use them properly.
It may be wise to consider purchasing a backup set of wired headphones, just in case.
Frequently Asked Questions

Are headset mics the best mics for recording audio?
That ultimately depends on your preference!
The quality of headset microphones is on the whole fantastic, but there's only so far they can go compared to a dedicated, studio quality mic.
That said, those options are usually fairly expensive and require additional components… such as stands and cables. Plus you'll still need a set of headphones to hear yourself back.
Flexibility is also an issue with this kind of setup. You've probably seen or heard the effects of a podcaster who can't keep still while using a stationary mic, where his voice gets louder and quieter throughout the show.
That's not the ideal experience for your audience, and you can eliminate that by using a headset mic.
What should I be looking out for when buying a headset mic?
First, consider your needs. Are you creating YouTube content, a podcast, or perhaps providing voiceover services? Will you be on camera? If so, you might want to take aesthetics into consideration.
Comfort is always a concern when using any product for a prolonged time period. Are you likely to be sitting and recording for hours on end? If so, consider a headset with great cushioning and an earcup design that suits your preference.
What is the best gaming headset with mic?
If you're a serious gamer, you'll want to consider a few variables
Headphone sound quality – you want to be able to hear enemies coming as well as comms from your teammates. Headphones with 7.1 surround sound are the ultimate choice for immersion and spatial awareness
Comfort – let's be honest, you're probably going to be playing into the early hours. We've all experienced hot and sore ears from wearing uncomfortable headphones for hours on end. Make sure to choose a headset with decent padding, and consider a suede type material to avoid sweat buildup
Mic quality – noise cancelling tech in the mic itself is going to be important here, as the last thing you want to do is frustrate your teammates or listeners by having fan or keyboard noise in the mix.
Functionality – do you need to be able to control volume easily, or perhaps have a simple way to mute the mic instantly? Consider what you'd like available at your fingertips, as the gaming headset market offers many choices!
For the ultimate in all of these areas, the Logitech G935 with DTS:X 7.1 surround sound is our top pick and will see you gaming for days!
The History Of Making Money With Headsets and Microphones
One of the first commercial applications for headphones came about in Britain in the 1890s. They were part of a device called the Electrophone.
Amazingly enough, this was part of a subscription service that cost users a whole £5 a year!
What did it do?
Well, it was pretty easy. You would put the headphones on, dial in the number for the switchboard, and receive a live audio feed from a performance from a theater in London!
Not quite Spotify… but an interesting bit of history, nonetheless!
Of course, headsets nowadays offer a lot more!
That's A Wrap!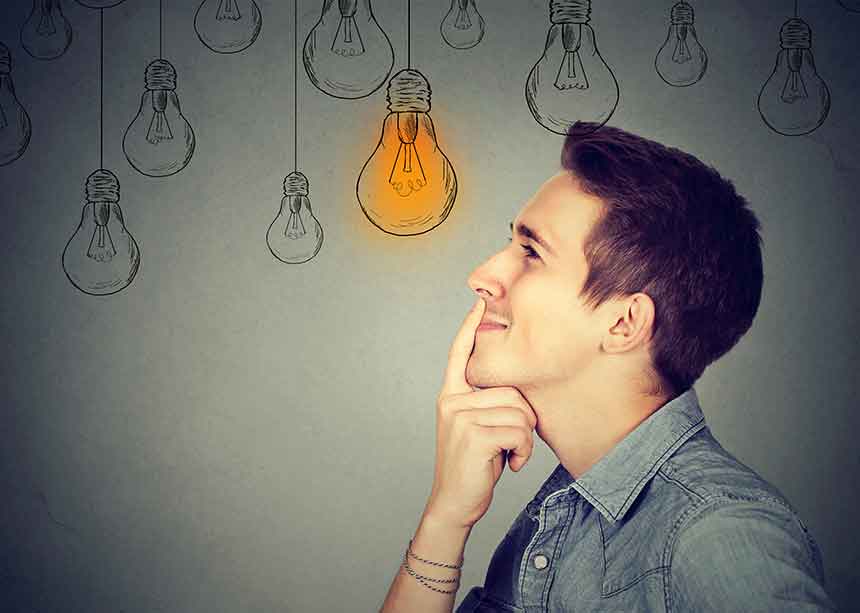 From in-depth gaming headsets to simple, affordable designs, these are the best headset microphones available.
Whether you need a comfortable set of wireless cans for your daily commute that can also be used for voice recording, or if you dream of being a full time podcast creator and need a headset that will deliver time after time, you'll find a solution above!