Quick-Access To the Best Mic For Bass Amp👇
If you want your bass guitar to sit nicely in the mix, with the right blend of low end and mid-range grit, then you need an appropriate microphone for bass amps. Scratch that, you need the best mic for bass amps.
What is that mic, you ask? Read on to find out…
Best Mics For Bass Amp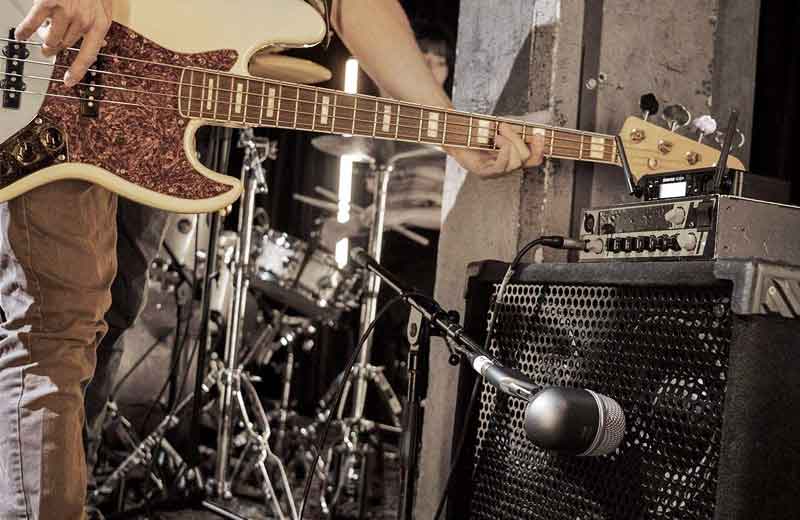 Top Pick Best Mic For Bass Amp: Shure BETA 52a
Shure is somewhat of a king when it comes to pro-audio equipment, especially when it comes to dynamic microphones. Their SM57 and SM58 dynamic mics are staples of the studio and live-sound industries, and have been for years.
The BETA range represents an upgrade to these models, as well as many others (such as the old Shure SM91, now the BETA 91a). Interestingly, there is no SM52. No matter, the BETA 52a does just fine on its own. More than, in fact.
First of all, take a look at that sucker. The BETA 52a is so beautifully crafted, it's ridiculous. Casual objectophilia aside, the BETA 52a also offers more than just devilishly good looks.
The frequency response, for example, is perfect for mic'ing up a bass cab.
With this mic, you get bass response right down to the lowest of the lows, with a sharp boost around 5kHz and an aggressive drop off above 7kHz. This means you'll capture everything you need to from your bass amp, and nothing else.
It has a pretty strong proximity effect though, so you'll want to think through your mic position very carefully. With the mic right up against the cab you'll see a 15dB boost in the lows (around 40Hz), compared to a response of around -5dB when the mic is 2 feet back from the amp.
The super-cardioid polar pattern ensures the BETA 52a is focused directly on your sound source, and the SPL handling of up to 174dB means this baby can withstand turning your bass amp right up to 11.
To put that in perspective, a jet engine at a distance of 3 feet is about 150 dB SPL. A 10dB increase is a perceived doubling in volume, which means 170dB would be perceived as four times as loud as that jet engine at 150dB SPL.
What I'm saying is 174dB is ridiculously loud, so your BETA 52a should be safe in pretty much any situation.
Key Features of the Shure BETA 52A:
Max SPL: 174db
Attractive design
Studio-quality sound
Supercardioid Polar Pattern
Wide frequency response: 20 – 10k Hz
Adjustable angle – not all bass amp mics offer this
Pretty much the industry standard for bass amps and kick drums
Runner up: Sennheiser e902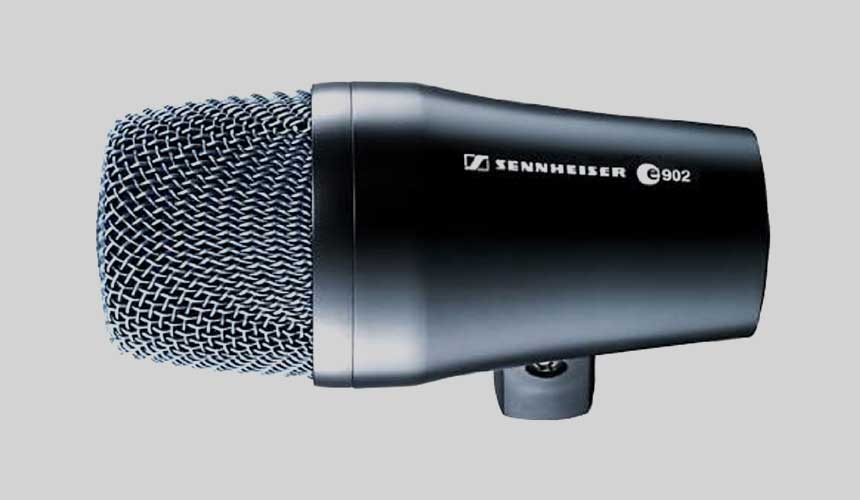 The e902 might not be as widely used as Shure's BETA 52a, but it's just about as good.
It's a fantastic bass guitar amp mic, with a frequency response that reaches well below 40Hz, and, like the BETA 52a, has a decent spike in the upper mid. This makes it perfect for capturing the honk and grind needed to make your bass tone cut through.
Being a large diaphragm dynamic mic, the e902 is ripe and ready for recording bass guitar amps. It's also a great choice for recording kick drums, and low-tuned toms as well.
The sound of this mic is incredible. Not only is the bass response perfect, it has a very fast attack, which captures the intricacies of slap bass techniques, and has a hum compensating coil which reduces internal noise.
With a rugged metal body, you can trust the Sennheiser e902 to hold up to the rigors of touring life, so this one is a great choice for the traveling musician or live sound engineers.
The mic capsule is internally shock-mounted for accuracy, and has a clear low-end with defined punchiness.
It would also make a great recording mic for guitar amp duties, especially if you are recording low-tuned guitars such as are common in modern heavy metal productions.
Just like the Shure BETA 52a, the Sennheiser e902 has an integral stand mount, which means you can easily screw this mic onto a stand, and adjust the recording angle as desired.
Key Features Of The Sennheiser E902:
Small form factor
Cardioid polar pattern
Large diaphragm dynamic mic
Wide frequency response: 20 – 18k Hz
Great for recording bass guitar as well as kick drums
Best Budget: Shure SM57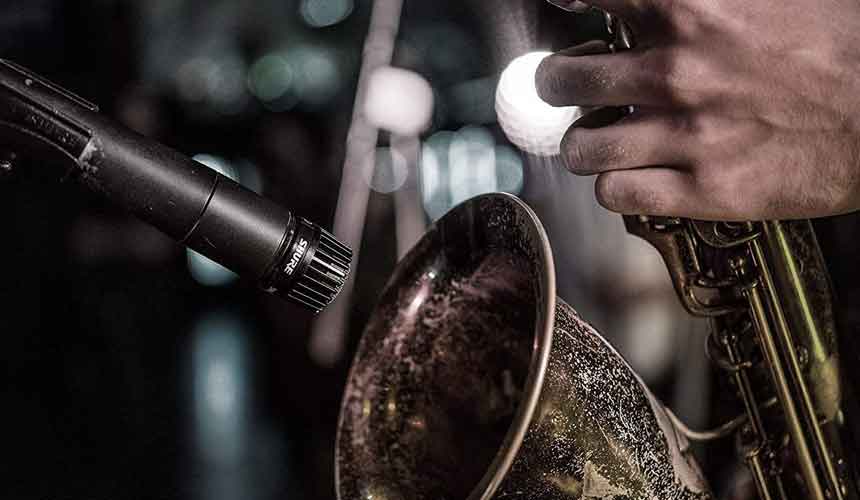 No 'best mic' list would be complete without a mention of the Shure SM57.
A staple of the live sound and studio recording industries alike, the SM57 is a common choice for snare drums, vocals, and guitar cabs.
Less common is its use on bass cabs, but for no good reason, really.
The SM57 offers a pretty wide frequency response, capturing sound as far down as 40Hz. If you're recording a particularly low tuned bass guitar then, you might want to compliment this SM57 with the use of a DI (more on that later).
It does a perfect job of capturing the upper-mid frequencies that allow the bass guitar to cut through in a mix though, with strong boosts from 5kHz upwards.
The SM57, like many good dynamic mics, employs a cardioid polar pattern, ensuring the mic doesn't pick up too much background noise.
Key Features Of The SM57:
Seriously affordable
Cardioid polar pattern
Industry-standard dynamic mic
40-15,000Hz frequency response
Drops off below 50Hz with a mid-frequency lift
Great for recording vocals, guitar, bass, percussion, pretty much anything
Best Cheap: Shure PGA 48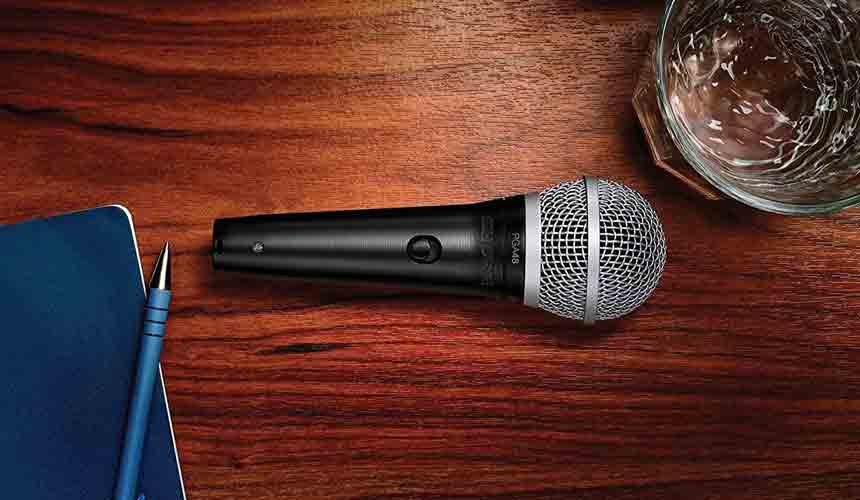 A first look at reviews of this mic might have you wondering: is this really suitable for recording bass?
The truth is, at this price range, there aren't really a lot of microphones that are specifically designed for anything.
But, what's important in a bass amp mic is:
It's ability to capture low frequencies
it's SPL handling
Well, the Shure PGA48 kills it in both areas.
Marketed as a vocal mic, the PGA 48 actually has a pretty wide and flat frequency response.
It does lack a little in the low-end, so you might want to complement that with a DI recording. It shines in the upper mids though, so if you're aiming to capture a bass guitar tone with plenty of bite, the Shure PGA48 is a good choice on a limited budget.
The sound is pretty damn good too, though you might think twice about taking this one on the road. Not that it doesn't appear up to the task, it's just that cheaper mics tend to be a little less durable than their more expensive counterparts.
In the studio though, or for home recordings, this dynamic mic should do the trick.
Key Features Of The Shure PGA 48:
Dynamic mic
Cardioid polar pattern
Includes XLR cable, zipper pouch, and stand adapter
Versatile microphone on a budget
Adequate frequency response: 70Hz to 15kHz
Honorable Mentions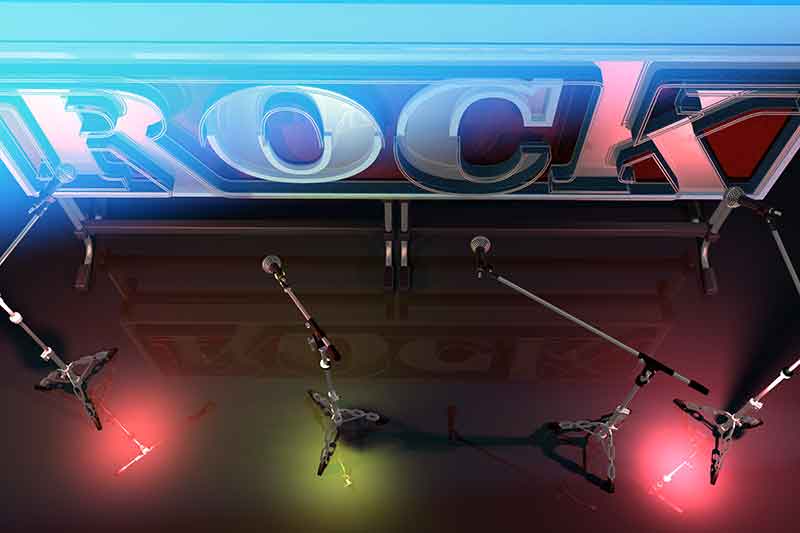 Here are seven more reliable mics for bass guitar.
AKG D112
AKG's D112 is regularly put up against the Shure BETA 52a for kick drum and bass amp mic duties. The D112 loses out in the looks department though. Yes, I have a crush on the BETA 52a, deal with it.
The D112's weird green plastic front basket and punctured rear head makes for a distinctive look, as well as a distinctive sound. It does pretty much everything you need from a bass amp mic… It has high SPL handling, wide frequency response, and is seriously durable.
It has an integrated stand mount as well, which is adjustable, though in my experience it's kind of a pain in the ass to get right.
Key Features of the AKG D112:
Dynamic Microphone
Cardioid Polar Pattern
Frequency Response: 20 – 17k Hz
Commonly used on stage and in studio
Low noise thanks to integrated hum compensation coil
Beyerdynamic M88
Regularly used for both vocal recordings and for kick drums, the M88 makes for a decent bass amp mic too.
This mic has incredibly high-gain before feedback, offering a clear, intelligible sound palette with high-directional sensitivity.
Key Features of the Beyerdynamic M88:
German made
High SPL handling
Looks dope in all black
All-purpose instrument mic
Hypercardioid polar pattern
Audix D6
Audix doesn't really have the reputation that brands like Shure and AKG do, mostly because they haven't been around for as long. But boy, do they deserve to.
Audix makes some fantastic microphones, and they are seriously affordable.
One of which is the D6, which is their large-diaphragm dynamic mic for bass guitar amps and kick drums. The D6 is characterized by an aggressive peak in the upper mid-range, which is perfect for hard rock and metal tones.
On a kick drum it captures the attack necessary for a hard rock kick to cut through in a mix. On a bass amp, the D6 captures the gnarl and bite common in distorted bass tones. It's aggressive, it's strong, and it's enduring. Just what you're after in a bass mic.
Key Features of the Audix D6:
US made
High SPL
Cardioid pickup pattern
Perfect for bass guitar amps and kick drums alike
Wide frequency response with a lift in the upper mids
Electro-Voice RE20
The RE20 is pretty much the quintessential broadcasting mic, so what makes it so great on bass amps?
Well, how do you think those broadcasters became known for such deep voices? You know what I mean, the typical radio jock voice with the fake laugh and the even faker optimism. The Electro-Voice RE20 has a big part to play in that.
With high-SPL handling, an incredibly low-reaching frequency response, and a perfectly crisp mid-range, the RE20 makes for a fantastic mic for recording bass.
Key Features of the Electro-Voice RE20L:
Not cheap
Cardioid polar pattern
Available in several colors
Large-diaphragm dynamic mic
A staple of the broadcasting industry
Sennheiser e602 II
Little brother to the e902, this the second generation in the e602 and it does a pretty decent job on bass recording duties.
Capable of handling more than 155dB SPL, sound pressure is no big deal for this smart-looking mic. They're also pretty good on rack toms, so consider getting a couple of them if you plan on recording drums as well!
Key Features of the Sennheiser e602 II:
Dynamic mic
Cardioid polar pattern
10-year warranty
Integrated standard mount
High SPL handling
Heil PR40
Not quite the new kid on the block, but by no means an old hat, Heil Sound have been putting out some pretty strong competitors to the audio industry's favorite mics.
One of which is the PR40, which goes head to head with industry favorites such as the BETA 52a and D112.
The PR40 might look like a condenser mic, but is actually a copper wound dynamic in a silver steel body. A great choice for kick drums and bass amp cabinets alike.
Key Features of the Heil PR40:
Strong steel body
High SPL handling
Included clip mount
A good contender to industry staples
28Hz-18kHz frequency response
MXL R144-HE
Wait, a ribbon mic on the list of best bass amp mics?
The R144 Heritage Edition might be a ribbon microphone, but that doesn't mean it isn't capable of handling some seriously loud sound sources.
Though we might not put this one on a snare drum (mostly out of fear of it being hit), the R144-HE is more than at home in front of horns or a bass guitar cab thanks to its high SPL handling abilities.
Key Features of the MXL R144-HE:
Ribbon mic
Compact design
High SPL handling
Need shock mount
Figure-8 polar pattern
What Makes A Bass Amp Mic?
Though bass guitars do exert a lot of energy in the low end, they actually span a pretty wide frequency range. Many of the upper harmonics in a bass guitar reach right up into the upper mid-range of the frequency spectrum (around 5kHz).
This means that you need a very specific type of microphone. To mic up a bass amp properly, you need a microphone that is capable of capturing both the very very lows, as well as the mid-range.
If you miss out on the mid-range, your bass tone will be muddy and lack clarity. Focus too much on the mids though, and you'll lose the low-end weight that makes a bass a bass.
You also need a mic that's capable of handling the immense SPL levels that bass amplifiers propel. For example, you might be wary of putting a sensitive ribbon microphone in front of a bass amp (not that it hasn't been done).
Interestingly, many microphones that are suitable for bass amps also make a good choice as kick drum mics.
Microphones like the AKG D112, Shure BETA 52a, and Audix D6, are all good choices for a bass amp, and for a kick drum. Two birds with one stone, as they say.
More often than not, manufacturers advertise these mics as kick drum mics. So, if you see 'kick drum mic' you can assume it's safe for mic'ing up a bass cab as well.
Conclusion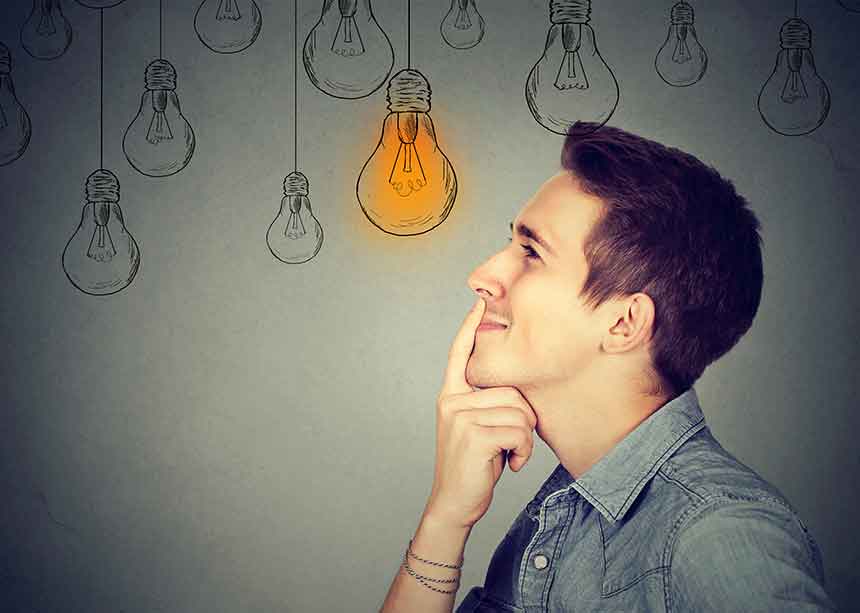 Mic'ing a bass guitar amp isn't easy. It's part of the reason for why many recording engineers simply opt for recording a DI signal.
The thing is though, you can't capture the natural air and ambience afforded by a proper bass amp and cabinet when recording direct. So, for the ultimate bass guitar sound, you should hook up one of each!
Any of these mics should do the trick, though our pick of the bunch is definitely the Shure BETA52a. It's a classic for a reason!