Quick-Access To the Best Microphones For Recording Youtube Videos👇
It's no secret that YouTube is a great place to host your content and reach thousands of viewers. Whether you're creating product reviews, streaming and gaming, hosting a podcast, or just creating funny content, you'll be at home on YouTube.
The thing is, YouTube has gone far, far beyond the point of the simple bedroom entertainer publishing videos online.
There are hundreds of absolute pros creating videos today, and some of them have some pretty big production budgets, which pushes up the production value of their channel drastically.
We've kind of come to expect a high level of production on YouTube, and that means high-definition video and high-quality audio.
Audio quality starts at the mic, which is why you need the absolute best microphone for YouTube to be able to crush it in whatever it is you're creating.
Not all mics are created equal though. Some microphones are better suited to vloggers, some are stronger for singers, and others work best in streaming setups.
Rather than spending hours searching through individual product views, you can find the best microphone for your purpose right here.
I'm Just Starting Out, How Much Should I Spend On A Mic?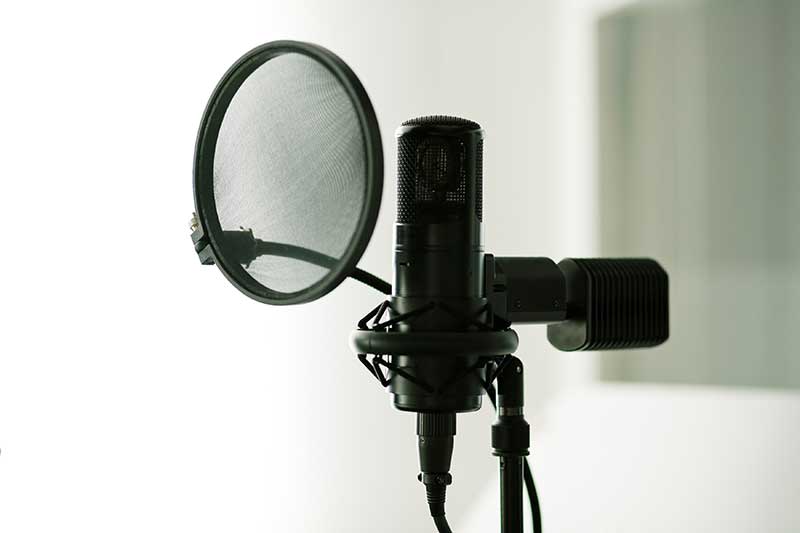 Diving headfirst into the world of producing YouTube videos can be pretty scary, and pretty damn expensive.
From cameras, to lighting, to microphones, audio interfaces and recording software, the costs rack up pretty quickly.
In the mic world, it is true that you get what you pay for, though it doesn't take long to reach a point of diminishing returns.
So, while a solid mid-priced mic will be a huge improvement on a super cheap microphone, a high-end top of the line mic is only going to be slightly better than a mid-range one.
Most decent mid-range mics can be had from between $100 and $300. The good news is, cheap mics stopped sounding like cheap mics a long time ago. So, even a $50 dynamic mic sounds pretty damn good.
Spend according to your budget, and aim for the best sound quality you can. The important thing is to get started, and you always have the option to come back and upgrade in the future!
Top Microphone For YouTube Recording: Shure SM7B
31 Best Microphones For Recording Youtube Videos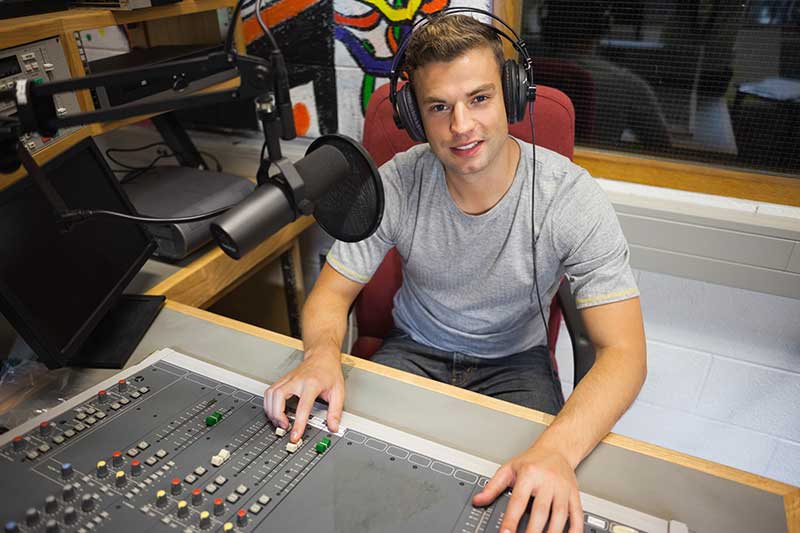 Best Microphone For YouTube Vlogging
Best Microphone For YouTube Gaming
Best Microphone For YouTube Singing
Best DSLR Microphone For YouTube Vlogging
Best Microphones For YouTube: Dynamic
Best Microphones For YouTube: Condenser
Best Microphones For YouTube: Lavalier
Best Shotgun Mics for YouTube
Best USB Mics For YouTube
Top Microphone For YouTube Recording: Shure SM7B
No list of microphones for YouTubers is complete without at least a mention of the Shure SM7B.
The mic is featured in countless YouTube videos, and is famously used by Joe Rogan himself.
The SM7B also has a solid place in recording history, featuring on pretty much every Red Hot Chili Peppers record.
Why is the mic so damn popular then?
Firstly, it's seriously good at rejecting off-axis sound. That's to say, anything that enters the mic front-on gets in, where sound from the sides and rear get the Gandalf special (you shall not pass).
The sound quality is fantastic; the SM7B has a wide and flat response that captures detail right up into the top-end, giving you a crisp, intelligible vocal recording. You can even boost the upper mid-range for added clarity and vocal presence.
For podcasters and streamers, it has a really helpful integral stand mount.
This allows you to swivel the mic and reposition it without having to adjust the mic stand. That might seem like a trivial point, but when you're in the middle of recording a podcast and you need to adjust your seating position, it makes keeping the mic on target a breeze.
Plus, it looks super sexy and incredibly professional, both of which are actually pretty important if the mic is going to be in front of your face on your YouTube videos.
Key Features of the Shure SM7B:
Cardioid dynamic mic
Internal shock isolation
Wide frequency response
Rugged construction – incredibly durable
Bass roll-off and presence boost switches
Hum-defeating electromagnetic shielding
Included pop filter and detachable windscreen
Best Budget: Rode PodMic
For a mic that comes in at around $100, the Rode PodMic is a serious piece of kit.
You'll know it from the minute you take it out of the box. This weighs about 2 pounds, which is a seriously heavy mic, and it just screams quality. The body is made entirely out of metal, as is the front grille which is impenetrably strong.
So despite the PodMic being our 'budget' pick, it sure doesn't have the look and feel of a budget mic, which is super important if you're shooting vids for YouTube.
The sound quality is also brilliant.
The rear rejection is super strong, which means any noise coming in from the back end of the mic barely makes it in. It handles plosive sounds like Ps and Bs like an absolute boss, though it does perform much more admirably at this task with a pop filter in front.
The Rode PodMic has an integral swivel mounting system a la the Shure SM7B, and it works like an absolute treat. Whether you're sitting or standing in front of the mic, it's super simple to adjust the angle of the cardioid capsule so that the microphone is always on-axis.
Plus, the PodMic's built-in isolation mount keeps the dynamic capsule isolated from mechanical noise, such as bumping the stand or adjusting that swivel angle.
Key Features of the Rode PodMic:
937g
Internal pop filter
Full frequency response
Broadcast quality capsule
Robust all-metal construction
Acoustic isolating swivel mount
Cardioid dynamic mic with fantastic rear rejection
Best Cheap: Behringer XM8500
There is no shortage of handheld dynamic mics on the market that seemingly aim to tackle the industry classic Shure SM58. So, what makes the Behringer XM8500 such a good option for YouTube?
Well, first of all, this mic comes in at around $20, so it won't break the bank. This is important when you're just getting started, as a mic isn't the only thing you'll need to buy.
It comes with a mic clip and plastic storage box, which is maybe a little unnecessary unless you plan on taking the mic on the road. Still, the XM8500 is built like a tank. The body and grille are both of all-metal construction, and the microphone has a nice weight behind it.
In terms of sound quality, it does pretty much what you expect from a dynamic cardioid point. The off-axis rejection is super strong; if you're seated at a computer talking and typing, you're unlikely to hear any keyboard noise. Unless you're absolutely button mashing.
Being a dynamic microphone, it isn't hugely sensitive, so you need to be pretty close to maintain a consistent recording signal. This is good news for YouTubers, as it means that anything going on in the background is unlikely to make it into the mic capsule.
Compared to that famous handheld mic (the SM58), the XM8500 is actually a little louder in terms of output, with a more pronounced midrange. This gives it a certain clarity and presence on vocal recordings, though it can sound a little nasal on some voices. It's also a little muddier in the low-end than the 58.
Key Features of the Behringer XM8500:
Two-stage internal pop filter
Internal shock mount system
Handheld dynamic cardioid mic
Frequency response: 50Hz to 15kHz
Nice weight with a sturdy all-metal construction
Includes mic clip, thread adaptor, plastic carry case
Best Recording USB YouTube: HyperX QuadCast
If you know anything about HyperX, you know this mic is going to be aimed squarely at the gaming and streaming market. If you don't, take a quick look at the design of the mic. It doesn't take long to realise this microphone is built for streamers.
It's got a bunch of cool little tricks built-in though, so if you're not gaming, you're still in for a treat.
The HyperX QuadCast is a multi-pattern USB mic, which means it connects to your computer without the need for a separate audio interface.
Aside from the bright red LEDs, one of the most striking features of the mic is the built-in shock mount. This keeps the QuadCast safe from acoustic and mechanical noise, and ensures that the condenser microphone capsule is safe and isolated from bumps and bangs.
It doesn't appear that this mount is removable, though there aren't really many reasons why you'd want to use the mic without one. The included desktop stand mount is removable though, which means you can mount this microphone on a regular mic stand as well.
When it comes to treats and tricks, buttons and switches, the HyperX QuadCast has 'em in spades.
First up is a dedicated mute button on the top of the mic, which is fantastic for gamers who need to mute their audio at the press of a button. This also turns that big red LED off so it's super easy to tell when you're live or not. The bottom of the mic features a gain control for mic volume.
On the back, you have a port for the included USB cable, and a 3.5mm headphone jack for latency-free monitoring. There is no on/off switch or level control for the headphone monitoring though, which seems like a wasted opportunity.
Of the four polar patterns, you're really only likely to use the cardioid option for YouTubing, unless you're doing a one-on-one interview style video, in which case the figure-8 pattern comes in handy.
So, for YouTube applications, some of the features are a little bit of a gimmick. That said, if you also need to record instruments or other sources, then you have a super versatile mic in the QuadCast!
Key Features of the HyperX QuadCast:
Integral shock mount
Removable desktop stand
Frequency range: 20Hz-20kHz
16 bit, 48kHz digital audio recording
Would recommend using with an external pop filter
All-metal construction – a little bit light and cheap feeling
4 polar patterns: cardioid, omnidirectional, stereo, figure-8 (bi-directional)
Best Budget USB YouTube: Samson Q2U
If you've read any of our other reviews on USB and podcast mics, you'll know the Samson Q2U features quite heavily. That's because it offers insane value for the money.
Much like the Audio-Technica ATR2100 USB, this is a dynamic microphone that can function as a standard XLR mic, or connect directly to your computer via USB.
You get a few sweet little extras with the mic as well: a clip and desktop tripod stand, a foam windscreen, as well as XLR and USB cables!
Budget audio gear can often feel flimsy, cheap, and not very durable. The Samson Q2U, however, features an all-metal body and grille, and feels pretty damn sturdy.
In addition to the XLR and USB outputs, the bottom of the mic houses a 3.5mm headphone jack for low-latency monitoring and for listening back to music and audio from your computer while recording. You can even control the headphone level via a switch on the mic body.
Most handheld mics come with a mic clip, but you still generally need to purchase some form of microphone stand.
A standard mic clip is included with the Q2U so you can still do this, but what makes this one of the best USB microphones for YouTube videos on a budget is its included tripod stand. Simply set it up on the desk in front of you and get to it.
As far as audio quality goes, this microphone probably wouldn't be your first port of call for recording, say, an acoustic guitar. If you're recording voice though, it's absolutely perfect. The rear sound rejection is fantastic as well.
Key Features of the Samson Q2U:
Great on vocals
Dynamic microphone
Cardioid polar pattern
Strong off-axis rejection
A variety of extras included
Frequency response: 50Hz to 15kHz
On/off switch, headphone level control, and LED light built-in
Best Cheap USB: Samson Go Mic
If you've been looking at mics for a bit now, you're probably noticing that many of them look the same. Well, the Samson Go Mic definitely shakes this up.
The Go Mic looks more like an old MP3 player that a microphone, but don't be fooled by that. This mic is insanely versatile.
Firstly, it has a sick built-in stand, which means it will sit quite happily on your desktop.
The stand also folds out into a clip, which allows this mic to attach to the top of your laptop. This is not only convenient, but it also makes for fantastic mic positioning. If you want to use this microphone with a traditional stand, you'll just need to purchase a cheap mic stand adaptor.
You've got a few options when it comes to the tonal quality of the mic too.
The first is the standard cardioid polar pattern mode, which focuses on sound coming from the front, and reduces sound coming from the rear. This is great if you have something behind the mic you're trying to avoid picking up the sound of, like your computer keyboard.
The second is the cardioid polar pattern with a -10dB pad, which reduces the input level significantly. This is incredibly helpful if you have a very loud sound source (like a screaming streamer).
Your third tonal option is the omnidirectional polar pattern, which opens the mic up to sound coming from all angles.
The benefit of this mode is that it opens up the response of the mic toward the extreme lows and highs, giving you a more natural and well-rounded quality of sound.
We told you it was versatile. Plus, it's tiny, so it's incredibly portable.
Key Features of the Samson Go Mic:
-10dB pad
Small form factor
Built-in stand and clip
Omni mode has a wide frequency range and upper-mid boost
Cardioid mode has a slightly restricted frequency range but great rear rejection
Best Microphone For YouTube Vlogging
Top Youtube Vlogging Microphone: Rode VideoMic Pro+
One of the defining features of a great mic for YouTubers who vlog is it's acoustic isolation. If you're mounting a mic on top of a DSLR camera, running about in the wild and shooting audio, there's a concern that some handling noise will be transmitted into the mic.
Thanks to it's integral Rycote Lyre shock mount, the Rode VideoMic Pro+ eases that worry. Plus, it has easy to access controls, a point-and-shoot approach to audio recording, and some sick on-board digital processing.
Key Features of the Rode VideoMic Pro+:
Battery-powered
Digital audio switching
Rycote Lyre shock mount
Automatic power function
Shotgun condenser microphone
Low-cut filters and pad/boost switch
Best Budget: Rode VideoMic GO
You no doubt know by now that Rode have their hand firmly in the YouTube microphone game. They make some of the best mics you can get for recording videos for YouTube.
The VideoMic Go is the baby brother to the VideoMic Pro+, offering fantastic audio quality but with a simple plug-and-play design methodology. No fancy controls, no confusing switches, just plug it into your camera and get recording.
Key Features of the Rode VideoMic GO:
Included windscreen
Cardioid condenser mic
Integrated shock mount
Simple plug-and-play design
World-famous Rode audio quality
Best Cheap Microphone For Vlogging: TAKSTAR SGC-598
This microphone is perfect for those who really want to get started vlogging, but don't have a massive budget to work with. Like other condenser microphones, the Takstar SGC-598 is highly sensitive and will pick up exactly what you point it at.
You get a few handy switches for making sure the audio output is how you want it, and the integrated shock mount will keep the signal nice and clear.
Key Features of the Takstar SGC-598:
Condenser microphone
10dB sensitivity enhancement pad
Low-cut filter
Cardioid polar pattern
Shock-resistant structural design
Best For iPhone And iPad: Shure MV88
Let's be honest. The audio recording quality from iOS devices is decent, but it's not up to scratch for a pro YouTube channel. The Shure MV88 is a portable condenser mic made specifically for your iPhone or iPad.
It literally plugs into the bottom via Lightning connector and records directly to your device. There's even an included app to get you set up, and a foam windscreen to get rid of wind noise.
Key Features of the Shure MV88:
Two free apps
Two-year warranty
Digital stereo microphone
Included foam windscreen
90-degree rotatable mount
Best For Android (USB-C): Shure MV88+
The plus might be small, but the difference is big. The MV88+ is a big step up from the standard MV88, with a superior windscreen and a sturdy little tripod stand.
The tripod stand even has an attachment for your phone so you can have everything in one place, and it's compatible with your USB-C or Lightning connector device.
Key Features of the Shure MV88+:
2-year warranty
Pristine audio quality
Dedicated headphone output
Rycote windjammer windscreen
Handy tripod stand and phone mount
Best Microphone For YouTube Gaming
Top YouTube Gaming Mic: HyperX Quadcast
Best Budget: Razer Seiren X
The only thing sharper than this bad boy's name is its looks. Available in black, white, or pink, yes pink, the Razer Seiren X keeps things simple with a single polar pattern, one headphone jack, and a level control on the front.
This microphone is fantastic for gaming thanks to its quick-access mic mute button, and its razor-sharp supercardioid polar pattern will make sure your voice comes through loud and clear.
Key Features of the Razer Seiren X:
Built-in shock mount
Integral desktop stand
Zero-latency monitoring
Supercardioid polar pattern
Background noise reduction
Best cheap: Samson Go Mic
Best USB microphone for YouTube gaming: HyperX Quadcast
Best cheap USB: Samson Go Mic
Best Microphone For YouTube Singing
Top YouTube singing mic: Shure SM7B
Best Budget: sE Electronics X1
With so many artists getting discovered on YouTube, it's hard not to want to join in. If you're a singer wanting to up your audio on your channel, you need a large-diaphragm condenser.
The sE Electronics X1 keeps things cheap and simple, while still offering a decent amount of flexibility. Plus, it sounds fantastic. You should consider buying a shock mount and external pop filter as well, for the ultimate in audio quality.
Key Features of the sE Electronics X1:
-20dB pad
100Hz high-pass filter
Cardioid polar pattern
Single capsule condenser microphone
Great on vocals and instruments alike
Best Cheap: Marantz Pro MPM1000
Studio-grade recording doesn't have to mean studio-grade price tags. The MPM1000 has a smooth sound to it with some subtle bumps toward the top end of the frequency range, which really bring out the clarity and presence in a voice.
Then there's the included shock mount, which is worth the $50 or so you pay for this microphone in itself. Shock mounts are invaluable for ensuring your singing performance is free from acoustic and mechanical noises, such as bumping the mic stand.
Key Features of the Marantz Pro MPM1000:
High sensitivity
Wide frequency range
Low signal to noise ratio
Cardioid condenser mic capsule
Included shock mount and windscree
Best USB For YouTube Singing: Rode NT-USB
We love USB microphones for their plug-and-play design methodology, but so many of them lack that professional audio quality that YouTube singers really need. The NT-USB is not one of those microphones.
The Rode NT-USB, with its plosive-controlling pop shield, studio-quality microphone capsule, and ridiculously clear and accurate tonal palette, is one of the best mics you can get that you can use via USB cable.
Key Features of the Rode NT-USB:
A/D converter 16bit 48kHz
20Hz – 20kHz frequency response
Headphone output with gain control
Cardioid condenser USB microphone
Mix control to balance mic input and source output
Best cheap USB: Samson Go Mic
Best DSLR Microphone For YouTube Vlogging
Best: Rode VideoMic Pro Plus
Runner Up Shotgun: Rode VideoMic NTG
Camera-mounted mics are becoming incredibly popular, but a lot of them just don't offer the same kind of directionality that proper shotgun microphones do. The Rode VideoMic NTG flips that on its head and gives you the best of both worlds. (Cue Hannah Montana song).
Aside from being able to point and shoot at long distance sources, the VideoMic NTG also gives you the ability to plug into either a camera or a mobile, and automatically switches its output type to accommodate.
Key Features of the Rode VideoMic NTG:
-20dB pad
Supercardioid polar pattern
Included isolation shock mount
Can be used as a USB microphone
Infinitely variable gain control
Similar design to NTG5 broadcast shotgun mic
Two high-pass filters and a high-frequency boost option
Best Under $200: Rode VideoMic GO
Best Budget: Rode Video Micro
This pocket-sized mic is at its best use shooting videos for YouTube, indoor or out. Thanks to the included fluffy windscreen, you can take this little pocket rocket and use it wherever you go.
It mounts neatly on top of any DSLR camera, and, being so small, it's incredibly light.
This might not seem like a huge deal, but when you're already holding a big camera, you want as little weight as possible. Plus it's so small it doesn't even need a battery, it will quite happily use the power from your DSLR camera.
Key Features of the Rode Video Micro:
Two-year warranty
No battery required
Cardioid condenser microphone
Just 80mm (3″) long and 42gm (1.5oz)
Rycote Lyre shock mount and deluxe windscreen included
Best Cheap Vlogging Mic: Takstar SGC-598
Best Microphones For YouTube: Dynamic
Best: Shure SM7B
Runner Up: Electro-Voice RE20
This mic may not see the same level of appearance on YouTube channels as the famous SM7B, but it's long been Shure's biggest competitor in the broadcast game.
It's a hearty large-diaphragm dynamic with a deep low end, perfect for voiceovers and radio DJ-esque vocal recordings.
It also has built-in wind filters and Electro-Voice's proprietary Variable-D technology, which minimizes proximity effects and tonal shifts as you move around the mic. That makes it perfect for you YouTubers who just can't sit still.
Key Features of the Electro-Voice RE20:
Internally shock-mounted
Broadcast standard mic
Shielded from magnetic interference
Great for voice and on instruments such as kick drums
High SPL handling thanks to the microphone's low-mass aluminium voice-coil
Best Under 200: Rode Procaster
A broadcast-quality dynamic microphone with a tight polar pattern that keeps your voice loud and background noise quiet, the Rode Procaster is the perfect addition to your YouTube setup.
Unlike condenser microphones, the dynamic Procaster is far less sensitive to picking up ambient noise, which makes it a great choice if you're shooting videos at home and other people are around.
Key Features of the Rode Procaster:
10-year warranty
Internal pop filter
Sturdy all-metal construction
High output dynamic capsule
Balanced, low impedance output
Best Under $100: Rode Podmic
Best Budget and USB Dynamic: Samson Q2U
Best Cheap Youtube XLR Mic: Behringer XM8500
Best Microphones For YouTube: Condenser
Top Pick: AKG C214
Little brother to the famous C414, the C214 features a similar design and sound, but at a much more affordable price point. It can handle crazy loud sound sources, has a 1″ diaphragm for brilliant bass response, and has a nice finish that will go the distance.
The included shock mount is super high-quality too, much better than many you'll get with those cheap imitations.
This is a solid option for singing, speaking, recording instruments, basically anything. Being a condenser though, it's super sensitive, so you'll want to make sure you have a nice, quiet place to record.
Key Features of the AKG C214:
Dual-capsule system
160 Hz bass-cut filter
Cardioid polar pattern
Full frequency response
Outstanding dynamic range
Runner Up: Rode NT1-A
This was the first mic I ever bought, and it did me well for many years. Modelled after famous condenser mics like the Neumann U87, the Rode model does a strong job of delivering quality audio, but keeps the price point low.
You get much more than a mic in the pack too, you get pretty much everything you need to record.
The included shock mount and pop filter are nice additions, especially as the condenser mic is quite sensitive, so you'll need to isolate it from acoustic vibrations and from plosive sounds.
Key Features of the Rode NT1-A:
High SPL handling
10-year warranty
Ultra-low noise, self-noise of only 5dB (A)
Industry-standard cardioid condenser
Includes Rode SM6 shock mount, pop filter and dust cover
Best Under $200: sE Electronics X1S
A more refined version of the X1 we reviewed earlier, the X1S takes things up a notch or two.
This version of the mic gives you two pad options (-10dB and -20dB), and two levels of high-pass filters. The handmade condenser capsule is one of the best sounding units under $200, and delivers that delicious high-end that condenser mics are famous for.
Key Features of the sE Electronics X1S:Z
Two pad options
Two low-cut options
Handcrafted mic capsule
Gold plated XLR connector
High dynamic range and SPL handling
Best Under $100: Audio Technica AT2020
If you're keeping things budget-friendly, this is one of the best mics on the market. The AT2020 is Audio-Technica's entry-level condenser mic, and it features that famous US sound that we love from AT mics.
For a mic that comes in under a hundred bucks, the AT2020 has incredibly low self-noise, and thanks to its low-weight diaphragm this baby has a beautifully wide frequency response and excellent transient handling.
Key Features of the Audio Technica AT2020:
High SPL handling
Wide dynamic range
Cardioid polar pattern
Professional appearance
Fixed-charge back plate, permanently polarized condenser
Best Cheap: Marantz Pro MPM1000
Best High End: Neumann TLM 103
Running on 48v phantom power, the TLM103 delivers the sexiest vocal performance you can imagine, with a refined top-end with just the right amount of presence and sparkle. Plus, it looks incredible.
Defined by clear, pristine audio, this transformerless cardioid condenser offers a more sophisticated package under the hood than most people give it credit for.
It delivers a gentle presence boost for one, which helps to make it especially clear for vocals.
But it also gives you a large diaphragm… and with such, it boasts an 'authoritative' mid-range, the likes of which only top notch mics can provide.
This isn't a 'cheap' mic. But if you need absolutely unbeatable quality, Neumann is the company to go with.
And if your YouTube channel needs even a hint of luxury, this is the microphone you need to use. This is the mic for the seasoned pro… the YouTuber who is ready to pull the trigger on a mic that will take their audio to the highest levels of quality and sophistication.
Key Features of the Neumann TLM103:
Low self-noise
Cardioid polar pattern
Broad presence boost in upper mid-range
Capsule design derived from the famous U87
Transformerless circuitry with high SPL capability
Best Microphones For YouTube: Lavalier
Best: Sennheiser MKE2 Gold Series
If the phrase "gold series" didn't get you excited, I don't know what will.
How about built-in acoustical equalization? A one-year warranty? What about a sweat-resistant dual-diaphragm design? No?
This is one lavalier mic that will go the distance, thanks to both its sweat-resistant Umbrella Diaphragm™ and stainless steel reinforced cable.
Key Features of the Sennheiser MKE2 Gold Series:
Max SPL: 142 dB
Sweat-resistant design
Frequency response: 20 – 20000 Hz +- 3 dB
Very high sound pressure handling capability
Sub-miniature omni-directional clip-on lavalier microphone
Runner Up: Sennheiser Pro Audio ME 2-II
It might not be the absolute god that is the MKE2, but the ME 2-II (time to brainstorm some new characters Sennheiser), does a pretty damn good job for around $100.
It has an omni capsule as all good lav mics do, and is compatible with most Sennheiser bodypack transmitters. The frequency response is optimized for speech intelligibility too, and thanks to the mic's small form factor, it can barely be seen on camera.
Key Features of the Sennheiser Pro Audio ME 2-II:
Omnidirectional
Mini-jack connection
High speech intelligibility
Easy attachment to clothing
Permanent polarized condenser capsule
Best Under $100: Lavalier: Rode smartLav+
Not only is this mic tiny (just 4.5mm), it's incredibly durable thanks to a Kevlar-reinforced cable. Being a Rode mic, of course, it delivers professional-quality sound, and it also comes with a 2-year warranty.
The mic capsule itself is omnidirectional, so you don't need to worry too much about your subject moving around, and it has a very low signal to noise ratio… which means your audio recordings won't be tainted by annoying background noises.
Key Features of the Rode smartLav+:
110 dB max SPL handling
Windscreen and clip included
20Hz – 20kHz frequency response
Omnidirectional condenser capsule
Compatible with iOS devices and select Android devices
Best Cheap: Audio-Technica ATR-3350IS
Cheap lavalier microphones tend to be pretty basic, but the ATR-3350IS actually packs a bunch into one tiny little package, with an even smaller price tag.
Most interesting is the smartphone adaptor, which allows this lav mic to be used with your device, and you can even monitor the audio input with a set of headphones.
Key Features of the Audio-Technica ATR-3350IS:
Newscaster-style miniature mic
Omnidirectional pickup pattern
Includes foam windscreen and tie clip
Engineered for intelligible voice recordings
Dual-mono 1/8″ output plug connects to a video camera, DSLR, or handheld audio recorder
Best Shotgun Mics For YouTube
Best: Rode NTG3B
What makes this shotgun microphone the best of the bunch? For starters, it has about half as much self-noise as the majority of shotgun mics. That makes it perfect for capturing a pristine audio signal that will captivate your YouTube followers.
It's moisture-resistant, so you can feel comfortable using it outdoors, and it has a highly sensitive broadcast-quality capsule – which means it picks up sound from several feet back.
Key Features of the Rode NTG3B:
Incredibly low self-noise
Super-cardioid polar pattern
Backed by a 10-year warranty
True Condenser (external RF biased)
Includes aluminium storage cylinder for safe transport
Runner Up: Sennheiser MKH416
Pretty much the industry standard shotgun mic for many years now, the MKH416
is a solid option. A few years back it would have topped the list, but thanks to Rode's brilliant engineering and more affordable price point, it sits in second place today.
The microphone's design is rugged, so you'd be more than happy taking it out on the road, and it has a clear and highly directional sound that will bring a whole new level to your audio production. Being a condenser mic, you will need some form of phantom power.
Key Features of the Sennheiser MKH416:
Very low self-noise
Matt black all-metal body
Industry-standard shotgun mic
Includes windshield and mic clamp
Highly directional – interference tube principle
Best Under $200: Rode NTG1
If you're eyeing up the NTG3B but don't quite have the cash sitting around to use on a mic, the NTG1 is a great alternative.
It's a lightweight shotgun mic with a brilliant frequency response that captures all the detail you need for a YouTube recording, and it slots in nicely under $200.
Key Features of the Rode NTG1:
Supercardioid mic
Low handling noise
Broadcast quality audio
Rugged metal construction
Two-step High Pass Filter (Flat/80Hz)
Best Cheap: LyxPro CMG-50
This is a crazy versatile shotgun mic for the price. The low-cut filter keeps wind noise low, as does the included foam windscreen. Plus, it runs on batteries, so you don't need to use phantom power.
It can even mount to the top of your camera thanks to the included shoe mount.
Key Features of the LyxPro CMG-50
Low-cut filter
Rugged all-metal housing
Supercardioid pickup pattern
Camera shoe mount and mic stand adaptor
Use with phantom power of battery power
Best USB Mics For YouTube
Best USB: HyperX QuadCast
Runner Up USB: Rode NT-USB
Best Under $100: Samson C01U
It's hard not to love a USB mic this good for under $100. The C01U works seamlessly with Mac and Windows devices, and even has a headphone output (no level control).
This mic is fantastic if you need to control unwanted sound from the sides and rear, thanks to its supercardioid pickup pattern. So, if you're recording, say, a podcast with guests on either side of you, your voice will be isolated from theirs.
Key Features of the Samson C01U:
Plug-and-play USB device
Die-cast metal construction
Smooth, flat frequency response
Low-latency headphone monitoring
Supercardioid condenser microphone
Best Under $50: Samson Go Mic
Conclusion
It's clear that there are a lot of options when it comes to choosing the best microphone for your YouTube channel. From DSLR-mounted mini-mics, to full-on shotguns, to simple, plug-and-play USB devices, the options are practically endless.
Ultimately, the best mic for your channel depends on what you're doing. If you're hosting an in-studio podcast, then you'll likely have different needs to, say, a roaming traveller shooting a vlog on the run.
Our top pick for most purposes is the Shure SM7B, which should pretty much do the trick for any YouTuber who is recording indoors and doesn't mind having the mic in front of their face in the video.
The important thing, however, is this. Don't spend weeks or months deciding, because that's stopping you from doing what you actually want to do: make killer videos. So make a decision, get that mic in your hands, and get started!