Quick-Access To the Best Overhead Drum Mics👇
You'll probably have figured out that overhead mics can make or break a drum sound.
Today you will learn about some awesome drum overhead mics, and how to choose the microphone that will kick your preferred drum sound into overdrive.
Before you dive in, always remember this rule when choosing an overhead mic for drums.
Never choose a mic with less than 110db of max SPL.
SPL is the maximum volume of sound the mic can handle before clipping.
The ideal max SPL for overheads will range from 120db to 130db. (And the best overhead drum mics will be able to perform into the +145 db range.)
Ready?
Let's dive in.
Best Overhead Drum Mic for the Money – sE Electronics sE8
If you are looking for a fantastic drum overhead, but don't have a huge budget, you'll want to check this one out.
The sE Electronics sE8 is the best overhead drum mic for the money because …
It's ready to go out of the box for the studio or the stage
It provides incredible sonic detail and clarity
And it comes as a single or even as an under the $500 mark, matched pair
They deliver every single time.
Here's how.
Key Features of the sE Electronics sE8
Hand Crafted and Tuned
The sE8 features a hand-crafted gold-sputtered diaphragm and individually tuned, ultra-precision capsules.
This mic will give you spot-on capture and the power to recreate true-to-life audio from your drumset.
Diaphragm Size
Being on the larger side of the small diaphragm size of 23 mm (0.91 in), this mic has a slim design while delivering powerful sonic pickup power.
This gives it a lot of versatility in its frequency response.
Frequency Response
The default frequency range of the sE8 is 20 Hz – 20 kHz. However, this can be changed through the low-cut switch (which is selectable at either 80Hz or 160 Hz).
As its name suggests, this low-cut switch will cut out sounds entering the mic when they are lower than either 80 or 160Hz.
(Those are the dotted lines in darker red in the image below.)

What this means is, as an overhead, if you want to reduce kick, floor toms, etc. from getting into your overhead mics, engaging the low-cut switch makes this possible.
Cardioid Polar Pattern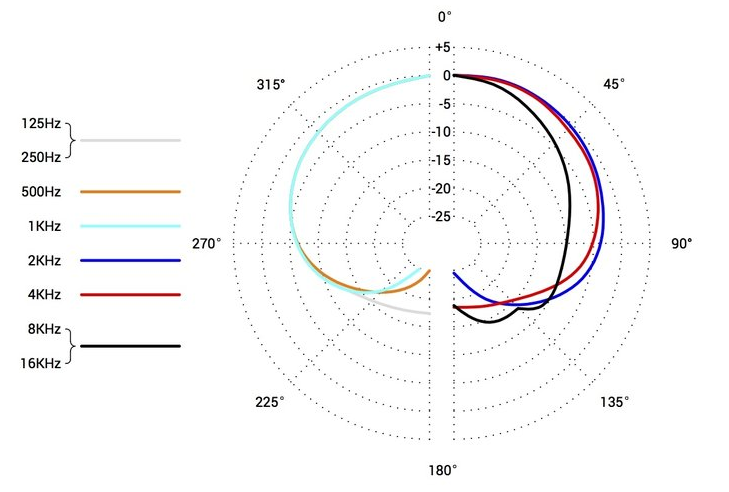 Featuring a cardioid polar pattern, the sE Electronics sE8 gives you the power to capture precision audio, while avoiding capturing sounds from the sides and in back of the microphone.
Pad and SPL
The Max SPL on this mic is rated at 139 dBSPL without engaging the two switchable pre-attenuation pads.
If things get too loud, you can engage the onboard pad switch and take the input level down -10dB or -20dB. This extends the dynamic range of the mic to either 149dB's with the -10dB switch and a screaming 159dB's with the -20dB pad.
This will give you plenty of options for miking drums, and it even doubles up as a great close-mic option for other drum applications.
Is The sE Electronics sE8 best for You?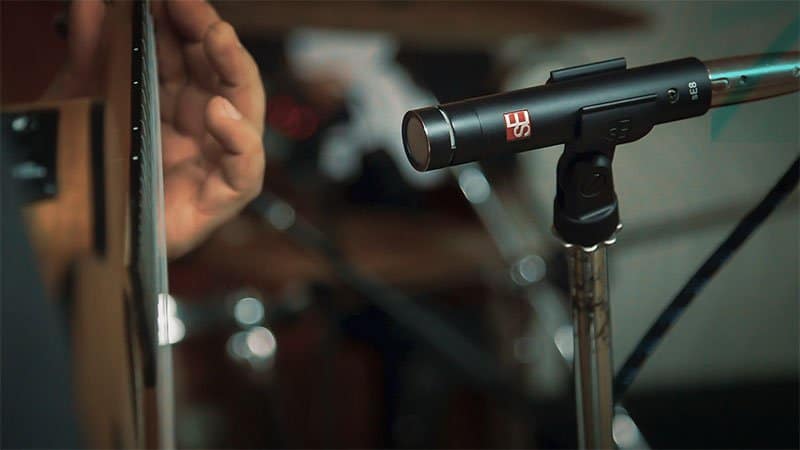 The sE8 is one of the quietest small capsule mics available on the market today, perfect for studio use.
Drum overheads need to capture the detail of the kit, and the sE Electronics sE8 really delivers the goods.
The sE Electronics sE8 will capture the space, height, and width of your drum kit affordably, providing your listeners with stereo detail and movement as your drum patterns and fills get laid down on the audio track.
The Best Overhead Drum Mic – Neumann KM 184
Get classic Neumann studio-grade sound on your drum overheads every single time.
If you want to take your drum mic game to the mountaintop, this is the mic for you.
The Neumann KM 184 small diaphragm condenser is hands down one of the best overhead drum mics you could even imagine getting your hands on.
It's got that incredible, crisp, classic Neumann sound … all housed in a mic you could fit into your pocket.
Check out James Knoerl's reaction using these for the first time in his studio…
Key Features of the Neumann KM 184
Classic Neumann Studio Sound
The KM 184 sounds awesome, regardless of what it's used for. But it does an outstanding job as a drum overhead.
Frequency Response

The balanced output captures a detailed sound image, from warm lows to crisp highs.
The KM 184 can capture everything from 20Hz right up to 20kHz, so you can guarantee a drum overhead sound that is accurate and detailed.
Polar Pattern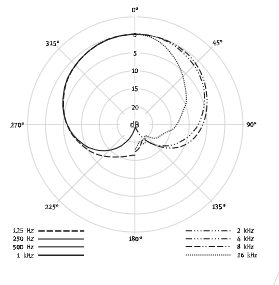 The KM 184 features a cardioid polar pattern, and does a great job of isolating the audio you point it at.
SPL
Boasting an Sound Pressure Level (SPL) handling capability of up to 138 dB, you certainly won't need to worry about these mics overloading when placed above loud drummers.
Diaphragm Size
With a diaphragm size of 22 mm (.86 inches), you can expect the Neumann KM 184 to do a "clean sweep" of the frequencies, picking up both the shimmering high end and the punchy low-end audio.
Transformerless Design
This mic is transformerless, which means you can just plug it in and go.
It draws its power from the mixer's 48v phantom power.
Stereo Pair Includes Microphone Bar
If you need more than one mic, check out the Neumann KM 184 twin pack.
This is great for stereo overheads, and even comes with a stereo microphone mounting bar to mount both mics to a single stand.
Is The Neumann KM 184 The Best Overhead Drum Condenser Mic For You?
This mic is perfect for drum overheads. Why? Because the KM 184 has a silky smooth top end response.
You won't get any harsh overtones in your drum overhead signals.
The KM 184 is also designed to handle very high sound pressure levels, so if you're using it as a studio overhead drum mic, or as a live overhead drum mic, you can guarantee that you'll get a clean, distortion-free sound.
It delivers that crisp, high-detailed "Neumann sound" that you hear on countless classic albums.
With a balanced input, transformerless circuitry, a cardioid polar pattern, and a fantastic reputation, the Neumann KM 184 checks all of the boxes.
Runner Up Best Overhead Drum Mic: AKG C414
Sometimes engineers need a mic that can turn its hand to many things, and that mic is the AKG C414.
The C414 might be the runner up in the overhead drum mic category, but don't think for a moment that it's second best to anyone.
This is a seriously great, flexible microphone.
It's perfect for both stage and studio use, and has a ton of switchable features.
In addition to its great sound, it is flexible enough to handle overhead drum duties on its own. But if you need extra flexibility, then surely getting a pair of AKG C414 mics won't do you any harm.
For fans of vintage mics, this is a modern microphone, yet you'll find it's similar to the classic AKG C12 from 1953.
Key Features of the AKG C414
Diaphragm Size
The 1″ (25.4mm) diaphragm capsule on the AKG C414 delivers a slight increase in presence, though it also does a fantastic number on spatial reproduction.
In other words…
Great sound with an awesome mid-to-high frequency presence.
SPL
Three attenuation levels allow close-up recording for soft or high-output sources, with a Max SPL of 158dB.
9 Polar Patterns For Any Application
Firstly, it has nine… yup, you read that right, NINE switchable polar patterns.
This means you'll be able to use the mic for a variety of different applications.
Take a look at some of the stats for the different polar patterns offered by the AKG C414:
Omnidirectional: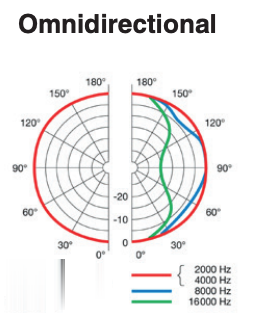 Wide Cardioid: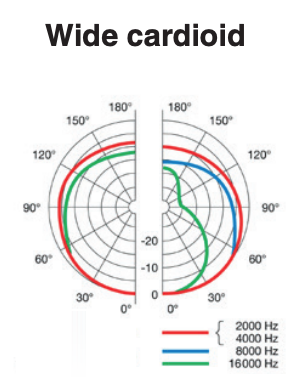 Cardioid: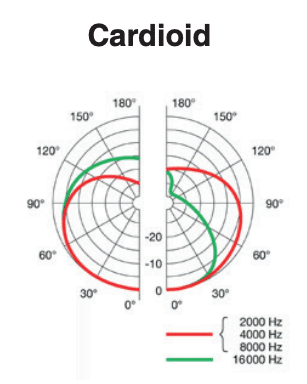 Hypercardioid: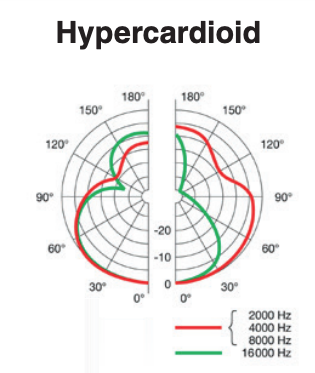 Figure 8: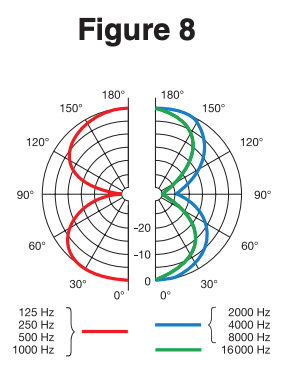 Detailed Sound
Couple those 9 switchable polar patterns with a trio of attenuation settings and a trio of bass cut filters, and you pretty much have every mic you'd ever need … in one mic.
Plus, gain access to some seriously awesome sonic character, courtesy of AKGs world-class condenser mic technology.
Distortion-Free Sound
A peak hold LED, built into the mic, shows you when your levels are clipping.
This feature gives you the power to quickly adjust your sound-levels or mic placement for a distortion-free recording.
Is The AKG C414 The Best Overhead Drum Mic For You?
If you're looking for a mic with a ton of flexibility, which will also give you the ability to record vocals, instruments, or even a room-full of people having a discussion… this mic will do the trick.
The AKG C414 is a fantastic overhead option, but it's also so much more than that.
Best Cheap Overhead Drum Mics – Rode M5
Great drum overheads don't have to cost premium prices.
The Rode M5 mics are the best cheap overhead drum mics around.
They ship with a pair of windshields, and a pair of mic stand mounts.
The M5 mics are just as at home on stage as they are in the studio, and their all-metal body will ensure that you never have to question their durability.
Key Features of the Rode M5
Low Noise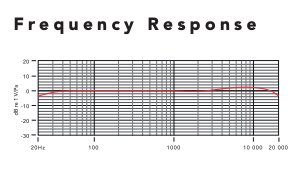 These matched cardioid condensers have incredibly low noise levels.
Even when the preamps are cooking, these mics retain their crisp sound with no distortion.
Super Detailed Sound Capture And Frequency Response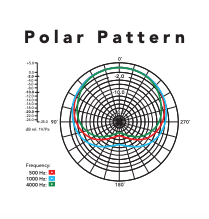 Along with their incredibly accurate audio capture, they offer the user a full frequency response.
This means that your overhead drum sounds will capture the full tonal spectrum of your drum kit.
SPL
With an SPL of 140dB, you won't have to worry about these mics distorting on loud drum takes.
Hand Matched Pair For Best Sound Results
Pairs are carefully matched to within 1dB sensitivity between the two.
This means you get the perfect recorded image from these mics. You won't get any strange phase or EQ offsets.
Are Rode M5 Mics the Best Drum Overheads Under $200?
These M5 cardioid condenser mics from Rode aren't going to give you the sonic character of a thousand-dollar mic pair.
But for the money, you really can't beat 'em.
The Rode M5 offers incredible value. You can expect amazing accuracy and detail in any recordings made using these mics.
If you're a drummer, sound guy, or audio engineer on a budget, the Rode M5 studio pair will definitely get the job done as drum overheads, and then some.
Best Drum Overhead Mics for Live – Shure KSM137 Pair
The on-stage drummer and the studio drummer are very different animals.
The live music world is a volatile environment, devoid of controlled situations.
Anything can happen.
If you're miking up drums on stage, you need microphones that you can rely on.
Check out these Shure KSM137 mics. They come in a stereo pair, and they're some of the best live overheads money can buy.
If things get a bit too wild (and trust me, on stage they often do…), the KSM137 also has a three-position pad switch allowing you to attenuate the input signal by up to -25dB.
Key Features of the Shure KSM137
Superb Transient Response
They have superior transient response for a punchy drum sound.
Frequency Response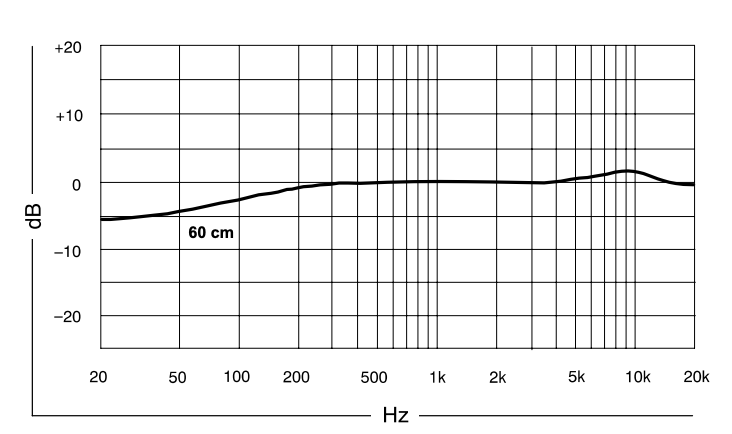 This mic offers an extended frequency response of 20 to 20,000 Hz.
But it also offers an attenuation switch, rated at: 0 dB, 15 dB, or 25 dB attenuation… as well as a low frequency response switch, rated at: Flat; ­6 db/octave below 115 Hz; -18 dB/octave below 80 Hz.
SPL
These mics offer an SPL rating of: 134dB (159dB w/Pad).
Very Transparent Sounding Mic
The KSM137 mic offers a transformerless design, which means it's very transparent sounding.
If you have great sounding drums, you don't have to worry about these mics missing that sound.
They'll pick it up nicely.
Polar Pattern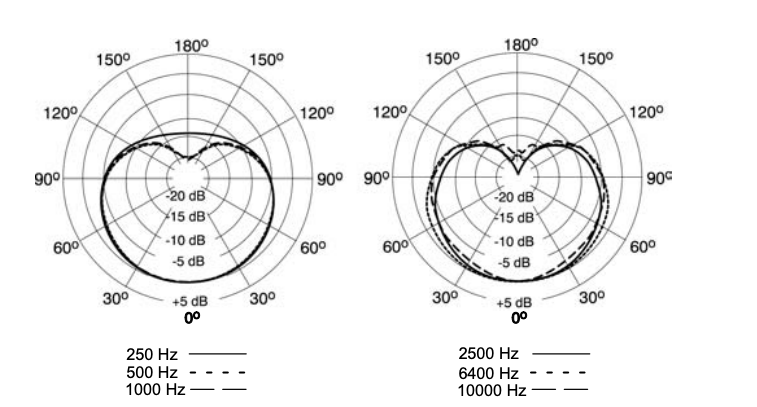 Highly consistent cardioid polar pattern gives you the power to focus your audio capture.
Lightweight And Highly Reliable For Live Use
This pair of mics, together with the carrying case, weighs just three pounds.
Plus, the dimensions of the case are 9x12x3 inches … meaning it's the perfect size for taking with you on the road.
The transformerless design also helps with reliability. Transformers can sometimes induce sag and compression, which can tonally change a mic.
This mic will give you a reliable, true-to-life sound on the go.
Are The Shure KSM137 Matched Pair The Best Drum Overhead Mics for Live Sound?
We say yes … for a number of reasons.
Shure is a tried-and-tested brand. And these mics, while affordable, offer some pretty serious bang for your buck.
They ship with foam windscreens and mic clips, and give you a consistent cardioid polar pattern.
If you need live drum overheads in that mid-priced region, these are the mics for you.
Solid Overhead Drum Mics Designed for Unique Needs
Best Overhead Drum Mics for Recording: Neumann KM 184
The Neumann KM 184 really is the best overhead drum mic for recording studio use because of the attention to detail in the sound capture.
It will give you a full frequency drum recording with super fast and tight transients. Your recordings will sound killer!
Best Mono Overhead Drum Mic: AEA R84
If you love the drum recording tones of yesteryear, then you'll dig the best mono overhead drum mic… the AEA R84.
This is perfect for those vintage tone chasers who want to capture the sound of the Swingin' Sixties. It also looks retro-tastic!
Best Overhead Cymbal Mics: Shure SM81-LC
When it comes to using an overhead mic for capturing cymbals, you need something with a crisp top end.
This is why the Shure SM81-LC is the best overhead cymbal mic; the snappy top end will sound smooth but not harsh, giving you killer sounding cymbals.
Best Stereo Overhead Mic: Rode NT4
The Rode NT4 is the best stereo overhead mic on the market, and it's perfect for anyone who needs to mic up drums quickly and easily.
The stereo XY pattern capsules give you a perfect stereo image of your drums, but from a single microphone.
It's the ultimate space saver.
Best AKG Overhead Mics – AKG C414
The AKG C414 can be used as a single unit or a stereo pair. It's the best AKG mic for overhead use because of its flexibility.
It sounds incredible as a drum overhead, and has
9 selectable polar patterns
3 levels of attenuation
and bass filters
Best Audio Technica Overhead Mics: Audio-Technica AT4041
When it comes to the best Audio Technica mics for overhead use, the AT4041 is a pretty hard mic to beat.
It has an extended, but smooth, frequency response with a high end bump, which is perfect for capturing the crisp sound of a drum kit from above.
Best Audix Overhead Mics: Audix ADX51
Out of the whole Audix range, it's hard to find a mic better for this job than the ADX51. This is the best Audix mic for overheads, by far.
It has a very smooth, natural frequency capture between 40Hz and 20kHz, and it won't miss any of your drum tone details.
Best Behringer Overhead Mic: Behringer B-5
The B-5 is not only the best Behringer overhead mic, but it also has potential to be your new favorite budget mic.
This interchangeable capsule mic costs less than $100, and comes with omnidirectional and cardioid mic capsules … so you can be ready for anything.
Best CAD Overhead Mics: CAD Audio C9S
If you want to control the top end of your recording, the CAD Audio C9S is a great choice.
This is the best CAD overhead mic for this task.
It has a natural roll off around 13kHz. This is great for keeping those washy cymbals in check during recording sessions.
Best Earthworks Overhead Mics – Earthworks Audio QTC30MP
If top end is your thing, then check out the Earthworks Audio QTC30MP. This is by far the best Earthworks overhead mic for lovers of the treble.
This mic has an extended top end capture, taking it up to an ear-piercing 30kHz for the extra detail.
Best Neumann Overhead Mic: Neumann KM 184
We all want our overhead signals to sound super fancy. The Neumann KM 184 can make that happen.
These are the best Neumann overhead mics around. They are incredibly low noise, and make everything you mic sound like a million bucks.
If one isn't enough because of your particular audio needs … get a pair!
Best Rode Overhead Mics – Rode NT5
The Rode NT5 has become something of a budget-friendly classic.
This is the best Rode overhead mic around, and it comes as a single or a matched pair.
They are low noise and are very compact … perfect for a travelling engineer who regularly takes mics along.
Best Sennheiser Overhead Mic: Sennheiser Evolution e914
One listen to this mic and you'll agree that the Sennheiser e914 is the best Sennheiser mic for overhead use.
The sound on this mic is so lively; it makes your overheads sound 3D and wide, just like you're sitting in front of the drummer yourself.
Best Shure Overhead Drum Mics – Shure SM81-LC
The best Shure mic for overhead setups has to be the Shure SM81-LC. This is a great overhead drum mic and is perfect for onstage use, because it's rugged and reliable.
It's phantom powered and has a silky sounding top-end response to help those cymbals stand out.
Frequently Asked Questions
How to choose an Overhead Drum Mic
Choosing an overhead drum mic requires you to pay careful attention to not only the sound quality of the mic, but also the diaphragm size, frequency response, SPL, and polar pattern.
What exactly are all these things and why are they important?
Read on to find out …
Frequency Response
Frequency response is important when choosing mics for different parts of the drum set.
For your snare and toms, you'll want to start in the frequency range of 50Hz to grab those lower, meatier tones.
Ride cymbals are going to call for a mic that excels from about 300-600 Hz, all the way up to the 4-6k Hz.
Crash cymbals typically act in the frequency range between 400-500 Hz, up to the 10k-12k Hz range.
That said, different sizes of crash cymbals can fall into frequencies even wider than this spectrum.
Depending on what sounds you want to capture with your overheads, make sure the frequency response of the mic matches, like this:
Kick: 40Hz – 150Hz
Snare: 120Hz – 250Hz
Toms: 100Hz – 1kHz
Cymbals 300Hz – 12kHZ
In short, the kick and snare don't require such a broad frequency range.
However, you need to have a wide frequency range when choosing mics that will capture cymbals.
It's also important to remember that not all microphones respond the same way along the entire length of the frequency spectrum.
Which is why you need to consider a mics diaphragm size.
Diaphragm Size
Simply put, there are two different types of diaphragm sizes …
Small diaphragms (less than 1")
Large diaphragms (greater than 1")
Why is this important?
Large Diaphragm vs. Small for Overheads
In the world of drum overheads, small or large diaphragms are both useful.
It really depends on your specific situation and audio needs.
Large diaphragm microphones will be more useful as overheads when you want to include lower frequencies in the mix.
The larger the diaphragm, the better the mic will capture low frequencies.
So, if you want the sound of the toms, snare, and kick mixed with your cymbals, a choice like the AKG 414 would be a great option.
Also, large diaphragm microphones will capture more of the room than the small diaphragm, so if the space where you are has a nice reverb or a special treatment that you want to add, the large diaphragm is the way to go.
However, if your room is not treated or you are performing live, having the cleanest possible track for the mixing will be a priority.
There, the small diaphragm mics will shine best.
Small diaphragm microphones usually capture higher frequencies better; thus, they give the frequencies where the cymbals are located a bit of a boost. (This is the frequency territory between 300 – 600Hz, up to the harmonics around 3k and 8k Hz, and then into the 20kHz range.)
They excel in capturing the frequencies where you'll find the cymbals and the harmonics of the snare and smaller toms.
Small diaphragm mics will enhance the mid-high and high parts of the register. For this reason, a diaphragm size of ½ inch to 1 inch has become the preferred microphone size for many overhead drum uses.
Polar Pattern
As a general rule, the polar pattern of the mics you use as overheads will depend on your room.
Omnidirectional mics can give you a fuller sound. But if your room isn't treated, they can quickly get out of control.
Cardioid and supercardioid mics can really help to control the sound in a room that isn't well treated, as well as when using mics for live performances.
Sometimes, figure-8 pattern mics are used for overheads. They can create interesting sounds when used for Mid-Side miking configurations.
Not only is the ideal polar pattern determined by the environment, but also by the mic technique you're using.
For a take where reverberation is not desired, or where other signals can mess with the take, the cardioid polar pattern is the safest way to go.
SPL
For a drum overhead, high SPL handling is a must. Otherwise, the risk of overloading the microphone and having a saturated take is too high.
Many of the microphones have a PAD, which helps to reduce the risk of overload and gain some db in the max SPL count.
However, this pad will also prevent the capture of the little details in a soft take, so use it wisely.
What's the Best Drum Overhead Mics Under $1000?
Got $1000 to spend, and need to know the best drum overheads for this price?
Simply check out the Shure KSM137.
These are incredibly dynamic, and have some of the punchiest transients you'll find for under $1000. Your drums will sound out of this world … in a good way.
Conclusion
Wow, how about that for a runthrough of some awesome overhead drum mics?
You've just learned a lot about overhead mics … but I'm sure you already understand why having great sounding overheads is important for any drum application, both on stage and recording in the studio.
You're now armed with the knowledge to get hold of some amazing overhead mics, and take your drum sound to the next level.