Quick-Access To the 13 Best XLR Microphones for Streaming👇
If you are new to audio, you may find that microphones for streaming lists are super long.
Well, don't despair.
Today you will learn how to choose the best XLR microphone for your stream, fast.
Top Pick Best XLR Microphone For Streaming: Shure SM7B
3 Vital Truths About XLR That You Need To Know As A Streamer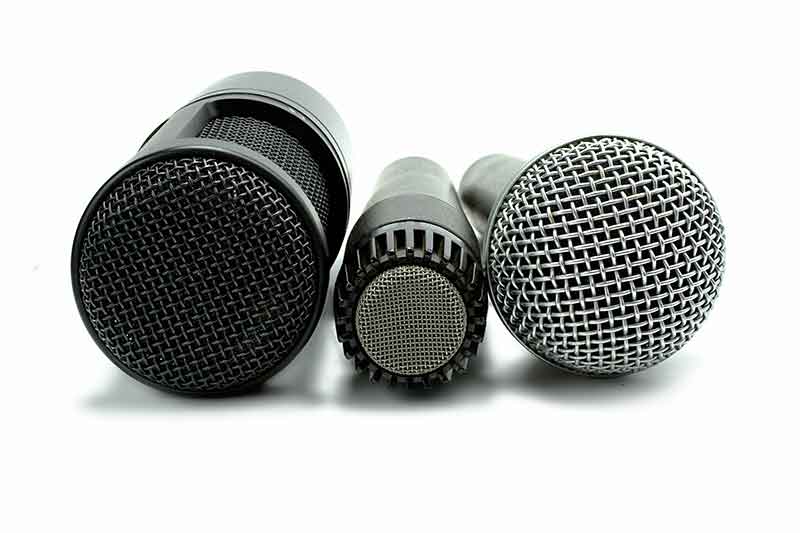 1 – It Offers a Balanced Signal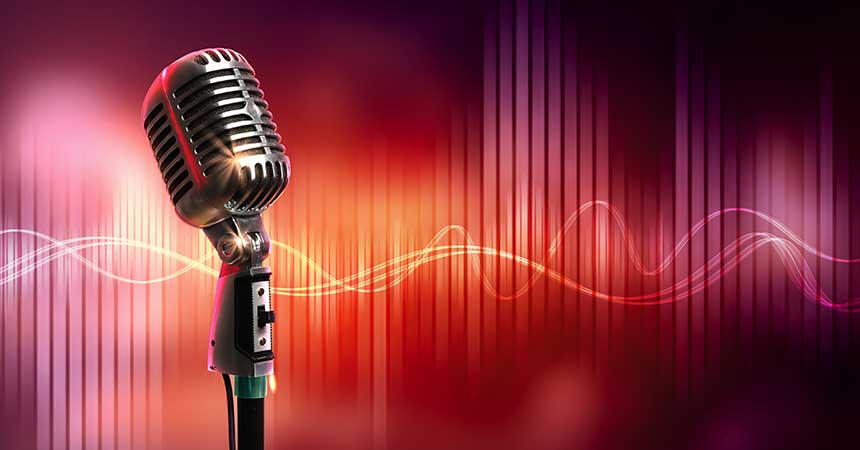 The balanced audio signal on offer from an XLR microphone is second to none.
It will give you the cleanest signal, with the best noise isolation. They are the go-to microphone choice for professional audio use.
You will need a USB audio interface to connect an XLR mic to your computer, however.
XLR Mics, combined with the input and output hardware of a USB audio interface, will allow you to record and control more than one microphone at a time. #bonus
2 – Dynamic vs. Condenser – Which is Best?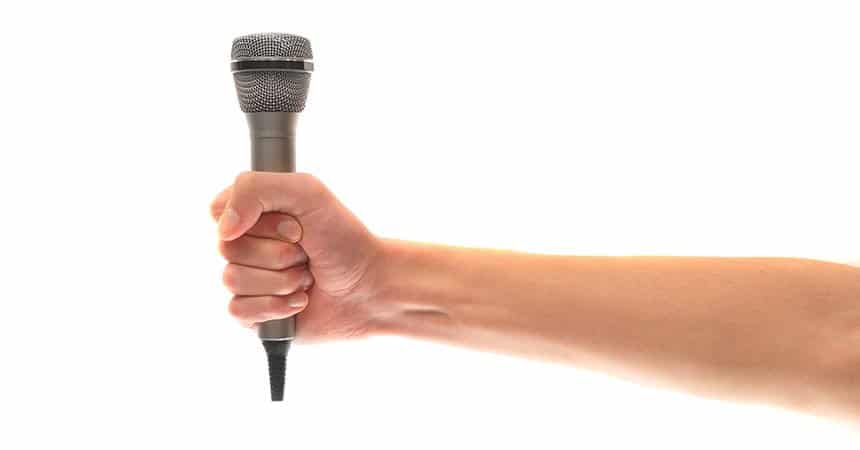 In a sound controlled environment, a condenser mic will give you the best tones, the best sensitivity, and the best dynamic range.
Their downside? They pick up other noises like crazy, making them less useful for noisy environments.
If you're in a busy office, have loud traffic outside, or don't have any kind of acoustic treatment in your room, then a dynamic mic is going to be the way to go.
Dynamic mics don't pick up 'other noise' as badly, making them perfect for those situations where you aren't recording in an acoustically treated studio.
3 – You Can Change Your Microphone To Suit Your Needs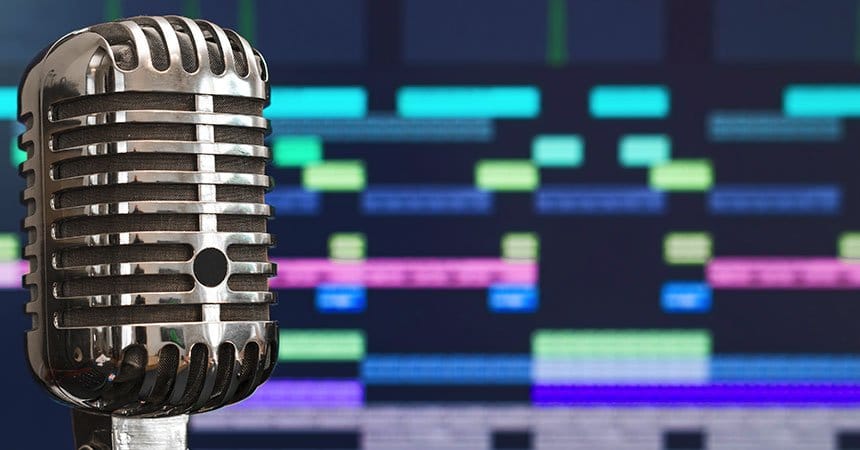 If you have the means to work with an XLR microphone, you can start off with a cheaper mic and upgrade later.
You also have the option of combining mics as you need them. You can even switch between mics for different streaming projects. This is all much easier to do when you use XLR instead of USB.
The Best XLR Microphones for Streaming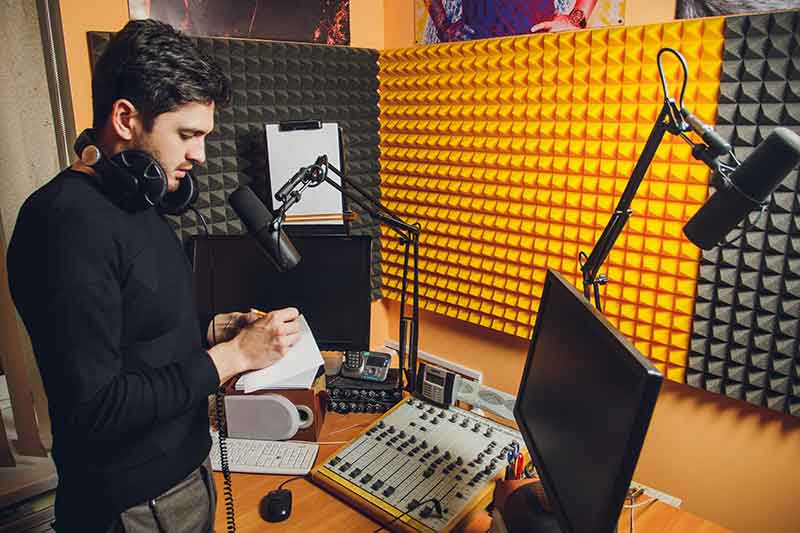 Editor's picks section, with links to where you can buy each product.
Top Pick Best XLR Microphone For Streaming: Shure SM7B
Let's see why this dynamic microphone is the top-pick on our list!
The SM7B is the best dynamic mic available for streamers. While it's considered a mid-priced mic, the feature set on offer is worth every cent.
When you stream, you want your audience to hear you clearly. Well, Shure has got you covered with this bad-boy.
The SM7B has improved rejection of those annoying electrical hum frequencies that can be emitted by computer monitors. This has plagued streamers for many years, but the SM7B does a very decent job of keeping it at bay.
The built in pop shield also keeps your plosives in check. Combine this with air-suspension shock isolation and a classic cardioid polar pattern, and your voice will sound crisp and balanced at all times.
You can also swap the included pop shield for a close-talk windshield for when you want to get the microphone even closer.
The sonic profile provided by this mic is slick. It's used by dozens of pro podcasters, and has a reputation for being the go-to mic for professional YouTubers and podcasters alike… including none-other than the iconic Joe Rogan!
If you've watched anyone use one of these mics, you will know first hand how great it sounds. You simply cannot argue with the countless users that achieve superb sound quality using this mic.
Shure SM7B Key Features:
Cardioid polar pattern
Frequency response: 50 – 20k Hz
Reduces distortion from loud sources
Internal air-suspension shock and vibration isolator
Built in air suspension shock mounting reduces mechanical noise
Includes Switch Cover Plate, Large Black Foam Windscreen, 5/8″ to 3/8″ Thread Adapter
Shields against electromagnetic hum produced by neon lights and computer monitors
Cardioid pattern provides maximum rejection with less coloration for use on off-axis sounds
Flat Response, Bass roll off along with a mid-range emphasis: Slotted response selector switches
Runner Up Dynamic: Electro-Voice RE20
If you are big on retro visuals, you'll love the retro look of the Electro-Voice RE 20.
Now, you may notice that this one actually doesn't look sleek and modern. It looks like a mic that you would've seen in the 1970s, but that's still cool right?
Even if you don't like the way the RE20 looks, you can't argue with the sound quality it puts out. EV states that it's perfect for recording and sound reinforcement.
Check out this video, where the RE20 was used to record Kaudia and Stefan!
As you can hear… the audio is simply beautiful!
The built in, heavy duty pop filter will keep your vocal smooth and clear from pops, while the bass roll off switch will reduce any unwanted boom in the voice.
This is especially important if you plan on keeping the mic close to your mouth as you speak.
The internal capsule is also shock mounted, meaning you don't need to worry too much about vibration-related noise interfering with your audio stream.
Case in point, the Electro-Voice RE 20 will get the job done.
Electro-Voice RE20 Key Features:
Cardioid Polar Pattern
Sensitivity: 1.5 mV/Pa
Frequency Response: 45 – 18k Hz
Best Under $250 Dynamic: Rode Procaster
Rode doesn't need an introduction, especially with the Procaster. Even if you're still new to the world of learning about microphones, you will probably have heard of the name Rode.
They have been making some of the industry's leading mics for many years.
The Procaster is Rode's entry into the lower priced side of broadcast quality mics, and you will be pleasantly surprised by what they are offering here.
For a relatively small outlay (Fantastic for someone looking for their first serious upgrade) you get a microphone that offers crisp, broadcast ready audio across a very wide frequency range.
The Procaster doesn't cover some of the super low frequencies that some of the pricier models do, but for close-mic streaming use, that's actually a benefit.
Oh, don't forget the 10 year warranty. You'll be streaming for a long time with the Rode Podcaster in your arsenal.
Rode Procaster Key Features:
Dynamic Microphone
Polar pattern: Cardioid
Sensitivity: -56 dB at 1 kHz
Frequency Response: 75 – 18k Hz
Best Under $100 Dynamic: Shure SM58
The SM58 is the microphone that you'll probably have seen more than any other microphone. Even if you don't realize it.
If you've been to a live gig, or even performed one, you've probably used an SM58 for your vocals.
Shure has created the industry standard mic with this one, and it fits in right below the $100 price point.
The frequency response of the SM58 is designed for vocals. It rolls off all the unwanted mud at the low end, and tames any potential harshness at the top.
This leaves you with a warm, rounded vocal tone. So why would you not consider that as a good microphone for streaming?
If you want to buy your first streaming mic, but don't have the biggest budget, this is a brilliant place to start.
The uniform pickup pattern reduces any unwanted ambient noise while delivering present and clear vocals… and the built-in pop filter will ensure that you don't find yourself with any unwanted plosive pops in your streaming.
Shure SM58 Key Features:
Max SPL: 94db
Cardioid Polar Pattern
Frequency Response: 50 – 15kHz
Sensitivity: -54.5 dBV / Pa (1.88 mV)
Best Cheap XLR for Streaming: Behringer XM8500
The Behringer Ultravoice XM8500 Dynamic is basically Behringer's version of the Shure SM58. But you might be surprised at how good the audio is!
Most people look at a mic in this price bracket and dismiss it because it is so cheap. But as a long-time Behringer gear user, I can tell you that this little guy packs a punch.
But let's unpack the features.
It's a cardioid dynamic XLR mic. It's about as plain-Jane as they come!
It does, however, ship with a standard shock-mount system on the inside to help reduce handling noise.
Bands buy the XM8500 when they can't quite get enough cash together to buy Shure SM58s or 57s, for the most part. But what a lot of people don't realize is that, for podcasters and streamers, this thing actually gives you a lot of bang for your buck.
You'll obviously need an audio interface that can handle an XLR connector. But this thing is so cheap, is built like a tank, and honestly the audio just isn't that bad. It is surprisingly good.
You won't get $10,000 sound out of it. But it will blow away your cheapo built-in laptop mic, give you an audio upgrade, and help you to level-up your audio super affordably!
Behringer XM8500 Key Features:
Rock solid construction
Cardioid polar pattern
XLR connectors
Two-stage internal pop filter helps to reduce plosives
Frequency response: 50 Hz to 15kHz
Best Streaming Condenser: Rode NT1-A
When it comes to buying condenser mics, many microphone fanatics will opt for the top end of the price scale while chasing that perfect sound. We're talking 4 figures in most of these cases.
Don't have thousands of dollars to spend? Don't worry. You don't need to spend that much to get a great sound. The Rode NT1-A is a condenser microphone that will suit all your streaming needs and beyond.
The NT1-A Vocal pack is technically aimed at aspiring recording artists and producers, but that doesn't mean you can't put this kit towards streaming use.
You get the microphone, which alone is worth the price, a shock mount cradle, pop filter, XLR cable, and a carrying case.
The large diaphragm of this condenser will deliver a rich vocal capture with extremely low background noise.
Rode NT1-A Key Features:
Max SPL: 139db
Cardioid polar pattern
Condenser microphone
Internal shock mounting system
Frequency response: 20 – 20kHz
Sensitivity: -31.9dB re 1 Volt/Pascal (25.00mV @ 94 dB SPL) +/- 2 dB
Active Electronics: JFET impedance converter with bipolar output buffer
Includes shockmount, pop shield, XLR cable, mic dust cover, and instructional DVD
Runner Up Condenser: Audio-Technica AT2050
Most streamers will have a set purpose in mind for their microphone, but if you fall into the category of streamers who are looking for something that offers a little extra, then read up on the AT2050.
One of the best features of the AT2050 is that it has three switchable polar patterns. You can easily switch between an omni, cardioid, and figure-of-eight pattern with this device… giving you plenty of options.
The AT2050 is a condenser that delivers a range of features to accompany its great sound. It's a great choice for streaming on your own. But with its additional polar patterns, you could also use it to capture multiple people talking at once.
If you plan on streaming with another person in the room, these additional polar patterns would be a great choice for adding-on those extra voices and picking them up.
Audio Technica also includes a shock mount to reduce any handling noise. This simply screws directly onto your microphone stand or boom arm.
The sound of the AT2050 is smooth, but also natural in all the right places. The microphone rolls off excessive lows with the high pass filter switch to keep the voice sounding clear and crisp.
AT2050 Key Features:
Pad: 10db
Self Noise: 17 dB
Includes soft protective pouch
Low Cut: 80 Hz, 12 dB/octave
Max SPL: 149db; 159 with Pad
Frequency Response: 20 – 20k Hz
Externally-polarized (DC bias) condenser microphone
Polar Patterns: Cardioid, Omnidirectional and figure eight
Includes AT8458 shock mount for threaded stands and a 5/8″ to 3/8″ adapter
Best Budget Condenser: sE Electronics X1
Large diaphragm condenser mics don't have to cost a fortune. You can find incredible sounding mics for a good budget, and the X1 by sE is one of them. Coming in at under $100, it offers a feature set found on mics in much higher price brackets.
The low end roll off switch will remove many unwanted boom and breath noises. The -20dB pad is also perfect if things are getting a bit loud as you're streaming.
How will you sound using this condenser mic? Pretty good! The X1 might be low on price, but it's certainly not low on sound quality.
The integrated wind shield will also keep things clear and precise when speaking up close.
If you are looking for an XLR gaming mic on an entry level budget, then this will certainly be a strong contender for the job.
X1 Key Features:
Frequency Range: 20 – 20k Hz
Attenuation Pad: 10 / 20dB, switchable
Includes mic clip, mic stand thread adapter
Max SPL: 140 / 150 / 160 dB (0/10/20 dB pad)
Low-cut filter: 80 / 160 Hz, 6 dB/Oct, switchable
Honorable Mentions
Shure SM7B
There are so many amazing mics out there that would fit into this category. You've already browsed through our top selections, but here are some additional mics that didn't make the cut that are still awesome microphones!
These are some of our other favorites for microphone gaming and streaming.
HEiL Sound PR-40
The PR-40 is a great mid priced microphone for gaming and, truthfully, it only just missed out on our top picks. If you plug this into your usb audio interface, you will not be disappointed.
For your money, you also get a warm, full sounding microphone with a large frequency response. It also has a huge SPL handling. If you plan on streaming loud, you're in luck.
PR-40 Key Features:
Dynamic mics
Impedance: 600 ohms balanced
Output level: -53.9dB @ 1,000 Hz
Frequency response: 28Hz to 18kHz
Steel body with zinc die-cast bottom ring
MXL V87
There is a lot of talk about the V87 among artists and musicians. When a mic claims to deliver the goods and still comes in at under $200, it certainly makes you sit up and listen.
This mic was designed for high performance. This could be one of the best microphones for streaming for under $200.
MXL are known for their award-winning solutions, so your streaming would step up a level with their great sounding microphones.
V87 Key Features:
Solid state mic
Max SPL 136dB
Great for up close recording
20Hz – 20kHz Frequency Response
Outstanding mixture of smoothness and clarity
Neumann-BCM 705
The Neumann-BCM 705 is specifically designed for radio broadcast, and it has great visual appeal for streamers. It is a dynamic style mic which requires no phantom power.
Neumann has a strong name for themselves in the audio world, and the BCM 705 meets all the usual expectations of the brand.
The BCM 705 was designed with a moving coil capsule to deliver the distinctive FM radio broadcast sound.
It was designed with speech being the main focus, and has an in built pop filter and shock mount to ensure that your voice remains clean and free from pops.
BCM 705 Key Features:
Dynamic mic
Max SPL 150dB
Perfect for radio and broadcast style use
Slight 2kHz presence boost for crisp speech
Integrated pop shield and shock mounted capsule
Rode Broadcaster
If you want a large diaphragm condenser style mic to use as your gaming microphone, then the Rode Broadcaster is a great mid priced option.
The large diaphragm design is perfect for delivering high performance for broadcast style use. This mic is super-responsive, and does a great job of capturing detail.
Rode has carefully designed it this way.
The capsule is protected by a pop filter to prevent any unwanted pops or clicks from your voice as you work.
It also has a 75Hz high pass switch to remove any unwanted background noise from computers or air conditioning units.
Rode Broadcaster Key Features:
Built in pop filter
Low noise capsule
75Hz Low Pass Filter Switch
20Hz – 20kHz Frequency Response
Designed for broadcast and voice over use
AKG Project Studio P220
If you want an all in one package to kickstart your streaming, then check out the AKG Project Studio P220. This set comes with the great P220 microphone, an XLR cable, and a click on pop filter.
Everything you need in one box.
The P220 sits in a spider shockmount, meaning that it floats in an elastic cradle. This drastically reduces any vibration transfers while in use.
The mic has a low filter switch that rolls off everything below 300Hz, which will tidy up any unwanted background noise while you work.
P220 Key Features:
-20dB pad switch
Cardioid polar pattern
Up to 155dB SPL levels
Built in 300Hz low roll off
Includes pop filter and cable
Aston Microphones Stealth
The Aston Stealth is a beautiful-looking mic. And its sleek black chassis not only looks great, but it sounds great too. In this microphone, you get a huge array of features.
It offers broadcast quality audio across its four unique settings. Each setting has been voiced for specific jobs by a panel of experts.
Whatever you need, this mic can offer it. Each contoured setting provides the best attenuation and signal flow for that task.
It can run both with and without phantom power. When the mic detects phantom power, it automatically engages its built in preamp to increase the headroom.
Aston Stealth Key Features:
Broadcast quality audio
Class A Preamp built in
Works with and without phantom power
4 unique voicings created by a panel of 90 top producers
Auto detect engages built in preamp when phantom power is detected
Frequently Asked Questions
Would I be able to stream with a USB Microphone?
Absolutely. You can stream with a USB microphone such as the Blue Yeti. In fact, many people do.
However, the point of this article is to show you that an XLR microphone might be a better long term investment for your streaming needs.
Mic gaming users on a budget would easily be able to get started with a USB rig, but a USB rig isn't going to give them the same long-term benefits as XLR.
What if I need to use headphones as I stream/game?
If you choose to use a USB microphone such as the Blue Yeti, you'll be familiar with the built in headphone jack at the bottom of the unit.
If you are using an XLR mic through a USB audio interface, you may or may not have access to a similar option, as most USB audio interfaces do have zero-latency monitoring headphone outs.
How does the Blue Yeti compare to an XLR mic?
The Blue Yeti is a great USB mic. It sounds great, it looks great, and it has a built in headphone jack for monitoring on the go.
But if you compare the Blue Yeti to what you can achieve with an XLR connection, the XLR definitely comes out on top.
XLR Mics offer a more balanced signal over USB connections, as outlined across this article. A USB setup might be beneficial for you if you travel a lot and are scaling down what you can take.
A USB connected microphone won't give you the same preamp options, however, that you might get through a USB audio interface.
Time to Get Online and Create
Fire up your game, grab your headphones, and plug yourself in. It's time for you to enter the world of streaming.
Whatever budget you're on, you'll now be able to find the perfect mic for your own unique needs.
This guide will get you started on your world to Twitch stardom. Go forth and create.