Quick-Access To the Headphones with Best Microphones: Top Podcasting, Work, & Gaming👇
Looking for the best headphones with a mic?
We've done all the research and testing so you don't have to.
Our team of experts has found a wide variety of top-rated, affordable headsets that are perfect for gaming, podcasting, or even business use.
Today you will learn the top 5 quality headphones that also have the best microphones on the market.
Let's dive in.
Our Top Pick: Sony WH1000XM3
Sony WH1000XM3
The premium Sony WH1000XM3 pair are noise-cancelling, wireless, Alexa accessible, amazing headphones. They're long lasting with 30 plus hours of use and our Top Pick for any use!
Buy Now on Amazon
We earn a commission if you click this link and make a purchase at no additional cost to you.

Sony has put out a sure-fire hit with their wireless, noise-cancelling headphones. Their noise-cancelling capabilities would ensure our Top Pick selection alone, but considering their hands-free Alexa accessibility… well, that just seals the deal.
These headphones have everything you could ask for. They have a long battery life, and the lightning charge ability allows for a quick five hour charge in just ten minutes.
With a long battery life, over 30-hours of playtime, gamers, streamers, and all-day music listeners can spend more time listening and chatting instead of charging.
The smart sensors on the headphones allow for "smart listening," meaning that the noise-cancelling features will adapt to the ambient noise level of your environment.
In addition to being Alexa accessible, you can also control the smart features, sound, and mic settings within the app… which are accessible for both Android and iOS. There are also touch controls on the sleek pad of the left ear, making it super easy to use.
They're really comfortable, easy to adjust, and even easier to carry around. They swivel, fold up, and come with their own protective carrying case. They even ship with an audio cable if you want to hook them up instead of using the wireless function.
With Bluetooth, a great mic, and smart accessibility, these best headphones are all you'll need. If you're looking for a pair of headphones with a mic for your next gig, or if you just need something with excellent battery life for long video calls, the Sony WH1000XM3 is our top pick for anything and everything!
Key Features of Sony WH1000XM3
Connection
The Sony WH1000XM3 headphones use Bluetooth 4.2 and support a wide range of audio codecs.
The connection on these headphones is insanely accurate (I have a pair myself), and auto-pairs with ease.
The cans also ship with a 3.5mm cable if you want to go old-school, which is perfect for if the battery dies, or if producing music and need a zero-latency listening experience (Bluetooth inevitably adds a small amount of latency).
The microphone
The mic in the Sony WH1000XM3 is an electret condenser with noise canceling tech. It's an omnidirectional mic, which is ideal for this type of headset as there is no arm for the mic, it actually sits inside the headphones themselves.
I find the microphone to be super usable, though it can be tough for people on the other side of a call to hear you in the wind.
Battery life
I think it's worth mentioning that the Sony WH1000XM3 offers an insane battery life – a massive 30 hours.
You're unlikely to find another set of headphones with a mic on the market with this sound quality and such long battery life.
Listening experience
The Sony WH1000XM3 are closed back headphones, with 40mm drivers inside with LCP diaphragms, which handle bass-heavy music with ease.
You get the full range of frequencies (20Hz-20kHz) – no shortcuts here!
Noise-cancelling tech
You'll find nothing short of the best NC tech in these cans – it's bloody excellent.
The Sony WH1000XM3 uses active noise cancellation, and you can opt to switch it on or off. You can also activate Sony's Ambient Sound mode, which plumbs the sound from outside into your ears (basically like a reverse noise cancelling), which is great for keeping safe if you're crossing the road or in busy crowds.
Personalized optimization
Something I love about the Sony WH1000XM3 is that you can set them up to optimize their response to the environment you're in as well as the size and structure of your face.
This is all done at the push of a button too, so you don't need to get too deep into how the magic works.
The verdict on the Sony WH1000XM3
There's a reason why the Sony WH1000XM3 has been at the top of the Bluetooth NC headphones game for years – they're fantastic.
If you value a great listening experience, solid battery life, and great connectivity, get them.
Runner-Up: Bose QuietComfort 35
Bose QuietComfort 35
The Bose QuietComfort 35 headphones have different levels of noise-cancellation, allowing for complete user control, depending on the conditions you're operating under.
Buy Now on Amazon
We earn a commission if you click this link and make a purchase at no additional cost to you.

The best things about these headphones are their Alexa and app accessibility, along with their impressive battery life. The mic that is paired with these exemplary Bose headphones is top-notch too.
The mic allows you to talk to Alexa, anyone you're calling, or even directly into your feed without any difficulty. The captured sound is clear and clean without a modicum of drop-out or interference.
With the ability to switch between different levels of noise-cancellation, you can decide how much you want to hear, and also switch between if you're trying to talk to someone. Whether you're talking to your smart device, a crowd, or a million viewers, you will be heard clearly with the Bose QuietComfort 35.
Key Features of Bose QuietComfort 35
Connection
The Bose QuietComfort 35 headphones connect wirelessly via Bluetooth, but they also ship with a 3.5mm audio cable for plugging in to non-Bluetooth devices.
This is done via a 2.5mm headphone jack adaptor, meaning you pretty much have to use the included cable, and can't opt for a regular third party 3.5mm audio cable.
The microphone
Inside the Bose QuietComfort 35 is an electret condenser mic with noise cancelling tech and an omnidirectional polar pattern.
The mic is sat inside the headphones themselves, so it needs to be quite sensitive to sound from all directions, and it gets that job done fantastically!
Listening experience
As you'd probably expect from such a high-end set of headphones, the Bose QuietComfort 35 offers a frequency response spanning the entire audible range, using 40mm drivers to achieve this.
Something epic about the Bose QuietComfort 35 listening experience is that they actively tailor their response of the drivers to your listening volume, giving you the perfect sound quality whether quiet or loud.
They are closed back, keeping the sound in (and the noise out), and offer some of the market's most revered compatibility with voice assistants such as Amazon Alexa and Google Assistant.
Noise-cancelling headphones
The Bose QuietComfort 35 has some of the best noise-cancelling going on inside; it's super high-tech, and super effective.
What's more, you can dial in the perfect amount of cancellation, choosing from three options (low, mid, high) to give you the ideal listening experience for whatever environment you're in.
Why should you buy the Bose QuietComfort 35?
The main contender to compare with the Bose QuietComfort 35 is the Sony WH1000XM3.
The Bose set offers greater compatibility with voice assistants, though it has a shorter battery life (20 hrs vs 30), and a different noise-cancellation style.
The Bose QuietComfort 35 also has an Alcantara headband covering (that super soft super sexy suede stuff used in high-end sports cars) while the Sonys have a standard leather style headband. Up to you to decide what gets you going.
Overall, you should grab the Bose QuietComfort 35 if you're into superb quality audio with a decent mic and enhance NC flexibility. 
Best Budget Pick: Cowin E7
Cowin E7
The Cowin E7 is a great pair of headphones on a budget. Complete with long playtime, active noise-cancellation tech, and Bluetooth accessibility, these are your headphones on a budget.
Buy Now on Amazon
We earn a commission if you click this link and make a purchase at no additional cost to you.

If you're looking for a great pair of wireless headphones with a good mic on a budget, Cowin E7 is our pick. Priced at well-under a hundred bucks, these are stylish, capable, and have excellent sound quality.
You can choose from a wide selection of colors, and the ears have 90 swivels of rotation around them. This means that you can be comfortable while wearing them, and also allows for versatility if you lend them out.
These are perfect headphones for travel, with active noise-cancellation abilities and a long playtime. This ensures that you will get your money's worth for your next international plane ride, long multi-player online game, or even just a video call that might last a few hours.
Since these headphones can be completely wireless, they're good for travel and all sorts of occasions. The Cowin E7 wireless headphones are not just headphones that are good in a pinch. They're durable, reliable, travel-friendly, and just what you need.
Cowin E7
Connection
The Cowin E7 is a bluetooth set of headphones with a mic, running Bluetooth 4.0. So, not the newest tech, but certainly decent connectivity and minimal issues.
They also come with a 3.5mm cable, so you can use them with a standard headphone jack if the batteries run out. Which is unlikely, because…
Massive battery life
The E7 cans have an incredible 30-hour battery life!
That battery life is on par with big boys like the Sony WH1000XM3, so pretty damn impressive, considering the price of these guys.
The microphone
The mic on the Cowin E7 is decent, nothing special, but nothing short of what you'd expect.
It's an electret condenser and it sits inside the headphone cups themselves. For that reason, Cowin has employed an omnidirectional mic, and given it a slap of noise cancelling as well.
Listening experience
These guys used 45mm drivers, which is a little larger than most quality headphones and means you'll have a bit stronger bass response with the E7.
The cans are comfortable as heck with leather-style protein earcups, and 90-degree swivel action, meaning they aren't too rigid on your ears.
They are closed back headphones, and offer a frequency response of 20Hz-30kHz (that last 10kHz not doing much for humans at all), so they should cover all listening bases.
Noise-cancelling tech
The Cowin E7 uses active noise cancellation to keep your music in and the rest of the world out, and we have to say it works pretty damn well.
Maybe not quite as well as the Bose set above, but these are a fair bit more affordable, so it can be forgiven!
Is the Cowin E7 worth it?
When we're talking value for money, the E7 takes the cake.
Yes, there are 'better' headphones around, from bigger brands with stronger reputations, but hey, for $60, these guys do an epic job.
Best Gaming Headset with Mic: SteelSeries Arctis 7
SteelSeries Arctis 7
Designed for gaming, the 2.4G connection delivers rock solid, lossless wireless audio with ultra low latency and zero interference
Buy Now on Amazon
We earn a commission if you click this link and make a purchase at no additional cost to you.

Gamers need a specific type of headphones, with a perfect mic built in. The SteelSeries Arctis 7 are optimal for both a gaming headset and social or professional streaming.
The omnidirectional mic is perfect for talking within the game to your fellow players. Vocal quality is high on this mic, while outside noise is kept to a minimum.
The noise cancellation applies to both the mic and the headphones. The omnidirectional mic doesn't deliver any unnecessary noise from the game or from your room. The headphones also greatly reduce noise in your environment.
With extended playtime, Bluetooth capabilities, and the ability to be customized, the SteelSeries Arctis 7 is a great pair of headphones for the gamer in you. For a reasonable price and great quality, you couldn't ask for more in a gaming headset.
Key Features of SteelSeries Arctis 7
Connection
The SteelSeries Arctis 7 headphones with a mic use a 2.4GHz wireless connection protocol with lossless audio.
This is achieved by plugging in a sender module into a USB port on your computer, which wirelessly transmits audio to the headphones.
Alternatively, you can use an analog connection via 3.5mm audio cable.
The microphone
Being a gaming headset, communicating via microphone is super important.
That's why SteelSeries have opted for a gooseneck mic rather than one positioned in the headset itself. The mic is an electret condenser with a bi-directional polar pattern, and it is super easy to position.
Something cool about the mic stem is that it's retractable, meaning if you aren't using the mic and you're just using the headphones for listening purposes, you can retract the mic back into your cans and get it out of the way. Awesome!
Listening experience
40mm drivers take care of listening duties, pumping out tunes right across the frequency response range.
If you're using the SteelSeries Arctis 7 with a PC, then you can access the intuitive 7.1 surround sound feature, which is perfect for truly immersive gameplay.
The wireless connectivity gives you up to 40ft or range, and the headphones themselves are super comfortable, perfect for long gaming sessions.
Who is the SteelSeries Arctis 7 for?
This set of best headphones is perfect for gamers who need a set of cans that
fantastic sound quality 

Are comfortable to wear

Have 7.1 surround sound compatibility

Have an awesome battery life
Best Headphones With Mic for Podcasts: Audio Technica BPHS1
Audio Technica BPHS1
The Audio Technica BPHS1 headphones are designed with the voice in mind. The mic is perfect for interview, YouTube channels, and podcasts, and the headphones are comfortable and noise-free.
Buy Now on Amazon
We earn a commission if you click this link and make a purchase at no additional cost to you.

The Audio Technica BPHS1 headphones are ideal for any broadcasting or podcasting need. The sound quality is amazing, delivered clearly and cleanly into the recorded final product.
When you're podcasting, more than anything else, you want to be both comfortable and in complete control. If you're broadcasting, podcasting, or interviewing people for your YouTube channel, you want versatility and high quality.
Because of its cushioned ears and lightweight headband, these are also some of the comfiest headphones around. The flexible gooseneck boom mic extends naturally and can be repositioned easily.
The boom mic can also be switched from your left side to your right side, while the volume control allows for multiple outputs. The cardioid dynamic microphone captures crisp vocals with great detail.
Eliminating the ambient noise from your room or your studio, the Audio Technica BPHS1 headphones will ensure that your broadcast content is the best it can be.
Key Features of Audio Technica BPHS1
Connection
The Audio Technica BPHS1 is a set of professional broadcast headphones, so no Bluetooth connectivity here.
You've got two options for analog connectivity: XLR, or ¼" stereo jack.
The microphone
The mic in this set of headphones is nothing short of excellent, as you'd expect from a professional set of broadcast headphones.
It's probably the best on the market (in terms of mics to be found in headphones), and it's an electric condenser unit with a cardioid polar pattern, keeping things focused on your voice only, nothing else.
The boom mic can be positioned on either side of the headset, which is pretty handy, and also obviously means you can take it off altogether if you're just using the Audio Technica BPHS1 for listening purposes.
Listening experience
The Audio Technica BPHS1 are designed to sound accurate, rather than good.
That means they are natural, open, and transparent, no excessively hyped highs or booming lows.
The 40mm drivers cover a range of 40Hz to 20kHz, so you lose the last 20Hz or so of the audible range. But that's not really a problem for what these are made for (broadcast), which has little going on down there anyway.
Replaceable ear pads and cable
These headphones are made to go the distance, and are made to be worn on a daily basis.
The two biggest causes of headphone failure are cables and worn out ear pads. So, the Audio Technica BPHS1 makes it easy to order replacement parts!
Includes SAMSON QH4 4-Channel Headphone Amplifier Distribution Amp
It's always best to run quality headphones for a proper headphone amp, and this is essential if you've got multiple people listening in.
The included headphone amp is great for anyone running a podcast with multiple guests, as it ensures everyone can listen in, and their headphones will be powered accordingly.
Is the Audio Technica BPHS1 the headset for you?
These cans are best for anyone doing podcasting, voiceovers, or broadcasting.
They aren't ideal for anyone wanting to listen to music or gaming, as the headphones themselves are designed to be honest rather than trying to make your tunes sound good.
The mic is excellent though, so if that's a focus for you, get these!
Important Features to Consider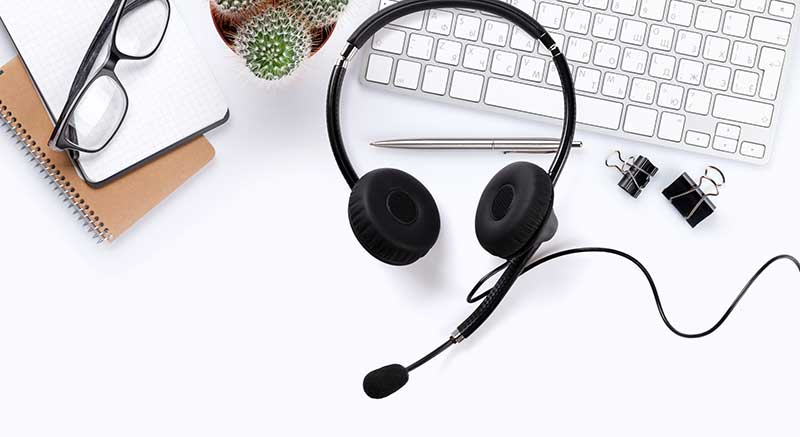 While we were looking into all these great choices, a lot of tech terms kept coming up. To help you out, we've put together a list of the most common specification terms that were mentioned during our research.
Knowing these will ensure that you get the headphones with a mic that you want, along with the features that you need the most.
Here are the most important features to consider…
Hands-free: This is a highly-coveted feature for wireless headphones with a built-in mic. It means that you don't have to operate the features from an app, or use buttons on the physical headphones.
This has become vital as more headphones adapt to smart technology so that you can issue a command (e.g. fast forward or ignore that call). This way, the device or headphones will respond accordingly.
Noise-cancelling technology: This feature can apply to either the mic or the headphones, depending on the product. It reduces ambient sound from carrying through the headphones to the user, blocking out unwanted noise.
There are different levels of noise-cancellation for different purposes, but the basic concept remains the same: it ensures that the user can hear the audio content without raising the volume of it.
By reducing the ambient noise, you won't have to turn the volume up all the way just to hear your audiobook or your music.
Bluetooth: Not as relevant as it once was with the advent of smart technology, Bluetooth is a form of wireless technology. It allows your mic and headphones to pair with a Bluetooth accessible device, like your phone, tablet, or computer.
In-app: This allows the mic and the headphones to be pairable with an app (sometimes iOS, Android, or both). You can then control the volume, recorded content, and even your device if you have an app that goes with the headphones.
Smart accessibility: The most common of these being Alexa or Siri (belonging to Amazon and Apple, respectively), these smart capabilities have access to shared devices. Being more than at your command, these smart features are capable of accessing information, making purchases, and controlling your shared devices.
This is voice-activated technology, meaning that you can use the mic in your headphones, without using your hands.
Swivel: As we return to the slightly bulkier days of headphones while noise-cancelling headphones require bigger ears, the swivel allows for the headphones to be folded. This makes them better for travel, and just generally makes them more comfortable, as different degrees of swivel allow for variation and longer periods of use.
Near Field Communication: Aka NFC, this is another form of wireless communication between devices. This is much more limited by distance, but is more easily paired than Bluetooth, and has less interference in crowded places.
Playtime: This refers to the amount of battery life the device has. Knowing that these headphones are going to be used for lots of playtime between charges, battery life is an important factor in the purchasing of best headphones.
Included in most of these description is a "lightning charge" features, which refers to the minimum amount of time the headphones need to be charging to get a certain amount of extended playtime.
Bidirectional: This kind of mic picks up sound great with high sensitivity from the front and the back of the mic, and very little from the sides. This is best for speaking purposes so as to not get noise from the sides of the mic, as you only want to pick up the speaker's voice.
How to Choose Headphones with a Mic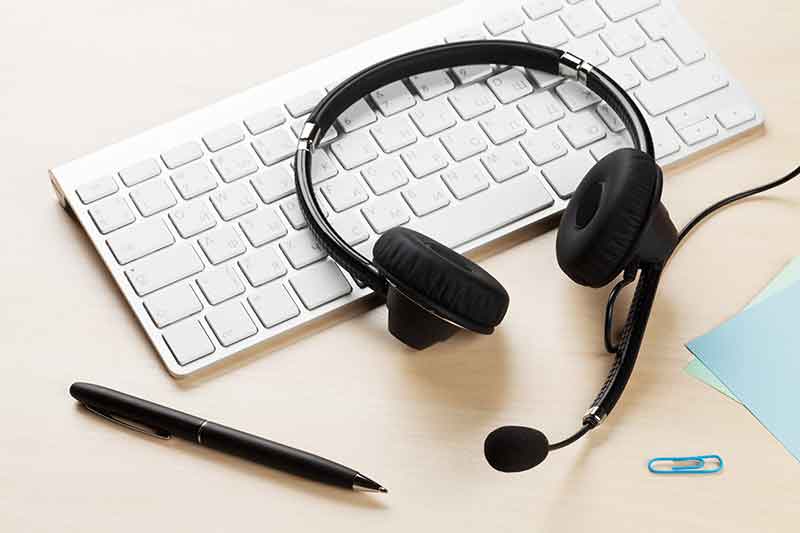 Wondering how we made our top choices?
Here's a breakdown of the key features we considered when crafting the top picks.
Connection
Considering what kind of connection you are looking for your headset is no minor detail, in fact, it is probably the number one factor to decide on upfront.
The most common kind of connection found on headphones is the 3.5mm audio jack, which is the kind of connector you'll find on pretty much all devices, like laptops, gaming consoles, and phones, before they decided to get rid of them (we're looking at you, Apple).
The benefit of choosing this type of connection is that it's universal, and you don't risk any kind of dropouts or interference, which you might find with….
Bluetooth.
That's essentially your second option for headphones and is pretty much the standard in wireless tech.
Most devices found in today's world use Bluetooth (consoles, laptops, smartphones, tablets, etc), so it's still a fairly safe choice.
The main benefit of Bluetooth headphones is that you don't have a cable holding you down to your device!
The drawback is that it needs to stay connected (so depends a bit on the connection strength of both the device you're using and the headphones), and the fact that headphones need a battery to run Bluetooth, meaning they can run out and essentially become useless until recharged.
Other than that, there are some other kinds of connectors, most commonly Apple's Lightning connector, those more often than not this is taken care of via a 3.5mm adaptor.
So, the choice is basically wired or wireless, or both (some headphones give you the option for either).
Type of Microphone & Polar Pattern
Headsets use electret condenser microphones, which means that the capsule is permanently charged and uses that electricity to feed the system. 
In human speak, it means the mic is sensitive (in a good way, not like your girlfriend) and great at picking up quiet voice sounds.
There is some variance in headset mics, though, and it's usually the polar pattern.
Polar patterns basically tell you how a mic responds to sound in terms of direction (front, back, sides).
There are five main kinds of polar pattern:
Cardioid

Supercardioid

Hypercardioid

Omnidirectional

Figure-8
You're unlikely to find a figure-8 mic on a headset, so don't worry about this one.
Omnidirectional mics pick up sound from all directions, whereas cardioids pick up sound from the front, less so the sides, and not at all from the back.
Super and hyper cardioids basically take the cardioid concept to greater extremes.
9 times out of 10, you're going to want a cardioid polar pattern in a headset mic, as it will pick up what you're pointing it at, and little else.
The other thing to consider in a mic is noise-cancelling tech.
This is different from talking about noise-cancelling headphones that block out external sounds from the headphones. Here, we're talking about cancelling noise from the mic.
There are a couple of ways headphone manufacturers achieve this:
Gating out sound that falls below a certain volume threshold (so it is silent unless you're speaking)

Reducing the frequency range of the mic's response to just those that are used by the human voice, eliminating high and low-frequency noise that is essentially irrelevant
It's not yet a perfect technology, but it's still better than not having it.
Closed-back or open-back headphones
Closed-back headphones have drivers that are completely sealed in, whereas open-back headphones are open at the back (duh).
This essentially gives the open-back style a more open and natural sound, but as a result, they pump some of the sound out, rather than into your ears.
Open-back headphones are great for use in recording studios, but not for much else, because you probably don't want to be blasting others with your music or phone calls.
Unless you're buying cans for the studio (in which case you probably aren't looking for a headset with a mic), then get closed-backs.
Most headsets with mics are closed-back anyway, so you're sweet.
Audio Features
There are a few more things to consider when it comes to how your new headphones are going to sound.
Frequency Response
Frequency response in headphones is the range of frequencies that the speakers can emit.
The human ear can hear from 20Hz to 20kHz, roughly, so ideally you'll have this entire range covered in your headphones.
If you see headphones with a range that exceeds this, it's a gimmick. The speakers may well be able to achieve that, but it really doesn't matter unless you plan on letting your dog use them.
On the other hand, some headphones have a frequency response that falls somewhere in between this range.
Sometimes, the bass may only got down to say 40Hz, which means you'll lose a little low end. This won't matter a bit if you're only using the cans for voice calls, but it may impact your listening experience when playing back heavy bass music.
The same goes for the high-frequency range.
Driver size
If you've never come across the word, quick tip:
Drivers = speakers.
Different headphones have different sized drivers (obviously big over-ear headphones can fit bigger speakers than in-ears), and this affects the sound quality, to a degree.
This might leave you wondering, is bigger better?
The short answer is no.
The long answer is that bigger drivers are better at producing bass frequencies, and smaller drivers are better at producing high frequencies. 
That's why when you look at pro-audio speakers, they often have three drivers, a sub, a middle speaker, and a tweeter for the highs – each being optimized for their purpose.
It's a lot harder to cram three speakers in a set of cans (though there are some pro-level headphones that have more than one speaker per ear), so you're typically left with a compromise.
A general guide is that drivers of around 40mm are a good middle ground. Bigger, and you'll have better bass response but less detailed highs, and vice versa.
Noise Cancelling
We've been talking about noise-cancelling mics, but perhaps more important is noise-cancelling tech in the headphones themselves.
When you're listening to some tunes, you probably don't want to hear what is going on in the background, which is why this technology exists.
There are two kinds of noise-cancelling headphones: passive and active.
Passive NC headphones basically just use the physical element of the headphones covering your ears (or ear holes) to block out some of the sound coming from the outset.
It's less effective than active noise cancellation, which uses this same idea, but has microphones on the outside of the headphones (not like the one for your voice), used to phase-cancel the sound.
You can think of phase-cancelling like subtraction.
Imagine there is a level of sound outside your headphones. If those external mics picked up the noise and sent it into your ears via addition, it would be twice as loud. Instead, they use subtraction (technically, inverting the polarity of the waveform), and voila: the noise is canceled.
The degree of noise cancellation you need is up to you, but the good news is that with most high-quality headphones that use active NC, you can switch it on or off.
Conclusion
Headphones are absolutely essential in recording environments. A pair of great headphones with a professional-grade microphone is now becoming a necessity as headphones adapt to the realm of smart and hands-free technology.
As a result of this dependence, it's imperative that you get a pair of reliable headphones for all of your recording needs! It doesn't matter if you're recording a podcast, streaming from your gamer's chair, or just on long conference calls a lot… these hands-free microphone headphones will help a lot.
In doing this research, we learned some things that seem pretty obvious in retrospect. For instance, while quality is important, comfort is what makes or breaks any of these products on this list. If you're remaining sedentary for long periods of time with these headphones on, those headphones better be comfy and unobtrusive!
Hands-free, smart technology is designed with that comfort and accessibility at the forefront. With integrated voice-activation, you get to devote your full attention to the task at hand. No matter if that task is your online game or your podcast, having your hands free and being able to talk right into the mic in your headphones really makes your life so much easier!
When thinking about these factors, the Sony WH1000XM3 is our top pick because it meets all those needs. However, if you're more budget-conscious and just want to see if the hands-free mic/headset combo is for you, try our budget pick, the Cowin E7. It's durable, easy to use, and comes in multiple colors too!
Knowing what your best headphones with a microphone is for makes it that much easier to find your perfect mic. Whether you put a high premium on noise-cancellation, or think that you really need some smart tech in your life, this list is curated for you to find what you need. Look through these features and description and find what's important to you, then choose your mic accordingly!