Quick-Access To The Best Thunderbolt Interfaces👇
You're here because you're ready to supercharge your audio, right?
Of course you are!
You're about to learn about the best Thunderbolt audio interface options, and how they can benefit you and your workflow.
If you're reading this, you likely already know what a Thunderbolt connection is. But for those who don't know already, it is a type of USB connection (USB-C to be exact). It offers more power than a standard USB port (Up to 100 watts).
A thunderbolt connection will sometimes replace your audio interfaces USB port. Other times, interfaces will have both USB and thunderbolt capabilities. Consider your needs when choosing the right one. Do you need one that is dual-compatible?
Thunderbolt connections have a faster data transfer rate than the standard USB connection. They can transfer data at a rate of 40GBp/s, output 4K video to two monitors, and plenty more. You know it's a thunderbolt port by the little lightning symbol.
In recent years, many USB audio interface manufacturers have produced products to meet the demand for thunderbolt connectivity. The number of people using these interfaces is increasing.
3 Reasons To Buy An Audio Interface Instead Of A USB Mic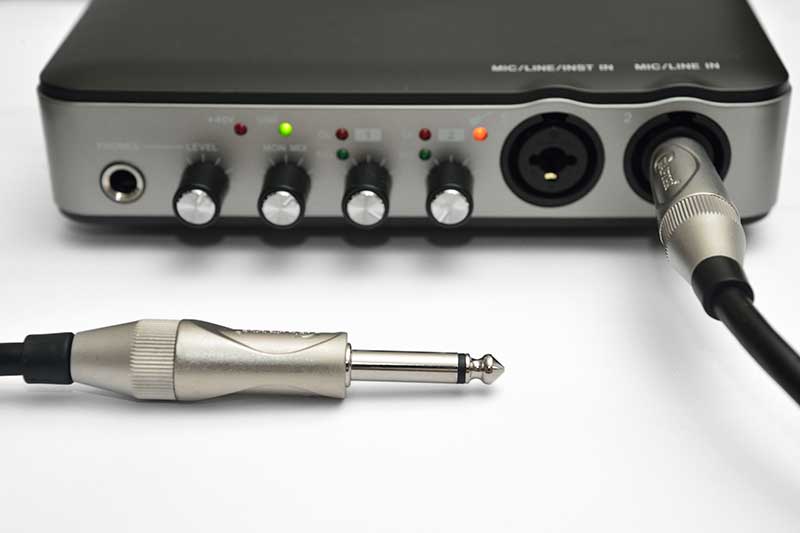 It doesn't matter where you look, it's hard to know exactly what gear you need to actually get started with your projects. USB microphones are everywhere, and their pricing makes them seem like very attractive options.
With most USB interfaces, you will have more options. While you will pay a little extra for a good interface, it will give you a world of possibilities beyond what a USB microphone can offer. Here are three reasons to consider an interface for your projects.
1 – Audio Interface Preamps Can Make Your Mics Sound Great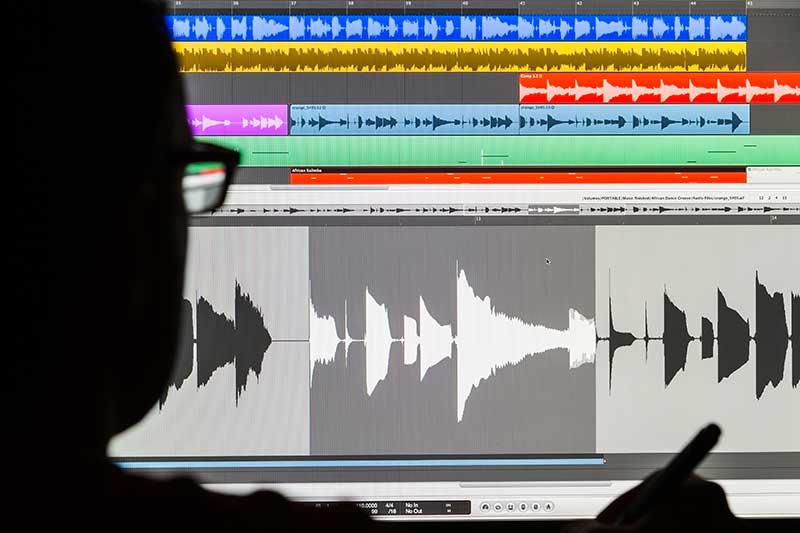 When you record in a big studio, one thing that gives everything a little extra character is the preamp on the mixing desk. All USB and Thunderbolt audio interfaces have built in preamps for your microphone to connect to that will give you a warm, analogue sound.
Even if you are limited on the mics you have available, a good preamp can make a cheaper mic sound great.
2 – More Routing Options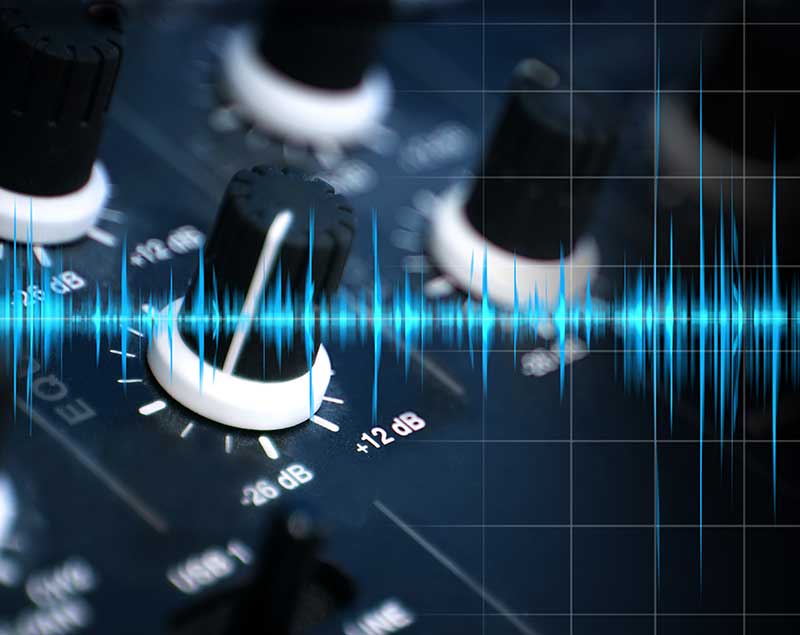 With an audio interface you can connect multiple sources at once. This is perfect if you are recording a drummer, or a full band.
You can also connect monitor speakers and headphones to it for listening back. Some larger interfaces allow you to connect multiple headphones at once.
This is useful if you are recording multiple musicians at once. You can set up mics to record a whole band with the only limit being how many inputs your interface can handle.
Many interfaces also allow for expansion cards to be added with an ADAT cable to give you more channels.
3 – You Can Connect External Equipment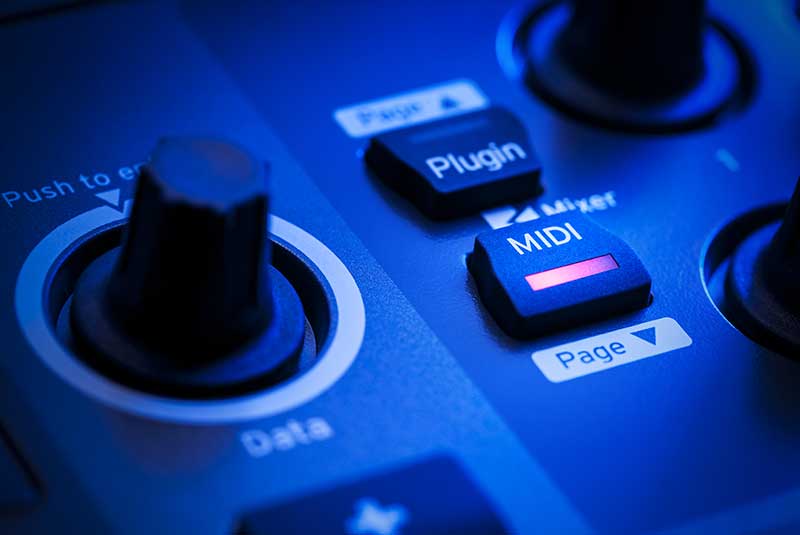 Some audio interfaces allow you to connect MIDI equipment such as keyboards or MIDI mixers. This is perfect for anyone who wants to add additional instrumentation to their tracks, or control the parameters while mixing.
If your audio interface has enough inputs and outputs, you can connect external effects and rack units to use as you work.
21 Best Thunderbolt Interfaces
For the travelling musician, a desktop USB or thunderbolt interface would be the most logical option. Desktop USB interfaces are often smaller in size.
While many have fewer gadgets on the surface, I think you'll find some surprising models here with a lot to offer under the hood. Never judge an interface by the cover.
Best 2 Inputs: Universal Audio Apollo Twin MKII Duo
If you've ever dreamed of your humble home setup being able to produce recordings that can rival the biggest tracks, then the UAD Twin Duo is a step in the right direction.
This unit is small but mighty, and will give you everything you need to obtain that highly polished recording sound
The unit has a pair of XLR/jack connections on the rear, which emulate a range of pro mixing desk preamps. You can emulate SSL, Neve and API preamps to name a few.
There are plenty more on offer under the hood.
You also get access to UADs plugin suite, allowing you to access emulations of classic studio hardware as heard on the world's biggest tracks.
The unit runs part of the processing power for these plugins and emulations so that your computer is not overworked.
You, like many others, may be chasing a sound in the digital world. UAD hardware makes that possible.
Apollo Twin MKII Duo Key Features:
10 in 6 out
24-bit/192kHz
1 x ADAT Digital Input
1 x Headphones Output
1 Jack input on the front
2 x XLR-1/4″ combo Ins
2 x monitor and 2 line Outputs
Includes UAD Analog Classics Bundle
2 x XLR/Jack combo inputs on the rear
Runner Up 2 Inputs: Apogee ELEMENT 24
On the surface you might be thinking the Element 2 from Apogee looks very basic:
The front of the unit is adorned with a simple pair of XLR/Jack combo inputs and a headphone jack. There are no visual metering and knobs to amend volumes.
Under the hood it's a different story. The ins of the Element 24 are controlled via the software package. You load up the control software and adjust volumes, panning, phantom power, phase and more.
The rear of the unit has a simple pair of XLR outputs and a digital out section to connect to external preamp units. When connected via ADAT, the Element 24 can be expanded from 2 ins to 10. It can also handle up to 12 outputs.
Element 24 Key Features:
24 bit / 192kHz
2 built-in preamps
2 x XLR combo ins
2 x XLR Outputs
1 x Optical Output
1 x Optical Input
1x Headphone Output
Up to 10 ins and 12 outs
Best Budget 2 Inputs: Zoom TAC-2R
Zoom has a real knack for being able to cram the largest number of options into the smallest package, and the TAC-2R is no exception. For the travelling musician wishing to write and record on the go, this unit packs a punch.
The XLR/Jack combo ins on the front both contain phantom power for powering any mic you might need to use. The oversized master volume might seem like a gimmick, but in a practical sense it is perfect. You can adjust it without even trying too hard.
If you travel with a small MIDI keyboard, or you just want the option of expanding this unit later on, you will find a MIDI in and out port on the rear of the interface.
The portability of this unit will be a huge asset if you are travelling. It is bus powered, even the phantom power section, so wherever you are you can record without the need to carry an additional power supply.
TAC-2R Key Features:
Weight: 1.6 lb / 0.7 kg
1 x 5-Pin MIDI In
1 x 5-Pin MIDI Out
Resolution192 kHz / 24-Bit
Headphones Output 1 x 1/4″
2 x Combo XLR / 1/4″ Mic/Line/Hi-Z Input
2 x 1/4″ (6.3 mm) TRS Balanced Output
Best 4 Inputs: Apogee Element 46
It may look exactly the same as the Element 24, but there are a few subtle differences on the face of it.
You can see right away that the unit now has 4 combo XLR/Jack ins on the front panel. The connections on the rear of the unit remain unchanged.
As with the Element 24, you also control all the aspects of this unit through the provided software package.
Element 46 Key Features:
192 kHz / 24-Bit
2 x XLR Outputs
1 x Digital Input
1 x Digital Output
1 x Word Clock Digital Input
1 x Word Clock Digital Output
4 x Combo XLR/ 1/4 Jack Inputs
12 inputs and 14 outputs with expansion units connected
Runner Up 4 Inputs: Antelope Audio Zen Tour
You've probably heard the term small but mighty. Antelope Audio obviously had that statement in mind as they were creating the Antelope Zen Tour interface.
It's so small, but it's got so much packed in. Firstly, it looks great! The touch screen control shows the volume metering for the channels and allows you to adjust parameters easily. All of which can also be edited via the iOS/Android app.
The unit is not short of ins and outs. It has 4 XLR/jack combo ins on the read, as well as 4 Hi-Z jack inputs on the front.
A pair of headphone outputs and a pair of re-amp outputs on the front of the unit give you plenty of options, while you can connect two pairs of studio monitors to the pair of outputs on the rear.
Is this enough in and output capability for you? No? Well, you'll be pleased to also see that you can expand the unit up to 16 channels with the ADAT connections on the side.
It even has a talkback mic built in for mid-recording session use. If all that isn't enough, it even doubles as a standard usb interface.
Antelope Zen Tour Key Features:
192 kHz / 24-Bit
4 x Hi-Z Jack Ins
2 x Re-amp outputs
2x Headphone outputs
4 x XLR/Jack Combo ins
Built-in talkback mic for use in studio setups
Expand up to 16 channels with the ADAT in/out
Connect 2 pairs of studio monitors to the pair of outputs on the rear
Best Budget 4 Inputs: Resident Audio T4
The T4 from Resident Audio will appeal to two main buyer types. Those starting out on a budget who want the most bang for their buck. Plus, those who want a serious upgrade without breaking the bank.
You get four combo ins on the front which all have phantom power. This makes the T4 a great unit to record on location with.
The rear panel has four jack outputs, which can double as headphone outs (along with the existing stereo headphone out). The T4 also has MIDI in and out for connecting MIDI hardware, and it can be used as a clock to run MIDI drum machines and synths.
In the absence of a screen or VU meter of any sort, the T4 has backlit gain knobs for each of the four input channels. Each knob is backlit by a three color LED, indicating the levels.
T4 Key Features:
4 x 1/4″ Outputs
4 x combo XLR/1/4″ ins
Record at 96 kHz / 24-Bit
Headphones Output 1 x 1/4″
Outputs on rear that double as headphone sends
Tri color LED backlit gain knobs to show input levels
3 Best Rackmount Thunderbolt Interfaces
If you are working in a more stationary environment and you won't be moving your gear around a great deal, then you may want to consider rack mounted interfaces.
This means you can set it up in your studio and keep it linked up to any external gear such as effects processors, preamps and MIDI equipment.
You're now going to read about three of the best rack mounted interfaces.
Top Rack Pick: Apollo X8
UA is one of the manufacturers that make massive waves in the pro audio world, and their gear is seen in countless studios.
Earlier in this article you read about the UA ApolloTwin for the on the go producer. What about the producer who wants UA quality but doesn't travel for their work? Enter the X8.
The X8 is a single 19U rack unit with a lot of power under the hood. The elite converters transform your digital and analog sounds into audio with the biggest dynamic range.
The X8 has a hexa-core processor with six of their UAS DSP chips inside. Perfect for running their UAD plugin suit along with your work.
Along with the 2 Hi-z jack ins on the front, you get 4 XLR inputs, 8 jack inputs and 10 outputs for connecting monitors, surround speaker systems and external rack gear. You can expand the unit via the digital ins and outs.
Apollo X8 Key Features:
4 x XLR Ins
8 x 1/4″ jack Inputs
2 x 1/4″ hi-z jack ins
Analog Input/Output
8 x 1/4″ Line Output
2 x 1/4″ Monitor Output
Dual Headphones Output
A/D Resolution: 192 kHz / 24-Bit
Runner Up Rack: Apogee ELEMENT 88
The Element 88, much like the smaller Element 24, boasts a simple layout. The front panel is adorned with 8 XLR inputs, of which the first four are XLR/Jack combos, and a pair of headphone outputs.
The unit has no knobs, switches or VU meters. It's all controlled in the box. Apogee are one of those manufacturers that really think about how the modern studio works.
Many manufacturers opt for bells and whistles on the interface but Apogee chose to make that all happen through software.
Many modern studios work in the box, so it makes sense that it's been laid out this way. You can expand the unit up to 16 in and 16 out which is all controlled via the software package.
Need an interface to set and forget? You might just love what Apogee offers with the Element 88.
Element 88 Key Features:
4 x XLR Inputs
2 x 1/4″ Headphones Outputs
4 x Combo XLR/1/4″ Jack Input
A/D Resolution: 192 kHz / 24-Bit
World class microphone preamps
Software controlled phantom power
Expandable to 16in/16out with digital connections
Best Budget Rack: PreSonus Quantum 26×32
PreSonus are one of those manufacturers that put emphasis on getting bang for your buck. Sure, we're talking about around 1,000 of those bucks here, but you're getting a lot of bang!
So what are you getting here? You're getting a thunderbolt interface with a plethora of connectivity and expansion options.
You could start small and grow this into a mammoth 96 in/out high performance setup. You did read that right… 96 ins and outs!
PreSonus have included the ability to chain four of these units together via thunderbolt. Each singular Quantum unit can handle up to 26 ins when expanded with the digital ins. This is a setup that can grow to suit your needs.
It offers the ability to run up to a 192kHz sample rate at 24 bit. PreSonus say it's their best sounding and fastest interface to date. What do you think?
Quantum 26/32 Key Features:
MIDI In/Out
8 x 1/4″ Outputs
8 x Combo XLR/1/4″ Ins
2 x 1/4″ Monitor Outputs
Up to 192kHz Sample Rate
2 x 1/4″ Headphone Output
Expand to 96 in/out by chaining 4 units together
Expand single unit to 26 ins with a digital connection
Honorable Mentions – The Best Of The Rest
The pro audio world is embracing the thunderbolt connection as a serious contender. You may even find it taking over from the tried and trusted standard USB in the coming years.
With so many big companies getting on board, you can imagine there is a lot of competition… and that there are a lot of great thunderbolt audio interfaces available.
Here are some of the best of the rest that didn't make the top picks. Some of these interfaces will double up with USB and Thunderbolt connections.
It contains 2 XLR/Jack combo ins and the usual ultra-low latency processing for UAD Plugins. It includes the usual preamp and guitar amp simulations you'd expect from their high end units.
Universal Audio Arrow Thunderbolt 3 Key Features:
2 XLR/Jack combo ins
1/4″ Headphone output
1/4″ Outputs for connecting monitors
Preamp and guitar amp emulations from Neve, API, Fender and more
Includes UAD Analog Classics Plugin Bundle featuring classic studio EQs, amplifiers and outboard gear.
Much like the bigger version of this unit, you can daisy chain this with others to expand it up to 80 ins and outs.
PreSonus Quantum 2 22×24 Key Features:
4 XLR/Jack combo ins
24 bit / 192kHz sample rate
Studio One Artist and Plugins included
Ultra low latency and professional sound
Expandable up to 80 ins and outs with digital connections
There are no XLR ins to be seen here. But the unit does have 8 1/4″ ins and 8 1/4″ outputs on offer. Perfect for using with external preamps or for guitarists on the go.
MOTU 8A Key Features:
High end converters
8 1/4″ ins and 8 1/4″ outs
Expands to 24 channels with ADAT connection
Perfect for routing multiple Synths, keyboards and drum machines
Could be used to connect a section of outboard gear to your DAW for mixing.
Two premium XLR/Jack ins on the rear of the unit give you studio grade sounds in a package that fits in your laptop bag front pocket.
Universal Audio Apollo Twin MKII Quad Key Features:
24 bit/192kHz sample rate
2 XLR/jack combo ins
UAD Processing to run UAD Plugins
Up to 8 outputs with optical connection
Includes the Analog Classics plugin set including classic preamps and compressors
A small interface that connects to your laptop via Thunderbolt and allows you to link to your full HD rack system in lieu of a PCI card. Full Pro Tools quality in a tiny package.
Native Thunderbolt Key Features:
Ultra-low latency
Up to 64 channels at 96KhZ
Small enough to fit into a laptop carry bag
Replaces PCI card for desktop PTHD systems.
USB Bus powered by the Thunderbolt cable
Connection wise, it's got a smaller number of ins with 4 combo XLR/Jack ins. You have 6 outs (4 line and 2 monitor) as well as optical connections for expanding.
Antelope Audio Key Features:
4 XLR/Jack ins
4 line outs and 2 monitor outs
Expandable via optical connection to 14 in 16 out
36 plug ins and effects included from the Synergy Core line
Dual DSP chips to run Antelopes plugin suite without strain on your computer
The Clarett preamps have lots of headroom, and you can switch between the basic preamps and the classic transformer style ISA Focusrite mic pre.
Dual headphone outs and a giant master volume knob make this a great addition to your studio for all applications.
Clarett 4Pre Key Features:
4 1/4″ line ins
4 1/4″ line outs
4 XLR/Jack combo ins
Low noise, high headroom preamps
Expandable to 18 in 8 hour with digital inputs
The 1248 does not have much in the way of options on the front panel. Just a pair of headphone outs and a pair of jack ins.
The unit has lots of expansion possibilities with 16 channels of ADAT ins and outs taking it up to 32 ins in total.
Features:
8 1/4″ in and outs
4 XLR mic preamps
Dual monitor outputs for two pairs of monitors
Add 16 extra channels of I/O with the ADAT digital connections
Use the software mixer to mix up to 48 channels of audio that get routed into the unit
Even if you've got a fairly decent system, intensive projects take their toll. What can you do without paying for a custom spec build? You can check out the Orion Studio Synergy.
This rack mounted interface has built-in processors and DSP chips that run their own plug in suite, freeing up valuable resources on your computer for you to focus on other tasks. It even runs on a normal USB connection.
Antelope Audio Orion Studio Key Features:
12 XLR/Jack ins
6 DSP chips for handling plug in processing
Expand up to 30 ins and 22 outs with digital connections
Run two pairs of studio monitors from the one unit with a pair of outputs
Bundled with their own plugin suite that includes studio gear and guitar amp models
So, Thunderbolt Is Good Right?
You guessed it. Thunderbolt is a great way to connect your audio interface to your computer. But you already know that right? Otherwise you wouldn't be reading this.
You may have already used one of these interfaces and you're looking to upgrade. In either case, you're ready to step it up.
Thunderbolt has some benefits of the USB interface that we've come to love over the years. USB is by no means obsolete and many of these units double as USB interfaces.
This means, whatever your setup, you can be sure that you'll be able to integrate this somehow.
Go forth and thunderbolt your way to incredible sounding tracks.