If you're a podcaster you need your production audio as professional as possible.
Luckily, with a little know-how and free audio editing software, you can get your podcasts up to scratch. That is why today you will learn how to effectively use Audacity for podcasting.
From recording, to editing, to exporting your final product, you'll learn how to perform the essentials with the following hints and tips.
With new sleek and clean audio, your podcast will have an improved chance of success. So without hesitation, let's start your journey.
17 Essential Audacity Hints And Tips For Podcasters
If you haven't already, download and Install Audacity, this is definitely the first step.
There are plenty of sites where you can download your free Audacity program. However, to play it safe and to ensure you have the latest version, it is advised to download your free Audacity by visiting the official website here.
Once downloaded, double-click the file to install Audacity.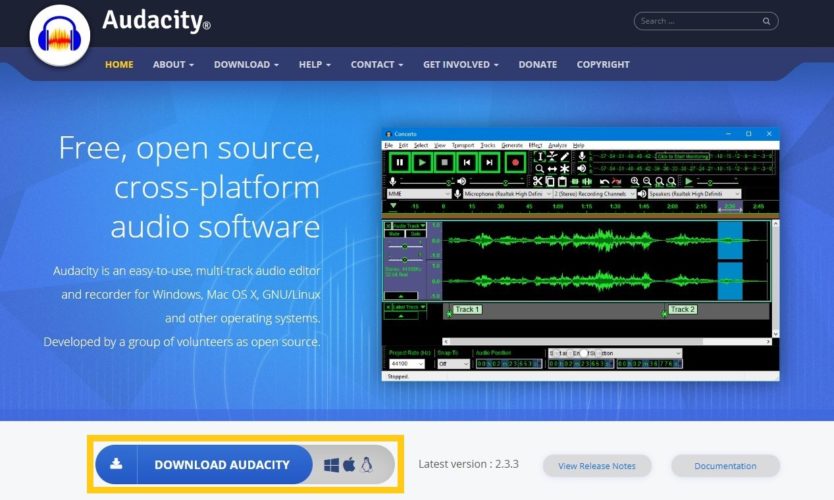 How Do I Use Audacity For Podcasts?
Now that Audacity is installed, let's prepare you to capture awesome podcast content.
#1 Load A File
If your recording has been captured on another DAW then you'll need to load your audio. With Audacity open, follow these simple steps.
Click File then Open.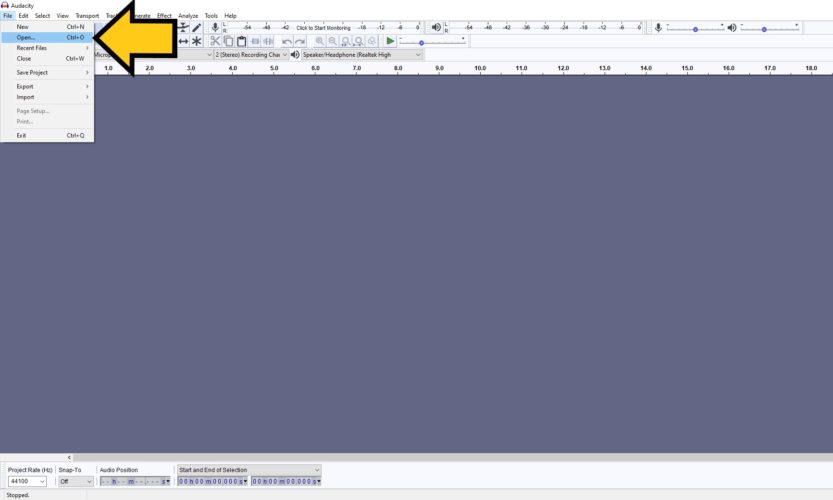 Double click on the file you want to load into Audacity.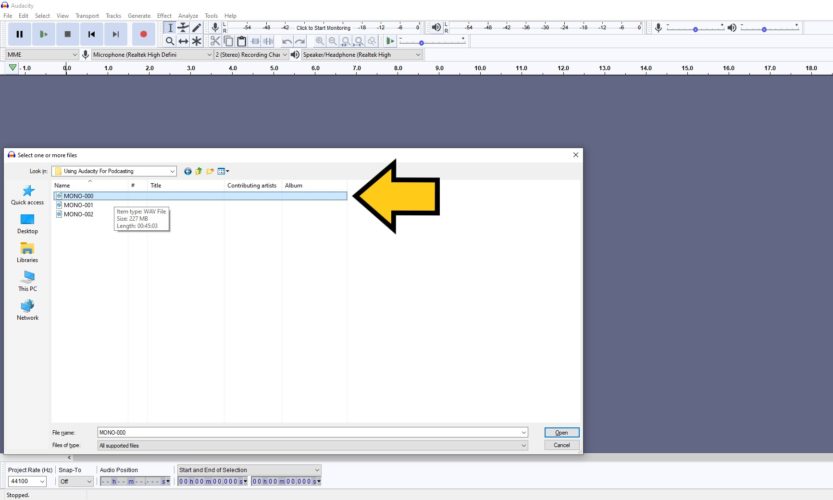 #2 Get Audacity To Record The Right Mic
To get the best audio quality you'll need a good mic. In-built microphones will capture computer noise and damage the overall quality of your production.
You don't need to break the bank. A super cheap option is this Fifine USB Microphone.
Fifine K669B
For under $30, you'll get a plug and play connection and be up and running immediately.
Buy Now on Amazon
We earn a commission if you click this link and make a purchase at no additional cost to you.

Once Audacity is loaded, click the dropdown menu highlighted below and select your microphone. For this example, I will be using the common Blue Snowball, which is an example of a USB podcast mic.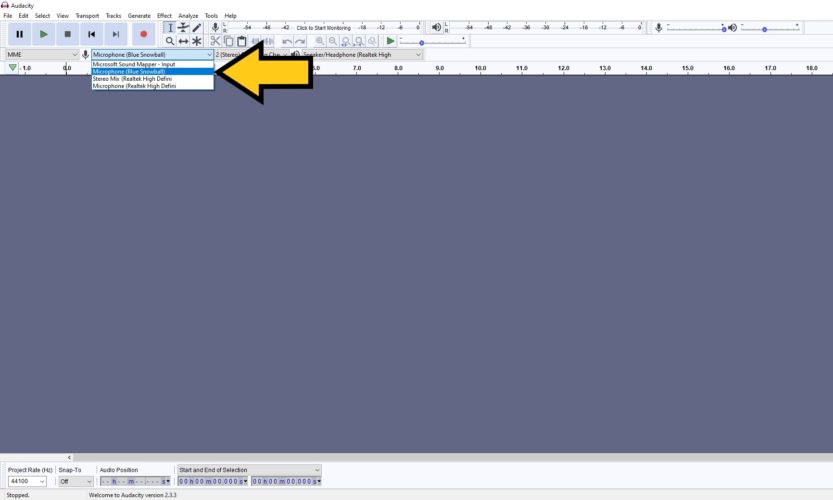 #3 Use A Pop Filter
The addition of a simple pop filter can make a big difference by minimizing unwanted artifacts from entering your mic. It is a low-cost solution to further clean up your audio.
The Stedman PS101 is a high-end option. But if you're on a budget, the Nady MPF-6 will work as well.
Stedman PS101
The Stedman PS101 is everything that a podcast pop filter should be. It has a great diameter, is made of quality materials, and will last you a long time without issues.
Buy Now on Amazon
We earn a commission if you click this link and make a purchase at no additional cost to you.

Nady MPF-6
Simple, inexpensive, and to the point… the Nady MPF-6 is everything that a basic pop filter should be. It's a fantastic option for brand new podcasters on a budget.
Buy Now on Amazon
We earn a commission if you click this link and make a purchase at no additional cost to you.

Most pop filters will have a clamp that attaches to your mic stand, but follow manufacturers' instructions if you are unsure.
A great tip for optimal capture is to position your pop filter a closed fist distance from your mic.
#4 Keyboard Shortcuts
The following are the keyboard shortcuts for frequently used actions. These can be helpful for fast navigation within the program. Note these shortcuts are for windows.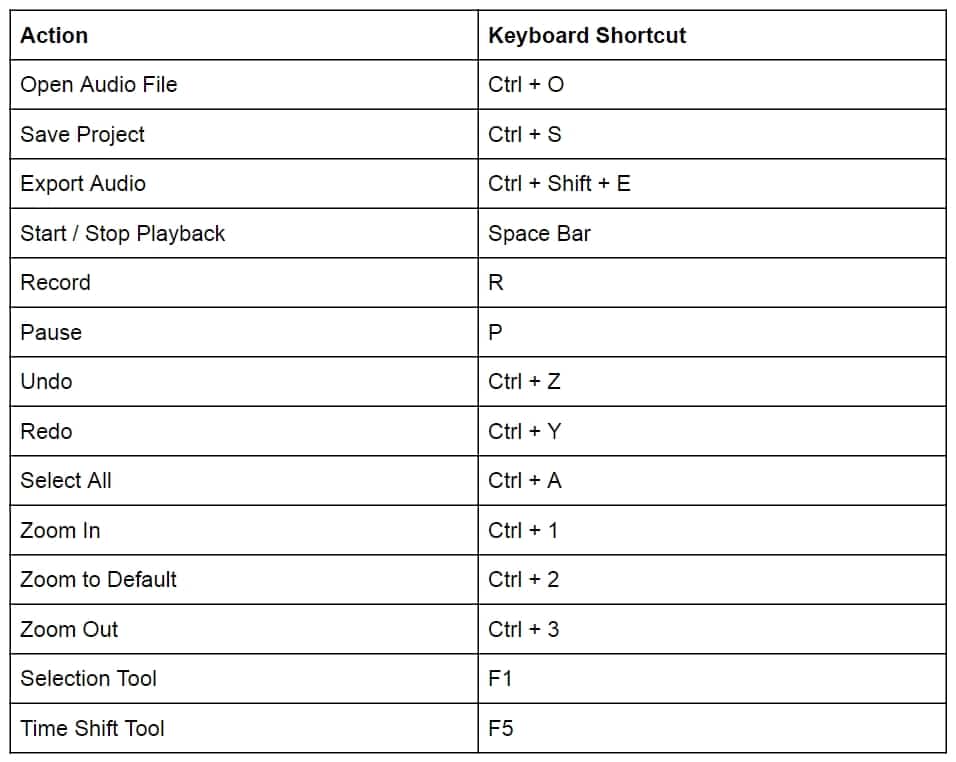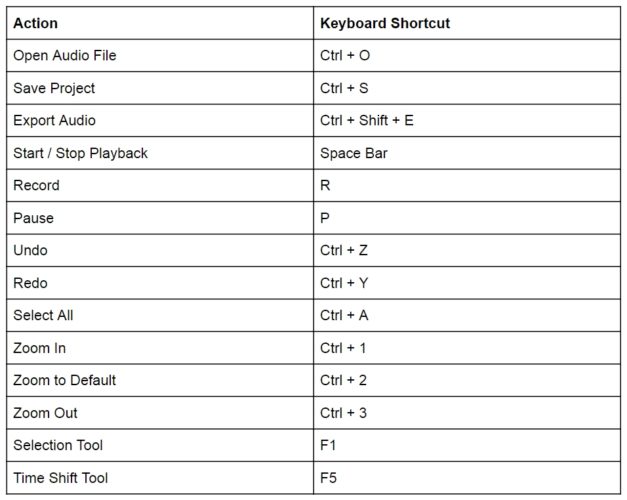 Level Up Your Audacity Podcast Settings
Now that your microphone is set up, it is time to record your podcast.
#5 Check Your Mic Levels
It is very important to check your microphone levels before you start recording.
Test your recording level using the meter located in the top middle of Audacity. Left-click 'Click to Start Monitoring' to reveal the meter.
Adjust the recording volume up or down and try to hit -3dB consistently while speaking.
Drag the recording volume right to increase, or left to decrease. It is important to avoid clipping, which is indicated by the meter turning red. Increasing the volume of your podcast post-recording is much easier than repairing clipping audio.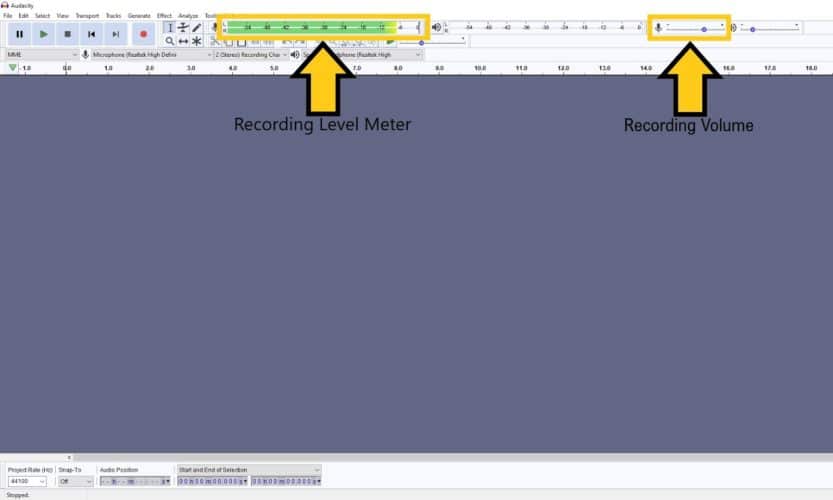 #6 Recording Your Podcast
To start recording your podcast we need to locate the audio buttons. These can be found in the top left corner.
You have already hooked up your headset or microphone, so you're good to go.
Then, simply press the record button. You will see sound waves correspond to your speech.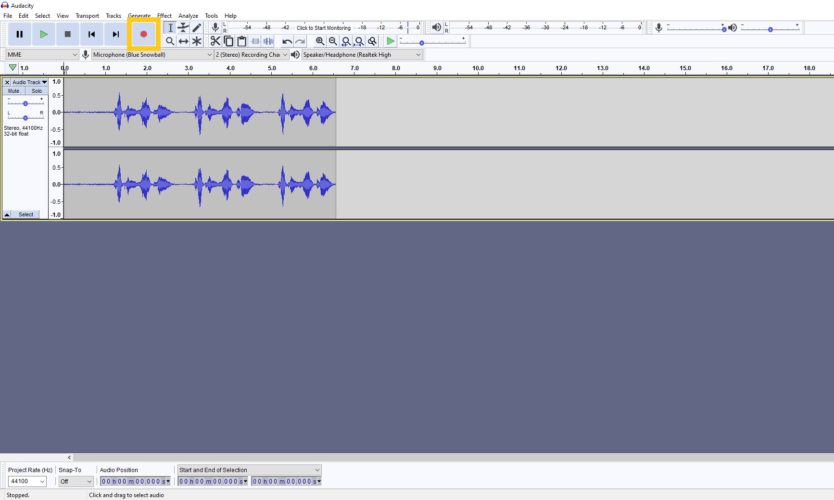 #7 Add Intro Music
Introduction music is the perfect way to instantly grab audience attention. The right music can build your identity, so try to find a soundtrack that will complement your podcast style.
Instrumental music is a good way to not draw attention from the narration of your podcast.
Have a browse on sites such as freesound.org and audiojungle.net. Using sites like these will ensure you avoid any copyright infringement.
Firstly you want to import the intro music. Click File, Import, then Audio. Alternatively, press Ctrl+Shift+I. Double click to load audio and you'll now have two tracks in the DAW.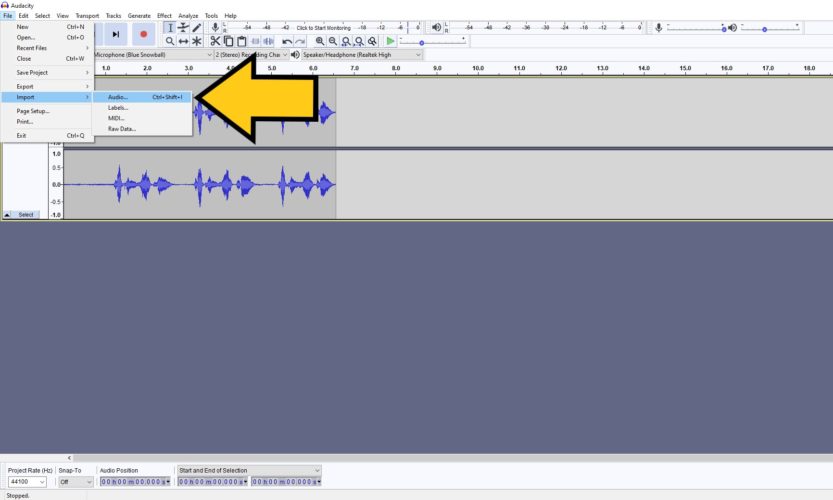 Left-click and drag over the music with the Selection Tool. Then cut your selection by pressing Ctrl+X.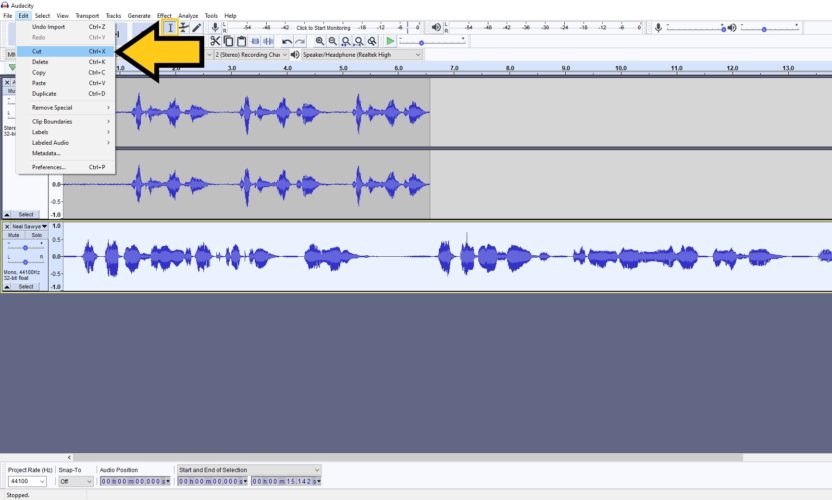 Left-click at the beginning of your podcast track. The start will be confirmed by a yellow snap line. Then, paste your music by pressing Ctrl + V. Delete the now-empty track by clicking the 'X' in the top right corner.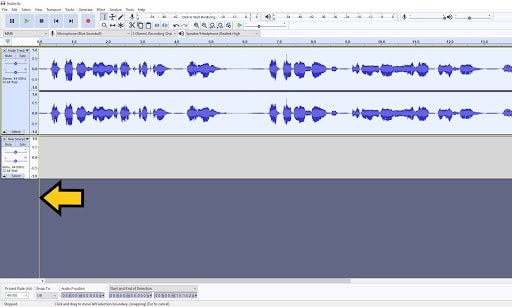 How Do I Edit A Podcast In Audacity?
You can crush your audacity podcast editing with these ten tips.

#8 Keep A Copy Of Your Original
It is always highly advised to keep a copy of the original podcast recording. Be sure to consider this during editing.
#9 Consolidating Tracks
If you have used separate mics on each subject during the recording of your podcast, you'll have to combine the tracks. This simple bit of editing consolidates the tracks into one track.
Select all the audio tracks that you wish to consolidate using Ctrl+A.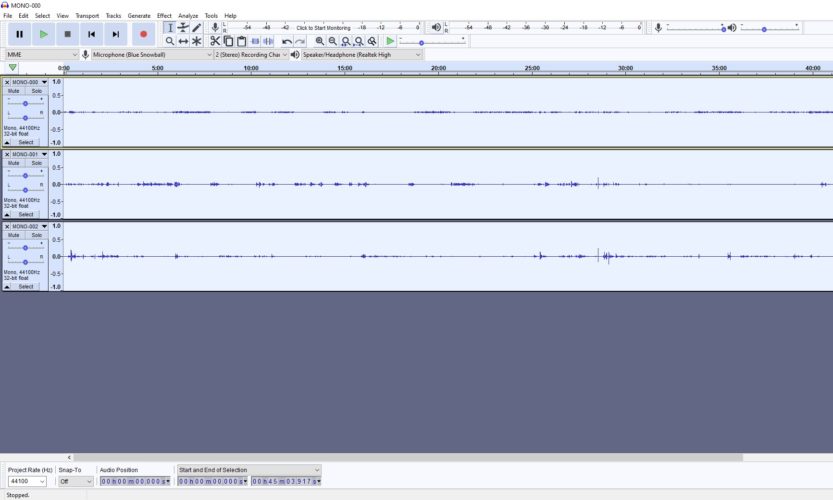 On the top menu, click Tracks, Mix and finally Mix and Render.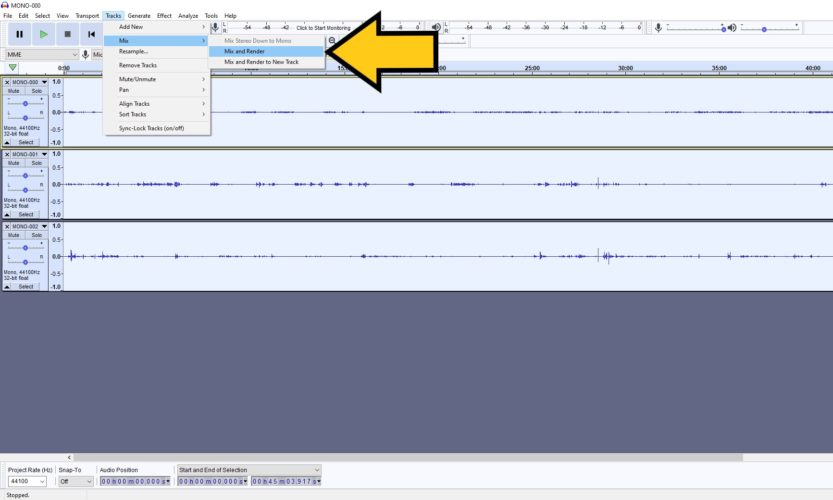 #10 Compression
A compressor is a popular tool that is used often. This effect reduces the dynamic range of your audio track, and can help give a more consistent volume.
Select your podcast audio using Ctrl+A or Select then All. Click Effect then Compressor.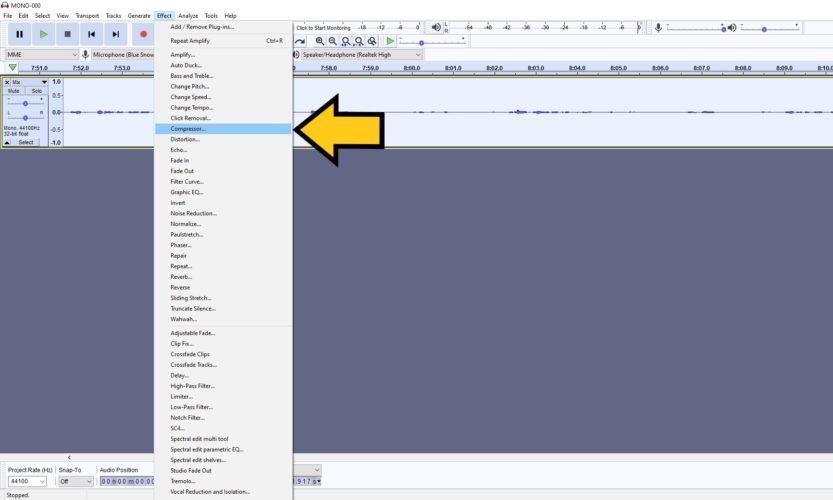 Follow these hints for using compression parameters. When happy click 'OK'.
Threshold: Compression will be applied to all audio above this level
Noise Floor: This can be helpful for speech and will prevent level increases during pauses. Sound under the noise floor will be recognized as background noise and not compressed.
Ratio: This is the amount of compression that will be applied.
Attack Time: How quickly the compressor will begin to compress.
Release Time: How soon the compressor releases the volume back to its normal sound level.
Make-up gain for 0 dB after compressing: This will amplify the audio to a specified peak level.
Compress based on Peaks: If you check this it will amplify the sound above the threshold rather than those below.
#11 Amplify
By employing the Amplify effect you can alter the volume of your audio track. This effect will raise the volume but preserve the relative volumes.
Select the entirety of your track using Ctrl+A or Select then All. Next click Effect then Amplify.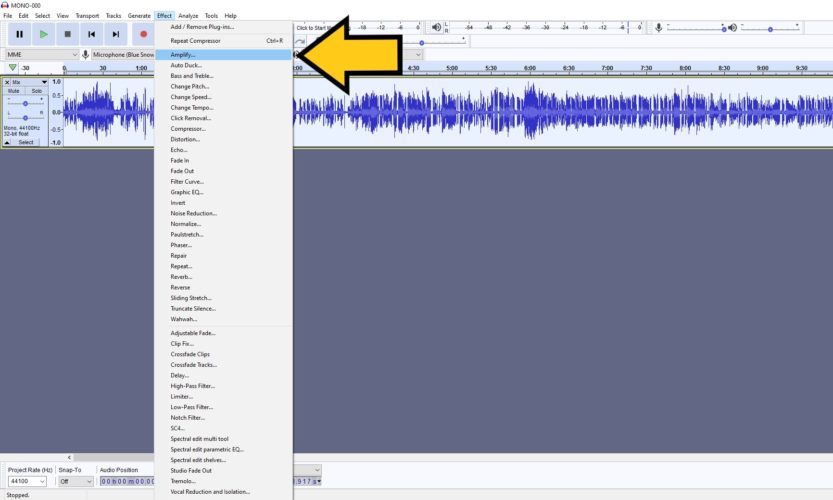 Set the 'New Peak Amplitude (dB) to 0 and press OK. NB. This feature will not be necessary if you have selected to use 'Make-up gain for 0 dB after compressing' with the compressor.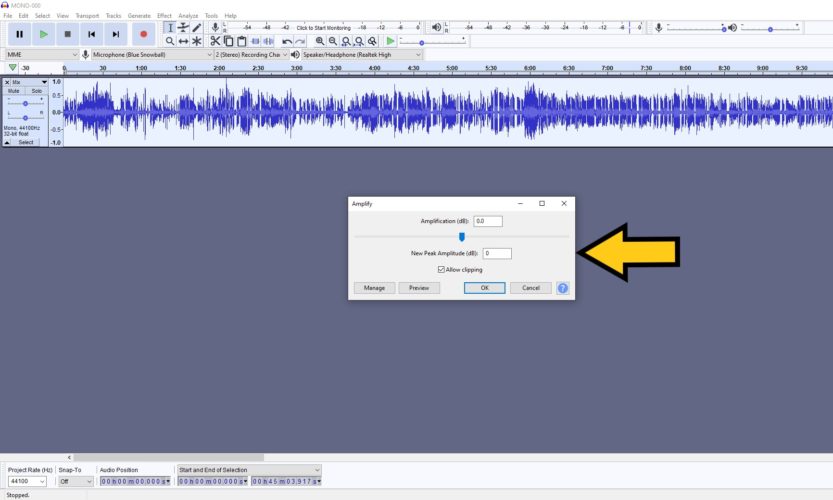 #12 High Pass Filter
The High-Pass Filter will allow frequencies above the set value to pass, but will attenuate frequencies below its cutoff frequency. There may be unwanted low-end sound in your podcast… therefore, this effect is a good way to clean it up.
With your podcast selected click Effect then High Pass Filter.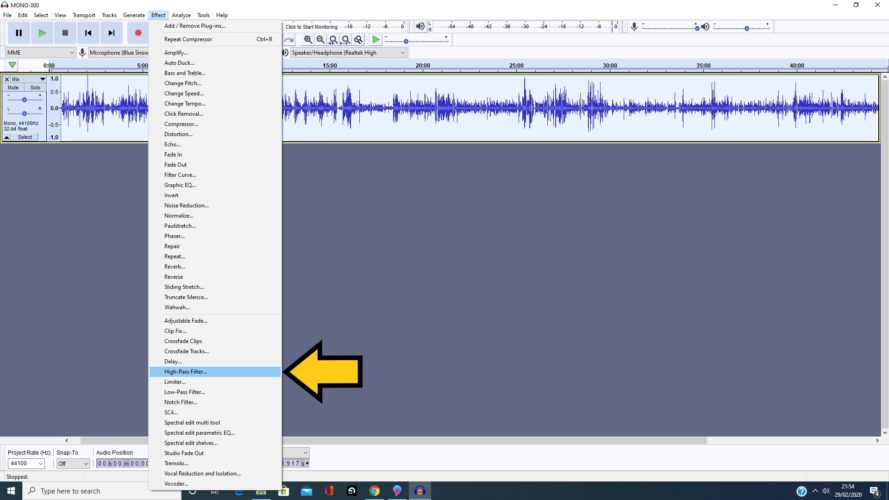 Set the parameters. For this example, I have drastically gotten rid of anything below 80Hz. Click OK to confirm.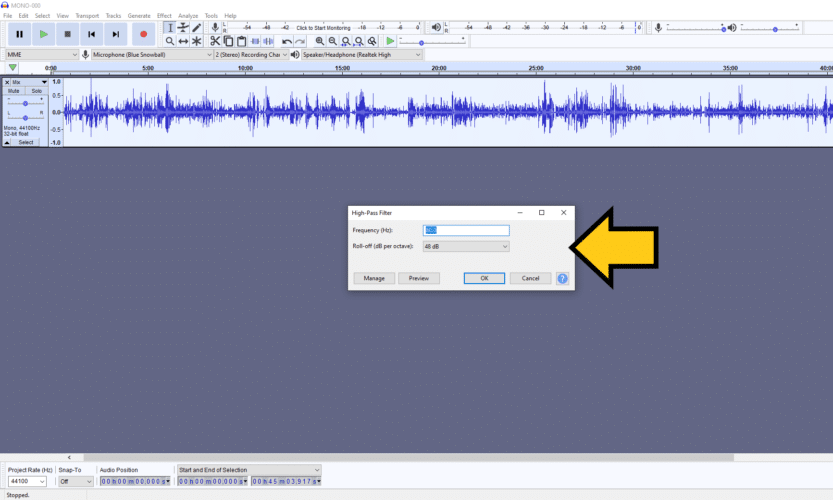 #13 Trim
Trimming audio is an essential part of cleaning up your podcast. You may want to edit the silences from the start and end of your podcast. With Audacity's editing features, trimming audio is very simple.
Use the Selection Tool to highlight the audio you want to keep. You can press the SpaceBar to listen back to the audio. Once happy with your selection. Click Edit, Remove Special then Trim Audio or Ctrl + T. The area you highlighted will now remain with any other audio deleted.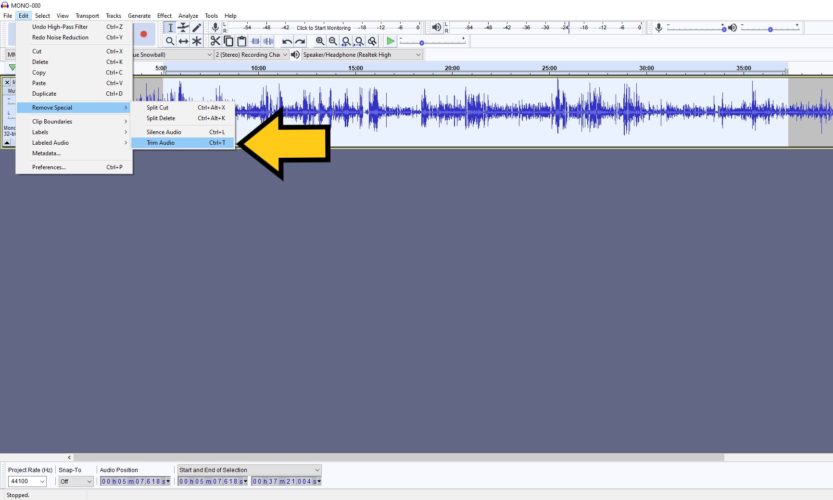 We may want to move the recording to the beginning.
Using the Time Shift Tool you can drag your podcast. Click on the Time Shift Tool that is highlighted below, or use F5. Using the left mouse, drag your recording. A yellow line will appear when your podcast is snapped to the very start.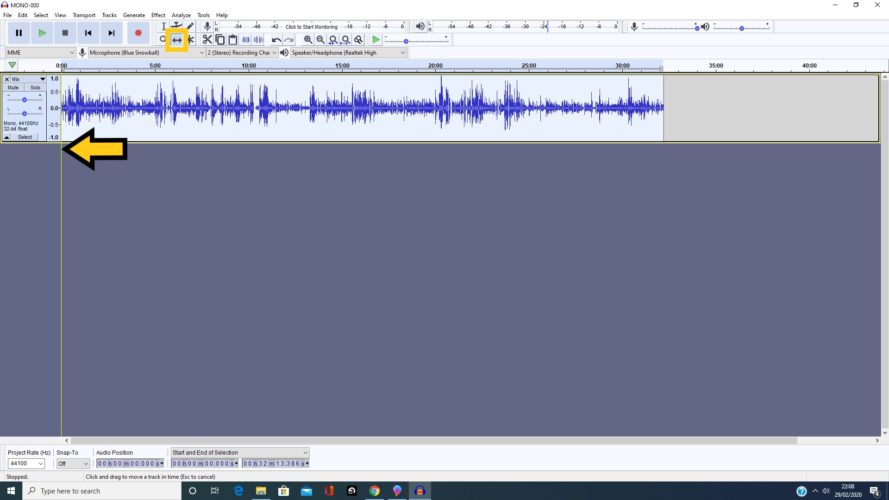 #14 Fade In And Out
Fading your podcast is a sleek display of professionalism.
Using the Selection Tool, highlight the area you wish to Fade In or Fade Out. In the top menu go to Effect and click Fade In or Fade Out. If you are fading the start of your audio, use Fade In.
Use the Fade Out option if you are fading out the end of your podcast.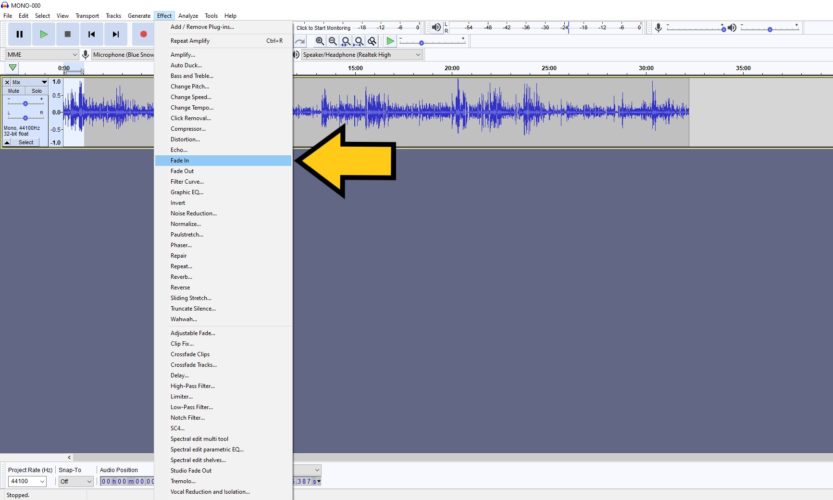 #15 Truncate Silence
Truncate Silence is an editing tool that automatically reduces the length of a section where there is no sound below a specified level.
Select all by clicking Ctrl+A then Effect followed by Truncate Silence.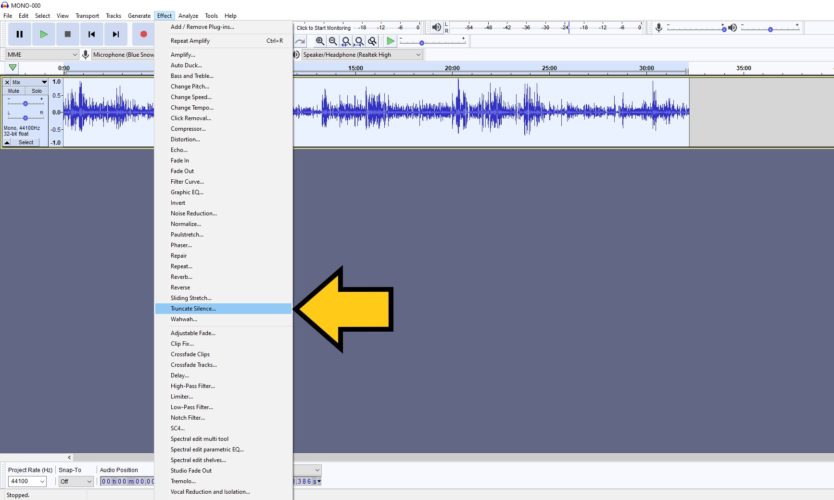 Pick the duration. This is the minimum length of time that will be treated as silence. Click OK.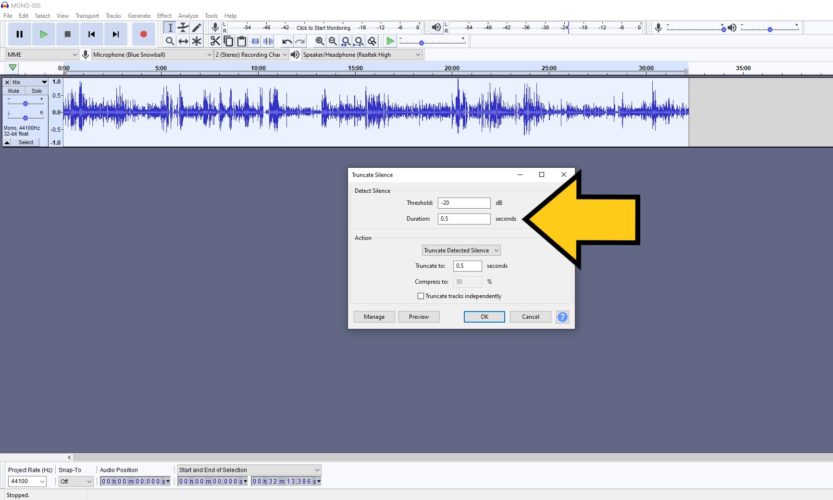 #16 Noise Reduction
It is advised to minimize noise before you commence recording.
However, without access to plush studios, you'll most likely find unwanted noise on your podcast recording. The noise reduction tool is a clever feature to clean up your audio from annoying background noise such as fans or air conditioning units.
With the Selection Tool engaged, zoom in and highlight an area without any speech. Click the Effects menu and go to Noise Reduction.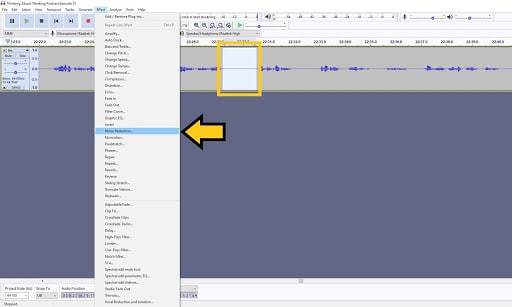 Next click on 'Get Noise Profile'.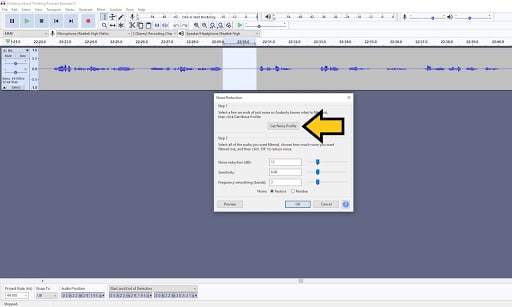 Select all the audio using Ctrl+A. Now navigate back to 'Noise Reduction' under the Effects menu. Adjust the parameters if necessary, but the default settings should work fine. Preview the effect to ensure it isn't damaging the audio then click 'OK'.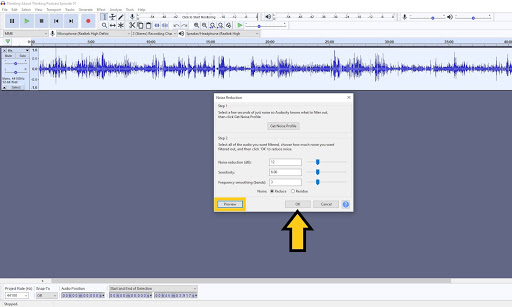 #17 Export
Now for the final podcasting tip. The export!
Click File, Export Then Export As Mp3 Or Export As Wav, dependent on your required file type.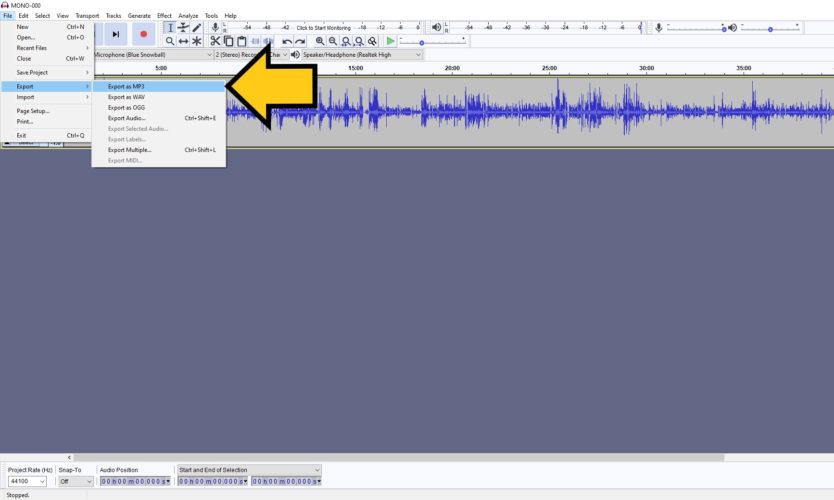 Type your file name then click 'OK'. You can then add any Meta Data that you need and click 'OK'.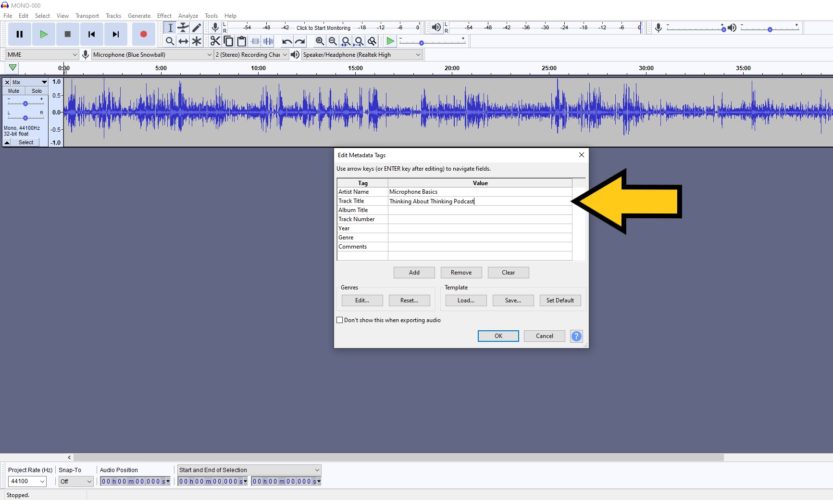 Is Audacity Good For Podcasts?
Audacity is the ultimate tool for editing your podcast. It has plenty of great features that are reasonably easy to use.
When recording and editing podcast audio, your needs are less demanding compared to a music producer or mixing engineer. This is good and can save you a lot of money, as DAWs can be very expensive!
Audacity is a cost-effective solution that will perform all the basic functions that are required to take your podcast to the highest quality. Use these hints and tips to help you on your way.
Using Audacity to its full potential, you can create and edit a slick podcast that is destined for success. Good luck!