This post was most recently updated on November 28th, 2021
It's pretty well-known that Audient makes some of the best recording equipment out there.
Their range of interfaces (the iD series) is pretty impressive, but there's one question that needs answering:
Is the iD14 worth buying?
Let's take a look.
Audient iD14 Review
At first glance, the iD14 seems like pretty much every other twin mic input audio interface.
You've got:
A DI guitar input
A single pair of monitor outputs
A dedicated headphone output
Two mic/line inputs with 48v phantom power and a decent gain range
Pretty standard stuff.
Except for that red input that reads "Optical In."
That's an ADAT port, and it allows you to connect an 8 channel preamp unit (like the ASP800) digitally and expand your input count up to 10 channels.
In my opinion, that's one of the biggest benefits of the iD14.
It's a compact desktop interface for daily use, but it gives you the option to expand and record a full drum kit or band when needed.
On to the sound.
Key Features of the Audient iD14:
Expandable up to 10 inputs via ADAT
Class-A preamps with 66dB of gain
Control your DAW with the rotary encoder
Class-A preamps with 66dB of gain
Audient is renowned for it's crisp, clear, honest preamps, and the Class-A preamps in the iD14 are no exception.
They give you a massive 66dB of gain, which is around 10dB more than most preamps, and is enough juice to power dynamic mics like the SM7B, which typically need an extra boost.
The converters in the iD14 are the same Burr-Brown units used in the iD22, the iD14's bigger brother, and they do an awesome job.
There's one more cool feature though.
Control your DAW with the rotary encoder
The iD14's monitor knob.
The top of the interface features one large, infinity encoder, which you'll see three buttons beneath.
Two of these buttons allow you to switch between controlling your monitor volume and your headphone volume, with the third giving you access to functions within your DAW.
That's right. You can use the rotary encoder to scroll across your arrange window or adjust plugin parameters during the mixdown phase.
Is the Audient iD14 worth it?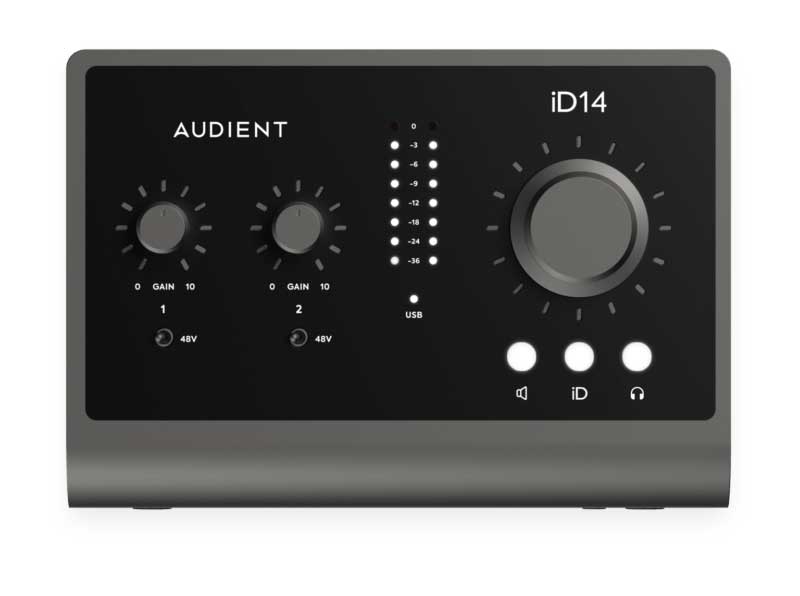 If you need a quality desktop interface, that gives you plenty of clean boost for mics like the SM7b, and desire the ability to expand via ADAT, and you're not worried about needing features like MIDI in or input pads, then yes!
If, however, you need some of the above functionality, or if you're simply looking to spend less than the around $300 price range, check out these Audient iD14 alternatives and more specs.
Best Audient iD14 Alternatives
Audient iD14 vs EVO 4
The EVO4 is one of the newest offerings from Audient, bringing pro-audio quality into the world of budget-friendly equipment.
The iD14 is best for anyone needing a more traditional interface with the ability to expand via ADAT. If you're looking for a more sleek, modern approach, at less than half the investment, then check out all the EVO 4 with preamps that set their gain automatically and more in this review.
Audient iD4 vs iD14
The iD4 is basically a baby iD14. It has one mic input, a preamp boost ability of 56db of gain, and no ADAT input, but a suprisingly small form factor.
Get the iD4 if you only need a single input and go with the iD14 if you need mic gain levels up to 66db and need the ability to record more than one mic.
Audient iD14 vs iD22
These two interfaces from Audient are fairly similar, though the iD22 is a noticeable step up.
The iD22 is best for anyone who needs more outputs (it has two sets of monitor outputs, two send/returns for inserting analog gear, and an ADAT out port).
Get the iD14 if you don't need any of that and have a smaller budget.
Audient iD14 vs Focusrite
The closest offering from Focusrite is there Scarlett 2i2.
The latest generation of the 2i2 has Focusrite's AIR preamps, which emulate the sound of their famous ISA unit.
Get the 2i2 if you're desperate for that sound, otherwise grab the iD14 'cause it has ADAT in and the DAW-controlling knob.
Audient iD14 vs Apollo Twin
It's no secret that Universal Audio make some seriously powerful gear.
The Apollo Twin offers the same inputs as the iD14, but has a second set of line outputs.
It's a fair bit more expensive, so go with the iD14 if you're on a budget, but spring for the Apollo Twin if you want to access UA's epic plug-in suite.
Audient iD14 Specs
Audient iD14 Price
The Audient iD14 is a fairly affordable audio interface, sliding in at an even $300.
Audient iD14 iD Button
One of the coolest functions on the iD14 is the iD button.
This handy little guy can be set to control:
ScrollControl
Mono
Mono + Polarity
Dim
Talkback
The ScrollControl is probably the coolest. It lets you navigate your DAW using the rotary controller!
Audient iD14 Converters
The iD14 uses converters from Burr-Brown, one of the most respected manufacturer of analog to digital converters around.
Audient iD14 Outputs
The iD14 keeps things pretty simple on the outputs front.
You get a single pair of monitor outputs on the rear, and a stereo headphone jack on the front of the unit.
Audient iD14 DSP
The Audient iD14 also comes with a low-latency DSP mixer, which allows you to route and mix tracks from within your computer!
Will The Audient iD14 Do MIDI In?
In short, no. The Audient iD14 does not offer a MIDI in port.
Conclusion
It's hard to argue that you don't get serious value for money with the Audient iD14.
The real question is this: will you be getting one?