Quick-Access To the Top 5 Blue Yet's Mic 👇
Blue Yeti is a memorable name that continually pops up when shopping for a microphone.
This mic has become the go-to microphone for budding podcasters, streamers, musicians, and gamers.
But, decent sound quality for one recording situation is not the bare minimum anymore, that's not enough.
Versatility and plug-and-play quality for social media videos, zoom, YouTube, recording music, podcasts, and more are the necessary demands from a top microphone.
Today you will learn if the Yeti is right for you and which is the best Blue Yeti for your unique situation in this official Blue Yeti review.
Blue Yeti Specs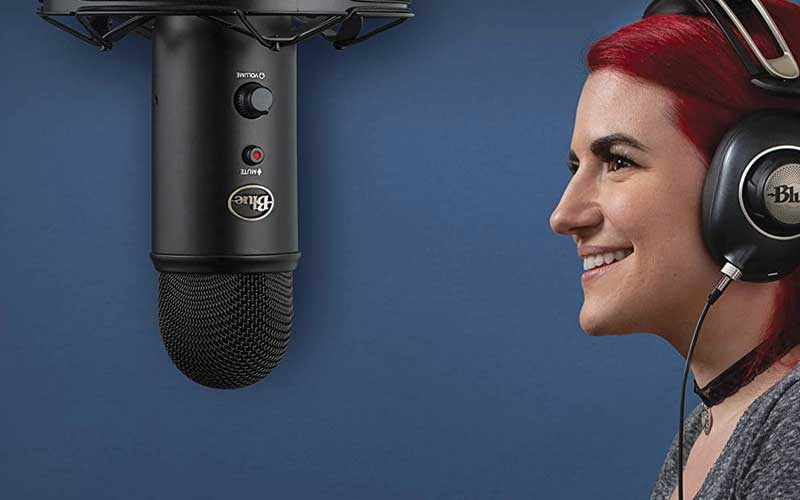 The Blue Yeti, manufactured by Blue Microphones, is a sleek-looking 50's style USB mic that plugs right into your computer. That means you won't need to purchase any extra equipment to start recording or streaming right away.
These products carry a somewhat higher price point than some of the other best USB mics out there.
But they also, however, come packed with features that are hard to find on many USB mics. Here are the most important Blue Yeti specs:
Four distinct recording patterns (cardioid, stereo, bidirectional, and omnidirectional)
Onboard gain control
Mute button
Zero-latency 3.5mm headphone jack
Unique design allows you to position the mic in any direction
Shock mount stand included
Compatible with Windows 10, Windows 8 (including 8.1), Windows 7, Windows Vista, Windows XP (Home and Professional), and Mac OS X (10.4.11 or higher)
Frequency response: 20Hz – 20kHz
Max SPL (sound pressure level): 120dB
Sample rates: 24-bit/48Khz (Nano), 16-bit/48Khz (Yeti, Yeti Studio), and 24-bit/192Khz (Yeti Pro)
Microphone weight: 1.2lbs
Microphone stand weight: 2.2lbs
Dimensions (including stand): 4.72″ x 4.92″ x 11.61″
Which Blue Yeti Is The Best?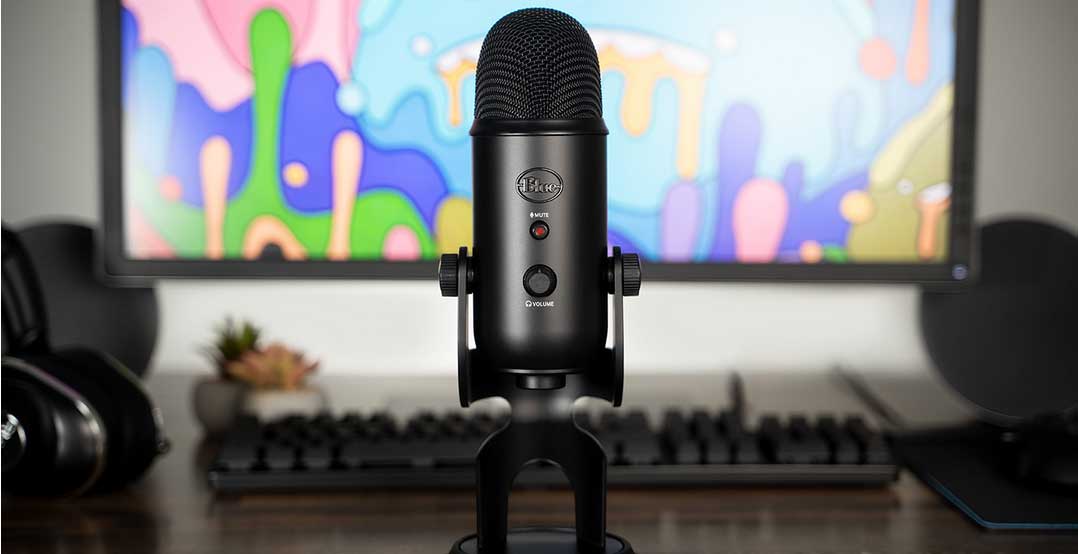 Top Pick: The Yeti
For just a little more money than the Nano, the standard Blue Yeti microphone is the one you hear most people raving about. It gets awesome reviews online, and for good reason.
If you're looking to take your recordings to the next level, this Yeti microphone could be the one.
What The Blue Yeti Is Best For:
This mic is a great option for streamers, musicians, podcasters, and YouTubers because of its versatility.
The two additional polar patterns mean that you can capture a single person or an entire band of interviewees. If, however, you want a little more control over your sound levels and your mix, then the Yeti X might be the optimal choice:
The Yeti Nano
If you're looking for a Yeti USB mic that costs less than $100, the Yeti Nano could be the one. This budget-friendly option comes with two polar patterns instead of four.
The Omni and cardioid pickup patterns are still ideal for front-facing and bi-directional recording in case you have a guest.
All of the other features, including the superior sound quality and headphone volume controls, are still included in this powerful little package.
What The Yeti Nano Is Best For:
If you're looking to keep it simple, this mic is the one. The Yeti Nano is the mic of choice for any gamer, YouTuber, and streamer who mostly enjoys working solo.
If you want to effectively capture more than two people speaking, you'll need something with a little more punch.
Yeti X
One of the newest models from Blue is a slightly pumped-up version called the Yeti X. This device comes with a multi-purpose control knob and customizable LED lights that indicate if your sound levels are too high.
The "smart knob" also adjusts the mute and headphones controls, as well as the mix between your mic and your computer.
Also with this product, you get instant access to Blue VO!CE, which is software that comes with super-cool vocal effects and presets.
What The Blue Yeti X Is Best For:
If you're a creative that likes to have extra control over your mix, and you want to keep a constant eye on your levels, the Yeti X is the one. The newly added LED lights are an ideal way to track your levels in real-time, and the vocal effects are awesome.
Yeti Studio
If you're a musician, perhaps the upgraded recording capabilities of the Yeti Studio could be what you're looking for.
Every mic from Blue comes with the standard equipment, including the mic stand.
But on top of the usual features, with Yeti Studio you also get:
PreSonus Studio One Software
iZotope Ozone Elements mastering software
What The Blue Yeti Studio Is Best For:
If you want to jump right into recording without needing to purchase a bunch of extra software, the Yeti Studio ships with it in the box… so you'll be all ready to go from day one.
This package from Blue microphones is tailored more towards recording artists because of the specialized software.
Yeti Pro
And finally, if you're looking for the ultimate offering from Blue, you're going to want the Yeti Pro.
The Yeti Pro has all the features of the standard Yeti, but with a few notable additions:
The Pro comes with both USB and XLR connections
24-bit/192Khz sample rates (versus 16-bit/48Khz)
What The Blue Yeti Pro Is Best For:
The Yeti Pro is the most expensive item on our list today. However, for musicians or other creatives who need to connect to soundboards, mixers, or pre-amps, the addition of the XLR connections mean that this model does it all.
Bundle Deals: Blue Yeti USB Microphone (Red) bundle
One thing to keep in mind when you're shopping is this: if you want additional items such as headphones, USB hubs, and pop filters for your mic, you can often find bundle deals like this one on Amazon.
What Is This Bundle Deal Best For:
If you're setting up your own recording station, and need a pop filter and a pair of headphones anyway… this kit rocks!.
You get everything in one purchase, including an awesome USB 3.0 hub to plug in additional devices… and you also save some money while you're at it!
Is The Blue Yeti Good?
Blue Yeti
The USB mics we're talking about today are some of the most popular products out there for a reason — they are actually just straight-up good in a lot of different types of scenarios.
There are several things that make the Blue Yeti microphone stand out from the crowd.
For example, most products like this contain only one polar pattern (recording pattern).
The mics we're talking about today are the only mics at this price point with four distinct recording patterns. In case you don't know, a polar pattern describes from which direction a microphone captures sound.
Let's take a look at the other features that make these products stand out from the crowd.
Gain Controls
A microphone's gain describes how sensitive the equipment is to sound. Most USB microphones require you to log into a software program to adjust the gains. That can be problematic for most creatives.
With any one of the Blue Yeti mics, however, this task is fast and easy. Instead of logging onto a whole other software program, you turn the knob on the back of the mic for quick adjustments on-the-fly.
Headphone Jack & Volume Control Knob
No matter which USB microphone you ultimately choose, make sure it has a headphone jack — ideally one with a volume knob. Headphones allow you to monitor exactly what your mic is recording in real-time.
There is a common issue that plagues a lot of the USB mics on the market today, and that's a delay.
What this means is that as you record or stream, the headphones will create an echo that most people find far too distracting. With the microphones we're talking about today, the headphones have no delay whatsoever.
Mute Button
If you have tiny humans or other things that like to make noise running around (including any misbehaving friends), you must be able to quickly mute your USB microphone.
The Blue Yeti mic comes with a handy button for an instant shut-down in an emergency, unlike the other products out there. On top of that, there's a red LED that flashes when it's muted to let you know exactly where you stand.
USB Plug-And-Play Capabilities
You already know that with a USB mic, you just plug it into the USB port on your computer and you're good to go. Many of these types of microphones require you to have extra software to run them.
With a Yeti USB, however, you don't need any additional software or drivers.
However, if you want to get the most out of your Yeti USB mic, check out Blue's companion software called SHERPA. With Sherpa you can:
Download the latest firmware updates directly to your mic
Customize mic settings, including polar patterns and gains
Innovative design
Thanks to the company's innovative design, it's simple to position the microphone in any direction.
And once you find that sweet spot, you just tighten down the screws on either side of the stand to hold it steady. The microphone Blue Yeti also comes with a hardcore shock mount stand that will keep things running smoothly.
Is The Blue Yeti Good For Gaming?
There are few things in this world more frustrating to gamers than the microphones that come with many gaming systems. But with the right USB mic, you can kiss those horrible mics goodbye for good.
The Yeti Blue, with its adjustable headphone volume, zero-latency connection, mute button, and easy-to-reach gain control, is quickly becoming a favorite of gamers around the globe.
Whether you want high-quality in-game action, or you stream on services like Twitch, this microphone's lightning-fast sample rates make it an ideal fit.
Blue Snowball
Before we had the Yeti, Blue created its little sister, the Snowball. The Snowball carries a lower price point. Let's take a look at the rest of the specs
Polar patterns: cardioid, cardioid with -10 dB pad, omnidirectional
Frequency response: 40Hz – 18kHZ
Sample rate: 44.1 kHz/16 bit
The Snowball doesn't come with a gain knob, volume control, or headphone connection.
While it comes with a couple of polar patterns, the Snowball is not as versatile as the Blue Yeti.
What Is The Blue Snowball Best For:
If you're looking to save some money and keep things really simple, the Snowball's sound quality is pretty good.
And it is cheaper than the cheapest Blue Yeti Mic.
But in pretty much every other way, the Yeti is a superior offering.
Now You're Ready To Rock
In this Yeti review, we found out that this product not only lived up to the hype, but that it even exceeded it.
As you can see, whether you're streaming on a YouTube video or laying down a sweet track with your band, one of these microphones from Blue can definitely help you to take your game to the next level.