Quick-Access To the Top 11 Best USB Microphones👇
Just a few short years ago, microphones were a pretty rare and niche piece of technology. Used mostly by the pro audio engineering and broadcasting industry, these babies were expensive.
Nowadays, mics are everywhere. They're in your phone, your laptop, even in your headphones. Of course, the quality of audio these microphones offer typically isn't the best, and that's why you should be on the lookout for the best USB microphone for your needs.
USB mics are a fantastic option for portability, cost, and ease of use, in that they don't require an external audio interface to get that sound into your computer and down into your recording software of choice.
The thing is though, there are a number of reasons one might use a USB microphone, and as such, there's no real one-size-fits-all mic.
That's why you need to find the best mic for YOU. Whether you are looking for a dynamic USB mic, or a USB condenser, this post will help you.
Let's get started.
Getting Set Up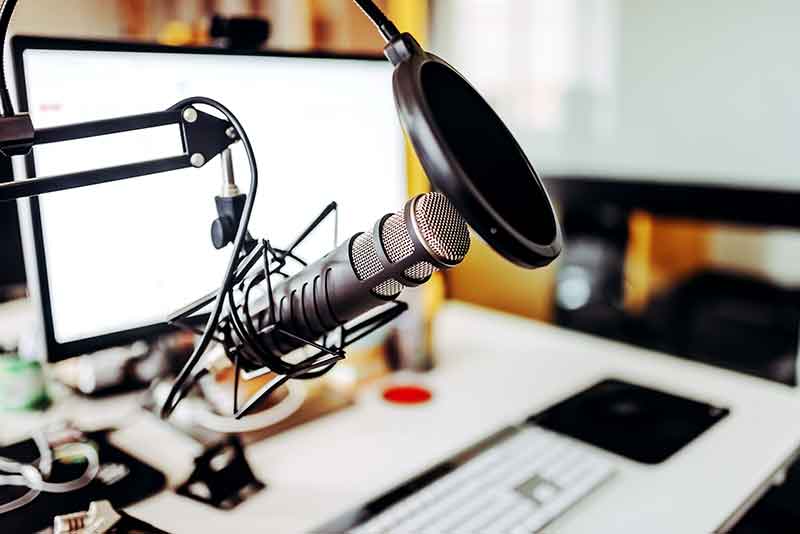 The beauty of these mics is they are a plug-and-play audio solution.
Where traditional XLR mics involve plugging into a preamp, routing that preamp into an analog to digital converter, and that converter into your computer, USB mics are much more user friendly.
Simply plug it into your USB port, not the other way. No, wait, the other way. There you go.
Best USB Microphone: Rode NT-USB
The Top 11 Best USB Microphones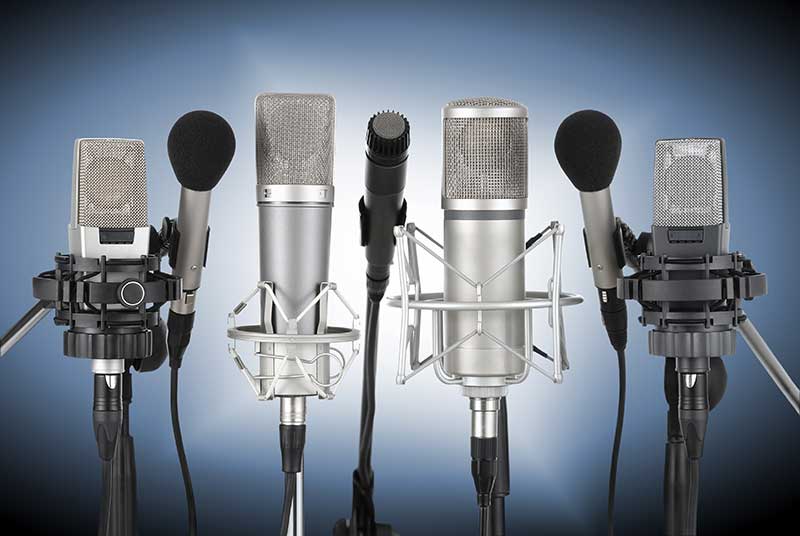 Best USB Microphone: Rode NT-USB
The Rode NT-USB is one of the best USB microphones for vocals and so much more.
Whether it's recording a vocal performance, running a podcast, creating YouTube videos, or making music, you can't go wrong with the Rode NT-USB.
There's a reason why Rode mics are at the top of many "best microphones" lists. It's because they are not only well-made, professional-quality units, they're also incredibly affordable. The NT-USB certainly lives up to this task, especially when you consider all the extras the mic comes with.
You get a tripod desk stand that's great for podcasters and streamers, which means you don't have to worry about purchasing an expensive mic stand.
Of course, the NT-USB comes with a mic clip so you can attach it to a mic stand if you need, and it also comes with a specially designed pop shield. This will ensure your vocal recordings are free of plosives, and will reduce other mouth noises.
This microphone is incredibly versatile, and, like pretty much all the other Rode mics, sounds bloody fantastic. It features a natural, flat frequency response, with the exception of a sharp boost in the upper mids for clarity and presence.
There's also a subtle roll-off in the lower end, which is great for minimizing the effects of any low-end rumble.
Being a condenser mic, the Rode NT-USB gives you a clear, detailed sound palette that eliminates unwanted off-axis sound from the rear thanks to its cardioid polar pattern.
That makes it perfect for any application where you want to point it at something, and record that and nothing else. Which is like, 95% of the time.
It's got a couple of other tricks up its sleeve too: a dedicated headphone monitoring output with volume control, as well as a second control which balances the mic input and the source output.
This is super useful when laying down a vocal track, as you can balance the levels of your own voice and the track you're recording too.
2-year warranty
Compatible with iPads
Cardioid polar pattern
Highly sensitive condenser mic
Dedicated headphone output with level control
Mix control balances mic input and source output
Smooth frequency response with responsive upper-mid boost
Includes tripod stand, USB cable, pop shield, ring mount, and storage pouch
Best Budget USB Microphone: Samson C01U
A long time ago it wasn't possible to record on a budget, but oh how times have changed. Now, you're literally spoilt for choice when it comes to budget USB microphones. If you're looking for the best on a budget, however, then the Samson C01U is your guy.
It's a condenser mic with a wide, smooth frequency response that stretches from 20Hz all the way up to 18kHz.
What's interesting about this mic is its super-cardioid polar pattern, which is more narrow (and therefore more forward-sensitive) than its regular cardioid counterparts.
In practice, this means it's better at reducing sound input coming in from the sides. This would make it a good option if, for example, you're running a podcast with two other hosts that sit either side of you.
It has a dedicated headphone jack, but no level control for this. The mic is internally shock-mounted, which means it's free from mechanical noise interference, and it even comes with its own tripod desk stand.
It doesn't come with a pop filter, so if you're planning on using the Samson C01U for recording singing or voice, you might want to consider purchasing an external one.
Being a class-compliant device, it's automatically compatible with both Windows and Mac computers, meaning you can literally plug it in and get started. That's the beauty of a nice USB mic, even one as affordable as this.
Key Features of the Samson C01U:
Includes tripod desk stand
Die-cast metal construction
Super-cardioid polar pattern
Headphone output – minijack
Wide, flat frequency response
Internally shock-mounted condenser element
Plug and play with both Mac and Windows devices
Best Cheap USB Microphone: Samson Go Mic
The Samson Go Mic is dead cheap, but that doesn't mean it's dead in the water. This is a seriously portable microphone that records direct to your Mac, PC, or iOS device.
This condenser mic is incredibly compact, making it the perfect portable recording companion. It literally fits in your pocket.
Plus, it has a built-in stand, which is ridiculously versatile. You can use it as a desk stand and have the Go Mic set up right in front of you, or you can invert the stand mechanism and turn it into a laptop clip, mounting the microphone on the top of your screen.
For that reason, it's perfect for streaming and podcasting on the go, where you need to be set up in front of your computer.
The mic construction probably isn't the sturdiest, given most of the mic is made of plastic, however, the Samson Go Mic comes with a tough carry case to keep it safe while on the go.
One side of the mic has the USB output and dedicated headphone jack for real-time, low-latency input monitoring. The other side gives you a couple of sweet options.
First up is the ability to switch between cardioid and omnidirectional polar patterns. The cardioid pattern is perfect for single source recordings, such as if you're streaming on your own.
The omni pattern picks up sound from all directions, which means you can put it in the middle of a group of people speaking and it will pick up everyone's voice equally.
The second is a -10dB pad for extra loud sound sources.
In sum then, the Samson Go Mic is a crazy-versatile microphone for those searching for a cheap recording solution.
Key Features of the Samson Go Mic:
-10dB pad
Integral stand/mount
Condenser microphone
Headphone monitoring output
Included carry case and USB cable
Switchable cardioid and omnidirectional polar patterns
Best USB Microphone For Vocals: HyperX QuadCast
Some mics are great for streaming and podcasts, some are great for singing. Sometimes, you want a mic that's going to nail both briefs. Enter the HyperX QuadCast.
HyperX have set themselves firmly in the gaming and streaming industry, with high-quality gaming headsets and keyboards flooding the market. The QuadCast is their first foray into the microphone market, and it certainly stands up to the name they've made for themselves.
First of all, it looks pretty futuristic. With its honeycomb grille and deep red LEDs, it would certainly be at home in a gaming/streaming setup.
The mic has an integral desktop stand and shock mount, meaning you can simply chuck it up in front of your computer and not be concerned about bumping the desk and disturbing your sound.
This can also be used on a regular mic stand, making it a fantastic option for recording vocal performances.
The QuadCast even has a neat little mute button on the top of the mic, so you can immediately silence your audio recording when required.
The microphone's 4-way switchable polar pattern function makes this fantastic for recording different types of sound sources too.
You can choose from unidirectional, figure-8, cardioid, and stereo audio recording. As expected, it has an in-built headphone for zero-latency headphone monitoring, and it has an easily accessible mic gain control on the bottom of the mic.
Whether you're gaming on Twitch, recording voiceovers, creating YouTube content, or laying down vocal tracks, the HyperX QuadCast ticks every single box.
Key Features of the HyperX QuadCast:
Gain control
Tap-to-mute button
Dedicated headphone jack
Unique gaming-centric design
Integral isolating mount and desktop stand
Selectable pickup pattern – cardioid, omni, figure-8, stereo
Best USB Mic For Singing: Rode NT-USB
Best USB Microphone for Streaming, Gaming, and Podcasting: Samson G-Track Pro
When it comes to streaming, gaming, and podcasting, you're pretty much after two things: incredible audio quality, and total versatility. Well, the Samson G-Track Pro has all of these in spades, making it the best mic for all of these purposes.
The audio recording quality is fantastic: it has a nice, smooth, natural frequency response with a slight upper-mid boost after 3kHz, which is perfect for enhancing voice clarity and ensuring you're clearly understood. The G-Track Pro can even record 24-bit/96kHz audio, which will give you the ultimate recording result when it comes to clarity and quality.
It looks fricken fantastic too, which is actually pretty important if you're recording a video-based podcast.
In terms of flexibility, the Samson G-Track Pro can operate in cardioid, figure-8, or omnidirectional modes, which means the microphone is perfect for single and multi-person setups.
Being a USB mic, there's no need for an external audio interface, and you can even record an instrument at the same time. Seriously, that's ridiculously flexible.
A further switch allows you to record the mic and instrument to separate channels, or to a single track. You have a gain control for each of these inputs, as well as a volume control which controls the level coming out of the headphone jack.
There's a handy mute button on the front to round things off, so you can stop recording on this condenser microphone the moment you need to.
Key Features of the Samson G-Track Pro:
Integral stand mount
Dedicated mute button
Incredible audio quality
Records in 24-bit at 96kHz
Solid die-cast metal construction
Can record mic and instrument at the same time
Multiple polar patterns – omnidirectional, cardioid, and figure-8
Hands down best mic for streaming, gaming, and podcasting
Best USB Microphone For Rap And Hip Hop: HyperX QuadCast
Best USB Condenser Microphone for Musicians: Rode NT-USB
Best USB Microphone Headset: HyperX Cloud Orbit
Though USB mics are already pretty straightforward and simple to use, sometimes they can still be a bit of a pain in this ass when it comes to recording for streaming and gaming.
The main issue, of course, is that they are fixed in one position. A solid microphone headset gets around this issue, as it's already on your head, and the mic is always right there in front of your mouth.
Many headsets use only a headphone jack though, with a separate output cable for the mic. This prevents them from being strictly plug-and-play devices. The HyperX Cloud Orbit does away with this difficult by being a USB mic headset with fantastic audio quality.
Now, this is no cheap set of cans, by any means. But, you're not just paying for the USB mic component, you also get a sick set of headphones that sound amazing.
The Cloud Orbit headset features Audeze planar magnetic drivers, fully immersive 3D sound, and head tracking technology.
The mic itself is detachable, so you can use these as headphones only, and there is a separate standard headphone jack for using them with non-USB devices.
The mic has a little foam filter as well, which is super important when the mic is that close to your mouth as it will be incredibly susceptible to plosives and small mouth noises.
Key Features of the HyperX Cloud Orbit:
Detachable microphone
Mic mute button and level controls
Solid alternative to traditional USB mics
Can use with a standard headphone jack
Perfect for recording one-man streaming and gaming audio
Pro-level headphones with 3D sound processing and head movement tracking
Best USB Microphone For Mac: HyperX QuadCast
Honorable Mentions
Blue Yeti
The Blue Yeti is perhaps one of the most commonly seen USB microphones. It offers fantastic sound quality, 4 polar patterns, a wide frequency response, and is fantastic at reducing background noise.
It has an integral desktop stand mount, a dedicated mute button, as well as headphone monitoring with level control. It's also available in a range of colors, so you'll be recording in style.
Key Features of the Blue Yeti:
Super sound quality
Perfect for voice recording
Plug-and-play, like all good USB mics
Wide frequency response – 20Hz-20kHz
The Blue Yeti can be seen being used by many podcasters and YouTube creators
Shure MV5
Labeled as a digital microphone, the Shure MV5 is one of the few USB microphones on the market with onboard digital signal processing. You have three modes: vocals, flat, and instrument.
Obviously, the vocal setting is great for voice recording, boosting clarity in the upper mids.
The mic also automatically applies gain, equalization, and compression, which not only minimizes background noise, but also ensures perfect sound quality without the need to get your hands dirty.
Key Features of the Shure MV5:
Integral stand mount
Built-in headphone output
Onboard digital processing
Condenser mic with three modes
Great alternative to popular USB mics like the Blue Yeti and Rode NT-USB
Fifine K669B
Another solid USB microphone for those recording on a budget, the Fifine K669B sports an all-black livery with a single volume control on the front, much like the Blue Yeti.
The included tripod stand has a nice range of adjustment, and the microphone sounds great. You might want to consider purchasing an external pop filter though if you're planning on using this mic to record vocals, to keep plosives at bay.
Plus, it's so well-priced that you could easily afford two, for dual microphone USB recording.
Key Features of the Fifine K669B:
Integral tripod stand
Sturdy metal construction
Cardioid condenser USB mic
Similar design cues to the Blue Yeti
The microphones USB cable is built-in to the mic so you can't lose it
Samson Q2U
When it comes to value for money, this microphone is just ridiculous. First of all, it can be used as a traditional XLR microphone, or as a USB mic. It even manages to pack in a headphone output for low-latency monitoring.
If that wasn't enough for you, the Samson Q2U also comes with a tripod stand, a microphone clip, a pop filter, and an XLR cable. And, of course, a USB cable.
Key Features of the Samson Q2U:
Dynamic microphone
Cardioid polar pattern
One of very few USB mics you can buy
Use it as a USB microphone or a standard XLR mic
The inclusions alone make this mic worth the money
Audio-Technica ATR2500
Audio-Technica have a lot to offer in the pro-audio range, and their ATR2500 USB microphone certainly lives up to the name. It's a side-address cardioid condenser mic with a headphone output and level control right on the front.
It comes with a tripod stand as well as a microphone clip, so you can use it for podcasting as well as for recording vocals or other instruments. The audio quality is insane too, with sample rates up to 192kHz.
24-bit audio recording
Built-in headphone jack
Includes USB C and USB A cables
Cardioid condenser with LED monitoring
Famous high-quality Audio-Technica sound
Frequently Asked Questions
What's The Difference Between XLR and USB Mics?
Traditional mics have a 3-pin XLR output which requires a specific cable (and XLR cable funnily enough) to connect them to a microphone preamp. The preamp drives the output level of the microphone right up to a usable signal level.
Then, if you want to record into your computer, you'll need some form of analog to digital converter. Most XLR microphone users will use what's known as an audio interface, which has all of the preamp and converter components in one neat little box.
USB mics, such as the Blue Snowball, the Samson Meteor, the Blue Yeti, etc., pretty much just have all of that in one package.
It makes things easier for setup, though most pro audio engineers would argue that an XLR setup offers superior audio quality thanks to its specifically crafted components.
Most users won't notice the difference though, which is why USB mics have become so damn popular.
What's The Best USB Mic For Recording A Band?
If you're recording a band, you're probably going to want a number of microphones, especially if you're tracking live. If you're overdubbing, you can get away with a single microphone for most instruments, though getting a solid drum kit recording with just one mic can prove difficult.
(Have you ever tried to capture an entire drum set using just one Samson Meteor or Blue Snowball? Trust me… it's not really what you want to do!)
Either way, you'll want a microphone that's incredibly versatile for use on different instruments. The Rode NT-USB would be our overall top pick for performance, though the HyperX QuadCast is going to be your go-to if you need to do some stereo recording.
What USB Mic Do Pro YouTubers Use?
Though for a long time, the Blue Yeti has been the king of the mountain when it comes to YouTuber mics, this is changing rapidly.
Of course, one of the best things about the Yeti is that there are many iterations of it. They offer…
The regular Yeti
The Yeti Pro
The Yeti Studio, etc.
And of course, the Blue Snowball
We also like the Blue Yeti. But with how many awesome USB options have hit the market as of late, the Yeti just doesn't quite stand up to some of the heavier hitters.
For example, the HyperX Quadcast beats out the Yeti for vocals. We also feel like the Rode NT-USB beats the Yeti out on overall quality and value.
The one most YouTube creators are switching to is the Rode NT-USB, for its fantastic audio quality, included pop filter, and attractive design.
What Other Equipment Do I Need To Record?
If you're recording vocals, it's important that you have a pop filter in front of the microphone to reduce plosives and mouth noises.
Many of the mics mentioned here even come with one! The same goes with a shock mount, which is super important for reducing mechanical noise and isolating the microphone.
You'll also want to have some form of DAW (digital audio workstation) to record into. Audacity, Reaper, and GarageBand are all fantastic free options, depending on whether you're using a Mac or PC.
Lastly, you'll want to have a solid set of headphones so you can hear yourself back or hear your track if you're recording vocals.
Conclusion
It's clear to see then that there is no shortage of options when it comes to purchasing a solid USB microphone. Which one is the best one for you though?
A quick Google search will obviously yield results like the Blue Yeti, the Yeti Pro, and the Yeti Studio. And while these are great mics, we just feel that the Yeti is outdone by some of the other options.
In most cases, either the Rode NT-USB or the HyperX QuadCast are going to serve you well.
In fact, any one of the mics on this list will do a brilliant job of recording high-quality audio that greatly improves your music production or content creation, especially if you're currently relying on the microphone that's built into your laptop.
Whichever USB mic you go for, make sure you're properly set up for the job with a decent shock mount, pop filter, and stand, and you'll be set!