Quick Access To The Best DSLR Microphones 👇
Want the deep dive, full review for all 23 microphones?  Keep reading below…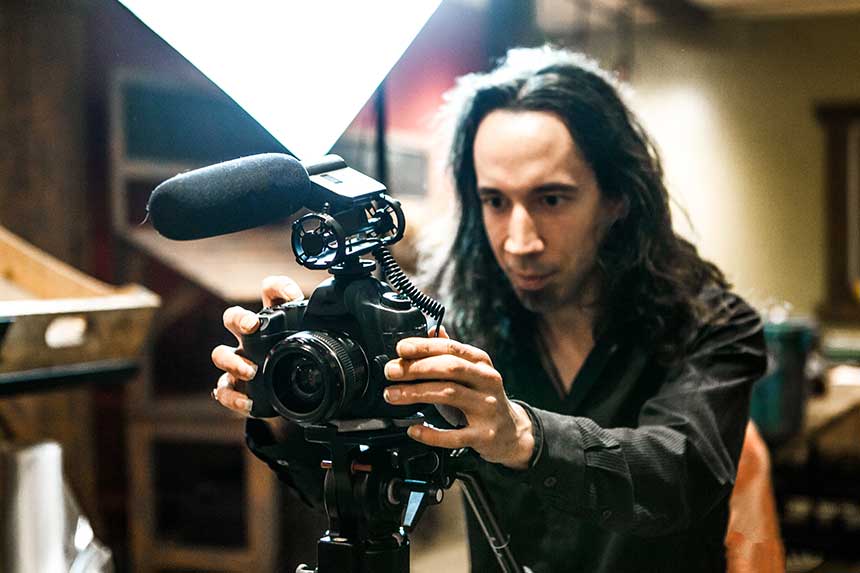 You obviously understand that having the proper equipment is essential to your success as a vlogger or videographer.
That's why you chose a DSLR that has an external microphone input…
Because you understand that great audio is the make or break for your video project…
But there are so many options from the cold shoe shotgun mics to lavalieres… From wired to wireless…
And then there is the pricing… Some pro level gear can cost thousands, but is it worth it?  Are there cheap microphones that can capture better audio for your camera without breaking the bank?
Of course there are… And after years of recording with DSLR cameras plus hands-on testing of more than 30 microphones, this post takes everything we've learned and simmers it down to help you find your perfect microphone, once and for all…
No matter what your audio recording situation or budget.
And to kick this off…
Here's the top pick that has the absolute best balance between the cost and the quality of the microphone.
Unless you need a wireless microphone or a lavaliere for doing interviews or recording keynote speeches from stage, this is the best option available for the price.
Top Pick Best DSLR Microphone: Rode VideoMic Pro +
Top Pick Best DSLR Microphone: Rode VideoMic Pro +
The Rode VideoMic Pro Plus is the follow-up to the very popular Rode VideoMic Pro.
What's different? Well, there are actually a number of notable differences between these two mics!
The original VideoMic Pro, as you likely know, has become a standard for DSLR shooters the world over, mostly because it just blew the roof off the game and left most of its competitors in the dust.
Well, the VideoMic Pro Plus just takes this to another level.
Let's start with the on-board suspension. The camera mount that ships with the VideoMic Pro Plus really helps to take mechanical noise out of the equation. It's awesome!
The mic's new battery and power system is also a massive upgrade. The older version required 9-volt batteries. And if you forgot to turn it off, you were screwed!
Well, the VideoMic Pro Plus turns off when you turn your camera off. Plus, it gives you up to 100 hours of power thanks to the built in lithium-ion rechargeable battery! And you can still use 2 AA batteries as backup if your lithium ion rechargeable does go out.
So boom! That's a massive upgrade! In battery power alone, the Plus is loaded for bear!
Another updated feature on the Plus is that it now has a detachable cable. This means that if something happens to your cable, you can just remove it and get another one. You can also attach a longer cable and use it for a boom mic!
This is another seriously pro upgrade.
What About The Rode VideoMic Pro Plus Sound Quality?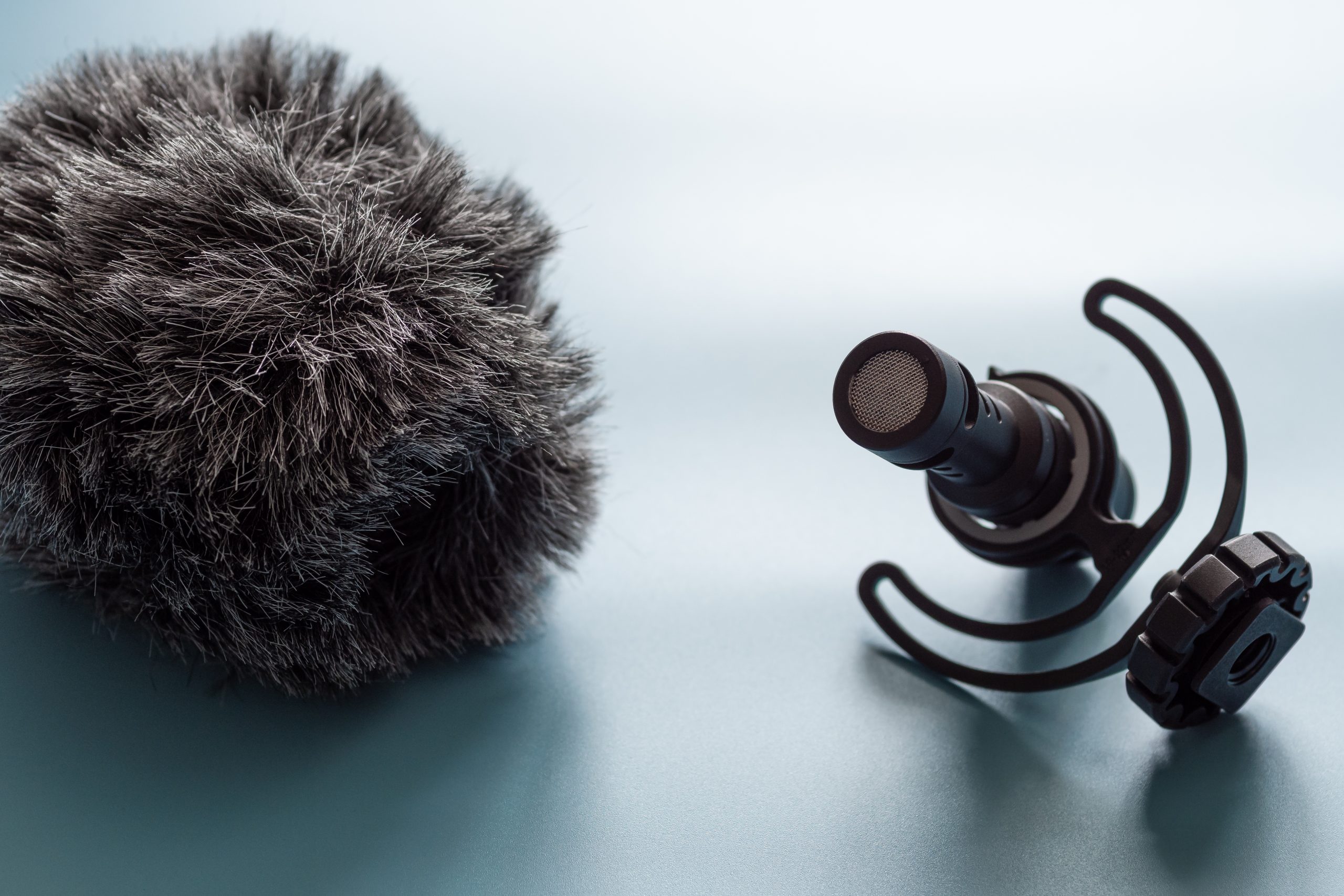 As far as audio quality goes, you're getting a massive upgrade to your stock camera mic with this guy.
When you compare it to the Rode VideoMic Pro, you end up with a slightly hotter, crispier sound. The two are quite similar… but you will find that the Rode VideoMic Pro Plus edges out its older iteration in those difficult moments where the Pro just starts to struggle.
When you are outdoors, when distance from your subject is getting a bit longer than you're comfortable with… these are the key moments where the Plus will really shine.
Plus, the controls on the Plus give you some serious upgrades to help you control your audio input. You're gaining not only powerful audio power with this mic, but also inheriting a tremendous amount of versatility.
There is a reason for why this is our top DSLR mic!
Rode VideoMic Pro + Key Features:
Detachable Cable
Plugs right into DSLR cameras
Frequency response range: 20Hz – 20kHz
You get two high-pass filter options: 75hz or 150hz
Undoubtedly the best among microphones for DSLR on the market
You get a dB gain or reduction. You can set it to +20dB or -10dB
You also get a high-frequency boost mode, for crispier, sharper vocals
You also get a safety track mode, which makes one of your L/R tracks at -10 dB
Runner Up: Shure VP83
The Shure VP83 microphone deserves a spot on our list for several reasons.
If you follow the world of YouTube or vlogging, you probably already know that this is the very same camera microphone that Casey Neistat, one of the most popular vloggers on YouTube, uses.
If you want a premium option on the market for vlogging and general use, you've found it with this external mic.
It's not the cheapest option on the planet, but it provides good sound and is affordable enough for the value that it delivers. It also packs in 125 hours of battery life from a single AA alkaline battery, which is actually really good… even for pro mics!
Lyre shock mounting systems provide quite a bit of isolation, which helps to filter out vibrations and mechanical background noise.
The shock mount system is a Rycote lyre, and is exclusively used on the VP83 model. In other words… very little noise from movement and shaking!
Shure VP83 Camera-Mounted Microphone Features:
​Versatile and easy to use
Rycote Lyre shock mount
Plugs right into DSLR cameras
​Used by professional vloggers
​125 hours of battery life from a single AA battery
​Superior RF immunity helps to protect against noise from cellular and RF devices
Some of the best audio in the industry: One of the best microphones for DSLR on the market
Best Budget DSLR Microphone: Rode VideoMic GO
The number one thing to understand about the Rode VideoMic Go is that it's an excellent option for run-and-gun photographers and videographers who need better audio at an affordable price.
With that said, let's jump into what actually makes this mic the best budget option.
As a directional shotgun microphone, it's going to pick up sound from the front, and reject sound from the sides. So, point and shoot! Super simple!
It comes with a windscreen, which works quite well… though you may need a dead cat if you're going to be shooting in really windy conditions.
The mic is really straightforward. The only control you need to worry about is adjusting the volume on your camera. There are no controls on the mic. You just plug it into your DSLR, mount it, and go.
As far as audio goes, this mic is going to give you a night-and-day difference upgrade from your stock DSLR built-in camera.
If you're reading this review, and trying to figure out whether this mic is really worth it for the audio… the answer is yes.
The audio upgrade you get from this mic will dramatically increase the quality of your DSLR audio.
Obviously, this mic can't stand up to its heavy-hitting big brother, the Rode VideoMic Pro Plus. But at a much lower cost, it gives run and gun journalists some serious audio power that's easy to use, straightforward to figure out, and that won't hinder their creative process.
All things considered, it's worth every penny!
Rode VideoMic GO Key Features:
Plugs directly into most DSLR cameras
Requires no batteries! Powered by your camera
The mount does a great job of cutting out mechanical noise
The best of the budget microphones for DSLR on the market
The audio range is good! Picks up high and low frequencies quite well
You can mount the mic forward or backward on your camera to capture audio from the direction that's best for you
Awesome for video storytelling. Picks up audio on-the-go and gives you the power to use your video to tell powerful stories without being hindered by a bad mic
Best Cheap On Camera Microphone: TAKSTAR SGC-598
While it would be nice to always be able to afford the best and newest equipment, we can't assume that you'll always be able to do so.
If you need a microphone for your DSLR quickly and on a budget, you should most definitely consider this affordable shotgun microphone as a feasible option until you can get something a little nicer.
The Takstar SGC-598 is not only priced super-affordably, but is also designed specifically to be used with a camera to enhance audio and improve the sound-quality as a step-up from using the built-in DSLR mic.
It's a plug-and-play design. You can plug it right into virtually any DSLR cameras, and get right down to business.
Designed for what Takstar calls 'Practical Occasion Photography,' this mic is ideal for use in interviews and other such situations, where you need to pick up decent audio on-the-fly and with minimal difficulty.
Takstar SGC-598 Shotgun Microphone Features:
​Affordable
​Decent quality for the price
​Gets great reviews on Amazon
Easy to use: plug-and-go functionality
​Very simple to connect to your camera
Best Wireless Microphone For DSLR: Rode Wireless Go
The Rode Wireless Go is a wireless microphone system that brings tremendous value to DSLR shooters who need something small, lightweight, and wireless.
For starters, you may notice that the Rode Wireless Go kit bears a strong resemblance to the Sennheiser XSW-D Portable Lav kit… except that it is even more affordable, and brings some serious value to the game that, beforehand, had never really been seen on such a scale.
Here's the straight talk on the Rode Wireless Go from our perspective.
When you open up the box, you'll get a transmitter, a receiver, a 3.5mm cable, two USB-C charging cables, and two dead-cats that can be used to attach directly to the transmitter mic.
They are both charged with USB-C, give you about 7 hours of runtime, and both are operated with a simple on-off button.
The on-off buttons are also used for pairing and linking, which will come in handy if you have multiple sets and need to make sure that they are all linked up properly.
One really interesting thing about this Rode product is that the transmitter actually contains a built-in mic… though it also obviously has a 3.5mm port where you can plug a lav mic right into it.
But, the existence of the built-in mic really makes the Rode Wireless Go stand out. The transmitter also has a belt/shirt clip attached to it, which means that, right out of the box, the Rode Wireless Go gives you access to wireless mic technology even without an additional lav mic!
The display on the receiver gives you audio levels, battery levels, connection link status, and a little scale that shows you where you're at with your dB levels.
The receiver also contains a 3.5mm port that you can use to plug it right into your video camera. And what is even better here is that, along with its own belt clip, it also has a cold shoe adapter, making it perfect for mounting straight to a DSLR camera.
But… What about the sound?
To start with, the built-in mic obviously isn't world class. It'll get the job done… but the real magic is when you use the Rode Wireless Go to give you wireless power to another type of shotgun mic or lavalier.
For example, you can pair it with the Rode SmartLav+ for some truly awesome lav mic action.
Creating a boom with this system is also truly epic, because you get that wireless technology and don't have to mess with long cords connecting your shotgun mic to your DSLR!
All things considered, this is a powerful wireless system that will truly level-up your audio game! You will not regret it if you drop the money for it!
Rode Wireless Go Key Features:
Incredibly small and lightweight
Plugs right into DSLR cameras for plug-and-play usability
Packs massive value into a very small package
Pair with an awesome shotgun mic for truly epic-level audio
Comes with a small storage pouch that stores everything safely
Seems to prefer shotgun microphones with their own battery to shotgun mics without… probably because the Go struggles to sufficiently power those mics on its own
Best off Camera Shotgun: Rode NTG3
The Rode NTG3 is often known as a direct competitor to the Sennheiser MKH416. It's a super cardioid shotgun condenser mic, which means that it's highly directional.
But, is it worth the cash?
Well, here's the truth. Both of these mics are incredible. But when left to choose the absolute best option, we have to go with the Rode NTG3… and here's why.
First off, it's priced at about $300 cheaper. This means that you can even grab an interface or digital recorder to go with it (which you'll need, because it's an XLR mic).
Secondly, it gives you some really defined high-end tones and atmosphere that really help to give it some character… perhaps even over and above what you can get from the MKH416 – and that is saying something.
For example, this mic makes an awesome shotgun mic for DSLR shooting. Put it up above the subject, just out of the shot, and capture some outstanding audio.
But… you can also throw this bad-boy on an acoustic guitar and capture some truly pristine tones with it that way as well.
But therein also lies what is perhaps the greatest weakness of the NTG3. When put up against the MKH416, at the most extreme of conditions and with the most interference, the NTG3 struggles to block out as much of that atmospheric noise from the sides.
Is this a con? Well, it depends on what you're doing. But for us, pushing any mic to those types of limits tends to be a rare occasion.
And in the vast majority of situations, even in bad weather or in situations where the mic is going to be placed a healthy distance away from the source, it still holds up and does a great job of isolating.
If you need an incredible shotgun mic that will absolutely rock the socks off of your videos – this is the one for you.
Rode NTG3 Key Features:
Max SPL: 130dB
Sensitivity: -30dB
Self Noise: 13dBA
Beautiful and tough build quality
Frequency response of 40Hz to 20 kHz
Phantom Power Requirement: +48 volts
Supercardioid polar pattern
Best Lavalier Mic for DSLR: Rode SmartLav+ Wired Lavalier Microphone
The Rode SmartLav+ is a 3.5mm TRRS Lavalier Microphone that you can use with your smartphone, though you can obviously also use it with many other wireless lavalier systems as well.
When you bust open the box, you'll find the lav mic itself, a wind screen, a mic clip, and a cool Rode carrying pouch.
The build quality on the SmartLav+ is pretty good. The joint where the cord attaches to the lav mic is pretty sturdy… which is always a good thing.
We were also pleasantly surprised by the microphone clip. It's sturdier than it looks, and holds up to regular use pretty well.
It boasts an omnidirectional polar pattern, a frequency response of 60Hz to 18KHz, and a sensitivity of -35dB.
The thing that we like best about this particular lav mic is that it gives you really good lav-mic technology that you can plug right into your smartphone or video camera for plug-and-play usability.
Now, the cord isn't the longest. So the best way to use this guy, along with your DSLR, is to record to your phone and then use that audio in your film clip if you are the subject.
Or, if you are talking into your camera while standing behind it filming, obviously the SmartLav+ is perfectly ideal, and can plug directly into your camera and travel with you without issue.
All in all, you're getting a ton of value for your money with this mic. If you don't need quite as much bang, there are cheaper lav mics for your buck. But if quality is important, this option gives you the Rode name and edges out the competition… making it worth the extra money.
Rode SmartLav+ Key Features:
Broadcast quality
Kevlar reinforced cable
TRRS Jack connectability
Ships with a foam pop-shield
Omni-directional condenser capsule
Best Cheap Lavalier Mic For DSLR: MAONO AU-100
If you're looking for $10,000 audio, the MAONO AU-100 isn't going to be your bag.
But, for a cheap lavalier, it actually brings a ton of value to the table.
In the box, you'll find the mic itself, a wind screen, a battery (and an extra battery), a clip, a carrying pouch, and instructions. It's pretty basic stuff, actually!
You'll need to put the batteries into the unit, and attach the windscreen to help with wind noise. Then, it will be ready to go!
One interesting thing about this mic is that it has a power feature, which you will need to turn-on when you are using a source that doesn't power the mic itself. Some DSLR video cameras may be like this, so this is a welcome feature that you may need to use.
The cord on this mic is a beastly 20 feet! This means that when you do interviews, you'll be able to sit your subject quite a ways away, and still hook them up to your camera… which is pretty boss.
As far as audio goes, this thing is going to give you a massive upgrade to your stock DSLR built-in mic. It isn't super advanced. It won't capture world-class audio.
But, if you're looking to get started with an upgrade, and need something cheap that'll also give you quality, this is it!
It's a purchase that you won't regret, and it will easily carry you to your next upgrade with decent audio the whole way!
MAONO AU-100 Key Features:
20 foot cord
Battery powered
Ships with a windscreen
Omnidirectional condenser mic
Best Wireless Lavalier Mic For DSLR: Sennheiser AVX Microphone System
If you are going to be doing anything resembling a complex video shoot with a lot of moving parts and audio sources, you're probably going to want to get a wireless system.
They are much easier to work with in large productions, and increase your chances of picking up clear spoken words from your performer, even among a lot of background noise.
The AVX system, by Sennheiser, is undoubtedly the best wireless lavalier microphone for DSLR video cameras out there. It tops all others in features, sound quality, and equipment durability.
It's also easy to use. The ultra-compact AVX receiver plugs right into an XLR audio input, making it easy to plug into your audio board or computer audio interface.
It's also packed with a lot of automatic features that save time on busy shoots.
For example… it automatically sets the input sensitivity to regulate audio levels. It comes at more of a 'premium-level' price, but you're getting what you pay for with this microphone system.
Sennheiser AVX Digital Wireless Microphone System Features:
​​Easy to use
High audio quality
​Comes with carrying case
​Versatile and easy to use
​Ultra-compact receiver, which plugs directly into an XLR input
​Automatically selects operating frequencies so as to eliminate unwanted interference
Best Cheap Wireless Lavalier Mic For DSLR: Dazzne Pixel 6
The Dazzne Pixel UHF Wireless Lavalier system mounts directly to your DSLR to give you a seamless wireless lavalier system that plugs easily and directly into your camera.
Whether you are shooting a documentary, a dance instructor, a speaker at an engagement, or creating your own YouTube videos… This budget-friendly mic will surprise you with not only its fair price, but also the level of quality it provides.
Features include a distance of up to 70 meters, 6 different channels on the UHF frequency band, a volume memory function, and an LCD display that shows you battery level, operating channel, etc.
If you want a standard wireless lavalier that you can plug directly into your DSLR, then the Dazzne Pixel UHG Wireless system should absolutely be on your radar.
Dazzne Pixel UHF Wireless Lavalier Mic Features:
​Affordable
​Easy to use
​LCD display
​Volume memory function
​70 meter transmitting distance
​Surprising audio recorder quality
Best Vlogging Microphone: Rode VideoMic Pro+
When we reviewed the best YouTubers microphones, from Casey Neistat to Peter McKinnon and more, the Rode VideoMic Pro+ is the reliable mic these top vloggers use.
Why? In addition to capturing perfect vocal recordings every time, the Rode VideoMic Pro+ is not only portable but extremely easy to use with your DSLR.
But what in particular makes the mic so awesome for vlogging? (In addition to it's awesome audio and bullet-proof construction, of course.)
Well first, there is ease of use. When you turn your camera on, the mic turns on with it. And when you turn it off, the mic turns off. This may seem like a simple feature; but it's actually overlooked a lot of the time.
This saves battery power on fast-paced shoots.
Coupled with this is the new and improved battery power provided by the VideoMic Pro+.
So, instead of being powered by a simple 9V battery, this guy boasts a rechargeable lithium ion battery that can literally last you up to 100 hours!
Another thing that actually makes this mic awesome is the fact that it has a removable cable. Obviously this is something that higher-priced DSLR mics have always done. But on a product priced at this price range, it's a huge bonus.
And last but not least, you can also plug an extension cable into this bad-boy and use it on a boom if mounting it to your DSLR doesn't get the job done.
All things considered, there is just no better on-camera mic for vloggers. It is simply the best in the game.
Key Features of the Rode VideoMic Pro:
Low noise
-10dB pad
High sensitivity
10-year warranty
Broadcast quality audio
Integrated foam windscreen
3.5mm stereo mini-jack output
80Hz high pass filter (switchable)
Integrated Rycote Lyre
Camera shoe mount with 3/8" thread
+20dB boost
9V battery powered – over 70 hours use (alkaline battery)
Best Stereo Microphone For DSLR: Rode Stereo VideoMic X
The Rode Reporter is a dynamic, omnidirectional, XLR microphone ships with a zip pouch, a 'microphone flag,' some literature, and of course… Rode's 10 year warranty to back up your purchase!
The first thing you'll notice about this mic is the build quality. It actually feels pretty good in-hand! It has an all-metal construction, and boasts a decent amount of weight in the handle.
A quick look at the specs will tell you that the mic's capsule is actually mounted within an internal shock-mount, to help reduce handling noise. Obviously this is a mic that's meant to be picked up and used – and it does a good job of it.
You'll notice that it has an extra-long handle. This may seem strange at first, but in interview situations, this is actually really helpful. It helps you to get the mic up-close to your subject without literally invading their personal space!
As far as audio quality is concerned, the Rode Reporter does a great job with video interviews. It struggles a bit with background noise, since it's an omnidirectional mic. You will also notice that it doesn't really pick up those rich frequencies that you would want if you were singing.
But as far as a mic for video interviews go, this thing really brings some advantages to the table. Pair it with a portable recorder for the best audio possible, and to make it as portable as you need it to be.
All things considered, this is hands-down our favorite mic for interview situations.
Rode Reporter Key Features:
Sensitivity of -56 dB
Impedance: 150 ohms
Omnidirectional polar pattern
Frequency response of 70Hz to 15 KHz
Other Noteworthy DSLR Mics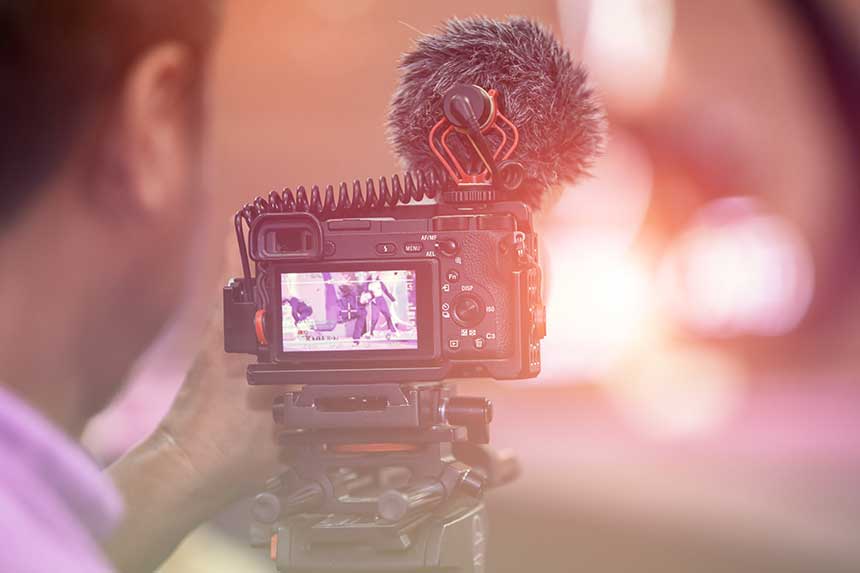 We researched and reviewed a number of other DSLR microphone options as well. And while they didn't all make the top cut, there were quite a few notable mentions that deserve some attention.
Rode VideoMic Pro+
Sennheiser MKH416-P48U3 Super-Cardioid Shotgun Tube
Shotgun microphones are incredibly popular among DSLR camera owners because of how easy they are to mount to the top of a camera. They also tend to give you a decent quality of sound.
If you are looking for the best of the best, you'll love this shotgun microphone by Sennheiser. They are known for making some incredibly high-quality equipment.
It isn't a 'cheap' piece of gear, by any stretch of the imagination. And you'll need an audio interface if you plan to use it, because it has an XLR connection.
But if you're looking for high quality and don't wish to spare any expense in finding it, the MKH416-P48U3 Super-Cardioid should be an obvious contender!
One great thing about the MKH 416 is that it is what they call a 'short gun' interference tube microphone.'
This makes it a fantastic general-use piece of gear that fits well for not only film, but also radio and television. Plus, the all-metal design of the body makes it rugged and durable.
Key Features:
​World-class sound
​Made by a reputable brand
​Superb for voiceover work
​Rugged and suitable for adverse working conditions
​Phantom power eliminates the need for batteries
Super-cardioid polar pattern
Sennheiser MKE600
The Sennheiser MKE600 condenser shotgun mic gives you maximum noise rejection to the sides, can be powered with either phantom or battery power, gives you a switchable low-cut filter, and easily attaches to your DSLR for maximum portability.
All things considered, it's a massively solid pick for any run and gun DSLR shooter.
Key Features:
Frequency response of 40Hz to 20 kHz
Comes with a windscreen and shock mount
Max sound pressure levels: 132dB with phantom power, 126dB with battery
Rode SVM Stereo VideoMic
This more affordable Rode stereo option, the Rode SVM Stereo VideoMic, gives you two high-res ½ inch condenser capsules fixed in an X/Y pattern, ideal for capturing ambient, natural, and environmental sounds.
It isn't quite as fancy or as sophisticated as the Rode Stereo VideoMic X, but it certainly does the trick if you're on a budget!
Key Features:
Perfect for a video camera
Native 40 Hz – 20 kHz response
Gives you outstanding rear rejection
Sports a selectable high-pass filter at 80 Hz
An in-built shock mounting system helps to save off mechanical sounds
Deity V-Mic D3
If you are looking for a middle-of-the-road shotgun microphone for your DSLR microphone, the Deity V-Mic D3 would be an option to take a look at. It is basic, made by Deity, and will serve you well for simple sound-capturing needs.
If you are looking for a starter's shotgun microphone, this one will serve you well.
Key Features:
​High quality
​Affordable
​Replaceable battery
Azden SGM-250 Shotgun Microphone
If you are looking for a shotgun microphone that is a bit of a step up from entry-level shotguns, then the SGM-250 by Azden might be a good microphone for you.
It's more robust than some of the cheaper options, but is still attainable for budget-minded professionals who are willing to invest in a higher-quality microphone.
Handcrafted in Japan, it ships with a windscreen and gives you that super-directional cardioid polar pattern technology you need.
Key Features:
​​Easy to use
Good audio quality
​Dual power operation – Can be powered with phantom power or AA battery
Rode NTG2 Shotgun Microphone
If you know much about microphones for DSLR video cameras, you have likely heard about Rode being one of the most reliable companies in the industry.
This is shown to be true by the NTG2 shotgun microphone. It's more affordable than the NTG3, but still gives you classic, high-def Rode sound… and it's provided at a price that even starter video camera peeps can afford!
Key Features:
​High sound quality
​Light-weight and easy to use
​Crafted by a trusted name in the industry
Rode NTG4+ Shotgun Microphone
If you love Rode products and want one of the highest-quality shotgun microphones on the market without breaking into a higher price bracket, then you should take a look at the NTG4+ from Rode.
This microphone comes with some options, which you will specify at checkout. But the main thing to know about it is that it has everything you need to get high-quality, high-definition audio, even for professional productions.
Key Features:
​Made by Rode
​Exceptional battery life
​Several customization options
​Easy and convenient charging
DPA 4017B Shotgun Microphone
For the ultimate premium option, we have the 4017B Shotgun mic by DPA.
If you are trying to create a truly professional production with premium sound, this is the one. It's pricey, but worth it for those who make money from their productions and can't take any risks at all with something lower quality.
If you need to capture truly world-class audio for that once-in-a-lifetime performance, this is the bracket you'll need to be shopping in.
Key Features:
​Light & sleek
​Good for booming
​Premium sound quality
Movo VXR4000R Directional Shotgun Condenser Video Microphone with Shock Mount
The Movo VXR4000R was designed with a few key features in mind that truly make it a lower-priced, budget-friendly microphone that performs almost as well as some of the higher-level shotgun mics on the market.
It was designed, first and foremost, to deliver clear voice reproduction… specifically for applications in and around broadcasting, studio work, YouTube video production, etc.
It is also compact and lightweight, while also giving you a super-cardioid pickup pattern with a built-in high pass filter.
Key Features:
​Super-cardioid polar pattern
Specifically designed for use with camcorders and DSLRs
​Comes with a high-quality shock mount for suppressing handling noise
40Hz to 20kHz response, with a selectable high-pass filter at 80Hz available
Rode RodeLink FM Digital Wireless System
The Rode RodeLink FM is another budget-friendly digital wireless system option.
It is more affordable than the premium options, but still carries the extremely reputable Rode name. If you are looking for a solid wireless system that gets the basic job done for your DSLR shooting needs, this one will do just fine.
Key Features:
​Great for interviews
​Reputable brand name
More affordable than Sennheiser
Purple Panda Lavalier Lapel Microphone Kit – Clip-on Omnidirectional Condenser Lav Mic
The Purple Panda Lav kit features a 9.8 ft extension cord, a mini-USB adapter, a TRS adapter, a fuzzy windscreen, a drawstring pouch, an extra clip, and even a filmmaking E-book for newbies!
And of course, it comes with Purple Panda's clip-on lapel microphone. It is compatible with all kinds of smartphones, cameras, laptops, and more.
Key Features:
​Great sound quality
​Handy carrying pouch
​Awesome for YouTube video-making
​Universal 3.5mm stereo jack makes it compatible with almost any sort of device
Boya M1 Lavalier Microphone
The M1 by Boya comes from one of the most reputable brands in the industry for affordable, but overall dependable equipment.
This is a fantastic, yet simple microphone if you need something for a school or personal project.
It likely wouldn't be used in any kind of professional production, but it has many practical everyday uses and could make an awesome first mic for your DSLR habit.
Key Features:
​​Shirt clip
Very affordable
​Reputable brand
​Solid construction
Who Should Buy A DSLR Microphone?
The ideal candidate for a DSLR microphone is going to be someone who is into video work enough that they want to start catching quality audio to go along with the picture.
Of course, your choice of microphone will also depend greatly upon what you actually plan to do with it.
If you're a YouTuber, then you may not need to buy something too expensive right from the beginning… unless you plan to shoot outside. As a general rule, capturing audio outside is far more difficult than capturing it inside.
Wind, traffic noise, and 'mechanical bleed-through' from handling the camera can all play a role in this.
You also need to take into account how good the audio needs to be. If all you need is a simple upgrade from your built-in video camera mic, then a plug-and-play model can easily be obtained for less than $100.
But if your goal is to film a documentary or shoot commercials for your business, you're going to need something a lot better. In cases like this, you may want to run something with XLR adapters that you can plug into an external sound board.
This will usually give you much better audio quality… albeit at a higher price.
You can also consider a lavalier microphone if all you need to do is capture someone speaking. These mics basically clip right onto the shirt, and work really well for capturing spoken word in indoor and outdoor environments.
Important Features To Consider
Now that you've had some time to look through some of the options, it's probably best to cover the best features to look for when shopping for a DSLR microphone.
With these things in mind, you'll be able to find a microphone for your DSLR that suits your needs… as opposed to taking a shot in the dark at a mic that may or may not work for you.
Understanding each of these factors is vital to selecting gear that is relevant to the scope of your work.
Sound Quality
This is one of the factors that is going to be pretty much universal among all videographers. Everyone wants to have high-sound quality − that's a no-brainer.
However, you also need to determine how much you are willing to spend on your microphone. This is oftentimes going to directly correspond to the level of sound quality that you end up getting.
But then again, you don't always need the highest quality sound equipment, either.
If you are just doing amateur, personal, or educational videos with basic audio needs, then you can opt for a more affordable option to make things easier on you instead of straining yourself to get unnecessarily high-quality audio equipment.
Type of Microphone
This is a vital decision that you need to make. There are several different audio-capturing microphone types that you could choose between, and which one you end up using will likely depend on the type of project you are filming.
While some video-makers need high-quality wireless microphones for their movie or short film, others need very basic wired lavaliers for personal videos.
In other words, your needs will vary by project.
On our list of the best DSLR microphones, you'll see that we have wireless microphone systems, wired microphones, and shotgun microphones.
Shotgun microphones are best for blogging, wired microphones are best for personal projects and self-recordings, and wireless mics are great for advanced productions.
Affordability
Cost is going to be an important factor. You obviously can't spend money that you don't have, which is where budget-friendly mics can really help.
With that being said, it is also important to consider not only what you need to make your projects work, but also whether or not you are getting paid to provide professional-level quality.
In some cases, you may not want to skimp out on a better microphone for your DSLR… especially if you'll be earning enough over the next few months to level up your business and capture better audio for your clients!
Frequently Asked Questions
​What is the best DSLR microphone?
Our favorite microphone for DSLR applications is definitely the Rode VideoMic Pro +.
Not only does this mic ship at an affordable price… but it also comes with a range of features that make it an awesome overall pick for photographers and/or videographers shooting with DSLR video cameras.
One of our favorite features is the 125 hour battery life you get out of it… with only one AA battery!
​What microphone is best for interviews?
If you have a decent-enough budget to work with, the Rode VideoMic Pro + really can't be beat for interviews. This mic brings supherb quality to the mix, especially if you're trying to run a one-mic setup.
​Do shotgun mics need phantom power?
Some shotgun mics do need power, but some of them don't. You can usually find out pretty easily whether the particular shotgun mics in question require phantom power by looking at the company's technical specs on the mic itself.
It will either indicate what batteries to use, whether phantom power is required, or that neither is required.
Most DSLR mics will require batteries, but there are plenty of basic microphones on the market that can plug directly into a camera's mic input or other audio recorder and function without any sort of external power.
Learning how to power your condenser microphone is an important part of making your kit work correctly.
​What is the best wireless DSLR microphone?
The Sennheiser AVX Digital Wireless Microphone System is undoubtedly the best wireless lavalier microphone for DSLR video cameras out there.
Gary Vaynerchuk uses Sennheiser gear everyday, and if you know GaryVee at all, you know he values a ton of great video content above all and has an unlimited budget for the highest quality toys.
Quality wireless DSLR lav mics are easy to use, and the ultra-compact AVX receiver plugs right into your XLR audio input, making it simple to capture clean and crisp wireless audio every time.
Yes, it is a lavalier system, and the receiver plugs into an XLR plug-in. But with the quality and ease-of-use you get from it, this system from Sennheiser is tough to beat for most DSLR applications.
This is especially true if you need to catch quality vocal tones in difficult situations.
But… if the Sennheiser system is either too expensive for you or doesn't suit your needs well, don't worry!
There are other options out there. The Rode RodeLink FM is a great alternative.
But we also love the Dazzne Pixel UHF Wireless Lavalier Mic, especially if you are on a budget.
Conclusion​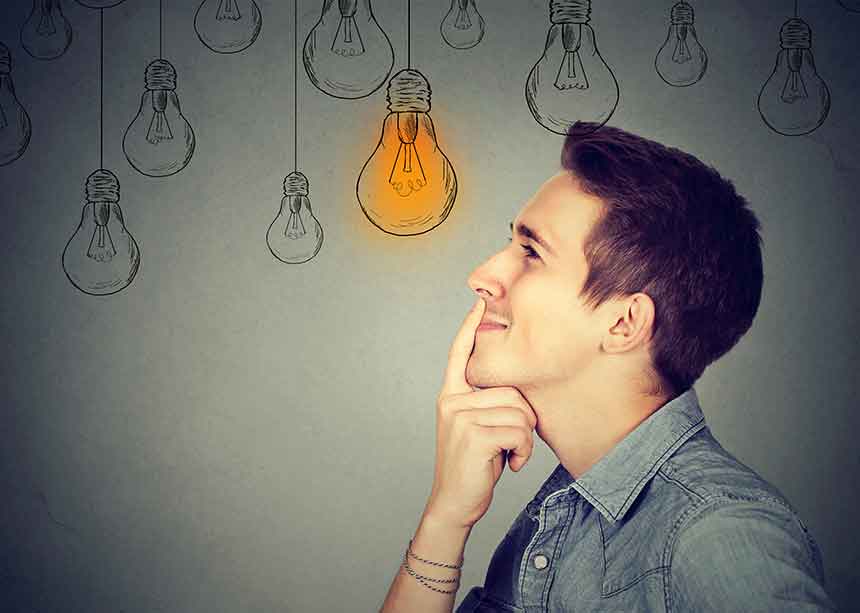 Whether you are a beginner, an amateur, a professional, or a hobbyist looking for a microphone for cameras, when you are creating videos, capturing sound is still a very important step.
And while the requirements for audio quality may vary based on what you are doing, everyone wants a microphone for a camera that is going to be easy to use, durable, and capable of getting the job done.
Luckily, no matter what your needs are, you should have been able to find a DSLR camera mike on our list that suits your needs well.
Picking out your equipment can be hard, especially if you've never done it before or have never worked with these specific types of microphones.
That's why we've compiled this knowledge on how to select your DSLR microphone for camera gear, along with our list of the best DSLR microphones on the market.
Using these resources, you will save time, frustration, and headache when selecting your next DSLR microphone.