Quick Access to the Best Wireless & Bluetooth Mics iPhones👇
With your iPhone, you've got the ability to fit an entire virtual recording or video-production studio right into your pocket.
Why carry around a recorder and a bunch of extra gear when you've already got your phone and all you need to do is add on a quality mic?
Because the truth is…
There's only one problem with the iPhone… And it is the limitations from the stock mic.
It works great for phone calls and face time… But if you want to create any sort of content with it that you can publish on YouTube, a Podcast or for recording speeches, you are simply going to need a better mic.
Why?
Because the stock microphone is designed to be as small and light as possible.  Which is needed to fit in with the iPhone 12's ultrasleek design.
But to capture high quality audio, you need more room inside the microphone components to pick up a broader range of soundwaves.
And, you  may want to record your subject who is several feet away from the microphone, so a wireless mic is needed.
Well, you are in the right place!
The wireless iPhone microphones we've reviewed here are the perfect solution for recording high quality audio while also allowing you to be mobile and get your hands free so that you can focus on what really matters – creating awesome content!
One quick note… if you are searching for an external iphone mic that plugs into your lightning port, those are covered in a separate post, here.
Ok with that said, let's dive in.
In This Article, we review the following iPhone mics, below –
Best Bluetooth Wireless Mics for iPhone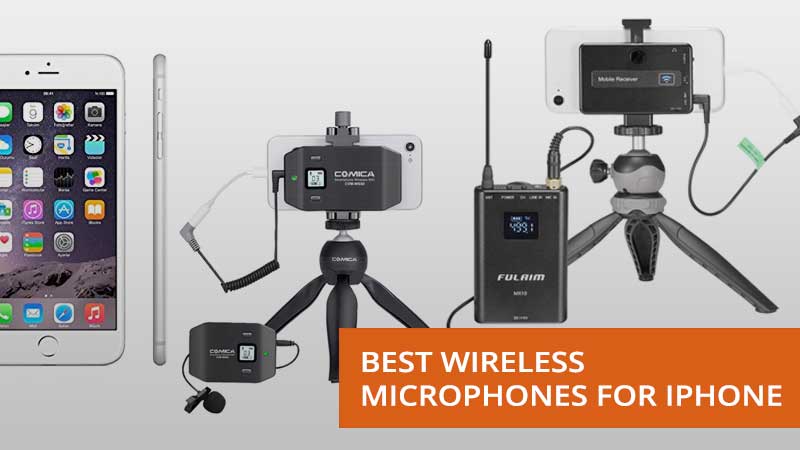 Best Bang for the Buck Bluetooth Mic for iPhone: Lewinner Wireless Lavalier Microphone
This best wireless lapel microphone beauty can cover up to 50 feet of Bluetooth range so you can move freely and not worry about wires or stepping too far away from your smartphone. 
The Lewinner Wireless BT mic is your new travel mate because it weighs just under 16 grams and comes with an adjustable clip so you can pop it on your collar or jacket and get to high quality filming without stressing about cables and wires. 
Key Features of the Lewinner Wireless Bluetooth Microphone 
Electret Condenser Microphone 
The electret condenser feature on the Lewinner Wireless BT microphone is perfect for recording videos and YouTube vlogs because it is quite sensitive to sound and is great for capturing vocals. 
Multi-Channel Real-time Mixing
The Lewinner Wireless BT mic includes a headphone piece that allows for real-time monitoring, meaning you can listen in to everything you're recording.
Free SmartMic App 
You will need to download this App to your Smartphone in order for this microphone for iPhone to work. The app itself includes auto transcription and Auto-Sync Technology that helps with editing content more comfortable. 
High-quality Lithium Battery 
Now you can extend your recording time up to 6-hours without having to worry about charging your lapel microphone battery. Clip and go, and you are ready to play! 
Lewineer Bluetooth Mic Verdict:
The best bang for the buck wireless mic for iPhone is the Lewinner Wireless Lavalier Microphone because it was designed especially for video and content creators. Perks include being utterly wireless, recording straight to your phone, and a decent battery life of up to 6 hours. 
Bluetooth Microphone For iPhone Top Pick: Instamic Pro

The best Bluetooth microphone for iPhone will deliver two critical elements, portability and amazing audio capture. The Instamic Pro Bluetooth mic blows recording and portability out of the water. Literally. 
It's waterproof, up to 1 meter, over 3-feet, and the recording capabilities are unparalleled.
The mic offers mono, stereo, and mid/side recording, which makes it a great option for recording, say, an acoustic guitar. 
The audio recording quality is fantastic; the Instamic Pro records 24-bit audio, with sample rates up to 96kHz. In other words, there is plenty of headroom for peaks, with a  much lesser chance for clipping – which translates to better audio that will be easier to edit in post-production. 
In addition to recording directly to your iPhone, you can record up to 8GB of audio (over 14 hours!) with the Instamic's built-in internal memory; and the battery life is pretty sweet too: 16 hours in mono, 8 hours in stereo mode.
It does all of this while still being a super discreet device; its longest measurement is just 1.5 inches, and it's super light too, weighing in at just 18g, 0.634 ounces.
See and hear the high quality sound in this video compared to recording only with a cell phone, 
The Instamic Pro integrates seamlessly with Apple devices (your iPhone included), and there's even a dedicated app that can control up to 10 Instamic Pro devices simultaneously. They're affordable enough to grab a couple too, in case you need to capture sound from multiple places in the room.
You'll get a selection of included mounts as well, so you can tape it underneath a table, clip it to your shirt or backstrap, or even mount it on the front of your mountain bike if that's what you're up to.
Whatever you're recording, wherever you're recording, the Instamic Pro is a solid solution for a Bluetooth for iPhone.
Key Features of the Instamic Pro:
Dedicated iOS App
It is impossible to discuss the Instamic Pro without examining its excellent app for iPhone users.
With it, users can change polar patterns, access records, and link and control up to 10 Instamics from a single interface.
3 Mounting Options
The Instamic Pro is a tiny, versatile little unit, and it ships with three different options for mounting it:
There's a secret fourth one, too: just hold it! It's so small you could literally put it in your breast pocket for a no-fuss lapel mic.
Multiple Recording Modes
Inside the Instamic Pro actually has 6 different mics inside, picking up sounds from all angles and allowing you to choose from three recording modes:
16 Hour Recording Time
When recording in mono mode, the internal storage on the Instamic Pro gives you a massive 16hrs of recording time. Half this if you're using either of the stereo modes.
The Verdict On The Instamic Pro
If you're looking for a premium, versatile Bluetooth microphone for your iPhone, this is the guy.
It isn't the cheapest of the wireless options out there, but it's definitely the best, and it's even waterproof! Amazing.
Runner Up iPhone Bluetooth: Sennheiser Memory Mic 

The Onetouch audio and video synchronization of the Sennheiser memory mic guarantees a seamless recording with no annoying technical difficulties, meaning you can record that cooking vlog without having to worry about random dropouts. 
What makes the Sennheiser Memory Mic even better is the USB rechargeable battery, so when your hours of play are up, just plug this guy in and forget about it!
Key Features of the Sennheiser Memory Mic 
Electret Condenser Microphone
The Sennheiser Memory Mic is a condenser microphone. This means it is quite sensitive to sound and is best used in a treated environment or a room where you don't have to worry about the background noise, or if you're using it to pick up any sound in the room, like as a baby monitor.
Omnidirectional Polar Pattern
Since you have the freedom to use this mic at a significant distance, the omnidirectional polar pattern can pick up the entirety of the room with its 360-degree range. 
Sound Pressure Level
The SPL goes up to 119 dB, which is quite loud, just a notch away from being as loud as a thunderclap. The high SPL makes this a suitable option for pretty much any recording scenario.
Memory Mic App 
Besides storing 4-hours worth of audio, you can download an app right to your phone to manage your recordings and transfers. 
Seinnheiser Memory Mic Summary
The runner up best wireless microphone for iPhone is the Sennheiser Memory Mic because of it's unlimited range distance and 4-hour memory storage, which gives you great reliability. There aren't many mics on the market offering this kind of connectivity, so as long as you can connect your smartphone via Bluetooth, this lil guy will have your back. 
Best cheap: Bluetooth Headset by Icomtofit 

The Icomtofit BT headset provides fast and simple pairing with a wide selection of electronics ranging from MP3, computer, and Smartphone. 
This Bluetooth Headset by Icomtofit set is interchangeable between both ears and is made to wear comfortably for hours at a time. If you are looking for a more tailored fit, you can choose between 3 different ear gels included with your purchase. 
Key Features of the Bluetooth Headset by Icomtofit 
Built-in HD Microphone 
The Icomtofit comes equipped with an HD microphone that offers a natural sound and a clear audio experience when jamming out to your favorite tunes or chatting business with your boss. 
Handsfree 
The handsfree feature on the Icomtofit supports voice assistance as well as your girl Siri. You can quickly mute and unmute your device with a touch of a button and with an option to announce the phone number ringing you up- no name, though. 
Excellent Battery Life 
You don't have to worry about your battery life going halfway through your day, the Icomtofit can hold up for 8-10 hours, and if you leave this guy on standby, he can last up to a week without a charge. 
Noise Cancelling Technology 
This feature solves the first-world problem of noisy backgrounds and ambient sounds that make phonecalls unbearable. Now you can chat for hours wherever you are focusing on your call with the noise cancellation technology.  
What's good about the Icomtofit?
The Bluetooth Headset by Icomtofit is an inexpensive way to connect your iPhone to a mic wireless. It's a lightweight earpiece has a 33-foot range and an 8-hour battery with noise cancellation to improve your user experience when you are on the go, whether listening to music or taking incoming calls. 
Best Lavalier and Other Wireless Mics for iPhone
Our Top ​ Pick: Comica CVM-WS50
Comica CVM-WS50(C) Wireless
If you're looking for a wireless lavalier microphone that will integrate seamlessly with your iPhone, then the comica CVM is the first mic you'll want to check out.
Buy Now on Amazon
We earn a commission if you click this link and make a purchase at no additional cost to you.

When flexibility is important, the Comica CVM-WS50(C) Wireless Lavalier Microphone System provides it. This wireless omnidirectional lav mic set features 6 optional channels for decreased interference, real-time audio monitoring, extended range, and an adjustable mount.
With a working distance of up to 197ft, you definitely won't have to worry about getting too far away from the source. In fact, even if you are dealing with 'obstructions,' you still have a working distance of up to 98ft to work with.
You also get a lot of extras when you purchase this lapel microphone package. You get not only the transmitter and the receiver, but also an ordinary handle, a TRRS Audio Output Cable, a 3.5mm audio mic, a USB charging cable, a wind muff, a belt clip, a portable case, and a user manual.
If you're looking for the best quality for the money in a wireless iPhone lavalier mic, then the Comica CVM-WS50(C) is absolutely the package you want to be looking at!
Comica CVM-WS50(C) Key Features: 
Huge Range
Few microphones offer this kind of wireless range for iPhone recording, up to 196 ft in open areas. Where there is stuff in the way (when is there not), this is closer to 98ft, which is still pretty damn far.
​Real-Time Audio Monitoring
One helpful feature that the Comica CVM-WS50 offers is a dedicated headphone output jack, which allows you to monitor the audio input in real-time.
This allows you to keep a consistent recording tone and level for perfect audio performance.
Included Extras
You don't just get a mic with the Comica CVM-WS50, you also get a tripod stand (which folds up to be held selfie-stick style), and a phone clamp, making it a little all-in-one iPhone recording package.
LCD Display
The Comica CVM-WS50 has its own LCD display for monitoring audio settings and input, which allows you to leave some screen real estate on your iPhone for filming or texting your girlfriend.
Why We Love The Comica CVM-WS50
The Comica CVM-WS50 lapel microphone is a fantastic option for anyone wanting to shoot video and audio using their iPhone.
It is a little large and clunky, though, so if you're all about that minimalist lifestyle, look elsewhere.
Our ​Runner Up​: Fulaim MX10
FULAIM MX12 Wireless Lavalier Microphone System
This omnidirectional wireless lavalier mic was a no-brainer for our runner-up position. Crystal clear audio reproduction meets a load of awesome features in this device, built specifically with smart phones and DSLR cameras in mind.
Buy Now on Amazon
We earn a commission if you click this link and make a purchase at no additional cost to you.

The FULAIM MX10 Wireless Lavalier Microphone System features up to 164 feet of recording capability, and uses ultra high-frequency technology for crystal clear audio in the toughest conditions. It is compatible with all iPhones currently available, and even gives you 98ft of operating distance when dealing with obstructed areas.
As an omnidirectional mic, this wireless lavalier microphone is optimized for capturing audio out in the field… especially podcast audio, interviews, news, YouTube audio, etc. It picks up sound from every direction, allowing for a range of placement options that make it both flexible and reliable.
It has 4 selectable UHF channels (with a max preset of 20 channels), real-time audio monitoring, and convenient powering options. For example… both the receiver and the transmitter can be powered via internal lithium-ion polymer batteries. This will give them a whopping 7 hours of battery life!
As a runner up candidate, we had little trouble choosing the FULAIM MX10 Wireless Lavalier Microphone System!
FULAIM MX10 Wireless Lavalier Microphone System Key Features: 
Omnidirectional Lavalier Mic
The Fulaim MX10 is a wireless lav mic, ideal for interviews and on-stage performances, and as such transmits wirelessly to the receiver pack which attaches to your iPhone.
The microphone's polar pattern is omnidirectional, meaning it picks up sound from all sides. This is exactly what you want when the mic is positioned on the subject shirt, as they may move and you don't want the sound to be colored.
​164-Foot Wireless Connectivity
This is a massive distance and is super important if you don't plan on being on the same stage (or even in the same room) as your subject.
​20 Channel Options
Working with wireless devices like these can present an issue, especially if someone else is trying to use the UHF channel you want.
The Fulaim MX10 gets around this by offering UHF frequencies with five different modes each, give you a total of 20 channel options/
​Sturdy Carrying Case
Worried about hitting the road with such fragile equipment? Don't be. 
The Fulaim MX10 lapel microphone comes with a strong carrying case to store it in, as well as a handy little tripod stand and phone clamp, so you can mount your iPhone securely and maybe even shoot a little video.
The Perfect Option?
So, should you get the Fulaim MX10?
If you need to set someone up with a lav mic for an interview, and you want to record directly to your iPhone, then yes, this is a fantastic choice.
​Best Budget Pick: Boya By WM2G
BOYA BY-WM2G Wireless Lavalier Microphone System
If you're looking for an all-purpose lavalier for your iPhone that will deliver crystal-clear audio without breaking your bank account, look no further than the BOYA BY-WM2G Wireless System.
Buy Now on Amazon
We earn a commission if you click this link and make a purchase at no additional cost to you.

The BOYA BY-WM2G Wireless Lavalier Microphone System is a complete omnidirectional lavalier microphone system, including transmitter, receiver, microphone, cold-shoe mount, connector cables, and hard case.  It has a range of up to 15m with clear audio. It is designed for use with vocal and video, and is compatible with all iPhones (lightning connector required).
As our best-budget pick, the BOYA BY-WM2G actually packs in a lot of value for less than $70… which is pretty rare for a wireless iPhone best lavalier system.
This lapel microphone system will give you the power to pick up clear and accurate vocals in a wide range of different settings. It is compact, lightweight, and was designed to deliver professional-level quality at a price that up-and-coming artists could afford.
The WM2G lapel microphone will also work with a wide range of devices. You can use it with an iPhone, an android phone, a tablet, a DSLR camera, or even a GoPro!
If you need a fantastic iPhone mic at a budget, the BOYA BY-WM2G Wireless Lavalier microphone system should be your jam!
BOYA BY-WM2G Wireless Lavalier Microphone System Key Features: 
50ft Wireless Range
The Boya By WM2G offers a respectable wireless range of 50ft. 
It's not the strongest reach around, but it'll do the job. Well, most jobs.
Omnidirectional Lavalier Mic
The Boya By WM2G is an omnidirectional mic, meaning it picks up sound equally from all directions. This is ideal when working with lapel mics, as it ensures a consistent recording level and tonality.
Wide Compatibility
You get a few different output cables in the kit (TRS, TRSS, and Mini USB), meaning the Boya By WM2G is crazily compatible and works with every iPhone out there.
Of course, if you have a newer model, you'll need to bring along your own Lightning adaptor.
In Sum
Overall, this is an excellent mic for wireless iPhone recording. It might not have the strongest range, but 50ft is nothing to sniff at, and for the price, it does a damn good job.
Best Handheld Wireless: Comica CVM WS50H

The Comica CVM-WS50(H) is a handheld cardioid wireless microphone system that delivers up to six channels of ultra-high frequency signal.  It has a range of up to 197 ft open and 98 feet obstructed, and can capture audio in a variety of different conditions and situations.
In addition to real-time audio monitoring, this handheld wireless microphone system features a full functioning LCD display, which shows you the current channel, audio status, and battery life.
There are two main pieces to this system. There is the receiver, which you attach-to and plug-into your phone, and the wireless mic that transmits to it. But there is also a handle on the receiver, making it super-easy to hold your camera steady as you record.
If you're looking to capture the look, feel, and practicality of a classic cardioid mic, but with the same quality and technical proficiency that you'd find with a wireless lavalier microphone, then the Comica CVM-WS50(H) Wireless Microphone System is absolutely the best system for you!
Comica CVM-WS50(H) Wireless Handheld Key Features: 
Compatible With All iPhone Models
Got the latest iPhone? Still working on an iPhone 6?
Whatever you're working with, the Comica CVM WS50H has your back, because it works flawlessly with all models by way of a 3.5mm audio jack.
You'll need your 3.5mm to Lightning adaptor if you're using anything post iPhone 7, though.
Handheld Phone Clamp
The Comica CVM WS50H is not just a wireless microphone, it also comes with a handy little handheld phone clamp, allowing you to mount your iPhone nicely inside the audio receiver and shoot a little video, if that's your thing.
Cardioid Polar Pattern
The polar pattern of the Comica CVM WS50H mic is a cardioid one, which means it is sensitive to sound coming from the front, but not from the back.
This is the ideal pickup pattern for handheld mics, which are generally used for speech or signing, as you only want to pick up the voice, and nothing else.
Should You Get It?
If you're into quality wireless microphones that are super compatible and offer decent range and battery life, then yes, you should get the Comica CVM WS50H.
Best Dual-Mic Wireless System: FotoWelt WM200

There are some situations where you just need two mics! The only problem with that, however, is that you can usually only get one receiver plugged into your iPhone without putting in a bunch of extra work.
So if you're thinking of doing some YouTubing, vlogging, or podcasting, and need two mics that both transmit to a single receiver, then the FotoWelt WM-200 UHF Wireless Lavalier Microphone System is most definitely the wireless microphone system for you!
This is a dual-transmitter, omnidirectional lavalier microphone system.  It features two transmitters that can be used separately or together with a working distance of up to 100 meters. This lapel microphone system also has a headphone output for real-time audio monitoring.
Other features of this lapel microphone system include ultra-high frequency signal with WNCR noise suppression technology, a working time of 10 hours on a single battery, and strong-shielding anti-noise performance.
If you need two mics and don't want to break the bank on a bunch of extra gear, the FotoWelt WM-200 UHF Wireless Lavalier Microphone System should most definitely be on your radar!
FotoWelt WM-200 UHF Key Features:
Dual Omnidirectional Lavalier Mic System
The FotoWelt WM200 features two omnidirectional lavalier mics. These are designed to be clips to your subject's shirt, near the face, and pick up sound from all directions.
These are capable mics with a decent response and a professional sound and feel to them.
Two Transmitters
You get two transmitter packs and mics with the FotoWelt WM200, allowing you to record two people at the same time and have both of their signals sent to a signal receiver plugged into your iPhone.
XLR or 3.5mm Audio Connection
The FotoWelt WM200 receiver pack has two output types, 3.5mm or XLR.
This allows you to use it with an iPhone (via 3.5mm and necessary adaptor), or with a professional recording device or mixing desk via XLR output.
​Battery or DC-3V power supply
These are battery-powered units, but they have a secret weapon up their sleeves: a DC power supply.
This means that if you get stuck without batteries, you can always sit close to a wall outlet and keep on working.
Is It Worth It?
Hell yes. If you need two lapel mics and want to record to just one iPhone, then the FotoWelt WM200 wireless microphone system is the perfect option.
They are easy to use, affordable, and offer an insane wireless distance – up to 328ft!
Conclusion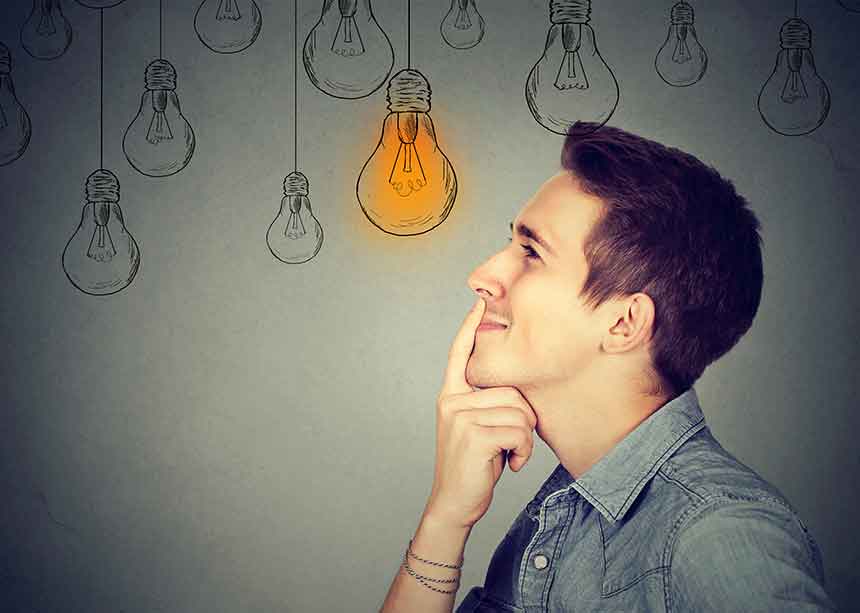 ​We've provided you with 6 amazing and dynamically different wireless microphones, all compatible with most iPhones… as well as several other devices.
As you read in the review, our favorite mic for the iPhone is the Comica CVM-WS50(C) Wireless Smart Phone Lavalier Microphone System… but there are also a ton of other options to explore as well.
We hope you have found this a great source of information in your exploration and purchase of a great microphone for your iPhone!