Quick-Access To the Top 7 Best External Microphones for iPhone 👇
Your iPhone has the power and the potential to create studio quality content on the go…
From podcast episodes to YouTube videos… And even vocal tracks for songs, folks are using their iPhones as complete digital audio workstations.
The #1 limitation, however… Is the stock microphone.  Or, to be more specific, the 4 MEMS microphones in the newer iphones.
A MEMS microphone is essentially a chip or microprocessor… It's a printed circuit board designed to pick up the sound waves from your voice.
MEMS are good for a phone call or face time but if you want to publish studio quality audio, you need to add on a little old-school tech in the form of a proper condenser microphone.
Why?
Simply stated, a condenser microphone will pick up a wider range of audio frequencies and it'll capture a richer sound at every level of the audio spectrum.
Bass-baritones will sound fuller and richer… While the higher pitched tenors and sopranos will sound crisp and clean.
From an audio engineering level, there is an additional membrane in the construction of the microphone that picks up the sound wave… It's a charged metal plate that can sense a wider range of frequencies than a static microprocessor, giving you that pro level sound quality that your stock iphone mic lacks.
Condenser microphones can also focus their pick up range directionally…
Meaning they'll catch less background noise while focusing all of their pickup potential directly in on the vocal subject you seek to capture.
Ok, it got a little geeky there… But I'm an audiophile who is obsessed with the best sound.
Here's the TL;DR…
Getting the right microphone for your iPhone adds the exact same technology you'd find in a studio microphone to the lighting port on your iPhone.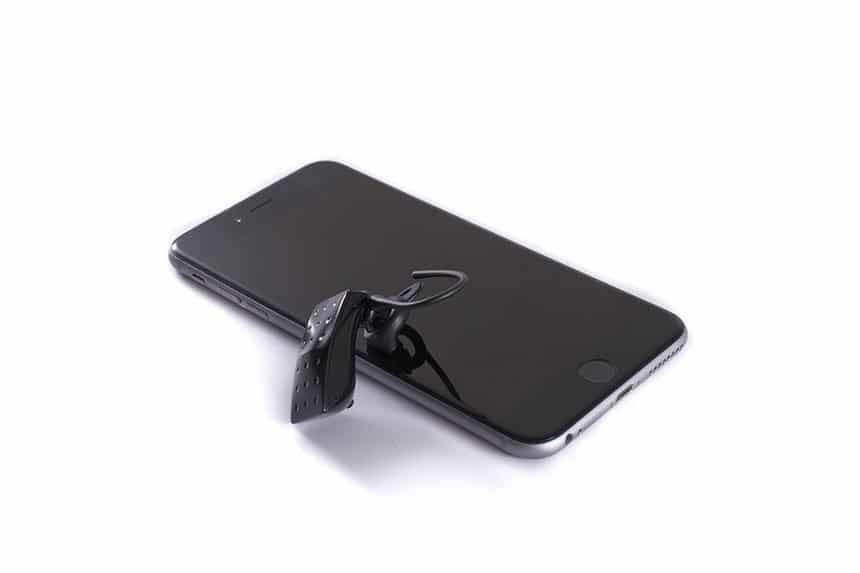 Plus, our top pick is small enough to fit in your pocket or backpack and can travel with you anywhere…
Whether you want to record your band's practice or just have your recording gear on you for when inspiration strikes…
It's time to capture the full potential of your iPhone as a recording device and DAW.
Last note:
If you're looking for a bluetooth or wireless mic, check our separate post for wireless mics for iPhone here.
A wireless mic will NOT give you as high of quality in sound as the condenser iphone mics on this page…
But you obviously get additional benefits like being able to record video and audio of your keynote speeches or stage performances at the same time.
With the nerdy mic engineering info out of the way, let's dive in with the #1 choice that was engineered from the ground up for your iphone.
Our Top Pick: Shure MV88
The Shure MV88 earned our top-pick spot for external iPhone mics for a number of reasons. It is easy to use, carries the very prestigious and trusted Shure brand, and does everything that a high quality condenser mic is supposed to do… but the Shure MV88 works perfectly with your iPhone or other lightning iOS devices!
There's also a MV88+ kit that includes a tripod/selfie stick and connections for other devices in addition to lightning.
This high-fidelity condenser mic has 5 DSP preset modes for different applications (speech, singing, flat, instruments, and loud.)
The Shure MV88 is perfect for the iPhone creators-on-the-go, and requires no extra installation. Just plug it in and record. The metal casing is durable and will stand up to even the most intrepid journalist activities.
A unique feature of this microphone is that it is a stereo condenser mic.
What's a Stereo Condenser Microphone?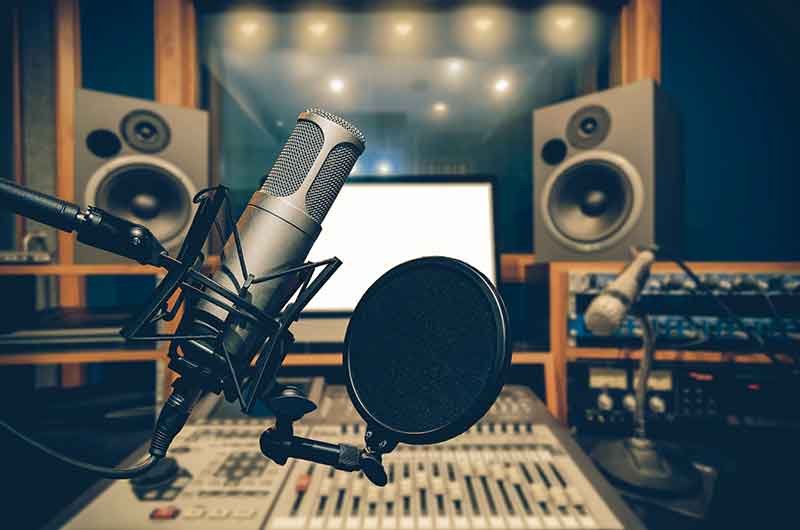 Stereo means that the microphone will record left and right audio. The MV88 is setup this way so when you playback your videos the sound will be in alignment with what is on the screen.
This is a super cool feature that will enhance the sound of your video and audio recordings. Microphones are "mono" meaning in order to get stereo you need to have two of them which is what Shure did with this microphone.
They put two condenser mics into this setup.
The other part of this mic equation is the condenser part.
Condenser mics are the "premium" microphone option. They are the coveted microphones for studio use because they have the ability to pick up every nuance of each sound.
The condenser microphones in the MV88 are what make it such a versatile and crisp recording mic.
Anything you would like to record or create with the MV88 is possible because of it's full range condenser microphones.
Best Budget Pick: Rode VideoMic Me-L
The Rode VideoMic Me-L for the iPhone/iPad is designed to be a mic that you can use with your iPad or iPhone, and it works extremely well for this purpose.
The 'L' in the name stands for 'Lightning,' as that's the connector that you use to connect the mic to your device, a lightning port connector. This is the main difference between the VideoMic Me L and the original VideoMic Me.
Alright. Now let's get into the details of this cardioid condenser budget pick for external microphones.
Rode created this mic for vloggers and videographers who need high-quality audio while filming video on their devices… and the VideoMic Me-L certainly doesn't disappoint. You'll be surprised at the quality audio you can capture with this little device.
In the box, you get a deadcat windscreen (which helps to block out wind noise), and a small rubber clamp that you can use to help secure the mic to your device.
The Rode VideoMic Me-L is an incredible plug and play upgrade via lightening under $100 for your iPhone. There's not anything else out on the market that delivers this much bang for the buck.
Best Cheap Microphone: Comica CVM VM10-K2
This Comica Smartphone Video Kit comes with the mic, as well as a mini-tripod.
It allows you to turn your iPhone into a full-fledged quality audio-video workstation, complete with a high-quality super cardioid condenser microphone and a stable, convenient tripod-mounting system, so that you can use it on-the-go and transport it easily.
This external microphone is small and easy to carry. As far as features go, it has a built-in anti-interference function.
As a shotgun microphone, this is an awesome option if you need to just set your iPhone down and capture audio from everything in front of it.
Here's the great news:
If you decide to switch over to the Android camp in the future (traitor!), the Comica Video Kit CVM-VM10-K2 will still work, as it's compatible with virtually any smartphone!
Here's why the Comica Video Kit CVM-VM10-K2 may be the best option:
It comes with a nice tripod and phone clamp.
It's compatible with pretty much any smartphone.
The windscreen keeps audio nice and clean.
The only real downside to the CVM-VM10-K2 for iPhones is that you need to use the included Lightning port to 3.5mm adaptor, so there's a little more cably stuff going on.
Best For Musicians: Shure MV51
The Shure MV51 cardioid condenser microphone is a studio condenser microphone that is certified for direct connection to iOS devices with a lightning port.
It comes with 5 preset modes, including singing, speech, flat, acoustic instrument, and loud… and automatically adjusts gain, EQ, compression, and limiting to help you achieve optimal audio quality results, regardless of what type of audio you're recording.
The front panel controls on the MV51 are intuitive and easy to use. You simply select which mode you wish to use. There is also a mute button, a headphone volume, and a gain knob.
The headphone jack output that's built into the Shure MV51 also gives you real-time monitoring. This way, you can avoid any latency issues that may occur as you record… which will do a lot to help you mitigate problems with sound-delay, which can really throw off your performance.
That's thanks to the mic's insane SPL handling (how loud of volumes you can cleanly capture), and 5 switchable modes for recording audio the MV51 is the ideal mic for anyone after a tonne of flexibility.
Best for Podcasting: Shure MV7
The Shure MV7 is designed with features that will enhance the sound quality of your vocal recordings. Smooth, natural sound and rich tones are achieved by a unique internal system that suspends the microphone capsule from external vibration.
With a cardioid pickup pattern, this cardioid dynamic mic effectively eliminates unwanted background noise for clean vocals across a broad range of location environments.
A cardioid dynamic microphone is best for most podcasters because they virtually eliminate all background noises and only capture what you are saying into the microphone; making it perfect for crisp-clear podcasts.
The Shure MV7 is the little brother to the famous SM7B.
The MV7 does not ship with lightning connections but all you need is either a USB to lightning cord, and you may already have one of these laying around.
It appears a little costly at first glance but since it's also a USB mic this means you can use it immediately without buying audio interfaces that are necessary to connect great mics to an iPhone or computer to create good podcast recordings.
A good microphone for podcasting will run you about $100 and then you have to buy an audio interface, about $110 for a good one, in order to use the microphone.
The Shure MV7, an incredible cardioid dynamic mic, has all the necessary features to give you a perfect podcasting experience for years on your lightning iPhones, computers, and more.
Best iPhone Lavalier Mic: PowerDeWise Lightning Lavalier
This PowerDeWise Lightning Lavalier connects directly into your lightning port and no apps or funky adaptors are needed.
It features an omnidirectional polar pattern which means you won't have to worry about looking in one direction the entire time, it will pick up sounds equally all around the mic.
PowerDewise has also included wind muffs for the lav that filter out wind noise from entering into your videos.
If you need a portable lapel iPhone mic with great audio quality, then this is the reliable plug and play solution for iPhones.
It has a perfect frequency response for vocals, 50Hz to 16kHz which makes it even easier to get clear recordings of your voice with the PowerDeWise lavalier with a lightning connection.
Best Wireless: Comica CVM WS50C
The Comica CVM-WS50(C) Wireless Smart Phone Lavalier Microphone System comes packed with features that will truly help you to take your iPhone videography/audio recording to an entirely new level of audio quality.
It has a built-in rechargeable battery, and a special LCD screen that displays channels, audio status, and power consumption.
Our favorite thing about, however, is probably the fact that it takes your iPhone, and really just transforms it into an all-in-one video or quality audio recording station!
One of the most amazing things about this particular mic is it's connectivity.
With the mic connected wirelessly, you can stray up to 197ft (!!!) from your phone with the mic, and this baby will still be recording audio flawlessly.
That's insane.
If you need an iPhone mic that can operate wireless, and at a distance of up to nearly 200ft, then the Comica CVM-WS50(C) Kit is the perfect product.
I can think of no other external microphone that has such an incredible range, without spending hundreds.
How to choose the right iPhone mic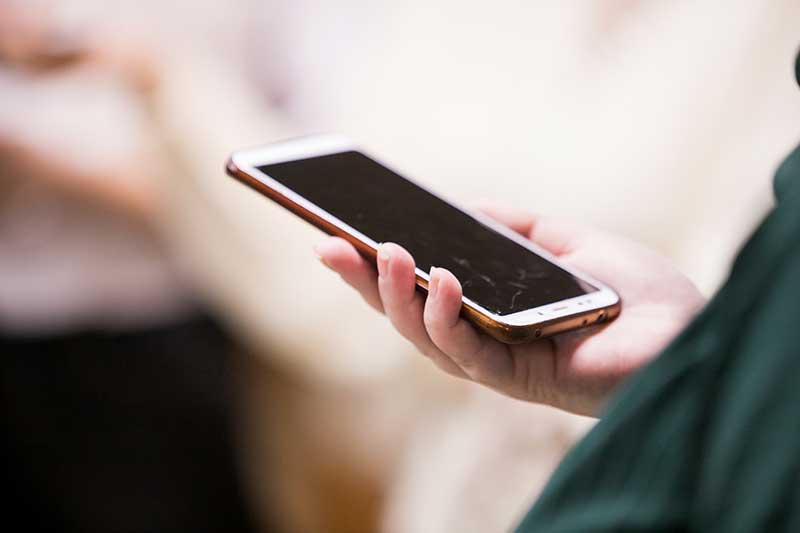 Here are some considerations that we think are important when it comes to choosing the right mic for your iPhone.
Let's take a look.
Polar Pattern
A microphone's polar pattern is its sensitivity with regard to direction.
Basically, this answers the question: what directions does the mic pick up sound from? With the options being front, back, and sides.
The main options are:
Omni-directional – picks up sound from all directions
Figure-8 (aka bi-directional) – sensitive to front and back but not sides – great for recording interviews
Cardioid – picks up sound from the front, a bit from the sides, and rejects from the rear
There are also super and hyper-cardioid models, which take the cardioid thing to the next levels. We're basically talking cardioid on steroids, and cardioid on more steroids.
So, how do you know what's best?
In most cases, you're going to point a mic at something that you want to record (like a mouth, or a guitar), in which case it makes sense to use a cardioid that records what you point at, and not the rest.
If you use an omni mic for this purpose, you'll pick up way too much background noise, which is going to make the audio quality on your recordings sound terrible.
On the other hand, if you need to chuck a mic in the middle of a round table with a bunch of people speaking into it (for a conference call or for group podcasts), then an omni mic is going to be ideal.
Figure-8 patterns are useful for recording interviews because you can point one side at you, one at them, and the mic rejects everything else.
So, it's all about intent: what are you going to use the mic for?
If you think you might be in more than one camp, then get yourself an external microphone with a high-quality switchable polar pattern, which will give you access to some or all of those patterns!
Max SPL Handling
[longer_content]
The Max SPL (sound pressure level) handling number tells you how loud of a sound the mic can handle. The bigger the number, the louder the sound it can handle before distorting.
It's not a huge deal, because most modern mics are built like tanks anyways, but it is important if you plan on recording loud stuff, like if you're heading to a live music concert,
To give you a bit of perspective, human voice maxes out at around 100dB SPL (that's shouting), with the threshold of pain being around 130dB, and rock concerts tend to be somewhere in between.
If you're only going to be recording podcasts and quiet speech, then a mic with a Max SPL of around 100dB should be fine, but if you plan to record instruments or loud concerts, try to find something with 120dB-160dB+ SPL.
Frequency Response
A mic's frequency response gives you an idea of what it might sound like.
There are two components to look out for. The first is the frequency range.
Human hearing goes from 20Hz to 20kHz, and most mics model this range (since there is no reason to go above or below that point).
Sometimes, though, a mic doesn't quite reach all the way up or down the spectrum, which means you miss out on some frequencies on the extreme edges.
For speech and vocals, this doesn't really matter, as there is no energy from the human voice in those ranges.
However, if you plan on recording bass instruments, then you'll want a mic that reaches right down in the low end, and if you're recording instruments with a tonne of high-frequency energy (like cymbals), then you want the mic reaching as high up as possible to get the air and sizzle.
The second element to watch for in a mic's frequency response is the shape of the response across the range.
Take a look at the graph above, and notice how it's mostly flat across the low mid-range, with some hefty bumps in the upper mid-range.
This tells you that this particular mic will be fairly neutral across most of the frequency range, but will accentuate frequencies in the upper mid-range, which will affect the sound of whatever you're recording accordingly.
This may be positive or negative, depending on what you're recording, which is what you need to keep in mind when choosing an external microphone.
Accessories
The last thing to consider when choosing external microphones for your iPhone is what the package includes.
Some mics come with apps that allow you to control internal features on the mic (like EQ and gain, or to switch polar patterns).
Some come with foam windscreens that help keep out wind background noise and vocal pops and hisses.
Certain iPhone microphones come with shock mounts, or adaptors (for plugging into other devices or into your computer), or carrying cases or bags.
Everything we Recommend
Shure MV88 iPhone Mic Key Features:
lightning connector pin
3 options – cardiod, bidirectional, raw mid side
20Hz-20000Hz
Condenser mic
The Shure MV88 is a digital condenser mic, so it's fairly sensitive.
Ideally, you should use this mic in a treated room. If you're using it outside, a foam or furry windshield would be a smart idea.
Stereo/cardioid polar pattern
The Shure MV88 records using a mid side stereo operation, which is essentially two mic capsules, one cardioid, and one figure-8.
This interesting combination gives you great flexibility of the sound of your recording, with the ability to dial-up or down the volume of the sides, effectively varying stereo width.
MOTIV recording app
One of the best features included with this best external mic is Shure's MOTIV recording app, which allows you to:
Edit audio
Control stereo width
Switch polar patterns
Share via AirPlay or Bluetooth
High SPL handling: 120 dB
The high quality Shure MV88 can handle up to 120dB SPL, which is damn loud.
For reference, it's four times as loud as a screaming human, so it should be enough for whatever you're recording!
Frequency Response: 20Hz-20kHz
The frequency response on the Shure MV88 is fairly flat, with some subtle bumps in the upper mids which will enhance vocal clarity and add sparkle to acoustic guitars.
If you need a mic that plugs right into the base of your iPhone with no clumsy cables, and you want something with some serious flexibility that you can control with an app, then the answer is a massive YES.
Shure MV7 for Podcasting
The MV7 microphone from Shure is a versatile-sounding, deep-reaching microphone that excels at picking up vocals in noisy environments.
How?
Because of it's polar pattern and dynamic microphone technology.
There are primarily three types of microphones, condenser, ribbons, and dynamic mics.
Dynamics were designed to create clean recordings in less than ideal studio environments. Since the MV7 uses this technology and has a cardioid polar pattern.
This microphone will turn your lightning iPhone into a podcast creating machine.
Frequency Response: 20Hz to 20kHz
Since it's frequency response is a whopping 20Hz to 20kHz, every nuance in your voice will be captured that the human ear can hear.
Want to improve your vocal sound?
There's an app for that, actually two.
A semi decent iOS app that is free, however it's sometimes hit or miss with tweaking the settings for this mic on iPhone. You may be more lucky.
If this occurs for you, first dial in the sound you like with the Shure Motiv desktop app on a computer.
Then, once you disconnect the mic from the computer and plug into the iPhone, the settings are saved in the mic and you then get the sound you want on your iPhone.
What this means in practice is, once you determine the settings you prefer with your voice the MV7 defaults to that setting when it is plugged in until it is changed at a future date.
So…
The MV7 is plug and play with a micro USB cable to lightning cable yes, but in order to get plug and play excellent audio, you may need to first connect the MV7 to a computer.
Shure MV51 for Musicians
The Shure MV51 is an elegant vintage inspired large-diaphragm condenser microphone with a cardioid polar pattern.
Unlike most iPhone mics, the MV51 is a large-diaphragm condenser microphone, meaning it delivers the same professional performance that studio-quality mics do.
Frequency Response: 20Hz to 20kHz
It features a 20Hz to 20kHz frequency response and a built-in headphone jack output for monitoring and playback, preserving the purity of your recordings.
20Hz to 20kHz means it can record everything your ear can hear. Singing, drums, guitars, the flute and more.
It sounds great, no matter how you use it.
Huge SPL Handling:130dB
This mic has a max SPL handling of 130dB SPL, which is insane!
There's very little that this handy guy wouldn't be able to handle.
Multiple Recording Modes
The Shure MV51 is ready to rock for whatever purpose you had in mind. The five recording modes include:
Flat
Speech
Singing
Acoustic
Loud
This allows you to choose the perfect mode for your scenario, and the external microphone will automatically adjust to give you the right tone, making it so easy to use.
Cardioid Pattern
The cardioid polar pattern of this mic keeps things focused on whatever you're pointing at – exactly what you want!
Rode VideoMic Me-L
The Rode VideoMic Me-L's specs reveal it can record just about everything easily.
Built-In Headphone Jack Output
Just like the VideoMic Me, the VideoMic Me-L ships with a 3.5mm output on the back of the mic that you can use for headphone monitoring.
Quality Frequency Response
Boasting a 20Hz-20kHz frequency response, this little fella will capture sounds in the whole spectrum of the human ear, whatever you put in front of it, the VideoMic Me L will deliver.
Cardioid Polar Pattern and a Max SPL of 115dB
The VideoMic Me L has a cardioid polar pattern, this means that will capture in a greater way what is directly in front of it, and will start decreasing as it moves on the side, having a rejection of the sound in the 180 degrees, or in the back of the microphone. This helps to prevent undesired background noise on the takes.
The max SPL of 115dB means it's going to be pretty hard to clip this mic.
Comica CVM-VM10-K2
The specs of the CVM-VM10-K2 reveal that it is made for capturing vocals for videos but not much more.
The Comica Video Kit CVM-VM10-K2 uses a cardioid microphone capsule that helps you to record what you are pointing the mic at and little else.
Frequency Response: 80Hz to 16kHz
The Comica Video Kit CVM-VM10-K2 has a frequency response of 80Hz to 16kHz.
This means it's great for recording most day to day activities, but not suitable for recording instruments like bass guitar or cymbals, where the range exceeds what the mic can capture.
Max SPL 105dB
105dB SPL is a respectable handling capacity for most situations. Yelling can up to 110dbs though, so you may want to use a different mic or be a decent distance from this mic if that's your style.
PowerDeWise Lavalier
The PowerDeWise Lavalier with lightning connection is compatible with iPhone 7, 7 Plus, 8, 8 Plus, X, XR, XS, XS Max, 11, 11 Pro, 11 Pro Max.
It's an omnidirectional lavalier mic that picks up sound equally from all directions.
Comica CVM-WS50(C) Wireless Kit:
The lavalier included in the Comica CVM-WS50(C) has a fairly wide frequency response, from 20Hz right up to 18kHz. You won't miss the last couple of kHz unless you're recording super sizzly cymbals, making this effectively a full-range mic, especially for capturing vocals.
The microphone is an omnidirectional lavalier which makes it easy to not have to worry about which direction your mouth is pointing.
This device has easy plug and play operation, a TRRS, standard headphone for phones and a TRRS to lightening cable is included making this wireless kit able to be used with a variety of devices right out of the box.
Conclusion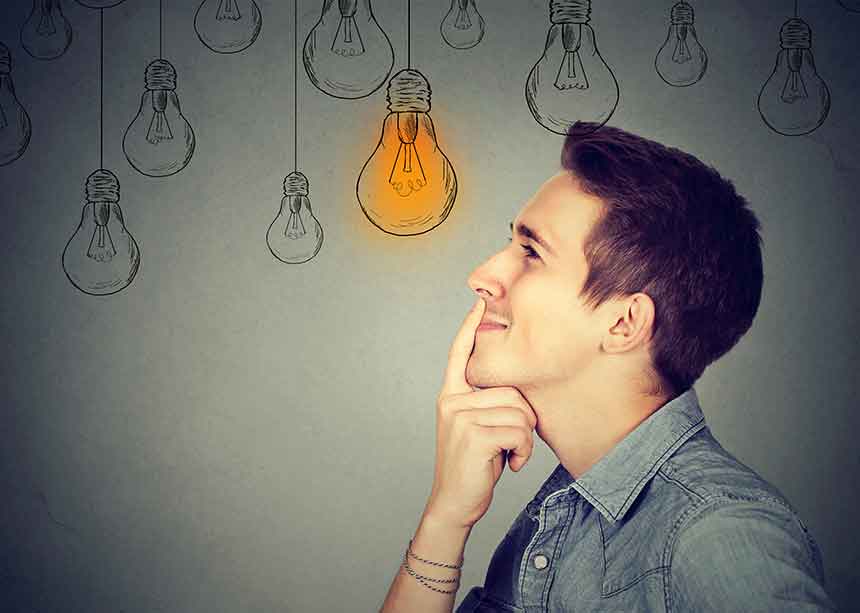 So which of the iPhone's external microphones is the best? Our top pick is the Shure MV88 on account of its simplicity of use, included the Lightning connector pin, and overall quality/price ratio.
Our runner up pick is the Rode VideoMic ME L for under $100. For a super budget friendly option, the Comica Video Kit CVM-VM10-K2 kit is a fairly straightforward upgrade.
Those mics offer a superior experience for a great price and are useful tools in the arsenal of any recording enthusiast.
Whether your purposes are professional or more casual and experimental, stay creative and keep exploring making videos, music, and/or podcasts with your iPhone.
The unique you is there waiting to be unleashed.