One of the most essential pieces of equipment for shooting films, documentaries, and interviews is a lavalier microphone.
While there are many popular lavalier microphone systems currently on the market, not all of these lavaliers are a best fit for capturing audio on a DSLR.
As a photographer or videographer, this guide will reveal the considerations you're going to need to keep in mind as you select your lavalier mic system and how you can ensure that you get the best system for you so you can get back to creating instead of researching!
You'll also learn how to choose the right mic no matter what your budget is.
Top Lavalier Microphone for DSLR Pick:
If Gary Vaynerchuk uses it, you know it must be top quality and as reliable as they come! Our tests confirmed that this wireless system is simple to use, works every time, and sounds awesome!
​In this article
​​The ​Best Lavalier Microphones for DSLR Cameras
​Our Top-Pick: Sennheiser AVX Digital Wireless Microphone Lavalier Set
​Our Runner-Up Pick: Rode RodeLink FM Digital Wireless Filmmaker System
​Best Budget Pick: Dazzne Pixel UHF Wireless Lavalier Microphone System
​Best Compact System: Rode Wireless GO Compact System
​Top Wired Lavalier System: Rode SmartLav+ Wired Lavalier Microphone
​​Lavalier Microphone Buying Guide
​​Important Features to Consider
​​Other Lavalier Microphones for DSLR cameras we Reviewed
Best Lavalier Microphones for DSLR Cameras
Our Top Pick
It is considered the best one on this list, but it does come with a price tag. If you're looking to invest big in your interviewing, movie, or documentary efforts for quality sound and reliable equipment, this is the lavalier mic set for you.
​Pros
​Comes with hard carrying case
​Premium audio quality
​Reputable brand name
​Easy to use
Cons
Our Runner-Up Pick
If you are still looking for quality but don't have the capital required to acquire a truly top-notch, film-quality lavalier mic system for DSLR cameras, this is a good next choice. We believe that it offers all of the benefits of just about every other sound system out there but with a reasonable price tag. If you want something solid but don't have much to invest at the moment, give this system a look.
P​ros
​Premium brand
​All necessary equipment included
​Hop between frequencies
​Range of up to 100 meters
Cons
Best Budget Pick
​While we all wish that we could have the best equipment out there no matter what, that's not always the case. Sometimes, you have to settle for something less expensive. However, that doesn't mean that you still can't find value. We think that this system has great features and a great price. Check it out if you're looking for something affordable.
Pros
Affordable
​Easy to use
​Surprising audio recorder quality
Cons
Best Compact System:
One thing that almost anyone who shoots film or photos for a living can empathize with is the importance of being mobile and easy to move from location to location without hassle. That's something that this compact wireless system from Rode definitely is able to provide.
Pros
​Compact and easy to travel with
​Affordable
​Rechargeable batteries
​7 hours on each battery charge
Cons
​sometimes hard to hide if not using external mic
Best Direct Recording Lavalier
The audio is captured directly via a micro sd card inside of the belt pack on your performers waist or in their pocket.
A simple and clean .WAV file is then available to sync and edit with your video footage in the editing stages.
Pros
​Longest battery life, up to 10 hours of recording
​no fumbling with possible wireless interference
​records directly to a microSD/SDHC card
​Headphone output for playback and live monitoring
Cons
​recording use only, does not work to use as a live performance microphone
​​has to be synced with video files in post production
​Top Wired Lavalier​
While specifically made for smartphones, adding a TRRS to TRS adapter and you have a wired lavalier connection on your DSLR.
If you're looking for a wired system which is good for a lapel mic, there's no better option than this model from Rode. Rode consistently delivers quality microphone products, so it's no surprise that this one also meets those standards.
Pros
​An easy-to-use app to manage sound
​Quality sound recording
​Affordable
​Easy-to-use microphone
Cons
Lavalier Microphone Buying Guide
If you've never bought a this type of microphone system for your DSLR camera or don't know much about these systems, you probably also don't know what you should be looking for when shopping for a system that will work for you.
Pay close attention…
There are many factors to consider, and we're going to walk you through some of the most important things to keep in mind when you are shopping for a mic for your DSLR camera.
It's important to also keep in mind that not every single one of these factors is going to be applicable to your situation–and that's okay! Some of the factors that we point out might not be relevant to you.
The important thing is that you recognize what is relevant to you as a professional and find a lavalier mic system for your DSLR that is going to get the job done as you need it to be done and be reliable for the years to come.
Important Features to Consider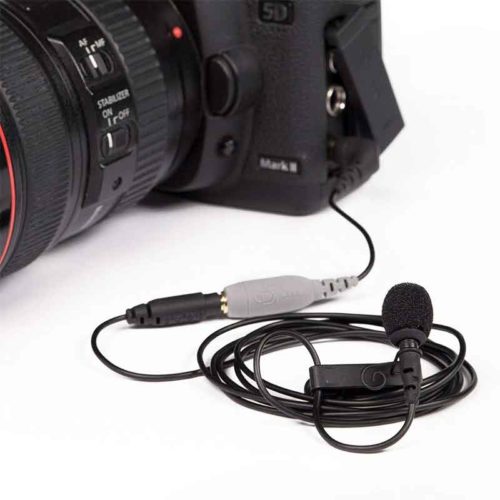 Sound Quality
This is probably going to be the primary concern for anyone who is going to be using their lavalier mics system in any sort of a professional capacity. Having good sound quality can be the difference between life and death for your professional photography business.
If you are putting together productions for people who are paying you to do so, you're going to want to invest in something that has superb sound so as to blow them away with a job well done.
A good way to judge how high the sound quality is of a product is to simply read the past reviews of the product. Fellow users who are in a profession that is the same or at least similar to yours will be able to describe it in a way that makes sense to you, and you'll also get a feel for how the system performs in different situations that are typical for a videographer.
Dig a little deeper…
Another way that you can get a good idea for sound quality is to look at the specifications and see how the microphone is made. You should be able to tell how well a microphone will capture audio based on that, as well.
When it comes down to it, audio quality is of paramount importance in most productions. If you are doing a personal or educational production, you can sacrifice quality for affordability. If you are a professional, however, be sure to make sound quality a priority when you are shopping for lavalier mics for your DSLR camera or recording device.
Wired vs. Wireless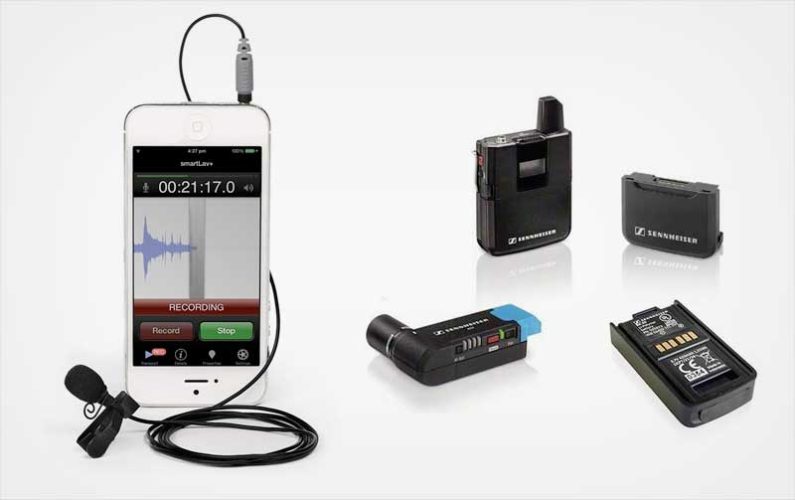 This consideration should probably be one of the first things that you decide on before you start shopping since shopping for a wired lavalier mic system is very different than shopping for a wireless system.
The general advice that we have for you in this area is that if you are doing any kind of complex shoot, you should probably use a wireless system.
Wireless mics afford you all sorts of benefits that you wouldn't be able to enjoy with a wired system. You can shoot more complex scenes, there is less hardware to get in the way, and it's easy to monitor each wireless lavalier on one system. It allows you flexibility and versatility in your productions.
Wired mics are pretty different…
A wired mic, on the other hand, is a little bit different. A wired lavalier system is something that you would likely find yourself using if you were making a vlog or personal video for educational purposes.
It could also be used if you were recording some sort of instructional video for upload. In these capacities, a wired lavalier mic shines. They are affordable, effective, and get the job done without hassle.
Before you start on your journey of getting a proper microphone and audio system for your productions, make sure that you know what exactly you are looking for.
In that way, you'll truly be the best-equipped that you can be to find your next wireless lavalier microphone camera system.
Wireless Range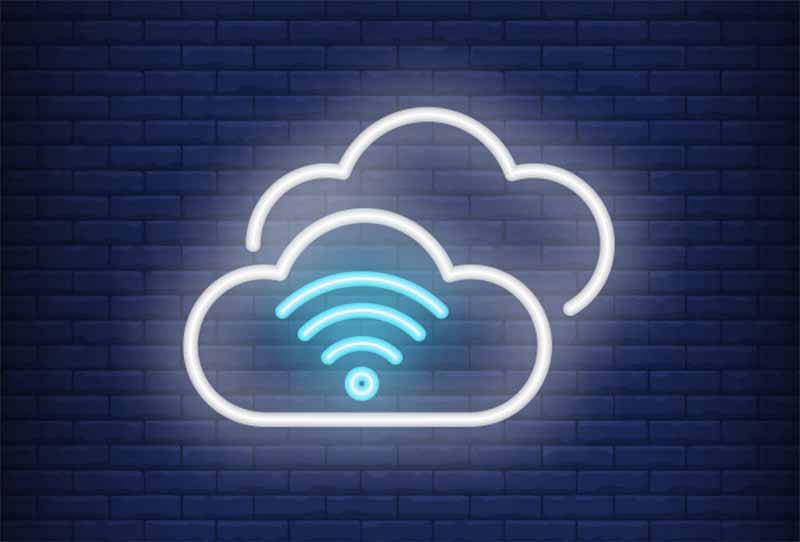 If you do go with a wireless lavalier mic system, one of your main considerations is going to be range. This refers to the amount of distance that can be between the central hub and each of your microphones while they still work and transmit the audio.
This isn't a huge concern for most who are engaged in small productions, but if you are working on something complex with a lot of movement, you'll want to make sure that you're using a system with adequate range to accommodate your needs correctly.
If you are doing a smaller or solo video, you can settle for something with low range because you will most likely always be close to the camera or even holding the camera yourself, which eliminates the need for a microphone that has a very long range.
Dealing With Wind
Recording sound in windy conditions is just one more thing you'll have to deal with when doing DSLR video. As if worrying about the battery life of everything wasn't enough!
Most microphones are not equipped to deal with gusts of wind. DSLR cameras with a shotgun microphone and a full deadcat system works the best, but you don't have that luxury with a lav mic set up.
If you want your audio done together with your DSLR video then you'll have to get creative.
You've got this…
A lav mic needs to be protected from the wind at all costs. A piece of fabric or even something harder will provide a means of perhaps protecting your wireless or wired lav mic. Each filming situation is different so you'll have to figure out what is best in each individual scenario.
The Temperamental Nature Of Lav Microphones
Let's talk about frequency range and human error real quick…
The frequency range of a lav mic is only "okay" at best. It's perfect for picking up the natural frequency range of someone's voice, but it's not made for recording instruments or even singing really.
The natural range at which someone talks is fine for using a lav mic, but outside of that frequency range you'll want to do something else.
Human Error
On the human error side of thing you'll want to provide a means of protecting the lav mic from brushing up against the person it's attached to.
If you are doing an interview while seated then things should be fine. Most DSLR shots will be easy to manage and hopefully so will your subjects. The best thing to do is to communicate with your subjects and let them know to NOT mess with the mic.
That little mic can only handle so much, both on the frequency range side and the movement side.
Other Lavalier DSLR Mircophones we Reviewed
​Top Pick:
Offering a tremendous amount of flexibility and quality, this set from Sennheiser offers too much value to ignore.
From the compact size of the receiver to settings like automatic input sensitivity, this set delivers true quality for your money… and is a tough deal to beat!
Pros
​Great for phone and DSLR camera use
​Decent sound quality
​Long cable for ease of use
Cons
​Requires LR44 batteries, tough to find in a bind
​average sound quality
This is a pretty affordable set and offers some advanced features and settings to help you get the job done.
Pros
​Useful carrying case
​Affordable
​Easy interface
Cons
​Low range
​Average sound quality
It's an affordable, wired lavalier mics system that delivers better-than-average sound quality and an affordable way to bolster your video and camera equipment.
Pros
​Super customer service
​Great sound quality
​Handy carrying pouch
Cons
​None − this is a great wired lavalier Mic for DSLR cameras!
It provides good audio quality and will be particularly helpful for those shooting on smartphones, which is becoming more popular by the day.
This system is dependable and affordable and can be used with almost any device.
Pros
​Good sound quality
​Affordable
​Reputable brand name
​Compatible with smartphones
Cons
​Only 4 channels to choose from
This system by Innopow is very popular among filmers that want something decent at an affordable price point. We would consider it a middle-of-the-road type of device that isn't the best or the worst.
Pros
​Many channels to choose from
​Easy to use
​All equipment necessary included
Cons
​Picks up significant background noise
Conclusion:​
When it comes to lavalier microphone for DSLR cameras, you have quite literally hundreds of options. There are so many different types of microphones that serve different needs and purposes.
The first step to finding your DSLR lavalier mic is to determine what is important to you. After you know what features and specifications to look for while you shop, you can begin to browse your options.
Take a look back…
With our list, you should be able to find some compelling options that fit your criteria and what you need for your projects, whether they are professional or personal. We've taken out the leg work of locating prospective products and marketplace options.
Using our knowledge base and compilation of the 11 most popular mics for DSLR cameras and other devices, you should have absolutely everything that you will need to make an educated decision on what your next microphone should be.